A modular framework for biomedical concept recognition
BMC Bioinformatics
2013
14:281
Received: 28 February 2013
Accepted: 20 September 2013
Published: 24 September 2013
Abstract
Background
Concept recognition is an essential task in biomedical information extraction, presenting several complex and unsolved challenges. The development of such solutions is typically performed in an ad-hoc manner or using general information extraction frameworks, which are not optimized for the biomedical domain and normally require the integration of complex external libraries and/or the development of custom tools.
Results
This article presents Neji, an open source framework optimized for biomedical concept recognition built around four key characteristics: modularity, scalability, speed, and usability. It integrates modules for biomedical natural language processing, such as sentence splitting, tokenization, lemmatization, part-of-speech tagging, chunking and dependency parsing. Concept recognition is provided through dictionary matching and machine learning with normalization methods. Neji also integrates an innovative concept tree implementation, supporting overlapped concept names and respective disambiguation techniques. The most popular input and output formats, namely Pubmed XML, IeXML, CoNLL and A1, are also supported. On top of the built-in functionalities, developers and researchers can implement new processing modules or pipelines, or use the provided command-line interface tool to build their own solutions, applying the most appropriate techniques to identify heterogeneous biomedical concepts. Neji was evaluated against three gold standard corpora with heterogeneous biomedical concepts (CRAFT, AnEM and NCBI disease corpus), achieving high performance results on named entity recognition (F1-measure for overlap matching: species 95%, cell 92%, cellular components 83%, gene and proteins 76%, chemicals 65%, biological processes and molecular functions 63%, disorders 85%, and anatomical entities 82%) and on entity normalization (F1-measure for overlap name matching and correct identifier included in the returned list of identifiers: species 88%, cell 71%, cellular components 72%, gene and proteins 64%, chemicals 53%, and biological processes and molecular functions 40%). Neji provides fast and multi-threaded data processing, annotating up to 1200 sentences/second when using dictionary-based concept identification.
Conclusions
Considering the provided features and underlying characteristics, we believe that Neji is an important contribution to the biomedical community, streamlining the development of complex concept recognition solutions. Neji is freely available at http://bioinformatics.ua.pt/neji.
Keywords
Unify Medical Language System
Name Entity Recognition
Semantic Group
Biomedical Domain
Deterministic Finite Automaton
Background
In an effort to deal with these challenges, several NER systems have been developed for the biomedical domain, using different approaches and techniques that can generally be categorized as being based on rules, dictionaries or machine learning (ML). Each approach has different resource requirements and deals differently with the linguistic variability that resulted from the lack of naming standards and the introduction of idiosyncratic names by the scientific community [2]. In general, ML-based solutions are better adapted to deal with strong variability and highly dynamic vocabularies, such as in gene and protein names. However, this approach does not directly provide identifiers for the recognized names. Thus, normalization must be performed in an extra step in order to relate each name with concept identifiers from curated databases or ontologies. In this case, a concept corresponds to a biological entity present on curated and specialized resources used to represent and map current knowledge. On the other hand, dictionary-based approaches are appropriate to deal with precisely defined vocabularies of names (e.g., diseases and species). This approach requires the construction of a unique resource containing most of the identifiers and names of a specific semantic type. However, this presents various challenges, since the necessary information is usually spread over dozens of data sources and unique identifiers are specified on a per-resource basis, which hinders mapping identifiers between heterogeneous databases. Moreover, the same name may refer to different concepts, depending on the context in which it occurs. For instance, "NF1" can refer to a disease ("Neurofibromatosis Type 1") or to a protein ("Neurofibromin 1").
Each step of the processing pipeline may involve the implementation of various methods to fulfill the associated requirements. Due to the specificities of the biomedical domain, methods developed for common English may not provide the best outcomes when used on scientific documents. For instance, in [3] the authors analyzed the application of various tokenizers, concluding that most solutions are too simplistic for real-life biomedical applications. Thus, it is important to develop and use methods optimized to deal with the special linguistic characteristics of biomedical terms.
UIMA [4] and GATE [5] are examples of frameworks that provide a general solution to support the development of complex IE systems, being independent of the target domain. Such goal is achieved by providing a flexible processing pipeline based on a modular infrastructure, enabling problem decomposition and consequent re-utilization of modules. Besides the flexibility and re-usage advantages, such solutions also provide a strong infrastructure, such as cluster processing support for large amounts of data. However, due to the high level of abstraction, the development of new solutions may not be as straightforward as expected, requiring some time to correctly understand and have full control over the frameworks' features. Moreover, neither framework provides default modules optimized for the biomedical domain, which are provided by third parties, such as U-Compare [6] and JCoRe [7] for UIMA. Nevertheless, most of those modules are only available through web-services, which is an optimal solution for small experiments but not compatible with large scale and batch processing applications. Additionally, users must be careful when using modules from different providers in a single pipeline, since the application of different techniques (e.g., tokenization and sentence splitting) among different modules may considerably degrade performance results.
Toolkits such as NLTK [8] and OpenNLP [9], on the other hand, are not focused on providing a text processing pipeline, offering instead a multitude of implemented methods that developers can use and combine to build their own pipelines. Various features of OpenNLP are also available as modules for UIMA, which may simplify the creation of such pipelines. However, these solutions do not provide modules optimized for the biomedical domain. Instead, they allow training new modules focused on different goals and domains.
On the opposite edge of the spectrum are specialized NER and normalization tools, whose development was greatly promoted through the organization of challenges such as BioCreative [10-12] and JNLPBA [13]. Dozens of new solutions emerged using the resources provided by these challenges, which allowed a fair and fast comparison of divergent techniques. Gimli [14] and BANNER [15] are examples of NER solutions, and GeNo [16] and GNAT [17] are examples of NER and normalization tools. However, the resources provided by those challenges are too specific and focused on the recognition of particular entity types (e.g., gene and protein), generating highly optimized solutions that provide high performance results on tested corpora. NER solutions are typically open-source and publicly available as runnable applications, enabling re-usage of already implemented modules and fast development of new recognition systems. However, there is no explicit processing pipeline and such solutions are not flexible, limiting the addition or removal of processing modules. On the other hand, normalization solutions are mostly not open-source, providing only web-services for remote usage, which is limited for batch processing.
There are also solutions focused on providing annotation of heterogeneous biomedical concepts. For instance, Whatizit [18], Cocoa [19] and NCBO Annotator [20] provide annotations of species, genes and proteins, and disorders, among others concepts. However, since they are provided as web-services, batch processing is limited and desirable functionalities, such as the possibility to configure annotation characteristics or to extend the provided features, are not available. MetaMap [21] is another tool that provides annotation of heterogeneous concepts, using the UMLS Methathesaurus and a set of rules for extracting text chunks and scoring them as candidates for concept names. Matching is performed considering lexical and syntactic rules, generating names variants to cover as much variability as possible. However, such approach makes MetaMap relatively slow, not being appropriate for real-time use. For instance, it may take several hours to process complex sentences, generating many hundreds of thousands of potential mappings [22]. On the other hand, the variability introduced also increases ambiguity, which is a complex problem to solve. Moreover, since it is provided as an end-user tool, it is also limited in terms of configurability and extensibility.
Considering the current frameworks and tools for the biomedical domain, we believe there is a lack of solutions that combine the advantages of the two edges of the spectrum: modularity, speed, usability and domain optimization. This document presents Neji, an open source framework for biomedical concept recognition that provides an automated and flexible processing pipeline that includes built-in methods optimized for the target domain. It supports the application of both machine learning and dictionary-based approaches, automatically combining generated annotations and supporting concept ambiguity. Neji also supports known input and output formats, with easy development of new pipelines and modules.
We believe that Neji is a positive contribution for the biomedical community, by simplifying the development of complex concept recognition solutions and taking advantage of the most advanced and appropriate methods in an integrated environment focused on fast and high-performance results. As a result, we believe that Neji may enhance text mining and knowledge discovery processes, helping researchers in the annotation of millions of documents with dozens of biomedical concepts, in order to infer new biomedical relations and concepts.
In the next section, we give a detailed description of Neji's modular architecture, presenting the core infrastructure, the included modules and its usability. Afterwards, Neji is evaluated in term of concept annotation accuracy and speed. In the end, we discuss the main advantages and applications of Neji.
Implementation
The design and implementation of Neji was focused on four crucial characteristics: modularity, scalability, speed and usability. In order to achieve modularity, every processing task is performed by an independent module, which can be executed ad-hoc or integrated in a processing pipeline. Nonetheless, each module has its own input and output specifications. Regarding scalability, the solution should be able to support simultaneous application of dozens of dictionaries and machine-learning models for concept recognition, while at the same time processing large data sets (i.e., millions of abstracts). One of the key features to deal with large data sets and considerably improve processing times is concurrent processing, allowing different CPU cores to process several documents at the same time. Additionally, it is also fundamental to take processing speed into consideration when choosing libraries and techniques to perform the different steps. Finally, developers and researchers should be able to easily use pre-defined pipelines, implement custom pipelines with provided modules and/or implement new modules respecting previously specified interfaces. Moreover, typical processing modules, such as sentence splitting and tokenization, should be part of the framework and available for direct use and/or extension.
A framework with such characteristics should be an added value for the biomedical community, allowing any user to easily develop custom and complex solutions and use them according to their specific goals. Additionally, advanced users do not need to deal with various independent tools and libraries, allowing them more time to dedicate to their real goals.
Infrastructure
The core component of Neji is the pipeline, which allows users to submit various modules for execution following a FIFO (First In, First Out) strategy. Thus, a pipeline is a list of modules that are executed sequentially, considering specific goals and target chunks of text. Figure
2
illustrates the idea of this modular and flexible architecture. Each module is implemented as a custom Deterministic Finite Automaton (DFA), with specific matching rules and actions. We used the hierarchical text processing features of Monq.jfa [
23
] to support the pipeline infrastructure and module execution (Figure
3
). When a pipeline is executed, the input documents are the input of the first module, and the output of the first module is the input of the second module and so on, until the last module provides the output to a storage resource specified by the user. Since different tasks have different requirements, different types of modules are defined: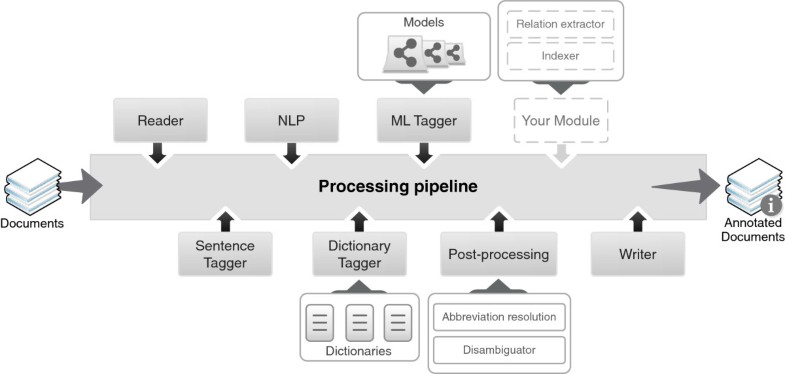 Tagger: processes the input data and reflects the changes in the same data. For instance, when performing sentence splitting, inline annotations can be provided to reveal the obtained sentences;

Loader: loads information present on the input data into memory. For instance, if inline biomedical name annotations are present in the input text, a loader can be used to load such annotations into memory;

Hybrid: processes input data and store the results in internal memory. Inline annotations can also be provided as output. For instance, when performing sentence splitting, it should be useful to provide inline annotations of the sentences and load them into memory. Obviously, a tagger and a loader can be used instead, but some processing time is wasted in reading the annotations from the tagger to the loader;

Reader: a Tagger that is used to collect data of interest from the input resource;

Writer: a Tagger that is used to generate output data to a specific resource.
In order to support default and basic behaviors, Neji already provides implementations of the various components, namely tagger, loader, reader, writer, hybrid and pipeline. Such architecture allows developers to easily build custom module types or pipelines.
Since Neji is a framework focused on biomedical concept recognition, it also defines and provides a flexible and complete data structure to represent a corpus. Thus, developers do not need to specify their own internal data structures, and they can easily extend the provided data representation. Figure
4
illustrates the final internal data representation of a corpus with sentences and respective annotations. Moreover, since Neji supports automatic annotation of heterogeneous biomedical concepts, in which the existence of nested and/or intersected annotations is common, it is important to integrate a data structure that suits such characteristics in the best and most automated way as possible. A tree of annotations is the data structure that better fulfills such requirements, presenting various advantages over typical approaches (e.g., list of annotations):
a
) structured annotations provide enhanced information, since nested and intersected annotations and their respective identifiers are provided;
b
) the levels of the tree are directly associated with the detail of annotations, the deeper the level the more deeply an annotation is nested and/or intersected in others;
c
) the consistency of the tree and of the respective annotations can be maintained through automatic algorithms;
d
) ambiguity problems are clear; and
e
) filtering annotations can be as simple as pruning the tree. As illustrated in Figure
5
, each sentence includes a tree of annotations. In order to facilitate the use and management of these trees, as well as for maintaining the consistency of the annotations, the following methods are provided: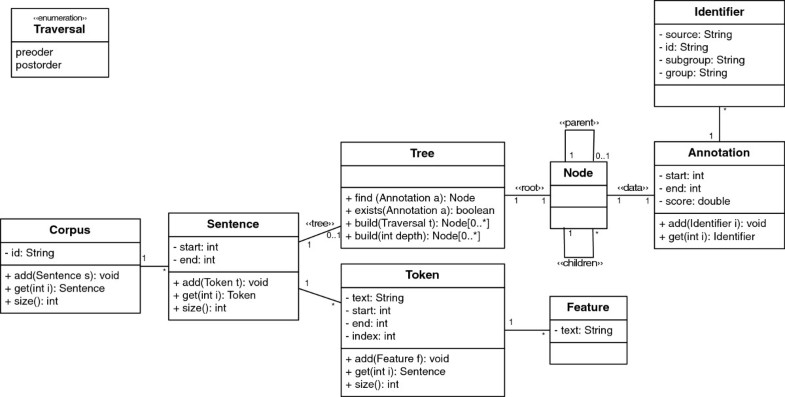 Sorted insert: when an annotation is added to the tree, it is automatically put in place, maintaining the tree consistency;

Sorted delete: when an annotation is removed from the tree, all other annotations are put in place in order to keep tree consistency;

Traversal: obtain a list of ordered annotations following typical tree traversal techniques: by level, pre and post-order;

Since an annotation without concept identifiers is less informative, it is important to provide an infrastructure that allows each annotation to contain various identifiers. Moreover, each identifier should provide complete information regarding its original source and concept type. Thus, the following quadruple composes each identifier: source (original resource that contains the name and respective identifier); identifier (unique identifier of the concept in the previously specified resource); group (semantic group of the concept); and sub-group (semantic type of the concept).
Modules
With the proposed infrastructure, the conditions to build the required modules for text processing and concept recognition are now met. The presentation of modules follow the processing pipeline previously presented and illustrated in Figure 2.
Parallel processing
In order to simplify the use of the various modules and required resources, we developed a method to manage these resources, which we call Context. It automatically loads the resources that are required to run a specific pipeline. Thus, researchers do not need to deal with repetitive and time consuming tasks such as loading dictionaries, ML models, parsers and sentence splitters. Additionally, we also provide parallel processing of documents through multi-threading support. To accomplish this, the libraries and respective dependencies used were adapted to allow multi-threaded execution, solving some limitations with MALLET and GDep. The Context also supports multi-threading, by automatically generating the required duplicate resources when necessary. For instance, concurrent annotation of documents using one ML model is not possible, requiring one instance of the ML model for each thread. In order to apply parallel processing, each pipeline must be implemented in a Processor, which is a runnable pipeline with context and input and output resources specification. Base implementation of a Processor is already provided, which simplifies the development of alternative runnable pipelines. A Batch is also provided, which performs concurrent processing of input resources using a specific Processor and Context. Considering the typical use case scenario of parallel processing in the biomedical domain, i.e., process files in an input folder and provide the results to an output folder, we developed a Batch executor to make the applicability of parallel processing easier. The Batch automatically generates the required Processor threads to process specific files in a folder. Custom arguments for the processors can be also provided, which takes advantage of Java reflection.
Usage
In order to make the annotation process as simple as possible in typical use cases, Neji integrates a simple but powerful Command Line Interface (CLI) tool, which is flexible and provides a complete set of features:
Annotate using dictionaries and/or machine-learning models with respective normalization dictionaries;

Various input and output formats. When the XML input format is used, the XML tags should be indicated;

Parsing level customization. By default, Neji automatically finds the appropriate parsing level considering the ML model characteristics;

Number of threads customization;

Wildcard input filter to properly indicate the files to process;

Support for compressed and uncompressed files.
The features provided by the CLI tool allow annotating a corpus using a simple bash command, such as:
./neji.sh -i input/ -if XML -o output/ -of XML -x AbstractText,ArticleTitle -d resources/dictionaries/ -m resources/models/ -c -t 6
In this example, Neji uses six threads to annotate the compressed XML documents in the input folder with the specified dictionaries and machine-learning models, providing the resulting XML documents to the output folder. Note that only the text inside the specified tags is annotated. If users do not want to use the provided CLI, it is also straightforward to develop a processor and process the documents using the batch helper. First, a processor taking advantage of the pipeline features must be implemented. Figure
7
:a presents the construction of a complete pipeline processor that produces the same results as the previous bash command, considering a specific context, input and output documents provided in the constructor. Afterwards, this pipeline processor must be used to perform batch processing of documents. Figure
7
:b shows how a context is created considering input models and dictionaries folders, and how a batch is created for specific input and output folders. Finally, the batch is executed considering the provided context and all documents are annotated. Complete and detailed documentation on how to use the CLI tool, build custom processors, and build processing modules is provided in the Neji's web page.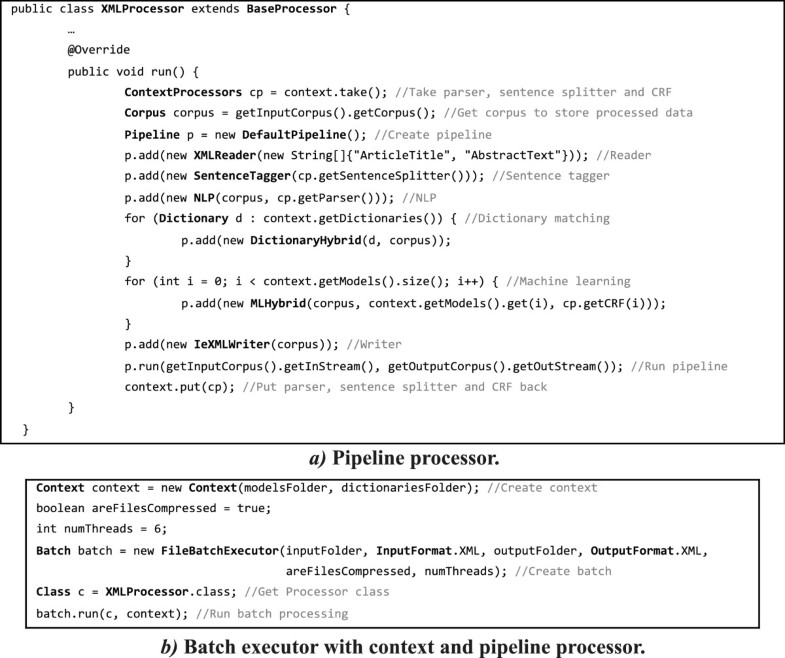 Results
To provide general feedback regarding Neji's reliability as a framework, it is fundamental to evaluate its behavior on real life problems. Thus, we believe that such framework should be evaluated considering two key characteristics:
Concept annotation: how is the quality of the produced concept annotations?

Speed: how long it takes to process a specific amount of documents?
Accordingly, we collected manually annotated corpora, dictionaries and ML models to take advantage of Neji, and compared the achieved performance results with existing solutions.
Discussion
The inherent characteristics, features and performance provided by the Neji framework represent various technical and theoretical advantages to end-users, contributing to an improved and faster research in biomedical text mining and information extraction. First of all, the large dictionaries used in our experiments, in combination with the achieved processing speeds, are good indicators of the scalability of the presented solution. Additionally, the achieved high-performance results against gold standard corpora show the solution's reliability. Overall, the flexibility, scalability, speed and performance results offered by the proposed framework expedite the processing of the increasing scientific biomedical literature. The features provided greatly simplify NER and normalization tasks, offering annotations for a large number of entity types using both dictionary and machine learning-based approaches. Using the state-of-the-art modules incorporated in Neji, developers and researchers can bypass normally complex and time-consuming tasks, allowing them to focus on further analysis of these annotations. Users can also take advantage of the integrated natural language processing tools, eliminating the need for developing wrappers or integration solutions. The adoption of the same techniques for linguistic processing means that all modules are based on the same consistent information, such as tokens, lemmas, POS tags, chunks and parsing trees. This approach builds an integrated development ecosystem that minimizes cascading errors. For instance, if concept recognition is performed using linguistic information from one parser, and relation extraction is performed afterwards using information provided by another parser, it is hard to keep consistency between the two solutions, since the application of distinct sentence splitting and tokenization techniques provide different and hard to combine interpretations of data. Thus, performing all tasks using the same linguistic information will deliver better and more consistent results.
Besides using the provided modules directly, researchers may also adapt them or integrate new ones, allowing the construction of specialized processing pipelines for text mining purposes. As presented, Neji is ready to be used by users with different levels of expertise. It allows obtaining heterogeneous concepts of several types in a straightforward way, by using the CLI tool or by building a pipeline with existing modules. Users also have the power to optimize concept recognition for their specific goals, which is achieved by having access to the innovative concept tree. Such structure supports both nested and intersected annotations and, combined with the support for multiple identifiers from different semantic groups per concept, enables easy detection of ambiguity problems. Additionally, Neji also integrates helpers for simple concept disambiguation, merging of nested annotations and selection intersections. If required, users can also develop their own modules, such as readers, writers or WSD. Overall, Neji was built considering different development configurations and environments: a) as the core framework to support all developed tasks; b) as an API to integrate in your favorite development framework; and c) as a concept recognizer, storing the results in an external resource, and then using your favorite framework for subsequent tasks.
A large and diverse set of annotations can be obtained by processing a large set of documents. Such annotations can be exploited in various ways. Perhaps, the most straightforward one is to use these annotations together with the provided identifiers and connections to ontologies and other domain resources, to support a semantically enabled literature retrieval system [54-56]. Using these annotations, it also becomes simpler to implement a query expansion scheme [57], taking advantage of the ontological relationships between the identified concepts. Another use of such annotations is to extract co-occurrence based association metrics between concepts [58, 59]. This can also be extended to extracting semantic concept profiles that represent the semantic context in which a given concept occurs, as described in [60]. Creating these profiles is highly dependent on the annotation of a large set of documents with diverse and rich concepts from various semantic types. Co-occurrence and context-based association metrics can in turn be exploited for discovering implicit (A-B-C) concept relations from the literature, therefore supporting hypothesis generation and knowledge discovery.
With this analysis, we show that Neji is a good starting point to develop complex biomedical text mining projects, supporting advanced and reliable features and giving users the power to choose the best behaviors considering the complete tree of recognized concepts and their specific goals.
Conclusion
This article presents Neji, an open source and modular framework optimized for general biomedical concept recognition. It was developed considering scalability, flexibility, speed and usability. Neji integrates state-of-the-art and optimized solutions for biomedical natural language processing, such as sentence splitting, tokenization, lemmatization, POS tagging, chunking and dependency parsing. Concept recognition is supported through dictionary matching and machine learning, integrating features to perform normalization of recognized chunks of text. Various known biomedical input and output formats are also supported, namely Raw, XML, A1 and CoNLL. Recognized concepts are stored in an innovative concept tree, supporting nested and intersected concepts with multiple identifiers. Such structure provides enriched concept information and gives users the power to decide the best behavior for their specific goals, using the included methods for handling and processing the tree.
We also evaluated Neji against a wide variety of biomedical entity types, achieving high-performance results on manually annotated corpora. To the best of our knowledge, the analysis presented constitutes the most comprehensive evaluation of named entity recognition and normalization for such a heterogeneous set of biomedical concept types. Additionally, the presented processing speeds make the annotation of large document sets a reality. We also described the simple usage of Neji through the integrated CLI tool, which allows annotating thousands or millions of documents with a simple bash command. Furthermore, we illustrated the simplicity of developing a custom pipeline using existing modules.
We believe that the characteristics and complex features provided by Neji fill the gap between general frameworks (e.g., UIMA and GATE) and more specialized tools (e.g., NER and normalization). It streamlines and facilitates biomedical concept recognition, using both dictionary and machine learning-based approaches to extract multiple concept types in an integrated ecosystem. Neji simplifies concept recognition tasks in biomedical information extraction, and it can be easily integrated in complex workflows contributing towards more accurate knowledge discovery.
There are already various solutions developed and/or being developed on top of Neji, such as: a) a solution to extract gene-drug relations from scientific articles; b) a web-based solution and respective web-services for on-demand biomedical concept recognition [61]; c) an information retrieval solution for knowledge discovery focused on degenerative diseases; and d) an information retrieval system focused on relevant and informative sentences.
Availability and requirements
Project name: Neji
Project home page: http://bioinformatics.ua.pt/neji
Operating system(s): Platform independent
Programming language: Java
Other requirements: Java 1.7 or higher
License: Creative Commons Attribution-NonCommercial-ShareAlike 3.0 Unported License
Any restrictions to use by non-academics: Non-commercial use
Endnotes
aA. thaliana, B. taurus, C. elegans, C. reinhardtii, D. rerio, D. discoideum, A. mellifera, C. albicans, D. melanogaster, H. sapiens, M. musculus, R. norvegicus, S. cerevisiae, Hepatitis C virus, M. pneumoniae, P. falciparum, P. carinii, S. pombe, Z. mays, E. coli and X. laevis.
Declarations
Acknowledgments
This work was supported by FEDER through the Operational Program Competitiveness Factors - COMPETE and by National Funds through FCT - Foundation for Science and Technology, in the context of the projects FCOMP-01-0124-FEDER-010029 (FCT reference PTDC/EIA-CCO/100541/2008), FCOMP-01-0124-FEDER-022682 (FCT reference PEst-C/EEI/UI0127/2011) and Incentivo/EEI/UI0127/2013. S. Matos is funded by FCT under the Ciência2007 programme.
Authors' Affiliations
(1)
IEETA/DETI, University of Aveiro, Campus Universitário de Santiago, Aveiro, Portugal
Copyright
© Campos et al.; licensee BioMed Central Ltd. 2013
This article is published under license to BioMed Central Ltd. This is an Open Access article distributed under the terms of the Creative Commons Attribution License (http://creativecommons.org/licenses/by/2.0), which permits unrestricted use, distribution, and reproduction in any medium, provided the original work is properly cited.