ViralPhos: incorporating a recursively statistical method to predict phosphorylation sites on virus proteins
BMC Bioinformatics
2013
14(Suppl 16):S10
Published: 22 October 2013
Abstract
Background
The phosphorylation of virus proteins by host kinases is linked to viral replication. This leads to an inhibition of normal host-cell functions. Further elucidation of phosphorylation in virus proteins is required in order to aid in drug design and treatment. However, only a few studies have investigated substrate motifs in identifying virus phosphorylation sites. Additionally, existing bioinformatics tool do not consider potential host kinases that may initiate the phosphorylation of a virus protein.
Results
329 experimentally verified phosphorylation fragments on 111 virus proteins were collected from virPTM. These were clustered into subgroups of significantly conserved motifs using a recursively statistical method. Two-layered Support Vector Machines (SVMs) were then applied to train a predictive model for the identified substrate motifs. The SVM models were evaluated using a five-fold cross validation which yields an average accuracy of 0.86 for serine, and 0.81 for threonine. Furthermore, the proposed method is shown to perform at par with three other phosphorylation site prediction tools: PPSP, KinasePhos 2.0 and GPS 2.1.
Conclusion
In this study, we propose a computational method, ViralPhos, which aims to investigate virus substrate site motifs and identify potential phosphorylation sites on virus proteins. We identified informative substrate motifs that matched with several well-studied kinase groups as potential catalytic kinases for virus protein substrates. The identified substrate motifs were further exploited to identify potential virus phosphorylation sites. The proposed method is shown to be capable of predicting virus phosphorylation sites and has been implemented as a web server http://csb.cse.yzu.edu.tw/ViralPhos/.
Keywords
virusprotein phosphorylationsubstrate motifsupport vector machine
Introduction
A virus is a biological agent capable of interrupting and manipulating normal functions of a cell [
1
]. In humans, viruses interfere with the normal cellular processes of its host by perturbing the cellular regulatory networks [
2
]. As shown in Figure
1
, viruses undergo phosphorylation by host-cell kinases as a means of enhancing replication and inhibition of normal cellular functions [
3
]. With the high-throughput of mass spectrometry (MS)-based proteomics [
4
], an increasing number of virus phosphorylation sites has been identified over the years, including human influenza virus [
5
], human immunodeficiency virus [
6
] and the human herpes virus [
7
].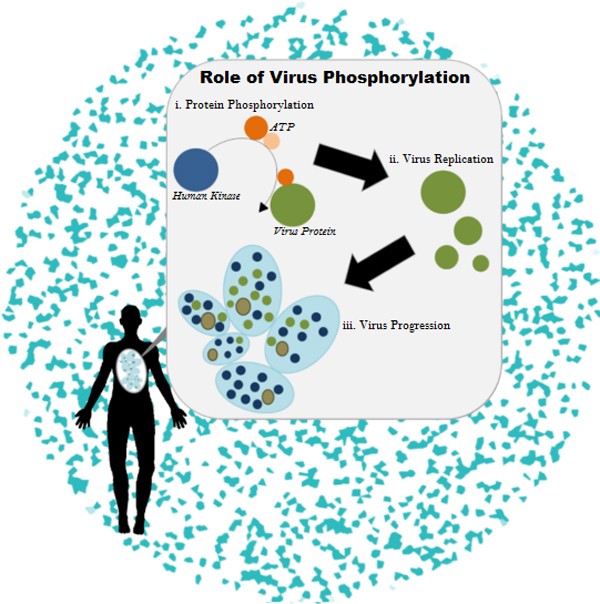 Protein phosphorylation is a well-studied post-translational modification (PTM) process in eukaryotic cells [4]. The process is initiated by a protein kinase, which transfers of a phosphate group to a target protein substrate - commonly on a serine (S), threonine (T), or tyrosine (Y) residue [8]. Protein substrate sites phosphorylated by a protein kinase agree to a certain linear motif signature. These short linear motifs can be explored in order to further elucidate the interaction between host-cell kinase and virus protein substrates. Also, it will be useful to identify the corresponding kinases that recognize these motifs due to its potential as drug targets [9]. However, previous studies do not consider the corresponding substrate site specificities of catalytic kinases [10].
This study aims to analyze experimentally identified virus phosphorylation sites by bioinformatics analysis. We present a statistical method for identifying potential phosphorylation sites and its potential kinase substrate motifs on virus proteins. In this work, substrate motifs were identified and matched with several well-studied kinase groups as potential catalytic kinases for virus protein substrates. The identified substrate motifs were further exploited to help identify potential virus phosphorylation sites. The method is implemented as a web server, ViralPhos, accessible at http://csb.cse.yzu.edu.tw/ViralPhos/.
Conclusion
We have developed a novel method for identifying potential virus substrate site specificities and give information on its likely catalytic host kinase. We have identified informative motifs that matched with several well-studied kinase groups including CDK, MAPK, CK2, and PKB as potential catalytic kinases for virus protein substrates. A five-fold cross validation evaluation shows that the proposed method can identify virus phosphorylation sites based on the MDDLogo-identified motifs. Furthermore, an independent test done using data not included in the model training confirms the ability of our MDDLogo-clustered SVMs. The high sensitivity and specificity of MDDLogo-clustered SVMs show that the substrate site motifs are effective for the identification of potential viral protein phosphorylation sites. Overall, this study provides valuable information to the scientific community about what kind of host kinases may be responsible for the phosphorylation of viral proteins. However, it should be noted that the motif result is dependent on the experimentally verified virus phosphorylation sites used as a training data set. Future direction of this work would require the inclusion of a more abundant set of experimentally verified kinase-catalyzed virus phosphorylation sites.
Availability
ViralPhos can be accessed via a web interface, and is freely available to all interested users at http://csb.cse.yzu.edu.tw/ViralPhos/. All of the data set used in this work is also available for download in the website.
Declarations
Declarations
The authors sincerely appreciate the National Science Council of the Republic of China for financially supporting publication of this research under Contract Number of NSC 101-2628-E-155-002-MY2.
This article has been published as part of BMC Bioinformatics Volume 14 Supplement 16, 2013: Twelfth International Conference on Bioinformatics (InCoB2013): Bioinformatics. The full contents of the supplement are available online at http://www.biomedcentral.com/bmcbioinformatics/supplements/14/S16.
Authors' Affiliations
(1)
Department of Computer Science and Engineering, Yuan Ze University, Chung-Li, Taiwan
(2)
Graduate Institute of Biomedical Informatics, Taipei Medical University, Taipei, Taiwan
Copyright
© Huang et al.; licensee BioMed Central Ltd. 2013
This article is published under license to BioMed Central Ltd. This is an open access article distributed under the terms of the Creative Commons Attribution License (http://creativecommons.org/licenses/by/2.0), which permits unrestricted use, distribution, and reproduction in any medium, provided the original work is properly cited.