cellXpress: a fast and user-friendly software platform for profiling cellular phenotypes
BMC Bioinformatics
2013
14(Suppl 16):S4
Published: 22 October 2013
Abstract
Background
High-throughput, image-based screens of cellular responses to genetic or chemical perturbations generate huge numbers of cell images. Automated analysis is required to quantify and compare the effects of these perturbations. However, few of the current freely-available bioimage analysis software tools are optimized for efficient handling of these images. Even fewer of them are designed to transform the phenotypic features measured from these images into discriminative profiles that can reveal biologically meaningful associations among the tested perturbations.
Results
We present a fast and user-friendly software platform called "cellXpress" to segment cells, measure quantitative features of cellular phenotypes, construct discriminative profiles, and visualize the resulting cell masks and feature values. We have also developed a suite of library functions to load the extracted features for further customizable analysis and visualization under the R computing environment. We systematically compared the processing speed, cell segmentation accuracy, and phenotypic-profile clustering performance of cellXpress to other existing bioimage analysis software packages or algorithms. We found that cellXpress outperforms these existing tools on three different bioimage datasets. We estimate that cellXpress could finish processing a genome-wide gene knockdown image dataset in less than a day on a modern personal desktop computer.
Conclusions
The cellXpress platform is designed to make fast and efficient high-throughput phenotypic profiling more accessible to the wider biological research community. The cellXpress installation packages for 64-bit Windows and Linux, user manual, installation guide, and datasets used in this analysis can be downloaded freely from http://www.cellXpress.org.
Keywords
Nuclear Region
Segmentation Accuracy
Phenotypic Profile
Cell Segmentation
Segmentation Mask
Introduction
High-throughput, image-based phenotypic profiling enables multi-parameter measurements of cellular responses to large-scale genetic or chemical perturbations. These measurements are useful for unraveling complex changes in cellular morphology and protein subcellular localization [1], and have been used to study drug responses [2], cell division [3], cytoskeleton remodelling [4], and endocytosis [5]. Several free software tools are currently available for analyzing microscopy images. They include CellProfiler [6], ImageJ [7], BioImageXD [8], Icy [9], OMERO [10], and EBImage [11].
However, most of these existing software tools are designed for general 2D, 3D or time-lapse image analyses, such as de-convolution, segmentation, registration, and motion tracking (Figure
1
). Few of them are specifically designed for high-throughput cellular phenotype profiling that generates huge numbers of microscopy images (on the order of 10
4
-10
5
) and poses several new and different challenges to the analysis pipeline and user-interface design. First, individual cells need to be identified and quantified from these images within a reasonable time (usually less than a day for an entire dataset). However, most of the existing free bioimage analysis software tools are developed in high-level programming languages, such as Python or Java, which are slower than C/C++ in executing computational algorithms [
12
,
13
]. Some of the current tools alleviate this problem through external computer clusters [
6
], which are usually expensive and difficult to manage. Second, diverse types and often large numbers of phenotypic features are required to distinguish the effects of different perturbations [
2
]. However, most existing tools can extract limited types of phenotypic features. For example, features comparing different sub-cellular regions, such as nuclear versus cytoplasmic intensity, are not available in most existing tools without custom scripting or programming (Figure
1
). Third, computational algorithms are required to transform the extracted features into discriminative profiles that can reveal biologically meaningful associations among the tested perturbations [
14
]. Very few of the existing tools can currently perform this function (Figure
1
). Last, intuitive user interfaces are required for configuring algorithms and visualizing results, such as displaying the computed segmentation boundaries or feature values on top of cell images. Therefore, there is a need for a new free and user-friendly software tool that can address these needs of high-throughput phenotypic profiling.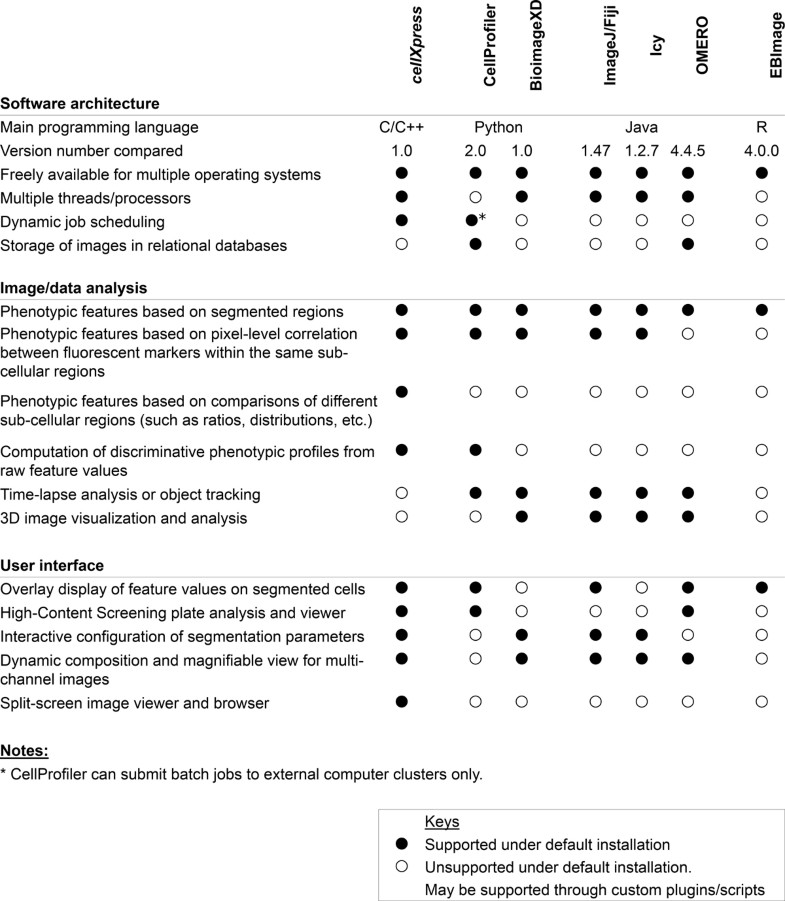 Results and discussion
Processing speed and segmentation accuracy
A fast and accurate bioimage analysis software platform is required to process the huge amount of microscopy images generated from high-throughput phenotypic profiling experiments. We compared the processing speed and accuracy of cellXpress, CellProfiler [6], and ImageJ/Fiji [42] in segmenting the Kc167, HT29, and HeLa datasets. These three software packages implement variants of similar seeded watershed segmentation algorithms [25]. For CellProfiler [43], we used the segmentation pipeline and optimized parameters included in the Kc167 dataset zip file [31]. We disabled the image cropping function, "show all windows on run" option, and feature-extraction steps in the original pipeline. The pipeline identified DNA regions and the cellular regions using Otsu's thresholding algorithm [43]. For Fiji [42], we implemented a macro script to perform watershed segmentation. The script identified cellular regions using Li's Minimum-Cross-Entropy [44] and Triangle-thresholding algorithms [45] implemented in Fiji for the Kc167 and HT29 datasets, respectively. We found that these two thresholding algorithms gave the best segmentation results for the respective datasets for Fiji.
To evaluate processing speed, we measured the processing time of the whole segmentation process, which includes image loading, processing, and saving. We repeated the measurement five times and computed the mean and standard error of the measurements (Additional file
3
). To avoid memory caching, we re-started each software package after every measurement. We found that
cellXpress
was ~2.3-17.5 times faster than CellProfiler and Fiji (Figure
6a
and Additional file
3
) on the three tested datasets. For the Kc167 dataset with only one image frame,
cellXpress
, Fiji and CellProfiler needed 1.65, 3.7, and 7.6 seconds, respectively, to complete the segmentation jobs. For the HeLa dataset with 176 image frames,
cellXpress
, Fiji and CellProfiler took 32.1, 220.7, and 512.8 seconds respectively, to complete the segmentation jobs. This higher per image performance of
cellXpress
was partially due to the dynamics job scheduler in
cellXpress
. Based on our results, we estimate that
cellXpress
would only take ~5-9 hours to process a typical genome-wide gene knockdown image dataset (~20,000 genes × 9 frames/gene = ~180,000 frames) on a personal desktop similar to our test system, while other software tools could take ~2-6 days. The fast processing speed of
cellXpress
makes it more efficient for analyzing data generated from high-throughput experiments, such as gene-knockdown or small-molecule screens, on modern desktop computers without requiring expensive computer clusters.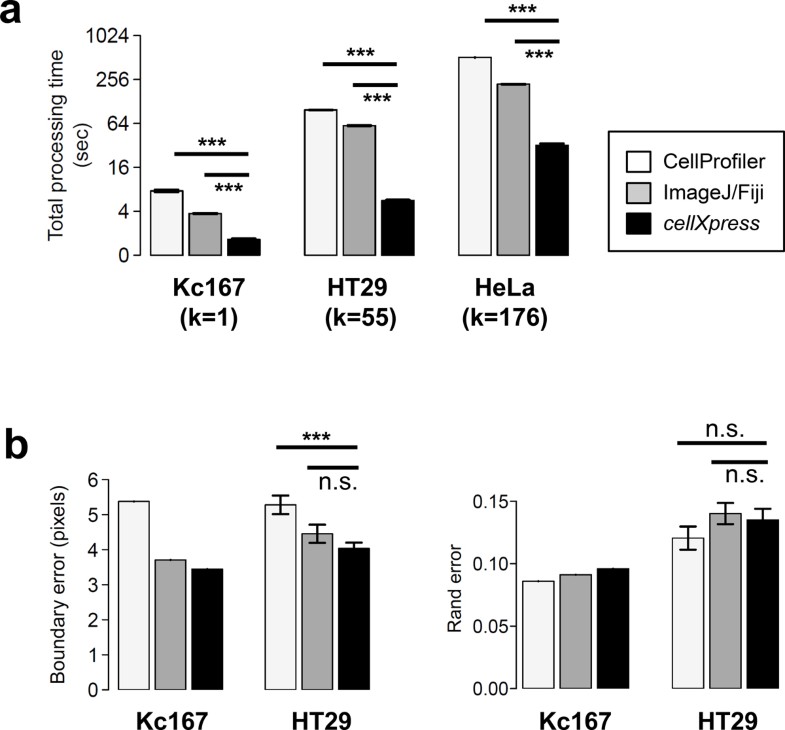 To evaluate segmentation accuracy, we compared cell masks obtained automatically from the three software platforms to cell masks obtained from manual segmentation. For the Kc167 dataset, we manually segmented each individual cell based on the actin channel. For the HT29 dataset, we used the manual segmentation masks from the Broad Institute's website [32]. The image frame "10779.DIB" was excluded from analysis, as suggested from the website, because of insufficient image quality. We found that the cellXpress had slightly better or similar segmentation accuracies than Fiji and CellProfiler (Figure 6b). The boundary error of cellXpress was significantly lower than CellProfiler (P<0.001), but the Rand errors of the three tested tools were not significantly different from each other (P>0.05, both using two-sided t-tests). Therefore, the faster speed of cellXpress does not come at the cost of segmentation accuracy.
Evaluation of phenotypic profiling
To demonstrate the ability of
cellXpress
to identify functional relationships from large-scale gene knockdown studies, we considered an image dataset from a siRNA screen on HeLa cells stained for DNA, tubulin and actin [
35
]. We focused on four groups of genes that are part of the structural components of actins or microtubules, or the synthesis machineries for RNAs or proteins (Additional file
1
); and constructed three types of phenotypic profiles, namely mean, PCA, and d-profiles, for the dataset (Figure
7a
). We found that d-profiles separate these groups better, with smaller intra-group and larger inter-group average dissimilarity, than mean- or PCA-based profiles (Figure
7b
). We tested
n
= 5, 10 and 30, and found that d-profiles had the highest average inter-group distance, irrespective of
n
(Figure
7c
).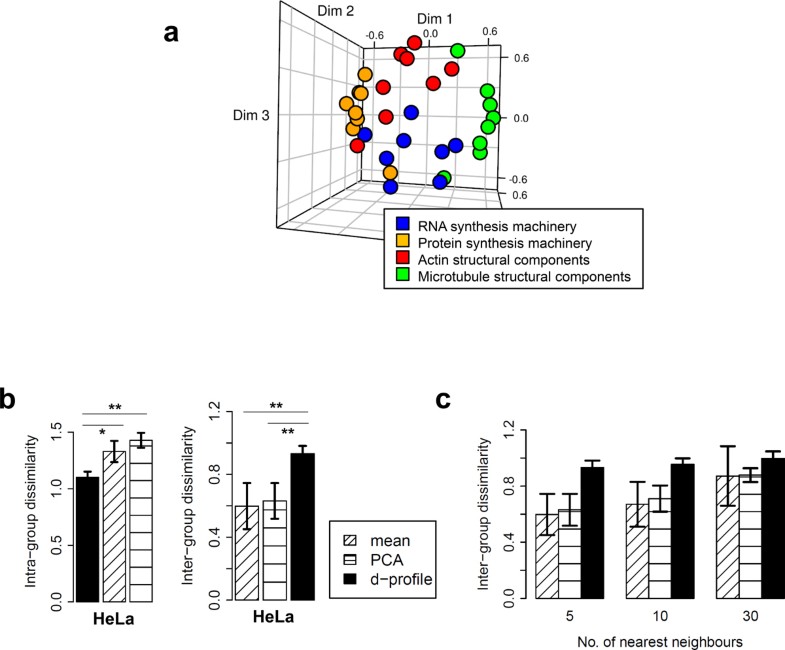 The better performance of d-profiles may be attributed to its ability to capture more informative features. Mean profiles are the arithmetic means of the extracted features across all cells, and PCA profiles are based on an orthogonal transformation of the features into a new set of linearly uncorrelated variables with descending variance (see Evaluation Methods). Both methods do not remove or penalize non-informative features that show high-variance but similar values in both siRNA-treated and control cells. However, d-profiles are based on SVM hyperplanes that optimally separate between treated and control cells, and thus will give lower weights to these non-informative features. Interestingly, we found that d-profiles could distinguish genes involved in the synthesis machineries of RNAs or proteins (Figure 7a), although the cells were only stained with markers for cytoskeleton components. This shows the potential of using morphological and intensity features of a small set of markers to distinguish genes with different biological functions.
Conclusions
The cellXpress platform is specifically designed to make fast and efficient high-throughput phenotypic profiling more accessible to the wider scientific community. Other biological image analysis software platforms may be more appropriate for analyzing time-lapse or 3D microscopy images, or managing large image databases (Figure 1). The cellXpress platform is actively maintained and updated. Future planned improvements include graphics-processing-unit (GPU)-based acceleration, and gene or chemical annotation analysis. The cellXpress software package can be downloaded from http://www.cellXpress.org.
Declarations
Acknowledgements
We thank Cecilia Wei-Ling Tan for her comments and help in performing manual cell segmentation.
Declarations
Publication of the work is supported by Biomedical Research Council of A*STAR (Agency for Science, Technology and Research), Singapore.
This article has been published as part of BMC Bioinformatics Volume 14 Supplement 16, 2013: Twelfth International Conference on Bioinformatics (InCoB2013): Bioinformatics. The full contents of the supplement are available online at http://www.biomedcentral.com/bmcbioinformatics/supplements/14/S16.
Authors' Affiliations
(1)
Bioinformatics Institute, Agency for Science, Technology and Research, Singapore, Singapore
(2)
School of Computer Engineering, Nanyang Technological University, Singapore, Singapore
(3)
Department of Pharmacology, Yong Loo Lin School of Medicine, National University of Singapore, Singapore, Singapore
Copyright
© Laksameethanasan et al.; licensee BioMed Central Ltd. 2013
This article is published under license to BioMed Central Ltd. This is an open access article distributed under the terms of the Creative Commons Attribution License (http://creativecommons.org/licenses/by/2.0), which permits unrestricted use, distribution, and reproduction in any medium, provided the original work is properly cited.