Analysis and consensus of currently available intrinsic protein disorder annotation sources in the MobiDB database
BMC Bioinformatics
2013
14(Suppl 7):S3
Abstract
Background
Intrinsic protein disorder is becoming an increasingly important topic in protein science. During the last few years, intrinsically disordered proteins (IDPs) have been shown to play a role in many important biological processes, e.g. protein signalling and regulation. This has sparked a need to better understand and characterize different types of IDPs, their functions and roles. Our recently published database, MobiDB, provides a centralized resource for accessing and analysing intrinsic protein disorder annotations.
Results
Here, we present a thorough description and analysis of the data made available by MobiDB, providing descriptive statistics on the various available annotation sources. Version 1.2.1 of the database contains annotations for ca. 4,500,000 UniProt sequences, covering all eukaryotic proteomes. In addition, we describe a novel consensus annotation calculation and its related weighting scheme. The comparison between disorder information sources highlights how the MobiDB consensus captures the main features of intrinsic disorder and correlates well with manually curated datasets. Finally, we demonstrate the annotation of 13 eukaryotic model organisms through MobiDB's datasets, and of an example protein through the interactive user interface.
Conclusions
MobiDB is a central resource for intrinsic disorder research, containing both experimental data and predictions. In the future it will be expanded to include additional information for all known proteins.
Keywords
Reference SequenceProtein Data BankIntrinsic DisorderAnnotation SourceComplete Proteomes
Background
Intrinsic protein disorder is becoming an increasingly important topic in protein science [1–3]. Protein function has been traditionally thought to be determined by tertiary structure. Over the last decade, intrinsically disordered proteins (IDPs) have been found to be important in many important biological processes [4–6]. IDPs are widespread in natural proteins, especially in eukaryotic organisms [7, 8], and are frequently associated with molecular recognition [9, 10]. They have been observed to be common among hub proteins, i.e. those with many interaction partners [11] and also to play a key role in human disease [12]. In addition, protein disorder is important for experimental protein characterization since difficulties often arise when long disordered regions are present, which frequently happens at the N and C termini [13]. IDPs represent a heterogeneous concept with many different and elusive definitions [14] which can be traced back to different indirect experimental methods.
Sources of disorder information
Currently available sources for intrinsic disorder annotations can be divided in two main groups. The first group includes annotations inferred from experiment, with evidence in publications. The second group includes annotations automatically extracted by computational tools. The latter can be further subdivided into automatic annotations derived from experimental sources, and automatic annotations obtained from software predictors.
There are currently two available sources of intrinsic protein disorder information with evidence in publications. The DisProt [15] database, a manually curated repository, features disorder and structure annotations for 667 proteins (version 6.00). The IDEAL [16] database, also manually curated, contains information on 209 proteins. The Protein Data Bank (PDB) [17] constitutes the main source of available experimentally-based disorder annotations with over 70,000 different structures. It is widely accepted that missing residues from X-ray structures have a good correlation with intrinsically disordered residues [18]. These missing regions can easily be extracted from structure files deposited in the PDB. Some 6,000 structures solved by NMR experiments are generally deposited as structural ensembles in a single file. These can be used to detect residue mobility [19] which, in a way that is analogous to the missing X-ray regions, are a good indicator of intrinsic disorder. NMR structures were only recently considered in disorder prediction [20], demonstrating the long held belief of different flavours of disorder [1, 3, 21].
A great number of intrinsic disorder predictors have been developed over the last few years [22], with two main scenarios emerging for their application. The first is represented by predictions of disorder on a relatively small number of proteins with maximum accuracy, such as in the CASP experiment [23]. Most existing prediction methods, such as Disopred [7], VSL1 [24] and CSpritz [25], have been trained for this scenario. A more practical scenario is however represented by the genome-scale analysis of disorder [1, 8], where some performance is sacrificed to achieve results in a reasonable time frame. This usually entails using a method that does not require a multiple-sequence alignment, thereby speeding up computation by several orders of magnitude [20]. DisEMBL [26], IUPred [27] and, more recently, ESpritz [20] have been all developed with this scenario in mind.
In the following, we will describe the construction of the MobiDB database of experimental and predicted disorder annotations in proteins [28]. In particular, we will compare the different annotation sources and how they are integrated. A coherent consensus disorder definition will be derived and used to annotate the proteomes of a set of representative model organisms.
Materials and methods
Database structure
MobiDB [
28
] data is stored and queried using the PostgreSQL database engine. The database schema is composed of 11 tables and shown in Figure
1
. The main idea in the database is to have a set of reference protein sequences, which will be annotated by associating as many annotating sequences as possible to them. The reference sequences represent distinct biological objects, e.g. proteins, which can be obtained with unique identifiers from a reference collection such as UniProt. Annotating sequences are obtained from the various sources mentioned in the previous section. They can be mapped at residue-level to the reference sequences, and provide information such as e.g. disorder, secondary structure, and sequence conservation. In principle, the database schema can be used for any sequence-based annotation. The data is partially normalized, although some exceptions to the normal forms have been introduced with the aim of improving efficiency when inserting and querying data.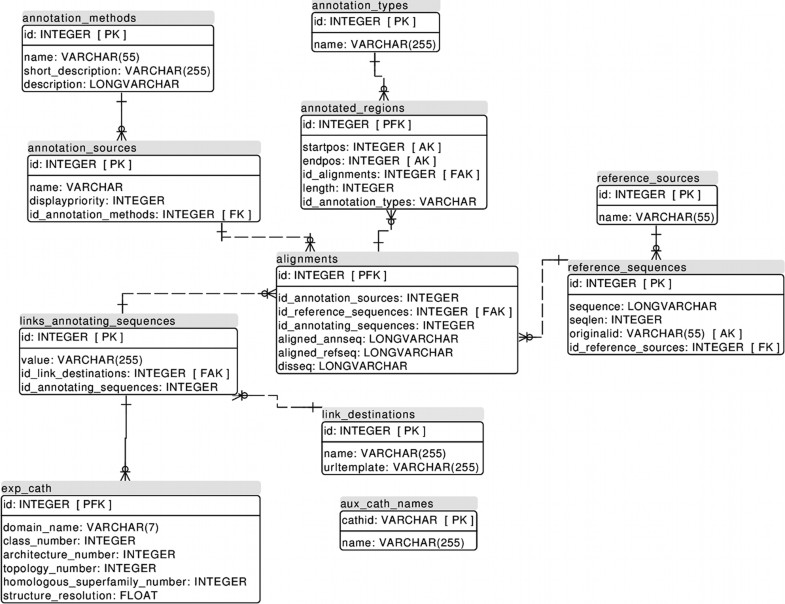 Data loading is performed as a three-step process. In the first step, annotations are extracted from each annotation source and stored as two Fasta files. One of these files contains the annotating sequences, and the other the annotations extracted from those. An extra comma-separated file is generated which links the annotating sequences to their corresponding reference sequences. In the second step, a script takes the first step output files and generates tab-separated files compatible with the database engine's batch-loading mechanism. During this step, if an annotating sequence covers only part of its corresponding reference sequence, an alignment between the two is performed. The potential resulting gaps introduced in the annotating sequence are also transferred to the extracted annotation. The third and final step consists simply of loading the data in batch to the database. To maximize the loading performance, the affected database indices are dropped before the insertion begins. The resulting database constitutes the backend of the application, which will then be accessed by the user interface.
The middle tier of MobiDB is composed of Java Servlets. These receive a query from the front-end, submit it to the backend, and translate the results into hierarchical Java objects. These objects are then transformed into JSON objects, and made available for further processing by the front-end. MobiDB's user interface makes extensive use of modern internet browser features to provide a flexible user experience. The results provided by the middle-tier are processed and displayed using the JQuery JavaScript library. A widget system was developed which allows for the display of information in independent UI subunits that can be rearranged throughout the screen by the user to fit its needs.
Disorder data and resources in MobiDB
All of the aforementioned disorder sources are integrated into the MobiDB database. XML files from the DisProt and IDEAL databases are parsed for annotations. Information on the corresponding UniProt entries to be linked to those sources is included in also included in the XML files. Annotating sequences from PDB files are extracted by means of custom scripts (X-ray) and the MOBI server (NMR). These annotations are then linked to their corresponding UniProt protein sequences by means of the SIFTS database [29]. In order to capture different flavours of disorder, seven in silico disorder predictors are run against all the reference sequences: Three Espritz [20] flavours (X-ray, NMR, DisProt) and two flavours each for IUpred [27] (short, long) and DisEMBL [26] (remark465 and hot loops).
MobiDB version 1.2.1 integrates the latest versions of its data sources at the time of writing. It features a total of 4,662,776 proteins and covers all complete proteomes for eukaryotic species, as present in the UniProt database [
30
]. Table
1
provides a detailed list of such sources and their corresponding versions.
Table 1
Overview of the databases used in ModiDB 1.2.1. The databases used and relevant references are listed with the description of extracted information and the version or download date included in MobiDB.
| Database | Reference | Information extracted | Version/Date |
| --- | --- | --- | --- |
| UniProt | [30] | Reference sequences | 2012-07 |
| DisProt | [15] | Disorder and structure | 6.00 |
| IDEAL | [16] | Disorder and structure | 2012-05-09 |
| PDB | [17] | Disorder and structure | 2012-08-15 |
| SIFTS | [29] | UniProt-PDB links | 2012-08-15 |
| Pfam | [34] | Functional domain annotations | Web service |
| OMA Browser | [31] | Protein orthologs | 2012-03 |
| CATH | [35] | Structural classification | 3.4 |
| DSSP | [36] | Secondary structure | 2012-08-15 |
Disorder consensus and weighting
For each protein with experimental annotations, the average of annotating sequences in the MobiDB database is seven. The annotations from
in silico
predictors are excluded from this average, since they require only the protein sequence as input and can therefore provide annotations for all proteins in the database. Furthermore, different disorder annotation sources may reflect different types of disorder phenomena. Given these facts, a simple method to combine annotations would allow for a more integral vision of disorder information. With this in mind, we developed a novel consensus disorder annotation that integrates all available disorder annotations for a protein. The consensus is calculated for each position of the reference sequence, by taking into account the corresponding positions in the annotating sequences whenever they are available. It is composed of two values:
disorder level
, and
annotation score
. The disorder level evidences how much the selected annotations agree on whether a given position of the reference sequence is structured or disordered. It is an integer value ranging from 0 to 9, with 0 meaning full agreement on a region being structured, and 9 meaning full agreement on a structure being disordered. It is calculated by the following formula:
where is the sum of weights of annotations considering the region disordered, and is the sum of weights of annotations considering the region structured. The annotation score evidences the strength of a given consensus annotation. It is the sum of the weights of every annotation that agrees with the final consensus for a certain region. Its objective is to allow the classification of regions according to the amount of data backing up the resulting annotation. This amount is also dependent on the relative weight of each annotation. In all cases, the sums are calculated over all the annotations corresponding to a certain position of the reference sequence. This may be visualized as the columns in an alignment between the reference sequence and its corresponding annotating sequences. In the case where an annotating sequence has no annotation for a certain reference sequence position, its contribution to the sum is zero. In all cases the minimum value of the sums is zero, and the maximum will depend on the number of annotations available, and the weight assigned to each of them.
Empirical weight factors have been derived for each disorder annotation source. Intuitively, the rationale is to favour manually curated annotations (DisProt and IDEAL) over experimental structures from the PDB, and the latter over all predictors. The weighting factors were thus chosen to resemble this situation, with X-ray structures judged depending on resolution and preferred over NMR models. The weights for annotations obtained from the DisProt and IDEAL databases were chosen so that having a few high resolution X-ray structures can tilt the disorder consensus towards ambiguity as these are may represent regions of alternating structure. DisProt and IDEAL annotations are assigned a weight of 3, to reflect the quality of the manually curated data. Each X-ray annotation is given a weight according to the following formula, which increases the weight as the resolution of the experiment improves:
where r is the resolution of the experiment, and rT is a user-defined maximum resolution threshold. This threshold allows the user to set a baseline in the form of a minimum resolution required for a structure to provide a significant annotation. In the case where the resulting weight is smaller than 0.2, a fixed value of 0.2 is assigned. PDB NMR structures are assigned a fixed weight of 0.2 each, to reflect the usually higher uncertainty in coordinates obtained by NMR experiments when compared to their X-ray counterparts. Finally, predictor-generated annotations are given a weight of 0.05, which allows experimentally obtained data to prevail whenever it is available.
Sequence conservation and disorder classification
In order to provide information regarding the sequence conservation of disorder, MobiDB [28] also annotates sequence conservation on groups of orthologous protein sequences. For each reference sequence in the database, a search is performed in the OMA Browser database [31] to look for a corresponding group of orthologs. If such a group is found and contains at least 10 members, a multiple sequence alignment is constructed with CLUSTALW [32]. A position in the alignment is considered conserved if the same residue is present in at least 50% of the sequences. Whenever such sequence conservation annotations are available, disordered regions in reference sequences are classified in a way analogous to the definitions introduced by Bellay and co-workers [33]. If the region is disordered and its sequence conserved, it is defined as "constrained disorder". If, on the other hand, the region is disordered but the sequence not conserved, it is termed "flexible disorder".
Results and discussion
In order to assess the available information on disorder, it was first necessary to create a new database. MobiDB was thus designed with three main goals in mind: performance, scalability and usability. The database had to maintain good performance both when loading, so it can be updated frequently, and querying, so as to be useful for the public by providing fast response times. It had to be scalable, meaning that performance levels can be maintained when expanding with further information. Last but not least, it had to provide high levels of usability, giving the user a centralized, flexible and useful way to access intrinsic disorder information in an intuitive way. Updates for MobiDB are carried out through a three-step loading process integrated into a single, automated pipeline (see Methods). This allows for the easy regeneration of the entire database with up-to-date information in less than a week's time. Enabled by this fact, and based on the update frequencies of the different sources integrated into MobiDB, we have set a quarterly update interval. Every three months MobiDB will be updated to keep up with recent additions to its information sources.
Conclusions
We have presented a detailed description of MobiDB, a database of experimental and predicted disorder in proteins, and its main features, disorder consensus and weighting. The database is highly modular and extensible, allowing inclusion of a growing amount of information. A comparison between different disorder data sources highlights how the MobiDB consensus captures the main features of intrinsic disorder and correlates well with the manually curated datasets from DisProt and IDEAL. In more detail, the DisProt curation is best approximated with a combination of disorder predictors, allowing a robust estimation of the presence of disorder in eukaryotic genomes, roughly confirming the higher incidence of disorder in higher organisms. In the future we plan to expand MobiDB to include additional information for all known proteins, both from experimental sources and new predictors, with the goal of making it an increasingly useful, centralized source of data for intrinsic disorder research.
Declarations
Acknowledgements
The authors are grateful to members of the BioComputing UP lab for useful discussions.
Declarations
This project was supported by funding from the University of Padova (CPDA098382, CPDR097328), FIRB Futuro in Ricerca (RBFR08ZSXY) and Cariplo (2017/0724) to S.T.
This article has been published as part of BMC Bioinformatics Volume 14 Supplement 7, 2013: Italian Society of Bioinformatics (BITS): Annual Meeting 2012. The full contents of the supplement are available online at http://www.biomedcentral.com/bmcbioinformatics/supplements/14/S7
Authors' Affiliations
(1)
Department of Biology, University of Padova, Padova, Italy
Copyright
© Di Domenico et al.; licensee BioMed Central Ltd. 2013
This article is published under license to BioMed Central Ltd. This is an open access article distributed under the terms of the Creative Commons Attribution License (http://creativecommons.org/licenses/by/2.0), which permits unrestricted use, distribution, and reproduction in any medium, provided the original work is properly cited.