Research article
Open Access
QMachine: commodity supercomputing in web browsers
BMC Bioinformatics
2014
15:176
Received: 19 February 2014
Accepted: 27 May 2014
Published: 9 June 2014
Abstract
Background
Ongoing advancements in cloud computing provide novel opportunities in scientific computing, especially for distributed workflows. Modern web browsers can now be used as high-performance workstations for querying, processing, and visualizing genomics' "Big Data" from sources like The Cancer Genome Atlas (TCGA) and the International Cancer Genome Consortium (ICGC) without local software installation or configuration. The design of QMachine (QM) was driven by the opportunity to use this pervasive computing model in the context of the Web of Linked Data in Biomedicine.
Results
QM is an open-sourced, publicly available web service that acts as a messaging system for posting tasks and retrieving results over HTTP. The illustrative application described here distributes the analyses of 20 Streptococcus pneumoniae genomes for shared suffixes. Because all analytical and data retrieval tasks are executed by volunteer machines, few server resources are required. Any modern web browser can submit those tasks and/or volunteer to execute them without installing any extra plugins or programs. A client library provides high-level distribution templates including MapReduce. This stark departure from the current reliance on expensive server hardware running "download and install" software has already gathered substantial community interest, as QM received more than 2.2 million API calls from 87 countries in 12 months.
Conclusions
QM was found adequate to deliver the sort of scalable bioinformatics solutions that computation- and data-intensive workflows require. Paradoxically, the sandboxed execution of code by web browsers was also found to enable them, as compute nodes, to address critical privacy concerns that characterize biomedical environments.
Keywords
Cloud computingCrowdsourcingDistributed computingJavaScriptMapReducePaaSSequence analysisWeb service
Background
High-performance computing (HPC) for the life sciences is undergoing a fundamental reshaping [1]. The reliance on processor-intensive resources through which ever-enlarging genomics workflows are funneled is giving way to distributed data-intensive infrastructures like TCGA and ICGC [2]. Accordingly, the immovable volumes that are flooding data centers demand "beyond the data deluge" solutions [3] that invert the traditional transfer model so that computations travel to the data and not vice versa. The emphasis, then, is to maximize the availability of the data and the portability of the application. The increasing use of cloud computing infrastructure for biomedical applications reflects the realignment of HPC, as exemplified by the recent partnership between the National Institute for Health (NIH) and Amazon on the 1000 Genomes Project [4].
At the same time, HPC projects such as SETI@home [5], Folding@Home [6], and BOINC [7] have constructed distributed platforms that aggregate commodity hardware and volunteer compute cycles in order to power computationally intensive scientific workflows. In fact, the Folding@Home project currently utilizes the central and/or graphics processing units from more than 250,000 personal computers and video game consoles [8]. To orchestrate concentrated efforts across such large numbers of physical machines and hardware platforms, researchers provide client applications that they must persuade volunteers to download and install permanently on their machines. These applications range in invasiveness from programs that run only when a machine is idle, such as the pioneering SETI@home, to always-on background services like Condor [9] that may tangibly impact a machine's performance.
The World Wide Web provides a different avenue for HPC, and this is what we explore with QM – a novel direction. The temptation to optimize QM for a particular problem domain was overcome by the greater challenge of creating a system not only to distribute computation across the Web, but also to be "of the Web" itself. A careful study of the Web as a platform reveals that the necessary components are indeed ready for assembly.
The JavaScript (JS) language is not only a "real language" [10] but also a "Lisp in C's clothing" [11] with support for functional and object-oriented programming styles. Unlike Lisp, however, JS is widely used outside of academia and has ranked among the top twelve most popular languages for more than thirteen years [12]. Scientific libraries in JS are relatively scarce, although a number of specialized libraries such as EBI's BioJS [13], NIH/NHGRI JBrowse [14], and the recent Genome Maps [15] have emerged to capitalize on the widespread availability of those computational resources, particularly in the genome browsing application domain.
Web browsers execute JS in sandboxed environments that rigorously control access to machine resources, and now those sandboxes implement standardized APIs that provide native capabilities like hardware-accelerated 3D graphics. All modern browsers and even a few browser plugins include just-in-time (JIT) compilers to boost performance [16]. Regular expressions in JS, for example, perform at levels that are no longer matched by Perl [17], the language most often associated with string processing in bioinformatics applications. Moreover, these high-performance JS environments come pre-installed on every personal computer sold today, as well as on smartphones, tablets, gaming consoles, and even televisions. Thus, web browsers represent a modern route for high-performance computing that is well-suited for the "crowdsourcing" model [18]. Indeed, the current fast proliferation of bioinformatics libraries in JS also reflect the advent of web-based "social coding" environments which present entirely novel opportunities for large-scale collaboration [19]. Furthermore, the networking capabilities of the browser platform allow it to import code and data dynamically and thereby orchestrate distributed workflows across multiple browsers on distinct machines, a feature at the core of social computing [20]. Therefore, what is described in this report could be construed as social computing for machines [21], extending the reach of loose distribution models such as mGrid [22].
The emergence of Big Data in the biomedical sciences has been associated with the proliferation of reference databases such as those reviewed yearly by Nucleic Acids Research[23]. The aggregation of the Web of Linked Data resources independent of the institutions that host them has been approached by comprehensive data models such as the Distributed Annotation System [24], which we have also explored as a backbone for workflow assembly [25]. It is now amply clear, however, that the linking of data resources, regardless of the domain, is itself domain-neutral and best described by dyadic predicates of W3C's Resource Description Framework (RDF) that underlies the third generation of Web technologies [21, 26, 27].
The RDF approach has expanded the basic reliance of unique resource identifiers (URIs) both to identify and locate data (via URLs) which require only a web browser to be put to good use by any researcher, regardless of his expertise or domain of interest. The current extent of its use is dramatically illustrated by the adoption of the RDF framework across all data services of the European Bioinformatics Institute [28]. As also illustrated by some of our work [29–31] developing SPARQL endpoints for TCGA, the volume of the server-side hosted data is not a significant obstacle to developing web applications ("web apps") that consume those data. On the other hand, mechanisms to assemble workflows for data analysis have not yet matured as user-friendly commodities, despite the availability of excellent frameworks like Taverna [32] and SHARE [33]. One possibility is that the underlying web services themselves need to be amenable to assembly at a moment's notice – even for deprecated or outdated versions of a procedure. This is an absolute requirement of the modern focus on reproducibility of workflow results [34]. We have explored the use of modular browser-based web apps to deliver this functionality in standard bioinformatics applications such as image analysis [35] and sequence analysis [36]. The success in those two efforts strengthens the claim that script tag loading, the same mechanism web browsers use to load web apps, can orchestrate and distribute the execution of bioinformatics workflows across multiple physical machines. The illustrative, and validating, example detailed in the Results section below will extend the same example of sequence analysis approached in the second of those two reports by analyzing twenty different genomes of Streptococcus pneumoniae in parallel.
Methods
QM provides a distributed computing platform as a web service (PaaS). Its architecture (see Figure
1
in Results) combines the general pattern of Web 3.0 technologies with the model used by modern social networking sites by decoupling the presentation/analytical layer from the persistent representation layer so that the former runs on the client side as a web app that consumes an application programming interface (API) presented by the latter on the server side. QM also decouples the presentation and analytical layers of the web app so that third parties may embed the QM web service as part of their own web apps.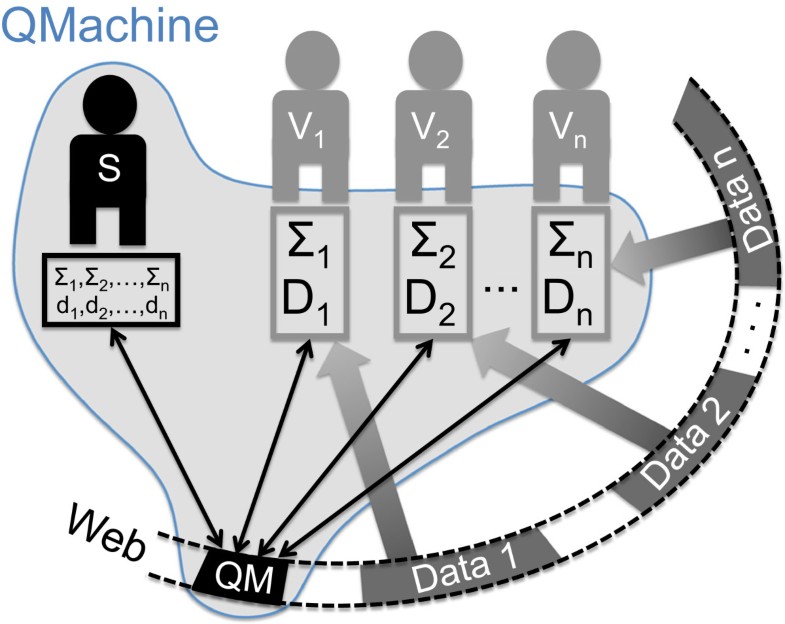 To provide this functionality, QM contains three main components: an API server, a web server, and a website. The API and web servers are written completely in JS, and the website is written in HTML5, CSS, and JS. Nothing about QM's design or interface binds it to a particular development stack, but our desire to construct the project as a true Web Computing "device" motivated us to implement as much of the code in JS as possible. The strategy paid unexpected dividends, as well; the server-side components are free from assumptions about the hardware and operating systems on which they run, which vastly simplifies deployment to the cloud via Platform-as-a-Service (PaaS) [37].
This report also presents code examples (see Results) which can be run from any website that embeds the QM web service. The examples are all written in JS, but some of them also make use of CoffeeScript, "a little language that compiles into JavaScript" [38]. Many common scientific languages can be translated to and from JS, and a comprehensive list of projects for this purpose is available at http://bit.ly/altjsorg.
Results
The architecture of a QMachine detailed in Figure 1 follows the general pattern of Web 3.0 technologies by using the server side exclusively for persistent representation and leaving the rest of the program logic to run on the client side. QM uses a key-value architecture to orchestrate volunteering client machines in a manner that maximizes the distribution of the computational resources required for data transfer and subsequent data processing. This orchestration is highlighted in Figure 1: QM distributes not only the compute cycles needed to execute the n different procedures (Σ1,2,…,n), but also the bandwidth needed the retrieve the corresponding input data (D1,2,…,n) being processed from their respective URLs (d1,2,…,n). This design is motivated by the constraints of biological applications such as next generation sequencing in which the limiting factor is more often the available memory than the processor speed.
The operation of QM relies on the creation of unique identifiers to define "boxes" that are then shared with the volunteering browsers in a manner resembling traditional API keys. This operation will be described in a series of four examples that increase in complexity, beginning with (1) the remote execution of a simple algebraic operation, followed by (2) distribution of the same operation as a parallel (map) transformation of the elements of an array and (3) distribution again as part of a MapReduce procedure; finally, the (4) parallel execution of a real-world genomic sequence analysis in which both the code and the data needed to perform the analysis are invoked by a single submitter but then entirely resolved and executed asynchronously by multiple volunteer browsers. The final, real-world example distributes both the processing and networking loads, as described in Figure
2
. It illustrates the ability of volunteer nodes to call code and data from multiple sources which are independently developed and maintained. This illustrative series is also available as a YouTube webcast at
http://goo.gl/tnpMiQ
.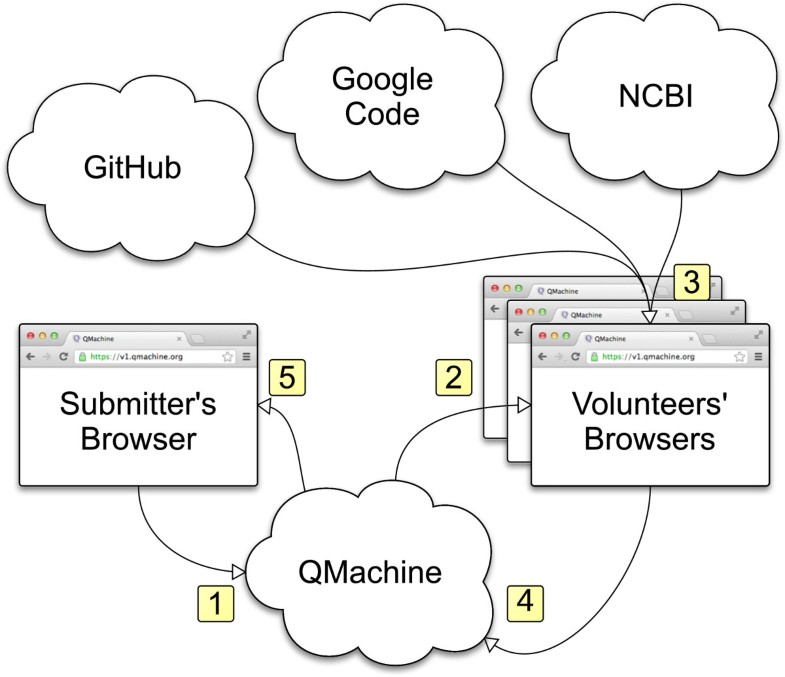 Loading the client-side library
QM's analytical layer is provided by a JS library that can be loaded by any web browser automatically as part of any webpage that contains the following code:
Once loaded, the JS environment will contain a global object named QM with convenient high-level methods that can be used to reproduce the results of the four examples that follow.
(1) Simple algebraic operation
For the first illustrative example, let f be a function that increments a given number x by 2, and let x = 2. To compute the result, f (x), on a volunteer machine, we could use the QM.submit method:
As in the rest of the illustrative series, this example is described and demonstrated in the accompanying screencast (
http://goo.gl/tnpMiQ
). Note also that this simple operation is easily expressed in other languages such as CoffeeScript [
38
]):
As discussed in "Methods", QM's architecture does not impose the use of a specific programming language, as long as a compiler to JS, the web's "assembler language" [35], is distributed with the remote call. To support this claim, the QM client library delegates to a compiler – written in JS – for the CoffeeScript language. For a list of compilers that can translate programs written in other languages into JS so that they can be interpreted by volunteering browsers, see http://bit.ly/altjsorg.
(2) Simple distributed map
Because each QM.submit operation is an asynchronous call, multiple calls can run simultaneously. Thus, it is straightforward to distribute the execution of a "map" function, a higher-order functional pattern that applies the same operation to each element of an array. This pattern is so ubiquitous in scientific computing that it warrants a dedicated method, QM.map, that can be used as follows:
(3) Simple distributed MapReduce
Just as in the "map" function shown above, it is straightforward to distribute the execution of a "reduce" function, a higher-order functional pattern which combines elements of an array two at a time until only one value remains. As recently surveyed by Zou et al. [
59
], the MapReduce programming template is at the very core of modern computationally intensive bioinformatics applications. This third illustration demonstrates the MapReduce pattern as an extension of the second example by subsequently summing the results of the distributed "map" using a "reduce" also distributes across QM's volunteers:
(4) Real-world genomic analysis
The fourth illustrative example assesses QM's ability to scale the asynchronous operations demonstrated above for use in a real-world bioinformatics workflow. The example is a Fractal MapReduce decomposition of sequence alignment [36] which distributes both the processing and networking loads across QM's volunteers, as described in Figure 1. It also demonstrates that libraries of any complexity or elaboration can be distributed to the volunteers along with the commands that invoke those libraries. Specifically, both the data and the library encoding for the sequence analysis procedure are invoked by QM but entirely resolved and executed by the volunteer browsers. It also illustrates the ability of a volunteer node to call code and data from multiple sources which are independently developed and maintained.
A full version of these examples can be found online at http://q.cgr.googlecode.com/hg/index.html. The version there includes the full URLs to all twenty Streptococcus pneumoniae genomes and also to the versioned libraries specified by env. An accompanying screencast for these examples is also provided in that page.
Usage statistics
The dissemination of browser-based tools in social coding environments like GitHub [
19
] is characterized by the same expansive dynamics as social media. For example, although this is our first report describing it, QM can be – and has been – discovered by the community at large. During the 12 months period beginning in April 2013, QM received more than 2.2 million API calls from 2,100 IP addresses in 87 countries to more than 1,800 QM "boxes" (the code and results exchange domains defined by token), with 98 boxes receiving more than 1,000 calls each and 16 boxes receiving 10,000 calls or more. The statistics of QM usage are described in Figure
3
, and the geographic distribution of its users is described in Figure
4
. It is unclear exactly how much of QM's usage is associated with the distributed computational genomics web apps that motivated its development, but the wide geographic distribution of its users suggests an appeal driven by a more general interest in distributed computing. This interpretation is reinforced by unsolicited reports about QM in HPC media such as
HPCwire
(article at
http://goo.gl/9H5W03
) and
insideHPC
(
http://goo.gl/bDkJZL
). Finally, as noted in Methods, all of the server- and client-side software are open-source and permissively licensed. The browser client requires nothing more than script tag loading to be included in a web app, and the server is just as accessible through NPM [
40
]. It is therefore conceivable that other QM deployments are in use at other addresses, perhaps even within the firewall of medical centers, as was the specific intention of QM's development.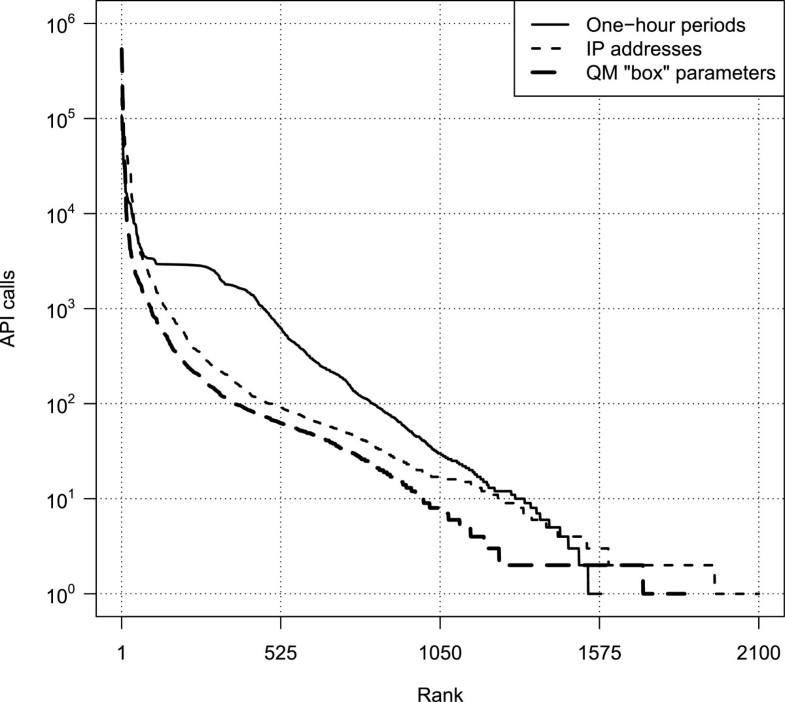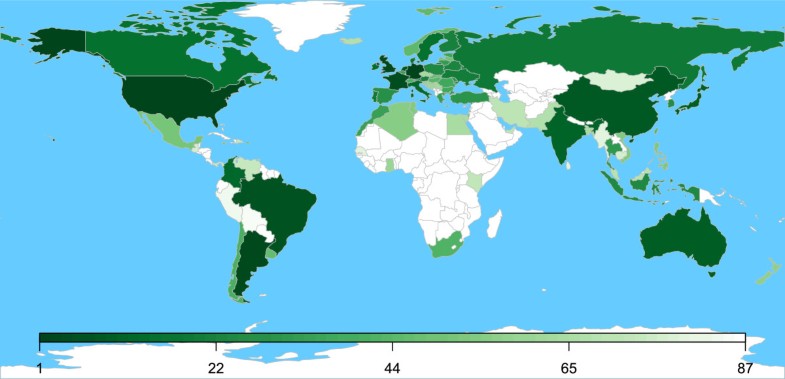 The server load associated with orchestrating this initial heavy use of QM is very modest because of the reliance on code distribution rather than on code execution. In fact, the deployment supporting the usage statistics described above (the server behind https://api.qmachine.org) was never overwhelmed by traffic spikes even though it was running on a shared-tenant virtual machine with just 512 MB of RAM, 2 × 512 MB MongoDB databases, and no hard drive. Furthermore, the authors do not incur any maintenance costs for the public tool dissemination, either from GitHub or from NPM's package repository. We are therefore committed not to collect any data beyond the broad statistics described in Figures 3 and 4 for the reference deployment discussed here. Particularly relevant for the biomedical usage scenario that motivated this work, we are also committed not to collect any data at all from private deployments of QM; in other words, no part of QM's software ever sends data back to our server(s) from other deployments. This design allows administrators to deploy their own QM servers through NPM and fully configure their own security as needed for clinical and/or biomedical research usage. These assurances can, of course, be verified through inspection of QM's source code.
Discussion
QMachine is a web service for executing distributed workflows that can use ordinary web browsers as the ephemeral compute nodes of a crowdsourced supercomputer. The idea here is simple: commodity computers equipped with web browsers join an abstract machine by visiting a website, and they unjoin by navigating to a different site or by closing the browser. While a browser remains on the site, it reacts to input from the user and from the site's backend infrastructure by executing JS, which provides the abstract machine with some potential to perform computations. At any instant, the net computational potential available to a high-traffic website falls well within the HPC range, as shown in Figure
5
. QM enables this potential to be harnessed with no nominal cost through volunteer computing.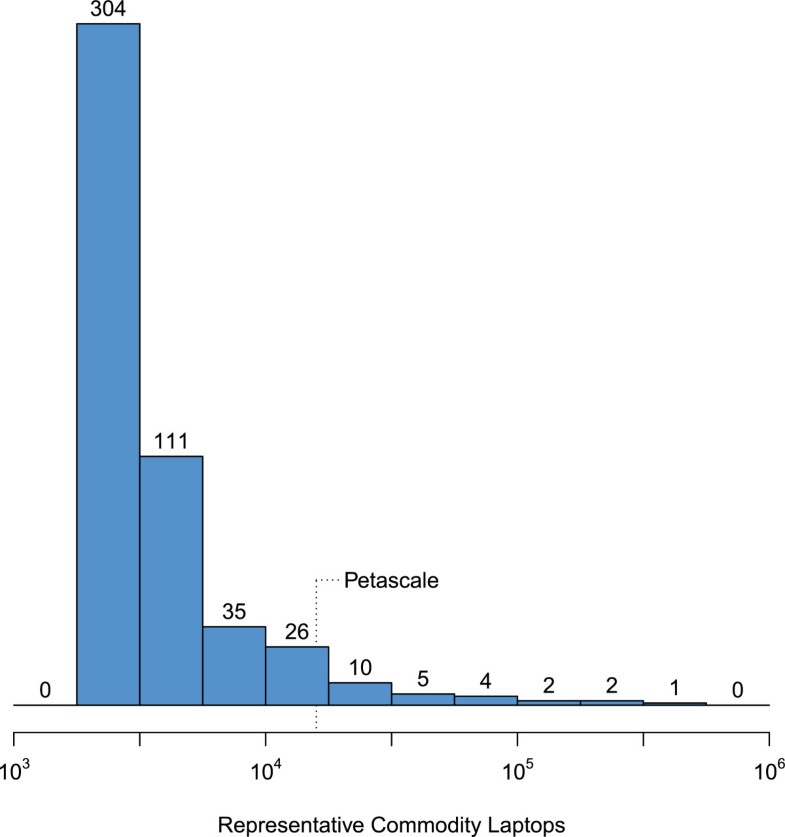 Conclusions
QMachine was developed to respond to the challenges of – and to capitalize on the opportunities of – bioinformatics applications encountered in biomedical environments. For more than a decade, volunteer computing has enticed computational biology as a scalable and cost-effective high-performance computing solution. QM essentially ports that solution to the modern computational landscape, which is increasingly dominated by mobile hardware platforms and the use of the web browser as the universal software platform. The features of the modern web browser go beyond those that make it a high-performance computational environment with advanced communication layers; they also include the transformative feature that computations run in a robust sandbox that prevents access to the underlying machine's potentially sensitive filesystem. QM also responds to another modern trend towards engaging HPC resources through the use of the MapReduce programming pattern, rather than through direct interactions with compute nodes. The sequence analysis application that illustrates the use of QM in this report offers the sort of immediate utility that would benefit bioinformatics applications in Medical Genomics. It is argued, however, that QM, as an "of the Web" distributed computing system, may be just as useful in the identification of the fundamental features of pervasive web computing.
Availability of supporting data
Declarations
Acknowledgements
This work was supported in part by the Center for Clinical and Translational Sciences of the University of Alabama at Birmingham under contract no. 5UL1RR025777-03 from NIH National Center for Research Resources. This work was also supported in part by an NCI T32 Trainee Grant at Rice University under contract no. 5T32CA096520-05.
Authors' Affiliations
(1)
Division of Informatics, Department of Pathology, University of Alabama at Birmingham, Birmingham, USA
(2)
Department of Biomedical Engineering, University of Alabama at Birmingham, Birmingham, USA
Copyright
© Wilkinson and Almeida; licensee BioMed Central Ltd. 2014
This article is published under license to BioMed Central Ltd. This is an Open Access article distributed under the terms of the Creative Commons Attribution License (http://creativecommons.org/licenses/by/2.0), which permits unrestricted use, distribution, and reproduction in any medium, provided the original work is properly credited. The Creative Commons Public Domain Dedication waiver (http://creativecommons.org/publicdomain/zero/1.0/) applies to the data made available in this article, unless otherwise stated.