Methodology article
Open Access
Inferring clonal evolution of tumors from single nucleotide somatic mutations
BMC Bioinformatics
2014
15:35
Received: 21 May 2013
Accepted: 24 January 2014
Published: 1 February 2014
Abstract
Background
High-throughput sequencing allows the detection and quantification of frequencies of somatic single nucleotide variants (SNV) in heterogeneous tumor cell populations. In some cases, the evolutionary history and population frequency of the subclonal lineages of tumor cells present in the sample can be reconstructed from these SNV frequency measurements. But automated methods to do this reconstruction are not available and the conditions under which reconstruction is possible have not been described.
Results
We describe the conditions under which the evolutionary history can be uniquely reconstructed from SNV frequencies from single or multiple samples from the tumor population and we introduce a new statistical model, PhyloSub, that infers the phylogeny and genotype of the major subclonal lineages represented in the population of cancer cells. It uses a Bayesian nonparametric prior over trees that groups SNVs into major subclonal lineages and automatically estimates the number of lineages and their ancestry. We sample from the joint posterior distribution over trees to identify evolutionary histories and cell population frequencies that have the highest probability of generating the observed SNV frequency data. When multiple phylogenies are consistent with a given set of SNV frequencies, PhyloSub represents the uncertainty in the tumor phylogeny using a "partial order plot". Experiments on a simulated dataset and two real datasets comprising tumor samples from acute myeloid leukemia and chronic lymphocytic leukemia patients demonstrate that PhyloSub can infer both linear (or chain) and branching lineages and its inferences are in good agreement with ground truth, where it is available.
Conclusions
PhyloSub can be applied to frequencies of any "binary" somatic mutation, including SNVs as well as small insertions and deletions. The PhyloSub and partial order plot software is available from https://github.com/morrislab/phylosub/.
Keywords
Markov Chain Monte CarloRead CountSingle Nucleotide VariantDirichlet ProcessPopulation Frequency
Background
Cancer is a complex disease often associated with a characteristic series of somatic genetic variants [1, 2]. Substantial effort has been devoted to genetic profiling of tumors in hopes of identifying these driver mutations and studying how they drive tumor development and resistance to treatment [3]. Tumors often contain multiple, genetically diverse subclonal populations of cells [4], and in some cases it is possible to reconstruct the evolutionary history of the tumor, thereby aiding in the identification of driver mutations, by computing the population frequencies of mutations that distinguish the subclonal populations [5–13].
Somatic mutations can be detected, and roughly quantified, using exome and whole genome sequencing of a sample from a bulk tumor [14]. However, recent attempts to reconstruct subclonal phylogenies have employed much deeper targeted sequencing [15] of tumor-associated single nucleotide variants (SNVs) to achieve higher accuracy in estimated SNV frequencies [9, 10, 16, 17]. These SNV frequencies were then used to partially reconstruct the evolutionary history of tumors based on a single [10, 16] or multiple [9] samples of same tumor. However, due to short read sequencing, the frequencies of different SNVs are measured independently, so linkage between the SNVs in subclones is unavailable and standard phylogenetic methodology can not be used to construct evolutionary histories (as done in [18] or [17]). However, if one makes the infinite sites assumption about tumor evolution, namely that every SNV only appeared once, then it is possible to use SNV frequencies to automatically reconstruct full or partial subclonal phylogenies while also inferring the multiple SNV genotypes of the major subclonal lineages in the tumor.
Here we describe a new method that automatically performs this phylogenetic reconstruction. First, we demonstrate that an unambiguous reconstruction is possible by describing topological constraint rules that are sufficient conditions to infer whether a triplet of SNV frequencies is consistent with only a chain or a branching phylogeny. We then describe a new method, PhyloSub, that automatically infers tumor phylogenies from SNV allele frequencies measured in single or multiple tumor samples. PhyloSub is based on a generative probabilistic model, inference in which implicitly implements the two rules by inferring the hidden phylogenies that have high probabilities of generating the observed SNV frequencies. It uses Bayesian inference, based on Markov Chain Monte Carlo (MCMC) sampling, to infer a distribution over phylogenies that incorporates uncertainty due to multiple phylogenies being consistent with the SNV frequencies and also noise in the measurement of the SNV frequencies. PhyloSub uses a Dirichlet process prior over phylogenies [19] to group SNVs into major subclonal lineages.
Model assumptions
We assume that the tumor evolution proceeds according to the clonal evolution theory, namely that all tumor cells are derived from ancestors that gain growth advantages over normal tissue and begins to expand [
18
]. Subsequent mutations can provide a further fitness or survival advantage to their subclonal lineage [
20
] which subsequently increases in frequency compared to cells containing only the SNVs in the parental lineage. A given tumor sample is a snapshot of this evolutionary process and may contain, at non-negligible frequency, cells from multiple major subclonal lineages, each containing a different assortment of these advantageous mutations. We make the
infinite sites assumption
[
21
,
22
], namely that each SNV appears only once and furthermore that once it appears, it does not revert back to its original state. As we describe below and illustrate in Figure
1
, in some circumstances, this assumption highly constrains the phylogenies that are consistent with the SNV allele frequency data, especially if SNV frequencies from multiple samples from the same tumor are available. Finally, to make our model robust to low tumor cellularity, we assume that each tumor is derived from a single clone, however, this assumption is not critical in modeling tumor evolution and we revisit this assumption in the discussion section where we describe how to generalize our model to multicentral tumors (e.g., [
23
]).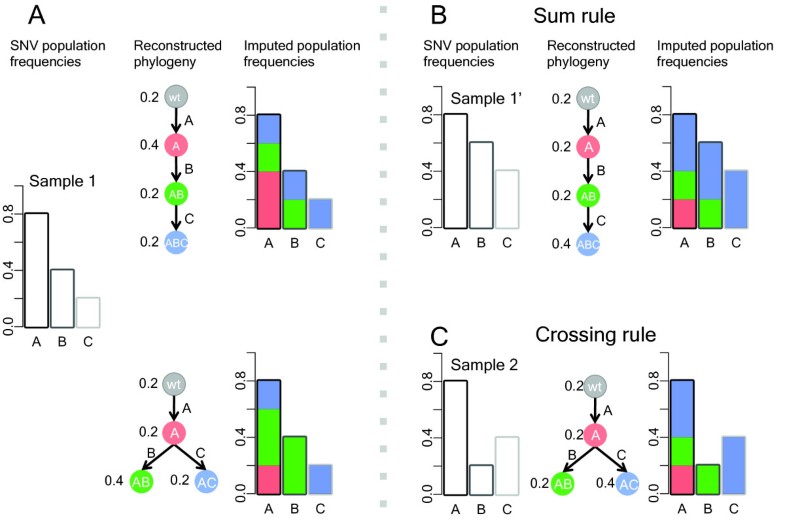 To simplify our initial discussion, we will assume that the exact population frequencies of the cells containing each SNV (i.e., the SNV population frequency) are available before discussing how we estimate these frequencies from deep sequencing data of the SNV locus. Note, we assume that the copy number of a locus is available as per [10]. In the datasets that we considered, most SNVs are heterozygous at a normal copy number locus and the population frequency of other SNVs is easily inferred from their allele frequencies. In more complex situations, a number of tools are available to infer copy number changes associated with specific subclonal lineages from whole genome sequencing data [11, 13].
An important consequence of the infinite sites assumption is that if SNV B occurred in a cell that contained SNV A, then all cells that have B also have A and thus the population frequency of A must always be greater than or equal to that of B, regardless of where and when the tumor sample was taken. However, a given set of three SNV population frequencies can still be consistent with two different phylogenies: a linear phylogeny or a branching phylogeny (see Figure 1A).
Topological constraint rules
One can distinguish linear or branching descent under some circumstances. For example, if we have already established that SNV A is ancestral to both B and C (i.e., that all cells with B or C also contain A), then if the population frequency of B plus the population frequency of C is greater than the population frequency of A, then the phylogeny must be linear. This is true because in a branching phylogeny, there are no cells that contain both B and C, so the population frequency of A must be at least as large as sum of the frequencies of B and C (see Figure 1B). We call this the "sum rule". However, because a linear phylogeny is consistent with any set of SNV frequencies from a single sample, without making any further assumptions about the tumor evolution process, one needs at least two tumor samples to be able to rule out a linear phylogeny. However, given two samples and again assuming that SNV A is ancestral to both B and C, if the population frequency of B is larger than that of C in one sample, and vice versa in the other, than neither B nor C can be ancestral to the other, and the only phylogeny consistent with both sets of SNV frequencies is the branching one. We call this the "crossing rule" because the frequencies of B and C cross (see Figure 1C for an example). However, there is no guarantee that one can apply either rule to any set of SNV frequencies for all triplets of SNVs, although increasing the number of tumor samples does make it more likely that either the sum or crossing rule will be applicable for one or a pair of tumor samples, respectively. Furthermore, one needs to also consider the possibility of estimation error in the SNV population frequencies because these are inferred from discrete read counts. Note that these two rules also apply where SNV A is a mock SNV representing the wildtype state and having population frequency of 100%; as such these two rules also apply for multicentral tumors.
The PhyloSub algorithm
To explicitly model uncertainty in estimates of the SNV population frequencies and the precise tumor phylogeny, we have developed the PhyloSub model that we describe here. PhyloSub attempts to explain the observed read counts in terms of a latent phylogeny that associates SNVs with particular subclonal lineages. We provide software that takes as input a set of read counts for a set of SNVs and the copy number status of each SNV, performs inference in the PhlyoSub model to estimate the number of major subclonal lineages, the mutational profile of each lineage, and the proportion of each lineage within the tumor cell population from which the read data was drawn. PhyloSub implements the parsimony assumptions detailed above using a non-parametric prior over tree structures. It is "generative" in that it attempts to explain the observed SNV frequencies in terms of an unobserved phylogeny; our model is also "Bayesian" in that it infers a posterior distribution over phylogenies and associated subclonal lineage frequencies. We introduce a new visualization, the
partial order plot
, to represent the posterior uncertainty in the phylogeny when the SNV frequencies alone do not provide sufficient information to uniquely reconstruct the phylogeny (Figure
2
). The sum and crossing rule described above are implicitly incorporated into our generative model – our model assigns very low probability to any read counts that reflect deviations from either rule.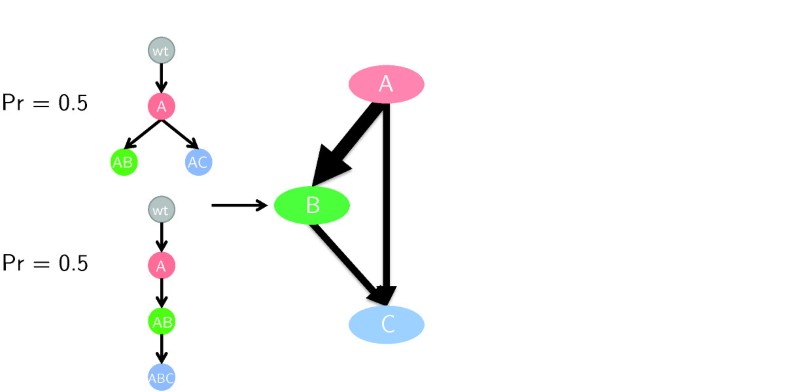 In the following, we provide a brief introduction to the PhyloSub model (see Section "Methods" for the full model) and we demonstrate its application to datasets where a single sample is profiled [17] and those where multiple samples are profiled [9]. We also report the application of the model on a simulated dataset to show that its prior parameterization allows it to represent a wide variety of phylogenies.
Conclusions
We presented a nonparametric Bayesian model called PhyloSub that uses a Dirichlet process prior over trees [19] to model the clonal evolutionary structure of tumors from next generation sequencing data. We also introduced a new visualization method, the partial order plot, to represent the posterior uncertainty in the phylogeny when the clonal frequencies alone do not provide sufficient information to uniquely reconstruct the phylogeny and mutational profiles of each subclonal lineage represented in the tumor. By enforcing a set of structural constraints on the SNV population frequencies using MCMC methods, we were able to infer the phylogenetic relationships between subclones from both single and multiple tumor samples.
We have demonstrated that it is possible, in some cases, to detect a linear lineage from a single, high cellularity sample of the tumor. We have also shown that multiple samples highly constrain the possible lineages that are consistent with the SNV frequency data. PhyloSub's inferred subclonal lineage trees were in good agreement with single cell assays on single sample data and with an expert-driven, semi-manual reconstruction procedure on multiple sample data.
PhyloSub's ability to detect and characterize subclonal lineages depends on the frequency of the lineage in the population (compared to its descendant lineages), the number of SNVs that define the lineage, as well as the accuracy with which the SNV population frequencies are estimated which depends on both the sequencing depth as well as uncertainty about the copy number of the SNV. Simply put, for lineages defined by a single SNV, the read depth has to be high enough that the uncertainty in the estimated SNV frequency is less than the frequency of the subclonal population. Having more lineage-defining SNVs can relax this hard constraint. As such, the phylogenies of tumors with large numbers of subclonal lineages, each defined by a small number of SNVs (possibly due to a pronounced hypermutability phenotype), will be hard to reconstruct with PhyloSub, or any other method, unless the SNV frequencies are very accurately estimated. Indeed, it is not clear how ground truth could be uncovered in such a case: the gold standard of single cell sequencing would require an exceptionally large number of single cells to survey this highly heterogeneous population, and each of these cells would need to be sequenced deeply in order to ensure precise somatic variant calling.
One potential difficulty in scaling our approach to orders of magnitude more SNVs is that the Markov chain may not mix in a timely manner, in other words, may get stuck in local minima. We note that finding suboptimal solutions is an issue for any method based on these data. In our case, the mixing time of the chain would depend largely on the number of subclones represented in the population with less of a dependence on the number of SNVs. There are various techniques for determining whether or not a Markov chain is well-mixed and we refer the reader to a recent excellent review [25].
PhyloSub extends recent work on inferred cellularity and subclonal structure from somatic mutations. ABSOLUTE uses whole genome sequence data or array CGH data to identify regions of copy number change in the tumor and based on this infers cellularity and copy number changes associated with different subclones [11]. THetA [13] also attempts to infer both the copy number profiles and their relative proportions using the whole genome sequencing data based on an infinite sites assumptions. Neither of these algorithms explicitly reconstructs tumor phylogenies. Our work is closest to PyClone [10] which uses a flat Dirichlet process mixture model to group SNVs into subclonal lineages based on their frequencies; PhyloSub extends this work by reconstructing the phylogenetic relationships among these lineages and, in doing so, allows the full SNV genotype of each subclonal population to be reconstructed.
We designed PhyloSub to assume a single clonal origin for the cancerous cells in the sample. We made this decision to increase the applicability of the sum rule for low cellularity tumors (i.e., tumors with high normal contamination). However, removing this assumption would be a simple change to the model, which we have not evaluated.
Another area of future innovation would be in modeling sequencing biases and uncertainty in SNV allele frequencies resulting from them. We did not evaluate replacing our binomial model with a negative binomial one that would have allowed greater variability in the observed read counts for a given SNV allele frequency [26].
Declarations
Acknowledgements
This work was funded by a National Science and Engineering Research Council (NSERC) operating grant and a Early Researcher Award from the Ontario Research Fund to QM. WJ and LS were supported by The Ministry of Research and Innovation, Province of Ontario.
We thank Andrew Roth and Sohrab Shah for sharing a pre-publication version of the PyClone software with us; helping us to install it and to duplicate their published results; and for providing unpublished details of the PyClone observation model in their user manual.
Authors' Affiliations
(1)
Department of Molecular Genetics, University of Toronto, Toronto, Canada
(2)
Ontario Institute for Cancer Research, Toronto, Canada
(3)
Donnelly Center for Cellular and Biomolecular Research, University of Toronto, Toronto, Canada
(4)
Edward S. Rogers Sr. Department of Electrical and Computer Engineering, University of Toronto, Toronto, Canada
(5)
Banting and Best Department of Medical Research, University of Toronto, Toronto, Canada
(6)
Department of Computer Science, University of Toronto, Toronto, Canada
Copyright
© Jiao et al.; licensee BioMed Central Ltd. 2014
This article is published under license to BioMed Central Ltd. This is an Open Access article distributed under the terms of the Creative Commons Attribution License (http://creativecommons.org/licenses/by/2.0), which permits unrestricted use, distribution, and reproduction in any medium, provided the original work is properly cited.