Skylign: a tool for creating informative, interactive logos representing sequence alignments and profile hidden Markov models
BMC Bioinformatics
2014
15:7
Received: 23 September 2013
Accepted: 7 January 2014
Published: 13 January 2014
Abstract
Background
Logos are commonly used in molecular biology to provide a compact graphical representation of the conservation pattern of a set of sequences. They render the information contained in sequence alignments or profile hidden Markov models by drawing a stack of letters for each position, where the height of the stack corresponds to the conservation at that position, and the height of each letter within a stack depends on the frequency of that letter at that position.
Results
We present a new tool and web server, called Skylign, which provides a unified framework for creating logos for both sequence alignments and profile hidden Markov models. In addition to static image files, Skylign creates a novel interactive logo plot for inclusion in web pages. These interactive logos enable scrolling, zooming, and inspection of underlying values. Skylign can avoid sampling bias in sequence alignments by down-weighting redundant sequences and by combining observed counts with informed priors. It also simplifies the representation of gap parameters, and can optionally scale letter heights based on alternate calculations of the conservation of a position.
Conclusion
Skylign is available as a website, a scriptable web service with a RESTful interface, and as a software package for download. Skylign's interactive logos are easily incorporated into a web page with just a few lines of HTML markup. Skylign may be found at http://skylign.org.
Keywords
Alignment logoSequence logoProfile logoHmm logoLogo serverWeb logo
Background
Alignments and profile hidden Markov models
Alignments of multiple biological sequences play an important role in a wide range of bioinformatics applications, and are used to represent sequence families that range in size from DNA binding site motifs to full length proteins, ribosomal RNAs, and autonomous transposable elements. In an alignment, sequences are organized such that each column contains amino acids (or nucleotides) related by descent or shared functional constraint. The distributions of letters will typically vary from column to column. These patterns can reveal important characteristics of the sequence family, for example highlighting sites vital to conformation or ligand binding.
A sequence alignment can be used to produce a profile hidden Markov model (profile HMM). Profile HMMs provide a formal probabilistic framework for sequence comparison [1–3], leveraging the information contained in a sequence alignment to improve detection of distantly related sequences [4, 5]. They are, for example, used in the annotation of both protein domains [6–9] and genomic sequence derived from ancient transposable element expansions [10].
Consider a family of related sequences, and an alignment of a subset of those sequences. For each column, we can think of the observed letters as having been sampled from the distribution, of letters at that position among all members of the sequence family. One approach to estimating for a column is to compute a maximum likelihood estimate directly from observed counts at that column. An alternative is to try to improve the estimate using sequence weighting (relative [11] and absolute [12]) and mixture Dirichlet priors [2, 13–15]. The later approach is used in computing position-specific letter distributions for profile HMMs [16, 17].
In an alignment, a subset of the columns will be consensus columns, in which most sequences are represented by a letter, rather than a gap character. In a typical profile HMM, a model position is created for each consensus column, and non-consensus columns are treated as insertions relative to model positions. As with letters, the per-position gap distributions may be estimated from observed or weighted counts, or combined with a Dirichlet prior.
Logos
A logo provides a compact graphical representation of an alignment, representing each column with a stack of letters. The total height of each stack corresponds to a measure of the invariance of the column – typically, it is the information content of that position. The height of each letter within a stack depends on the frequency of that letter at that position. Logos were originally devised to represent the extent of letter conservation in each column of an alignment [18, 19], and were later generalized to show letter and gap probabilities of a profile HMM [20].
Consider an alphabet A consisting of L letters, a1 through a L (L is 4 for DNA, and 20 for amino acids). For a given column in an alignment, we capture the estimated column distribution as a length-L vector , such that p i is the probability of observing letter a i at that column. We define the length-L vector to be the background distribution over letters in A, such that q i is the background probability of observing letter a i , typically based on letter frequency in a large set of representative sequences.
Given and , the
information content
[
18
] of the column, also called r
elative entropy
or
Kullback–Leibler distance
[
15
,
21
], is defined as:
When the base of the log is 2, the information content is expressed in
bits
. This value indicates the extent to which a column's distribution differs from the background , and serves as a measure of the conservation of the column. Information content is non-negative, largest when a column is invariant, and especially large when the invariant letter is rare in . For example, the maximum information content for one column in a DNA alignment under uniform background distribution is 2 bits. The maximum for an amino acid alignment under the background corresponding to the BLOSUM62 scoring matrix is roughly 6.5 bits – this for an invariant column of Tryptophan, which has the lowest background probability. Table
1
shows examples of information content values for a few DNA letter distributions, to give some insight into the complex relationship between information content and letter frequencies.
Table 1
Relationship between DNA letter distribution and information content
| A% | C% | G% | T% | Information content |
| --- | --- | --- | --- | --- |
| 100 | 0 | 0 | 0 | 2.00 |
| 95 | 5 | 0 | 0 | 1.71 |
| 90 | 10 | 0 | 0 | 1.53 |
| 85 | 5 | 5 | 5 | 1.15 |
| 80 | 10 | 5 | 5 | 0.98 |
| 70 | 10 | 10 | 10 | 0.64 |
| 50 | 50 | 0 | 0 | 1.00 |
| 50 | 40 | 5 | 5 | 0.54 |
| 45 | 45 | 5 | 5 | 0.53 |
| 50 | 30 | 10 | 10 | 0.31 |
| 35 | 35 | 15 | 15 | 0.12 |
| 25 | 25 | 25 | 25 | 0.00 |
For a conventional logo, a stack's height is spread among the letters in alphabet
A
based on , such that the height of each letter
a
i
within a stack is . Letters are sorted such that those with larger
p
i
appear near the top in the stack. An example is shown in Figure
1
.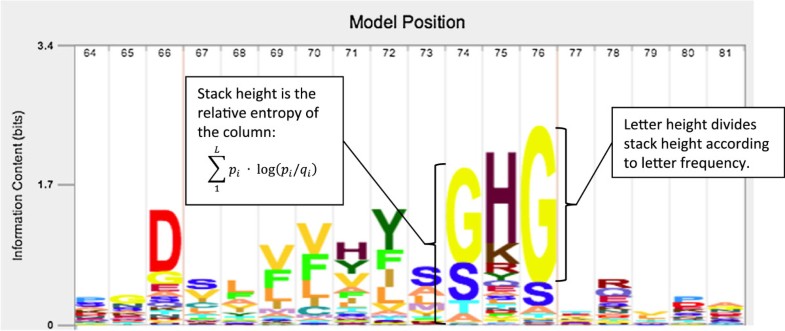 Implementation
We present a software tool and associated web service, called Skylign, which offers several advantages over existing logo tools. It can generate both a static image file and a new interactive web plot that supports scrolling, zooming, and inspection of values underlying each letter stack. Skylign also produces a simplified representation of per-position gap probabilities, and optionally reduces visual clutter by including only overrepresented letters in a stack. Skylign's interactive logos are robust and fast for alignments with length in the thousands, such as those representing many transposable element families.
An important implementation detail is that Skylign produces logos for both profile HMMs and multiple sequence alignments in a unified framework. Profile logos are plotted using the per-position distributions of the profile HMM. For alignment logos, the column distributions can be estimated either from observed counts, weighted counts, or based on posterior probabilities after combining with a Dirichlet mixture prior. Estimation based on weights and priors is performed by explicitly producing a profile HMM using the hmmbuild tool within HMMER3.1 [17].
In the following sections, we describe implementation details, compare alternative visualization approaches, and illustrate the utility of these logos. Skylign can be accessed as a web service at http://skylign.org, and the Skylign software package may be downloaded for independent installation.
Results and discussion
Several logo web servers have been released since the introduction of logos [20, 22–24], each with their own enhancements to logo presentation. In the course of developing websites for sequence homology search and annotation, we identified a need for interactive web-enabled logos that could efficiently render very long logos, and offer alternate letter height options, improved visualization of per-position gap parameters, and the ability to inspect underlying values. We developed Skylign to meet these needs.
Conclusion
Logos have long been used to visually represent the position-specific patterns of conservation in sequence alignments and profile HMMs. We developed Skylign with the aim of enabling interactive manipulation and inspection of logos, while offering a variety of logo variants for alignments and profiles. The result is a logo tool that supports scrolling, zooming, inspection of underlying values, and mapping between logo positions and alignment columns. Skylign simplifies the representation of gap parameters, offers alternate calculations to determine letter heights, and can overcome sampling bias by down-weighting redundant sequences and by combining observed counts with informed priors.
Skylign's interactive logos are easily incorporated into a web page, and we have already used them in our HMMER and Dfam webservers, presenting logos for both protein and DNA profile HMMs [10, 27]. We anticipate that Skylign will be used to create logos, either in advance or on the fly, for other sites that present data related to multiple sequence alignments or profile HMMs.
Availability and requirements
Skylign can be accessed as a web server and web service, and may be downloaded for local use at http://skylign.org.
Declarations
Acknowledgments
Institutional support was provided by Howard Hughes Medical Institute Janelia Farm Research Campus. We thank the reviewers for their helpful comments, and Tom Jones and Sean Eddy for their insightful feedback during development of the software and manuscript.
Authors' Affiliations
(1)
HHMI Janelia Farm Research Campus, Ashburn, USA
Copyright
© Wheeler et al.; licensee BioMed Central Ltd. 2014
This article is published under license to BioMed Central Ltd. This is an Open Access article distributed under the terms of the Creative Commons Attribution License (http://creativecommons.org/licenses/by/2.0), which permits unrestricted use, distribution, and reproduction in any medium, provided the original work is properly cited. The Creative Commons Public Domain Dedication waiver (http://creativecommons.org/publicdomain/zero/1.0/) applies to the data made available in this article, unless otherwise stated.