Research article

Open Access
Genome alignment with graph data structures: a comparison
BMC Bioinformatics
2014
15:99
Received: 27 February 2013
Accepted: 28 March 2014
Published: 9 April 2014
Abstract
Background
Recent advances in rapid, low-cost sequencing have opened up the opportunity to study complete genome sequences. The computational approach of multiple genome alignment allows investigation of evolutionarily related genomes in an integrated fashion, providing a basis for downstream analyses such as rearrangement studies and phylogenetic inference.
Graphs have proven to be a powerful tool for coping with the complexity of genome-scale sequence alignments. The potential of graphs to intuitively represent all aspects of genome alignments led to the development of graph-based approaches for genome alignment. These approaches construct a graph from a set of local alignments, and derive a genome alignment through identification and removal of graph substructures that indicate errors in the alignment.
Results
We compare the structures of commonly used graphs in terms of their abilities to represent alignment information. We describe how the graphs can be transformed into each other, and identify and classify graph substructures common to one or more graphs. Based on previous approaches, we compile a list of modifications that remove these substructures.
Conclusion
We show that crucial pieces of alignment information, associated with inversions and duplications, are not visible in the structure of all graphs. If we neglect vertex or edge labels, the graphs differ in their information content. Still, many ideas are shared among all graph-based approaches. Based on these findings, we outline a conceptual framework for graph-based genome alignment that can assist in the development of future genome alignment tools.
Keywords
Local AlignmentGraph StructureLabel FunctionAdjacency EdgeGenome Alignment
Background
Sequence comparison through multiple alignment is an indispensable tool for understanding genomes and their shared histories [1]. Even though the foundation for genomic sequence alignment was already laid in the 1980s [2], the interest is still ongoing [1, 3, 4], one reason being that it has critical relevance [5] for many bioinformatics analyses. The aim of sequence alignment is to uncover homologies by assigning sequence positions to each other, which implies that these positions derived from a common ancestor.
Evolutionary events that change genomic sequences are often classified into small changes and large structural changes [6]. Small changes affect only one or few sequence positions and include substitutions, insertions, and deletions. They do not influence the order of sequence positions, and thus can be captured by colinear alignment. Structural changes involve longer genomic segments, thereby affecting the structure and order of genomic sequences. They include non-colinear changes like inversions, translocations and duplications in addition to insertions and deletions of longer segments.
While colinear multiple sequence alignment has been studied extensively for a long time [7–16], the problem of non-colinear alignment has been brought into focus only within the last decade [17–22], after more and more whole genomes started to become available. Non-colinear alignments, as opposed to colinear alignments, model all kinds of evolutionary changes and thereby enable correct homology prediction for whole genomes with non-colinear changes. This is comparable to the way global alignments integrate more information than local alignments by assigning all parts of sequences to each other, and the way multiple alignments take information from more than two sequences into account for homology prediction. Over and above, non-colinear multiple global alignments of whole genomes, genome alignments for short, integrate as much sequence similarity information as is available.
Together with the prediction of homology, genome alignments provide a segmentation of the genomes originating from large structural changes. Depending on the similarity of genomes, segments can be shorter or span several genes and reveal local colinearity. Rearrangement studies [23] explore the order of such segments and infer genomic distances based on the number of breakpoints [24, 25] or predict scenarios of evolutionary changes [26–28]. These studies often employ graphs, e. g., breakpoint graphs [29–31], that resemble graph data structures used for genome alignment. Despite this similarity in the approach, genome alignments pursue a slightly different goal than rearrangement studies. The goal is homology prediction instead of reconstruction of evolutionary histories. Genome alignments, which are the focus of this article, integrate more information than rearrangement studies by combining segmentation and sequence similarity.
Considering the large search space, genome alignment is an ambitious task and is usually accomplished using heuristic approaches. The first step in genome alignment is commonly the computation of a set of local alignments. It is essential for most methods that the set of local alignments covers all main genomic similarities, whereas additional spurious similarities have a smaller impact. In colinear alignment, such a set usually constitutes a superposition of several alignment possibilities with some local alignments in conflict regarding the colinearity constraint (see Figure
1
). The task is then to select the best conflict-free subset according to a given optimization function. In genome alignment, as opposed to colinear alignment, any set of local alignments can be viewed as a valid solution, one that induces a segmentation. However, the induced segmentation can be improved by selecting a subset of local alignments. The subset should contain those local alignments that are most likely to represent homologies when viewed in the context of the whole set of local alignments. The final step is then to find the best segmentation according to the set of local alignments and possibly a subsequent realignment of segments with a colinear alignment method.

For the step of selecting subsets of local alignments and for inducing a segmentation, graphs serve as a convenient tool. The idea is that graphs show substructures indicating errors in the alignment, e. g., specific cycles. Once identified in a graph, we can eliminate these substructures, e. g., by removing local alignments, which is a modification of the genome alignment. Thus, graphs can assist in improving genome alignments. In addition, graphs provide an intuitive representation of similarities and changes between genomes, and so visualize alignment structures. In comparison to tabular alignments, genome alignment graphs are more versatile insofar that it is possible to model colinear and non-colinear changes without the need of choosing a reference genome.
Several graphs have been proposed, each in the context of a specific application such as synteny detection, segmentation, or simply colinear alignment. The earliest graph has been the alignment graph, formally defined for colinear multiple alignment by Kececioglu in 1993 [32]. In his definition, the graph contains a vertex for each sequence character and edges for aligned characters. The alignment graph has since been used in various versions, e. g., with additional sequence edges [33] and with genes [34] or segments [15] instead of single characters. In all versions, a colinear alignment can be obtained from the alignment graph by solving the maximum weight trace problem [32], but its structure also allows non-colinear changes to be modeled (see below).
Pevzner et al. introduced A-Bruijn graphs[35] as a generalization of de Bruijn graphs [36, 37]. The structure of A-Bruijn graphs revisits an idea briefly mentioned by Kececioglu [32], the idea of merging aligned vertices. Consequently, A-Bruijn graphs have one vertex for sets of aligned positions, and edges represent sequence adjacencies. For the purpose of genome alignment with A-Bruijn graphs, the maximum subgraph with large girth (MSLG) problem [19] and the sequence modification problem (SMP) [38] were proposed, both targeting types of short cycles in A-Bruijn graphs in order to eliminate local alignments that hide local colinearity.
In the context of a pipeline for genome alignment that consists of the programs Enredo and Pecan [39], another graph has been published, the Enredo graph. The program Enredo applies Enredo graphs to partition genomes into segments. Subsequently, the program Pecan provides nucleotide-level colinear alignments of segments. Enredo graphs have two vertices per set of aligned segments, a head and a tail vertex, resembling breakpoint graphs from rearrangement studies. The Enredo method iteratively eliminates various substructures from the Enredo graph before deriving a final genome segmentation.
A recent and slightly dissimilar graph is the cactus graph[22, 40]. Cactus graphs have vertices for adjacencies and edges for genome segments. Their structure has two valuable properties. The cactus property subdivides the graph (and genomes) into independent units by ensuring that any edge is part of at most one simple cycle [41]. These units assist in computing genome alignments with the cactus alignment filter (CAF) algorithm [22]. The second property is the existence of an Eulerian circuit. This circuit traverses all genome segments exactly once, even duplicated segments, conveniently providing a consensus genome.
In this paper, we compare the mentioned graph-based genome alignment approaches with an emphasis on the structures of the underlying graphs. Our aim is to clarify similarities of the approaches and the underlying graphs but also to work out differences and highlight limitations. We realize our comparison using the same terminology for all graphs and by describing transformations among the graphs (see Figure
2
). We assess the graphs in terms of their capabilities to display alignment information in their structure alone. For all graphs, substructures and modifications constitute key aspects of corresponding genome alignment approaches. We carefully examine substructures as well as modifications independently from the particular graphs they were first described for. Founded on our comparison, we derive a generic framework for graph-based genome alignment. The framework gives an overview of the general graph-based approach to genome alignment and, hence, may assist in the development of future genome alignment tools.

Discussion and conclusions
We compared four graph data structures and their usage for genome alignment. Our comparison identified that essential pieces of information about duplication and inversion are only present in the structures of some graphs. In addition, we examined substructures in the graph structures that are subject to elimination in various genome alignment approaches, and determined four classes of substructures. We found that information about duplications or information about inversions or even both are necessary for distinguishing any type of substructure in the graphs. Thus, it is indeed essential to keep additional information in labels of the vertices or edges, though the different graphs depend on the labels to a lesser or greater extent. Finally, we reduced the set of operations applied for eliminating substructures from the graphs to four elementary modifications. Overall, it became apparent that many ideas are shared by all graph-based approaches.
These shared ideas allow us to derive a framework for graph-based genome alignment (see also Figure
13
), an ABC to G-enome alignment. It begins with the computation of local colinear alignments among the input genomes (A). The choice of the local alignment method is mostly independent from the following steps though it influences the resulting genome alignments. Combining local alignments to blocks, we can build a graph (B). Which graph to choose depends on the respective importance of different substructures for an application. Next, a graph-based genome alignment approach always characterizes a set of graph substructures (C). Substructures sometimes have equivalences in other graphs, but may as well be distinguishable in the structure of only one graph. Detection of all substructure occurrences (D) is a requirement for their subsequent elimination (E). Elimination is accomplished by modifying the underlying set of blocks and sometimes also by introducing breakpoints in the genomes. The breakpoints determine already parts of a genome segmentation, which is finished in a last step (F). The segmentation together with the modified set of blocks defines the genome alignment (G).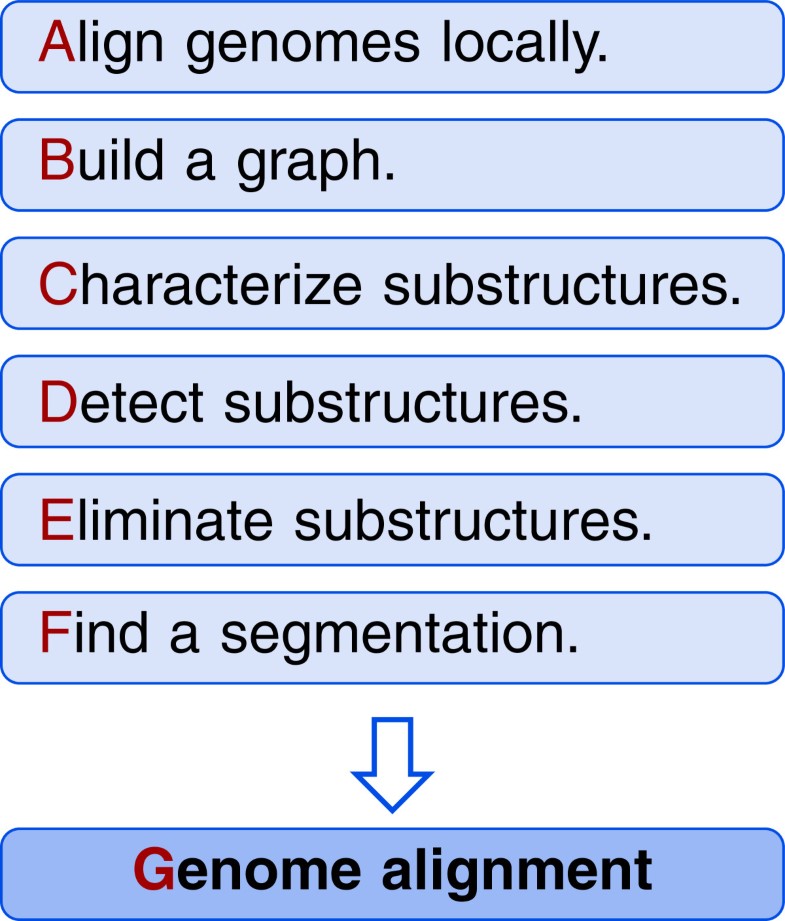 This framework describes the main procedure of graph-based genome alignment. Still, it has limitations and there are additional problems to be solved. One such problem addresses blocks and occurs before building a graph. If we do not break up the local colinear alignments into alignment components, blocks may in general partially overlap. It is possible to resolve overlapping blocks by trimming [45] or avoid overlaps by requiring local alignments to be sparse [39]. A good alternative, which is for example used by the genome aligner Mugsy [21], is to obtain a set of mutually disjoint blocks by refining segment matches [46]. A segment match refinement resolves overlaps through modest computation without losing any alignment information.
In addition, the generation of blocks (multiple alignments) from pairwise alignments may pose a problem. There are only few exceptions of genome aligners that avoid the problem by directly computing local multiple alignments [45, 47]. If we assume transitivity of the alignment relation, it is straightforward to go from local pairwise alignments to alignment components or to multiple ungapped alignments. In the case of gapped alignments however, pairwise alignments can have conflicting gap patterns. This complicates the task of combining them to a single block. Heuristic methods such as progressive alignment [7] or transitive alignment [9] carry out this task, but are time consuming. Having said that, a colinear realignment for each block carried out after finishing segmentation has proven to significantly improve alignment accuracy [45, 48]. This suggests the alternative to ignore gaps in blocks while improving the genome alignment on the level of blocks.
Further, we have not covered all aspects of the framework in this paper and left out details on the detection of substructures. For example, ABA and DRIMM-Synteny detect small cycles by efficiently computing a maximum spanning tree before heuristically inspecting the remaining edges that create cycles. Different detection methods clearly have an influence on the time complexity of an approach and, depending on their sensitivity, also on the accuracy of a genome aligner. Thus, a thorough analysis of detection methods is certainly interesting but beyond the scope of this work.
Similarly, we have not addressed algorithms for eliminating substructures. These algorithms determine the order in which modifications are applied. The elimination of one type of substructures can create other substructures, which again can create the first type of substructures upon elimination. For this reason, iterative elimination strategies are prevalent in graph-based genome aligners. End criteria for iteration are typically given as parameters of the method, e. g., a maximal length of cycles or an explicit number of iterations.
The parameters usually require customized values for every new input set of genomes. Usually, this inhibits broad usage of tools if automatic parameter selection is not offered. A genome aligner has to find a trade-off between size and length of blocks. Very similar genomes will have long blocks conserved across many genomes, whereas more diverged genomes show fewer long blocks and conservation across fewer genomes. Hence, a factor to consider for parameter selection is genome divergence in addition to genome lengths. Given the initial set of local alignments, automatic parameter selection seems possible. It will be necessary to carefully study the influence of all factors to be able to automate the selection, but consequently it will enable a larger community to benefit from graph-based genome aligners.
Finally, graph-based genome aligners, just as other genome aligners, have to decide between positional homology alignment [49] or alignment of all repeats. More precisely, they have to decide, for segments with multiple copies in several genomes, whether to align them in one or in multiple blocks. Not only do repeats lead to a quadratic explosion in the number of pairwise alignments, but they also hide larger regions of colinearity. For this reason, several genome aligners aim at aligning less and predict positional homology [17, 21, 45]. Graph-based genome aligners compute positional homology to a certain degree. They do not forbid duplications, but separate blocks into positional homologs when splitting blocks.
In conclusion, our framework demonstrates shared aspects of graph-based genome aligners. It contributes to developing a common view on graph-based genome alignment, an active field of research with currently at least two graph-based tools for genome alignment being actively developed [50, 51]. In the future, we might identify the steps that have the greatest influence on alignment accuracy. Already now, we believe that the framework provides assistance for the development of new and improved genome aligners.
Declarations
Acknowledgements
The authors thank Falk Hüffner for his comments on the manuscript and René Rahn for proofreading. KT and MH were supported by the DFG SPP1307 grants RE-1712/3-1 and RE-1712/3-2.
Authors' Affiliations
(1)
Department of Computer Science, Freie Universität Berlin, Berlin, Germany
(2)
Max Planck Institute for Molecular Genetics, Berlin, Germany
Copyright
© Kehr et al.; licensee BioMed Central Ltd. 2014
This article is published under license to BioMed Central Ltd. This is an Open Access article distributed under the terms of the Creative Commons Attribution License (http://creativecommons.org/licenses/by/2.0), which permits unrestricted use, distribution, and reproduction in any medium, provided the original work is properly cited.