Methodology article

Open Access
Tumor classification and marker gene prediction by feature selection and fuzzy c-means clustering using microarray data
BMC Bioinformatics
2003
4:60
Received: 11 August 2003
Accepted: 02 December 2003
Published: 02 December 2003
Abstract
Background
Using DNA microarrays, we have developed two novel models for tumor classification and target gene prediction. First, gene expression profiles are summarized by optimally selected Self-Organizing Maps (SOMs), followed by tumor sample classification by Fuzzy C-means clustering. Then, the prediction of marker genes is accomplished by either manual feature selection (visualizing the weighted/mean SOM component plane) or automatic feature selection (by pair-wise Fisher's linear discriminant).
Results
The proposed models were tested on four published datasets: (1) Leukemia (2) Colon cancer (3) Brain tumors and (4) NCI cancer cell lines. The models gave class prediction with markedly reduced error rates compared to other class prediction approaches, and the importance of feature selection on microarray data analysis was also emphasized.
Conclusions
Our models identify marker genes with predictive potential, often better than other available methods in the literature. The models are potentially useful for medical diagnostics and may reveal some insights into cancer classification. Additionally, we illustrated two limitations in tumor classification from microarray data related to the biology underlying the data, in terms of (1) the class size of data, and (2) the internal structure of classes. These limitations are not specific for the classification models used.
Keywords
Feature SelectionMisclassification RateTumor ClassificationComponent PlaneTumor Class
Background
Generally, cancer classification has been based primarily on the morphological appearance of the tumor, but tumors with similar histopathological appearance can follow significantly different clinical courses and show different responses to therapy. Current microarray technology (such as high density oligonucleotide arrays and cDNA arrays) enables researchers to partially overcome this limitation, by enabling tumor subclass identification through global gene expression analysis. Research in this direction has gained wide attention, as illustrated by molecular classification of various clinical samples, such as in acute leukemia, human cancer cell lines and brain tumors [9, 12, 16], and in tumor subclass prediction, e.g. in diffuse large B-cell lymphoma and breast cancer [1, 18]. Several analytical approaches have been applied for this task, such as k-nearest neighbours, weighted voting [9], support vector machines [23], partial least squares [14], hierarchical clustering, artificial neural networks [12], and supervised clustering [5]. Even if these approaches show promising results, classification of clinical samples remains a challenging task due to the complexity and high dimensionality of microarray gene expression data [6].
In this paper, we propose two novel classification models: A combination of optimally selected Self-Organizing Maps (SOMs), followed by Fuzzy C-means clustering (FCC) and the use of pair-wise Fisher's linear discriminant (PFLD). The SOM approach has previously been successfully applied in microarray data analysis [19]. Here, we introduce a new statistical procedure (a stress function) to automatically estimate the boundaries of SOM reference vectors to generate optimally selected SOM. The aim of applying this SOM procedure in the current model is to find map units that can represent the configuration of the input dataset, and at the same time to achieve a continuous mapping from the input gene space to a lattice. The Fuzzy C-means clustering (FCC) algorithm is the fuzzy equivalent of the "hard" k-means clustering, where the assignment of fuzzy membership values can serve as a confidence measure in tumor classification. The Fisher's linear discriminant is a general method in discrimination analysis, which searches for good separation between groups by finding the maximal ratio of the between-group-sum of squares to the within-group-sum of squares. The cross validation of the selected feature is accomplished by a newly developed pair-wise version of Fisher's linear discriminant [10]. The performance of the proposed models was illustrated on four publicly available microarray datasets: leukemia (2 classes) [9], colon cancer (2 classes) [2], brain tumors (5 classes) [16] and NCI cancer cell lines (8 classes) [17], which all have been studied by a number of authors. The last three data sets are well known for their high misclassification rates [6]. Finally, a systematic learning of the internal structure of different tumor classes from microarray expression data has been carried out in this paper.
Results
In the following sections, we demonstrate the performance of the two suggested models using four microarray data sets: (1) leukaemia
http://www-genome.wi.mit.edu/cgi-bin/cancer/publications/pub_menu.cgi
; (2) colon cancer
http://microarray.princeton.edu/oncology/affydata/index.html
; (3) brain tumors
http://www-genome.wi.mit.edu/mpr/CNS/
; and (4) cancer cell lines from the NCI60 data set
http://genome-www.stanford.edu/nci60/
. All data sets are publicly available. In this work, the search of optimal number of SOM reference vectors was increased from 2 to 1120 and is demonstrated in figure (
1
). The feature map units selected by model one (manual feature selection) marked by light green square as shown in figure (
2
), and the empirical cumulative distribution of the significant score d
E
of feature genes (clustered in feature map units) shown in figure (
3
).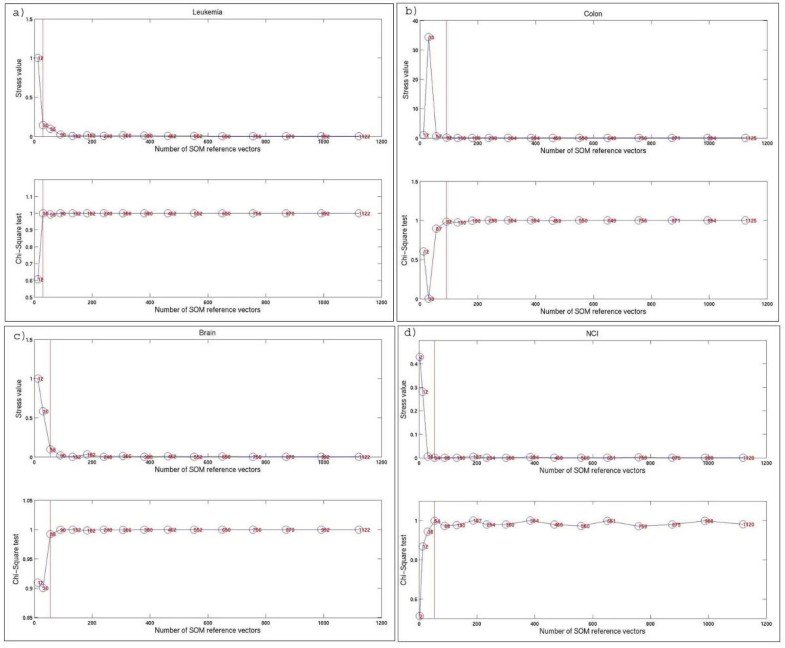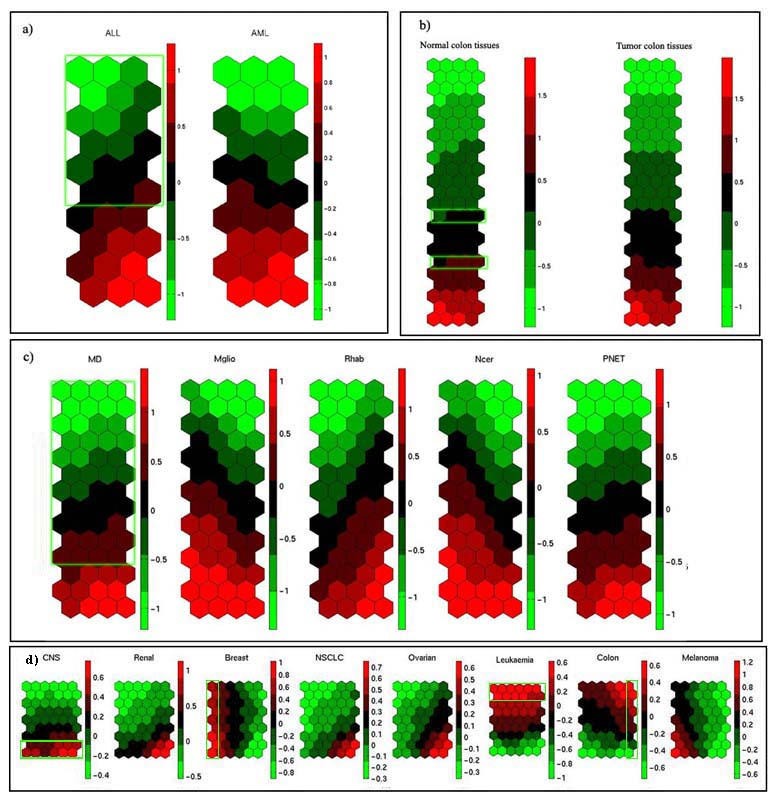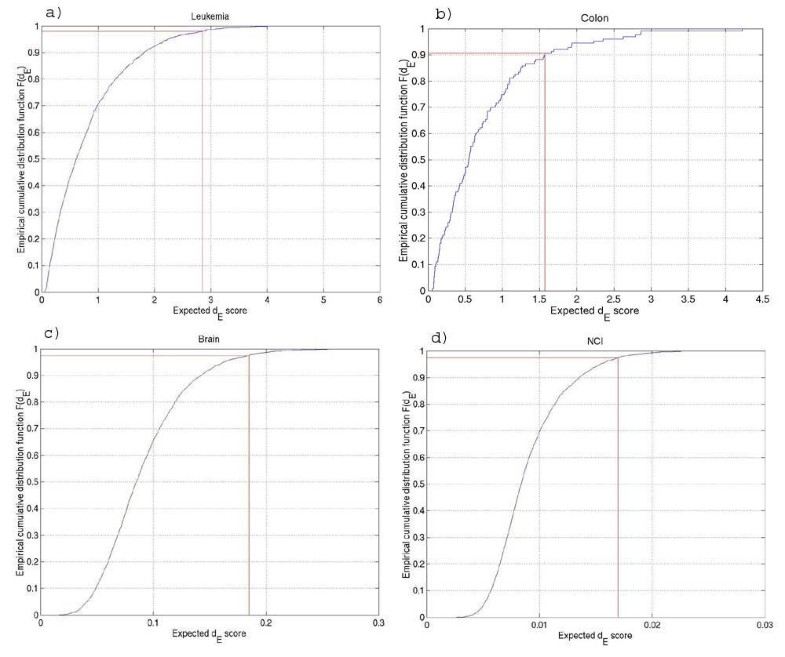 Discussion
Microarray data analysis has some similarity with information theory, where one of the central tasks is compression. In order to obtain optimal compression, an optimal machine learning approach that discovers and exploits subtle patterns in the data is required. For that reason, given the ability to ignore the noise inherent in expression data, and given the ability to find expression pattern features among various tumor classes, then it would be possible to identify the real marker genes of each type of tumor class. Our proposed models both meet the above requirements usefully, where the noisy gene expression profiles are first summarized into SOM with optimally selected map units (estimated by stress function), then the feature selection is performed on the weighted/mean component plane, by either manual feature selection (model one), or automatic feature selection (model two). The test error rates obtained from our models were generally better than those reported for other classification methods, i.e. supervised clustering, weighted voting and nearest neighbours etc. In particular, model one provided the best misclassification rate on brain tumor data (5 classes, around 6% improvement) and NCI60 data (8 classes, around 4% improvement) when compared with available results from the literature (see Table (1)). Given the improvement from the proposed models, the models are potentially very attractive for multi-class tumor classification using gene expression data.
We have also compared the performance differences among various classification methods according to the class size of data. Normally, simple discrimination methods and well designed classification models (i.e. our models considering the expression features) have similar performance on binary classes, i.e. the test error of the proposed models and supervised clustering on leukemia is between 2.4% and 4%, on colon data between 11.36% and 15.95%; and other methods had 2.94% to 5.88% on leukemia, 9.68% to 19.4% on colon data Table (
1
). However, clear differences were found in multi-class problems where the designed classification models gave an almost 50% reduction in the misclassification rate compared to others (Table
1
). More detailed discussions of comparisons may be found in [
5
]. We further investigated the possible effect of different feature selection procedures on tumor classification and marker gene prediction. In model one, the prediction of marker genes is determined by the combination of internal structures of classes and statistical significance tests of expression levels. In model two and in supervised clustering, only the statistical significance tests are considered. In other words, model one may avoid predicting genes that have statistical significance, but no real biological significance across all tumor samples [
6
]. This is a likely explanation for why model two had a similar performance as supervised clustering, whereas our model one had better performance than supervised clustering on some data sets, as seen in figure (
4
). It may also be inferred that the link to other information,
i.e.
internal structure of the classes, clinical data of the samples, gene sequence information or gene functional information [
13
], with the statistical significance test of gene expression data in the prediction of markers, may lower the test error rate of tumor classification. Thus, feature selection plays an essential role in tumor classification and marker gene prediction using microarray data.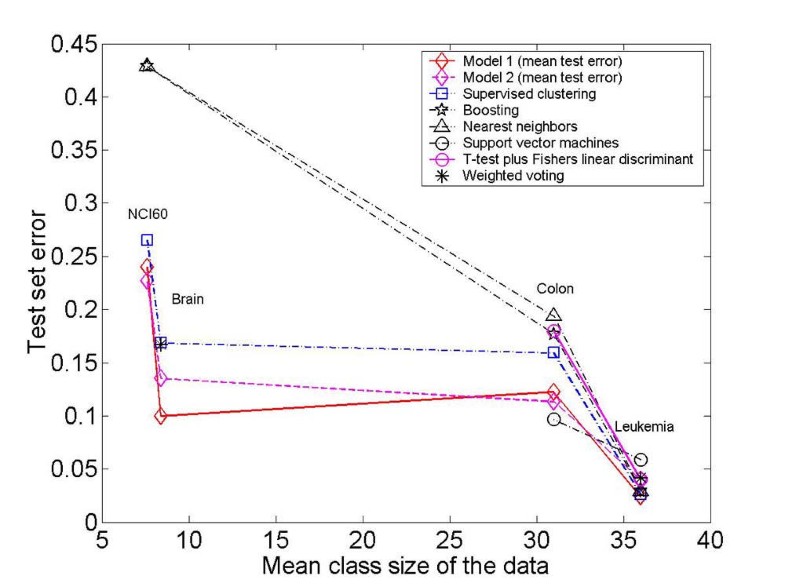 Finally, the rich visualization features (weighted/mean component plane figure (2)) of the proposed models provide an opportunity to make a systematic examination of other possible effects that may influence the tumor classification using expression profiles. As mentioned previously, we identified two reasons for the poor classification performance that were related to the biology underlying the data, rather than to the technical aspects of the classification models. They are (1) class size and (2) the internal structure of the classes. Figure (4) shows the test set error rate as a function of the mean class size of the data. There is a clear trend for the test error rate to decrease with increasing class size. The reason is that classes of large size are more likely to be learned by classification models. The second important factor that determines the test error rate of a data set is the internal structure of the classes. figure (2) shows the gene expression structures of various tumor classes in each data set. As can be seen for binary classes, the leukemia data set had a more clear and distinguishable structure than did the colon data set. Their relative test error rate in figure (4) showed a strong correlation with their class structure, while data sets with more overlapping structures among classes gave higher test error rates. The same phenomenon was also found with multiple classes, i.e. brain tumors and NCI60 data as shown in figure (4). Such overlapping structures (the same genes shared by a number of tumor classes) are biologically understandable, as genes tend to work in a complex and highly interacting manner [13]. Current microarray data only represent a snapshot of the dynamic gene interactions in the real world, and the static state of experimental data lack the information to describe the interaction of different biochemical processes inherent in biology. Therefore, the first factor (class size) may sometimes be easily overcome by an increase in the sample size of each class, i.e. collecting tumor tissue from more patients. The second factor is quite difficult to overcome. Either new techniques in experimental design or extra information (i.e. internal structure of classes or gene functional information etc.) is needed to guide the classification models. However, the second factor will always set a limitation for tumor classification using microarray data. That is to say, to a certain degree a number of tumor samples will not be correctly classified, and the misclassification will occur for every classification model if there are intersections among multiple tumor classes.
Conclusions
We have proposed two novel models for classification of tumors using microarray data. Our model one gave the best test error rate on four published data sets, when compared to other results in the literature. Particularly for multi-class problems, our models represent approximately a 4% improvement (NCI60 dataset) in error rate compared to other classification models. Additionally, we explored the importance of feature selection on tumor classification and marker gene prediction. The main limitations in tumor classification from microarray data are related to the biology underlying the data in terms of (1) the class size of data and (2) the internal structure of classes. These limitations are not aspects of the classification models used. A future development of our approach may be to design a numerical score to assess the complexity of overlapping structures among multiple tumor classes.
Declarations
Acknowledgements
We thank Bjarte Dysvik for very helpful discussion. JBW was supported by the Norwegian Cancer Society http://www.kreft.no. IJ was supported by grants from the Research Council of Norway and by the TEMBLOR grant from the European Commission.
Authors' Affiliations
(1)
Departments of Tumor Biology, The Norwegian Radium Hospital, Oslo, Norway
(2)
Departments of Informatics, University of Bergen, HIB, Bergen, Norway
(3)
Computational Biology Unit, Bergen Center for Computational Sciences, University of Bergen, Norway
(4)
Department for Molecular Bioscience, University of OSLO, Norway
Copyright
© Wang et al; licensee BioMed Central Ltd. 2003
This article is published under license to BioMed Central Ltd. This is an Open Access article: verbatim copying and redistribution of this article are permitted in all media for any purpose, provided this notice is preserved along with the article's original URL.