Pegasys: software for executing and integrating analyses of biological sequences
BMC Bioinformatics
2004
5:40
Received: 27 February 2004
Accepted: 19 April 2004
Published: 19 April 2004
Abstract
Background
We present Pegasys – a flexible, modular and customizable software system that facilitates the execution and data integration from heterogeneous biological sequence analysis tools.
Results
The Pegasys system includes numerous tools for pair-wise and multiple sequence alignment, ab initio gene prediction, RNA gene detection, masking repetitive sequences in genomic DNA as well as filters for database formatting and processing raw output from various analysis tools. We introduce a novel data structure for creating workflows of sequence analyses and a unified data model to store its results. The software allows users to dynamically create analysis workflows at run-time by manipulating a graphical user interface. All non-serial dependent analyses are executed in parallel on a compute cluster for efficiency of data generation. The uniform data model and backend relational database management system of Pegasys allow for results of heterogeneous programs included in the workflow to be integrated and exported into General Feature Format for further analyses in GFF-dependent tools, or GAME XML for import into the Apollo genome editor. The modularity of the design allows for new tools to be added to the system with little programmer overhead. The database application programming interface allows programmatic access to the data stored in the backend through SQL queries.
Conclusions
The Pegasys system enables biologists and bioinformaticians to create and manage sequence analysis workflows. The software is released under the Open Source GNU General Public License. All source code and documentation is available for download at http://bioinformatics.ubc.ca/pegasys/.
Keywords
Graphical User InterfaceDirected Acyclic GraphInput SequenceDistribute Annotation SystemPegasys
Background
Pipelines for biological sequence analysis
Large scale sequence analysis is a complex task that involves the integration of results from numerous computational tools. For high-throughput data analysis, these tools must be tied together in a coordinated system that can automate the execution of a set of analyses in sequence or in parallel. To this end, a diverse array of software systems for biological sequence analysis have emerged in recent years. For example, the Ensembl pipeline [1] automates the annotation of several eukaryotic genomes, Mungall et al [2] have created a robust pipeline for annotation and analysis of the Drosophila genome, GenDB [3] is used as an annotation system for several prokaryotic genomes and Yuan et al [4] have published resources for annotating the rice and other plant genomes. These pipelines are extensive in their scope, are well-designed and meet their objectives. In surveying these and other systems, we have identified three critical areas that are essential for building on the design of existing biological sequence analysis pipelines:
There is a need for flexible architecture so that one software system can be used to analyse different data sets that may require different analysis tools.

A system needs to allow for the inclusion of new tools in a modular fashion so the software architecture does not have to change with the addition of new tools.

A system should provide the framework to facilitate data integration of analysis results from different tools that were computed on the same input.
The need for flexible architecture
The systems outlined above differ substantially from each other in their design and application, but share common attributes. The diversity is naturally reflective of the varied computational tasks that biologists working on different projects need to perform in order to analyse their data. A researcher working on bacteria will need different tools for her analyses than someone working on mouse. The specificity driven by the needs of a research project makes it impossible to use a pipeline designed for a particular data set for analysis of another data set that has inherent differences such as the organism from which it was generated. As a result, numerous software pipelines have been created, many of which perform similar analyses (such as genome annotation) but on different data. For example, the concept of constructing a pipeline or 'workflows' of data processing are common to nearly all high-throughput sequence analysis projects. This shared concept provides an opportunity to harness the commonality in software so that a new system need not be designed for every new project.
Incorporating new tools into existing frameworks
The bioinformatics community is faced with a challenging and dynamic environment where new computational tools and data sets for sequence analysis are constantly being generated. Capitalizing on algorithmic and computational advances is critical to discovering more about the data being analysed. For a system that has a rigid pipeline that is 'hard coded', it may require a significant programming investment to incorporate a new tool. This may discourage biologists from integrating a new tool on the basis of logistics, rather than on the basis of scientific applicability. Therefore, a system should provide a framework that is designed for flexibility and extensibility.
Facilitating data integration
Genome annotation requires data integration. For example ab initio prediction of gene structures on genomic sequence can be greatly enhanced by using supporting sequence similarity searches [5–7]. Concordance between different methodologies lends stronger support and gives more compelling evidence to an algorithm or a person trying to infer true biological features from computationally derived features [8]. It follows that any analysis pipeline or system should provide a design that facilitates integration of heterogeneous sources of data.
The Pegasys biological sequence analysis system
To meet the challenges outlined above we have designed and implemented Pegasys: a flexible, modular and customizable framework for biological sequence analysis. The software is implemented in the Java programming language and is Open Source, released under the GNU General Public License. The features of Pegasys allow it to be used on a wide variety of tasks and data. Analysis modules for pair-wise and multiple sequence alignment, ab initio gene prediction, masking of repetitive elements, prediction of RNA sequences and eukaryotic splice site predictors have been developed. A new set of analyses is performed by first creating a new 'workflow'. We define a workflow as a set of analyses a biologist wishes to perform on a single sequence or set of sequences. Each workflow has the following qualities: a) the analyses can be linked together such that output from one analysis can be used as input to a subsequent analysis, b) analyses can accept outputs from more than one analysis as input, and c) analyses that are not serially dependent can be executed in parallel.
Analysis tools in the Pegasys system are wrapped in modules that can easily be plugged into the system. The backend database system provides a data model that abstracts the concept of a computational feature and captures data from all the different analysis tools in the same framework. We have implemented data adaptors that can export computational results in General Feature Format [9] and Genome Annotation Markup Elements (GAME) XML [10] for import into the Apollo genome editor [11]. For simple workflows where data integration is not applicable, for example one analysis on an input sequence, raw, untransformed output from the analysis can also be retrieved.
The system is fronted by a graphical user interface that allows users to create workflows at run-time and have them executed on the Pegasys server. The GUI also allows users to save their workflows for repeat execution on different input, or using different reagents.
To demonstrate the utility of Pegasys in widely different bioinformatics tasks, we present three use cases of the system: a single application workflow, a workflow designed for formatting a database for BLAST [12, 13] and searching the newly formatted database, and finally a workflow designed for genome annotation of eukaryotic genomic sequence.
We are releasing this work with the intention that a wide variety of sequence analyses in the bioinformatics research community will be enabled. Full details of the availability, support and documentation of Pegasys can be found at http://bioinformatics.ubc.ca/pegasys/.
Implementation
The design of the Pegasys system is guided by three main principles: modularity, flexibility and data integration. With these principles in mind, we designed Pegasys with the following architecture.
Results and discussion
To illustrate the flexibility of Pegasys for diverse analyses, we chose three workflows to demonstrate as use cases for the system. The simplest workflow takes an input sequence, runs a single analysis on this sequence and saves the unprocessed results.
Figure 4 shows an example of detecting repeats in a genomic sequence using RepeatMasker. In this example, the unprocessed results are written to a text file. This example is almost as if RepeatMasker were run locally on the command line, except that all information about the parameters used, the input sequence and the results are logged to the Pegasys database.
Figure
7
shows a workflow that has two inputs. The first is a FASTA-formatted nucleotide sequence file. This file is used as input to 'formatdb' – an application that transforms FASTA-formatted databases into a format that can be used by BLAST. The second input is a query sequence that will be used to search the newly formatted database using BLAST. The results of the search are outputted in a GFF-formatted text file.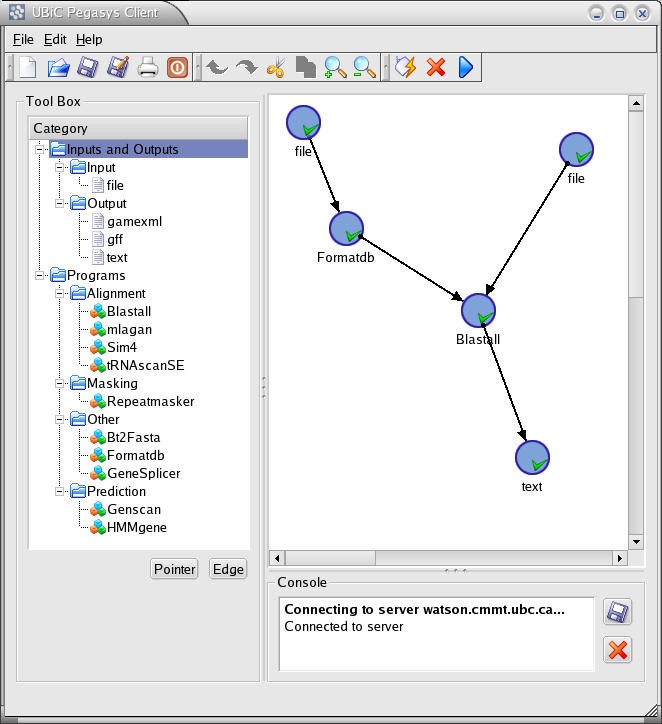 Figure
8
shows a workflow that would be suitable for annotation of eukaryotic genomic sequence. The output of this workflow would serve as the input for an annotation tool like Apollo. The DAG branches after the input sequence File node into a sub-DAG of analyses that work on the input as is and a sub-DAG that analyzes the input sequence that is masked for repeats with RepeatMasker. The unmasked sequence is analysed for tRNAs using tRNAscan-SE, and for protein coding genes using
ab initio
gene predictors Genscan and HmmGene. The masked sequence is searched against a database of curated proteins using BLASTX and against a database compiled from ESTs, full-length cDNAs and mRNA sequences (dbTranscript). The results from the latter search are further processed by an application (bt2fasta) that filters all hits based on taxonomy (in this case the user-inputted NCBI taxonid of the source organism of the input sequence) and retrieves their full sequences. This results in an organism-specific database of FASTA formatted sequences consisting of the BLASTN against dbTranscript hits. The unmasked input sequence is then used as input to Sim4, which in turn aligns the input sequence to the entries in the organism specific database. Results for all analyses are then integrated into a GAME XML file for further interpretation using Apollo. The Pegasys XML DAG file that includes the parameters for all programs is available for download at
http://bioinformatics.ubc.ca/pegasys/
.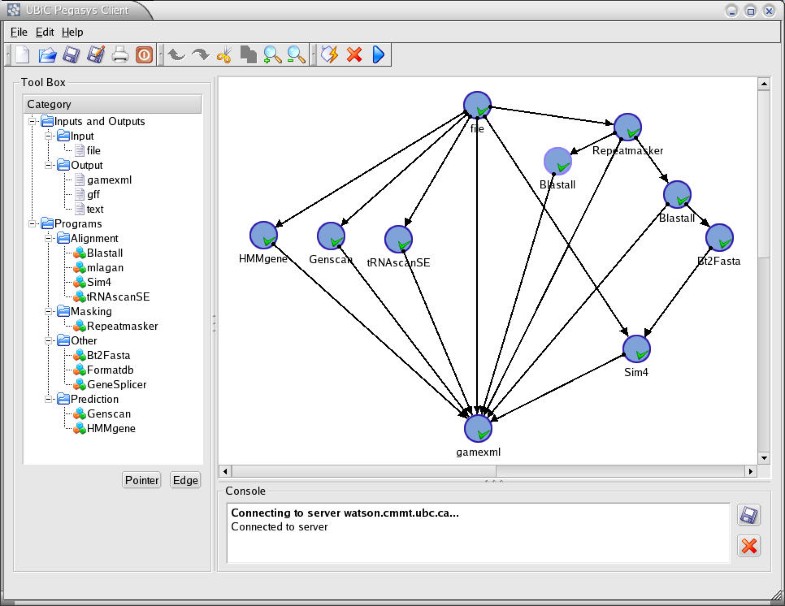 These use cases provide good examples of how Pegasys can be used in sequence-based bioinformatics analyses. The system itself is by no means limited to these examples. In theory any Unix program or script can be incorporated into the system and Pegasys could be used for workflows for systems administration, or other high-level scripting.
Comparison with other systems
As mentioned above, there are other systems that are similar to Pegasys in philosophy and approach. The DiscoveryNet platform [33] is a system that integrates bioinformatics tools based on Grid computing technologies. This system is a 'middleware' system that can be used to create workflows of annotation tools. Pegasys differs from the DiscoveryNet approach in two major ways. First, Pegasys provides a rigorously defined data model for storing computational features that is mapped by a relational backend database. The use case for DiscoveryNet describes output in the form of text-based flat files. Storing the data in a database allows it to be mined using SQL for selective sub-sets of computational evidence and gives the user more control over what they are interpreting. Second, the Pegasys system is designed to create workflows on the fly using the GUI and XML. The DiscoveryNet genome annotation workflow was programmed and any new workflow would also require programming investment. DiscoveryNet uses the concept of web-services and distributed computing. The architecture of Pegasys is extensible to web service based analyses. We plan on adding the capability of making remote calls to application servers and being able to integrate their analysis results into the Pegasys framework. This would give Pegasys the utmost flexibility and extensibility by combining the power of locally installed applications with remote web services.
The Biopipe framework [31] describes a framework for protocol-based bioinformatics. The protocols are developed with the goal of creating reproducibility of results from computational analyses. This idea complements Pegasys quite well and we envisage using Pegasys to encode protocols by creating workflow standards generated from the Pegasys GUI for specific types of analyses (e.g. genome annotation or mass spectrometry peptide fragment identification) that we can distribute to the Pegasys user community. This will facilitate cross-comparison of results from similar bioinformatics experiments performed on data sources in different research labs, or by colleagues working in the same lab. In addition, Pegasys can be used to compare results of different protocols designed to address similar scientific problems.
Future directions
The work described in this paper has led us to consider many new challenges for future work on Pegasys. While the specifications, the data model and the software are mature enough to be used in a research setting, there remain many features and enhancements to the system that we are implementing in on-going work. We are adding new modules to Pegasys for distribution to the community. We are implementing Pegasys modules for the Infernal package that is driving the Rfam repository of families of functional RNAs [34]. Our genome annotation work to date has focused largely on eukaryotic systems, and we have therefore devoted most of our development time to applications tuned for eukaryotic animal analysis. We are adding modules for prokaryotic analysis (e.g. Glimmer [35, 36]) and plants (Eugene [37]) to complement the current tools in Pegasys.
From a software perspective, we hope to make Pegasys inter-operable and compliant with additional existing Open Source bioinformatics standards and specifications, namely BioSQL and Chado to allow data computed with Pegasys to be used in other systems that employ and interact with these specifications.
Conclusions
We have created a robust, modular, flexible software system for the execution and integration of heterogeneous biological sequence analyses. Pegasys can execute and integrate results from ab initio gene prediction, pair-wise and multiple sequence alignments, RNA gene detection and masking of repetitive sequences to greatly enhance and automate several levels of the biological sequence analysis process. The GUI allows users to create workflows of analyses by dragging and dropping icons on a canvas and joining processes together by connecting them with graphical 'edges'. Each analysis is highly configurable and users are presented with the option to change all parameters that are supported by the underlying program. Data integration is facilitated through the creation of a data model to represent computational evidence which is in turn implemented in a robust backend relational database management system. The database API provides programmatic access to the results through high-level methods that implement SQL queries on the data. The Pegasys system is currently driving numerous diverse sequence analysis projects and can be easily configured for others.
Implemented in Java, the backend of Pegasys is inter-operable with a growing number of bioinformatics tools developed in Java. Pegasys can output text files in standard formats that can then be imported into other tools for subsequent analysis or viewing. We are continually adding to Pegasys through the development of additional modules and methods of data integration. The flexibility, customization, modularity and data integration capabilities of Pegasys make it an attractive system to use in any high throughput sequence analysis endeavour. We are releasing the source code of Pegasys under the GNU General Public License with the hope that the bioinformatics community worldwide will make use of our efforts and in turn contribute improvements in the spirit of Open Source.
Availability and requirements
Pegasys is available at http://bioinformatics.ubc.ca/pegasys/ and is distributed under the GNU General Public License. Pegasys is designed to run on Unix based systems. Please consult the user manual (available with the distribution) for detailed installation and configuration instructions. The Pegasys server is written in Java and has the following dependencies: Java 1.3.1 or higher, PostgreSQL 7.3.*, JDBC driver for PostgreSQL 7.3.* and BioJava 1.2*. We have tested Pegasys on a distributed memory cluster (recommended) running OpenPBS 2.3.16 to administer the job scheduling. In theory an SMP system running OpenPBS should work, but this has not been tested. The system's analysis programs include the following: NCBI BLAST 2.2.3, WU BLAST 2.0, EMBOSS 2.7.1 (for Smith-Waterman implementation only), tRNAscan-SE 1.23, the LAGAN toolkit 1.2, Sim4, Genscan 1.0, HMMgene 1.1, MaskerAid (2001-11-08) and GeneSplicer. All of the analysis tools are freely available to academics. For details please consult the Pegasys manual available with the distribution. The server has successfully been deployed and tested on a 28 CPU Linux cluster running RedHat 7.3.
The client is written in C++ and requires the QT libraries version 3.11, and gcc version 3.2.2. The client has been tested on Linux Mandrake9.x, Solaris 8, Mac OSX, Windows98/NT/ME/XP.
Declarations
Acknowledgments
BFFO would like to acknowledge GenomeBC for funding this project. DL is supported by the CIHR/MSFHR Strategic Training Program in Bioinformatics http://bioinformatics.bcgsc.ca. TX is supported by CIHR grant #MOP-53259. We wish to thank Stefanie Butland, Joanne Fox and Yong Huang for critical reviews of this manuscript. We also thank Miroslav Hatas and Graeme Campbell for systems and software installation and maintenance for the Pegasys server.
Authors' Affiliations
(1)
UBC Bioinformatics Centre, University of British Columbia, Vancouver, Canada
Copyright
© Shah et al; licensee BioMed Central Ltd. 2004
This article is published under license to BioMed Central Ltd. This is an Open Access article: verbatim copying and redistribution of this article are permitted in all media for any purpose, provided this notice is preserved along with the article's original URL.