Methodology article

Open Access
A method of precise mRNA/DNA homology-based gene structure prediction
BMC Bioinformatics
2005
6:261
Received: 08 March 2005
Accepted: 21 October 2005
Published: 21 October 2005
Abstract
Background
Accurate and automatic gene finding and structural prediction is a common problem in bioinformatics, and applications need to be capable of handling non-canonical splice sites, micro-exons and partial gene structure predictions that span across several genomic clones.
Results
We present a mRNA/DNA homology based gene structure prediction tool, GIGOgene. We use a new affine gap penalty splice-enhanced global alignment algorithm running in linear memory for a high quality annotation of splice sites. Our tool includes a novel algorithm to assemble partial gene structure predictions using interval graphs. GIGOgene exhibited a sensitivity of 99.08% and a specificity of 99.98% on the Genie learning set, and demonstrated a higher quality of gene structural prediction when compared to Sim4, est2genome, Spidey, Galahad and BLAT, including when genes contained micro-exons and non-canonical splice sites. GIGOgene showed an acceptable loss of prediction quality when confronted with a noisy Genie learning set simulating ESTs.
Conclusion
GIGOgene shows a higher quality of gene structure prediction for mRNA/DNA spliced alignment when compared to other available tools.
Keywords
Splice Site
Genomic Clone
Interval Graph
Recursive Call
Short Exon
Background
A vast amount of genomic data, including most of the human genome [1], is now available in publicly accessible databases, and the deposition of additional data continues at a rapid pace. Genomic data requires meticulous interpretation and annotation for meaningful information to be extracted. Genes, the most important functional blocks in the human genome, require exact structural annotation for future biological experiments such as reverse genetics and microarray experiments.
Most of the human genes have piecewise structure with a number of exons separated by introns. Introns are excised from original gene transcripts (pre-mRNA) to form mature mRNA. By aligning mRNA with originating genomic clones, we can reconstruct gene structure.
Several fast and efficient tools, such as BLAST [2] and BLASTX [3], were introduced in the early 90's to search databases for homologous blocks, an essential component of all gene structural prediction algorithms. An original method of gene structure prediction based on a set of protein-DNA blocks [4], implemented in GeneBuilder, was followed by Procrustes implementation [5]. Later, there were numerous implementations exploiting the idea of homology-based gene structure prediction, including GeneSeqer with SplicePredictor [6], AAT [7], EbEST [8], ESTMAP [9], TAP [10], Sim4 [11], Spidey [12], GrailEXP Galahad [13], BLAT [14] and est2genome [15]. Other genome annotation software is described in [16, 17].
Homology-based methods of gene structure prediction, referred to as spliced alignment, are often classified according to the homology type they employ (DNA/DNA, DNA/mRNA, DNA/Protein, etc.) [16]; frequently, programs employ more than one homology type. The purpose of a spliced alignment algorithm is to explore all possible assemblies of potential exons (blocks) to find a chain of exons which best fits an mRNA target sequence.
In this paper we discuss GIGOgene, a gene structure prediction tool. GIGOgene, like existing spliced alignment software [11, 16], can deal with repeating domains, paralogs and pseudogenes. In addition, GIGOgene is capable of combining structural prediction of a gene from partial gene models that span across several genomic clones. The key to GIGOgene higher precision, in the case of mRNA/DNA spliced alignment, is in the use of new splice-enhanced affine gap penalty global alignment for noise-tolerant recovery of exon-intron boundaries, including non-canonical splice sites, with simultaneous prediction of short exons. GIGOgene uses a filtering step to remove suboptimal blocks for better prediction quality.
Implementation
Before we proceed with formal description of methods, we need to define a High-scoring Segment Pair (HSP), otherwise known as a block. In the context of this paper, an HSP is a statistically significant alignment between segments (subsequences) in DNA and mRNA obtained from a BLASTN result. Parameters characterizing HSPs include location in the mRNA query and in the DNA target sequence, and different quality values such as expectation value (E), percent identity, and score.
Below, we provide a brief description of the steps in our gene structural prediction process. Some of these steps are self-explanatory, while others are considered in detail in the following subsections:
Step 1 Align curated mRNA sequence(s) with DNA target sequence database using BLASTN [2].
Step 2 Parse the BLASTN output and select genomic clones that score above 200 bits with an expectation value of no more than 1e 1. Through experimentation we have determined that these values are optimal for recovery of most of the essential HSP sets needed for further analysis. These values can be easily adjusted.
Step 3 By pairwise comparative analysis of an HSP set for each selected genomic clone, exclude HSPs with mRNA segments totally within other larger mRNA HSP segments. The longest HSP is assumed to contain the true exonic boundaries; shorter subHSPs usually result from paralogous and pseudogenic matches.
Step 4 Disambiguate the HSP sequences for all the selected clones, as discussed [see Subsection Algorithm for an unambiguous HSP sequences allocation]. The result of this step is a set of unambiguous HSP sequences.
Step 5 Build an interval graph of overlapping unambiguous HSP sequences. The interval graph captures intersection relations of nodes (unambiguous HSP sequences) as we put edges between nodes when nodes belong to different genomic clones, while their mRNA composite segments intersect. Edges between HSP sequences from the same genomic clone are not allowed.
Step 6
Occasionally, short exons missed by the BLASTN algorithm or dust low-complexity filtering result in interrupted unambiguous HSP sequences. Their fragments reside in different interval graph nodes marked with the same genomic clone and transcript. We merge these nodes to form longer, original, uninterrupted unambiguous HSP sequences. An intuitive interpretation of this step is in Figure
1
.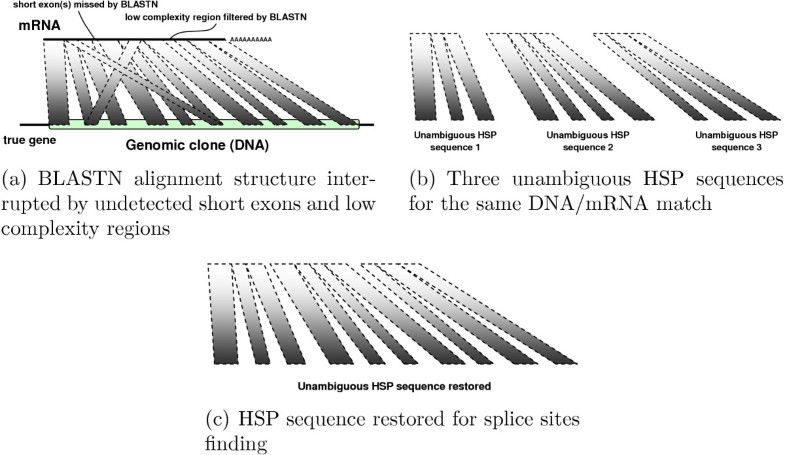 Step 7 Compact the interval graph, as discussed [see Subsection Joining unambiguous HSP sequences]. This results in the biggest composite genomic clone containing the maximum number of possible exons.
Step 8 Use splice-enhanced affine gap penalty global alignment to identify possible intron/exon boundaries in the composite genomic clone, as discussed [see Subsection Splice-enhanced affine gap penalty global alignment].
Step 9 Extract intron and exon segments from the composite genomic clone and print a report.
Conclusion
Using a homology-based approach, we have designed a program for eukaryotic gene structural annotation. In case of mRNA/DNA spliced alignment we have been able to improve on exon-level sensitivity and specificity by addressing several possibilities of error. Program domain is limited to mRNA/DNA spliced alignment with a reasonable fraction of sequencing errors. Experiments on running time position our tool as a relatively slow utility for annotating specific cases of gene structural prediction.
Several published spliced alignment algorithms were mentioned [see Section Background]. Our splice-enhanced affine gap penalty global alignment in some ways similar to the spliced alignment of protein/DNA blocks described in the Procrustes paper [5]. The key differences in our implementation is that it works in linear memory and is effective in annotation of both canonical and non-canonical splice sites. Compared to protein-DNA alignment, it has finer granularity, which translates to smaller possibility for incorrect structural prediction, especially for micro-exons. We can also annotate both CDS and UTR regions, while protein-DNA homology programs, such as Procrustes [5] and Genomescan [26], are limited to CDS region only.
The stand-alone program version, web implementation interface, test results and manual for GIGOgene are available at http://bioinformatics.ist.unomaha.edu/~achurban/.
Availability and requirements
Project name: Good In Good Out gene structural prediction tool (GIGOgene)
Project home page: http://bioinformatics.ist.unomaha.edu/~achurban/.
Operating system: Platform independent
Programming language: Java
Other requirements: Java 1.4.1 or higher
License: GNU Lesser General Public Licence
Declarations
Acknowledgements
We would like to thank members of the Bioinformatics Group at the University of Nebraska at Omaha who provided useful feedback on our progress and program. This work was supported by the NIH grant number P20 RR16469 from the INBRE program of National Center for Research Resource.
Authors' Affiliations
(1)
Department of Computer Science, College of Information Science and Technology, University of Nebraska at Omaha, Omaha, USA
Copyright
© Churbanov et al; licensee BioMed Central Ltd. 2005
This article is published under license to BioMed Central Ltd. This is an Open Access article distributed under the terms of the Creative Commons Attribution License (http://creativecommons.org/licenses/by/2.0), which permits unrestricted use, distribution, and reproduction in any medium, provided the original work is properly cited.