Research article

Open Access
Evolutionary programming as a platform for in silico metabolic engineering
BMC Bioinformatics
2005
6:308
Received: 07 July 2005
Accepted: 23 December 2005
Published: 23 December 2005
Abstract
Background
Through genetic engineering it is possible to introduce targeted genetic changes and hereby engineer the metabolism of microbial cells with the objective to obtain desirable phenotypes. However, owing to the complexity of metabolic networks, both in terms of structure and regulation, it is often difficult to predict the effects of genetic modifications on the resulting phenotype. Recently genome-scale metabolic models have been compiled for several different microorganisms where structural and stoichiometric complexity is inherently accounted for. New algorithms are being developed by using genome-scale metabolic models that enable identification of gene knockout strategies for obtaining improved phenotypes. However, the problem of finding optimal gene deletion strategy is combinatorial and consequently the computational time increases exponentially with the size of the problem, and it is therefore interesting to develop new faster algorithms.
Results
In this study we report an evolutionary programming based method to rapidly identify gene deletion strategies for optimization of a desired phenotypic objective function. We illustrate the proposed method for two important design parameters in industrial fermentations, one linear and other non-linear, by using a genome-scale model of the yeast Saccharomyces cerevisiae. Potential metabolic engineering targets for improved production of succinic acid, glycerol and vanillin are identified and underlying flux changes for the predicted mutants are discussed.
Conclusion
We show that evolutionary programming enables solving large gene knockout problems in relatively short computational time. The proposed algorithm also allows the optimization of non-linear objective functions or incorporation of non-linear constraints and additionally provides a family of close to optimal solutions. The identified metabolic engineering strategies suggest that non-intuitive genetic modifications span several different pathways and may be necessary for solving challenging metabolic engineering problems.
Keywords
Succinic AcidVanillinMetabolic EngineeringFlux DistributionFlux Balance Analysis
Background
Microorganisms are widely used for producing antibiotics, therapeutic proteins, food and feed ingredients, fuels, vitamins and other chemicals. Currently there is an increasing trend to replace chemical synthesis processes with biotechnological routes based on microbial fermentations. In order to economically produce desired compounds from microbial cell factories it is, however, generally necessary to retrofit the metabolism, since microorganisms are typically evolved for maximizing growth in their natural habitat. Retrofitting of microbial metabolism has traditionally been done through classical strain improvement that involved random mutagenesis and screening, whereas in later years rational design strategies based on genetic engineering have been applied with an increasing success – often referred to as metabolic engineering. In metabolic engineering many experimental and mathematical tools have been developed for introducing directed genetic modifications that will lead to desirable metabolic phenotypes resulting in improved production of desirable compounds or in reduced production of by-products [1, 2]. Until now most of the successes in metabolic engineering have been based on qualitative or intuitive design principles. However, even though there are several success stories in metabolic engineering there are also many attempts that have failed due to the lack of rational strategies based on predictive analysis tools.
Microbial metabolism is often subjected to tight regulation and is constrained by mass and energy conservation laws on a large number of intracellular metabolites, and this makes it difficult to predict the effects of introducing genetic modifications in a given cell. Moreover, as metabolic pathways and related regulatory processes form complex molecular and functional interaction networks [3, 4], it is only through analysis of the metabolism as a whole in an integrative systems approach [5] that one may evaluate the effect of specific genetic modifications. Genome-scale models of microbial organisms [6], comprising different levels of information, primarily on the stoichiometry of the many different reactions but possibly also comprising some information about regulation, could offer a suitable platform for developing systems level tools for analyzing and engineering metabolism [7]. Although there have been some attempts to simulate dynamic behavior of whole cell systems [8, 9], currently these approaches enjoy limited applicability due to lack of kinetic and regulatory information on the whole genome scale. Nevertheless, in absence of kinetic and regulatory information it is possible to at least partly predict the behavior of cellular metabolism by using steady state analysis based on genome-scale stoichiometric models.
Genome-scale stoichiometric models represent the integrated metabolic potential of a microorganism by defining flux-balance constraints that characterizes all feasible metabolic phenotypes under steady state conditions. Because of the large number of reactions occurring in cellular metabolism, the dimensions of the solution space (or the number of feasible metabolic phenotypes) defined by genome-scale models [10, 11] is very large. Consequently, combinatorial complexity prevents calculation of all feasible metabolic phenotypes that a microbial genotype can assume under a given environmental conditions [12]. One of the approaches to determine the metabolic phenotype (i.e. the fluxes through all metabolic reactions) is to use flux balance analysis (FBA) [13, 14]. In FBA a particular flux or a linear combination of various fluxes (objective function) in the model is optimized through linear programming, thus leading to a solution to the fluxes through all metabolic reactions. Since several microbial metabolic networks have evolved towards operation of optimal growth rate [15–18], the use optimization of growth rate is an often applied objective function in FBA. There are, however, some other approaches to determine flux distributions, especially for deletion mutants that might not be capable of realizing the same objective function as the wild-type strain [19–21]. Nevertheless, all these methods provide a basis for using genome-scale metabolic models to predict possible metabolic phenotypes, and hence for in silico metabolic engineering. However, despite of their potential, genome-scale stoichiometric models have been scarcely used for metabolic engineering purposes.
The algorithm developed by Maranas et al. [22, 23] (named OptKnock) represents one of the first rational modeling frameworks for suggesting gene knockouts leading to the overproduction of a desired metabolite. OptKnock searches for a set of gene (reaction) deletions that maximizes the flux towards a desired product, while the internal flux distribution is still operated such that growth (or another biological objective) is optimized. Thus the identified gene deletions will force the microorganism to produce the desired product in order to achieve maximal growth. Indeed, the design philosophy underlying OptKnock approach takes advantage of inherent properties of microbial metabolism to drive the optimization of the desired metabolic phenotype. The relation of OptKnock with the biological objectives of microorganisms makes it an attractive and promising modeling framework for in silico metabolic engineering.
OptKnock is implemented by formulating a bi-level linear optimization problem using mixed integer linear programming (MILP) [
22
] that guarantees to find the global optimal solution. In this report, we extend the applicability of OptKnock approach by formulating the
in silico
design problem by using a Genetic Algorithm (GA), hereafter referred to as OptGene. Genetic algorithms use the principle of Darwinian evolution to search (
evolve
through mutations and reproduction) for the global optimal solution (individual with a maximum
fitness
score). Direct relation of GA with biological evolution makes it a natural method of choice to identify suitable genetic modifications for improved metabolic phenotype. There are two major advantages of the OptGene formulation. Firstly, OptGene demands relatively less computational time and thus it enables to solve problems of larger size. This is of particular importance as the relation between the size of the problem (as defined by the number of enzymes and number of deletions desired) and the corresponding search space (combinations of enzymes to be deleted) is combinatorial (Supplementary Figure
1
) [see
Additional file 1
]. Thus, the number of possible combinations of 5 reaction-deletions in a model with 250 reactions is more than 7.8 × 10
9
, whereas existing genome-scale stoichiometric models comprise a significantly higher number of reactions. Secondly, the OptGene formulation allows the optimization of non-linear objective functions, which is of considerable interest in several problems of commercial interest. One example of an important non-linear engineering objective function is the productivity (amount of product formed per unit time).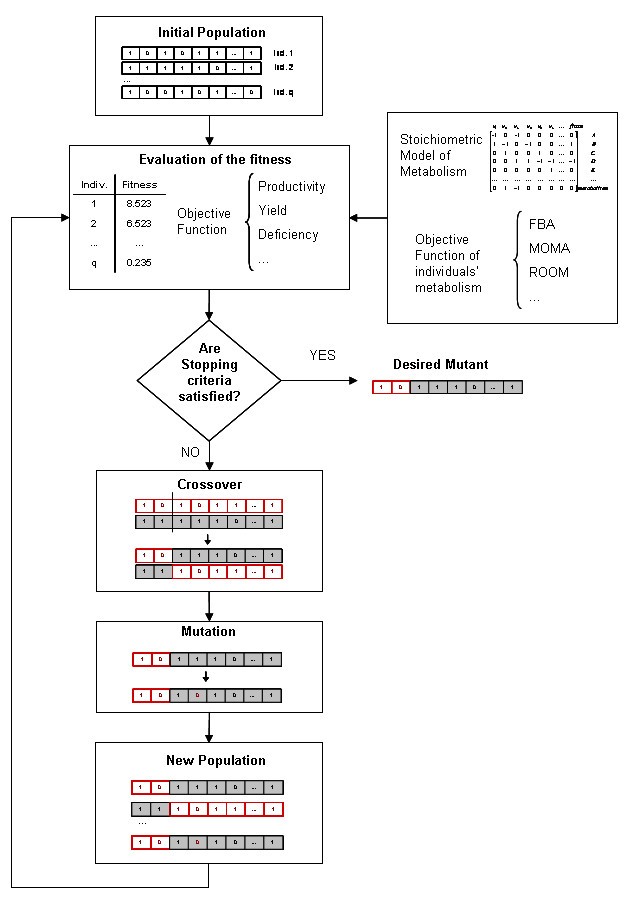 Conclusion
We report a GA based framework termed OptGene for designing microbial strains in silico. OptGene presents two major advantages, higher speed and ability to optimize for non-linear objective functions. The optimal solution for a four deletion problem (succinate yield case) was found using OptGene by searching only 0.03% of the total solution space. For a higher number of deletions, the OptGene search space represents considerably lower fraction of the total solution space that increases exponentially. As a consequence of an exponential increase in the search space, a detailed study of the correlation between the OptGene search space and the total solution space was not feasible. Nevertheless, as discussed in the results section, it is possible to estimate the closeness to the global optimal solution by comparing the results with the plots as reported in Supplementary Figure 3 [see Additional file 1]. Consequently, high computational speed of OptGene enables addressing the problems involving large number of genes, and searching for higher number of deletions. This is of particular interest as genome-scale models of simple eukaryotic organisms like S. cerevisiae include more than 1000 reactions. In case of simple minimal media that we used in our simulations, this set of 1000 reactions can be reduced to 240 reactions as described in the algorithm. This number can still be large for solving quadruple deletion problem using exhaustive search algorithms.
The metabolic engineering strategies reported in this work suggest that non-intuitive genetic modifications spanning several different pathways may be necessary for solving challenging metabolic engineering problems. Consequently a priori selection of candidate targets might lead to sub-optimal solution, and it is desirable to consider the whole model. Moreover, with the recent advances on the experimental front, it is feasible to construct mutants with many knockouts in real time. It should also be noted that we might often need to recalculate the results in case of changes/errors in the model, e.g. after including regulatory information or addition of a new reactions. Speed of calculations can be a key factor in such cases. OptGene can serve to provide a quick hint to whether a particular function of interest can be improved at all or up to what extent. The ability of OptGene to optimize for non-linear objective functions opens new opportunities for designing microbial strains with tailor-made metabolic phenotype, e.g. a strain with high BPCY of x and low yield of y.
The GA formulation can provide us with multiple solutions, and thus an opportunity to choose from many good solutions. This is of interest as many of the predicted solutions might be difficult to realize due to complex biological regulation, which is difficult to account for in scoring function models. Moreover, the GA framework is very flexible and thus can easily be changed to use different scoring functions depending on the problem and system under investigation. In conclusion, OptGene represents a computationally efficient, flexible and natural tool for in silico designing of microbial strains by using genome scale models.
Methods
Metabolic model
Genome scale reconstruction of S. cerevisiae reported by Förster et al. [29] was used as stoichiometric model of yeast metabolism. All simulations were performed for aerobic glucose-limited conditions. The glucose uptake rate was fixed to 3 mmoles/gDW/hour while the maximum oxygen uptake rate was set to 9 mmoles/gDW/hour [30].
FBA and MOMA
FBA simulations were performed using the GNU linear programming kit http://www.gnu.org/software/glpk/glpk.html, while MOMA calculations were performed by using an Object oriented quadratic programming package [31].
Genetic algorithm
The genetic algorithm was implemented as a C++ program using the GAlib package http://lancet.mit.edu/ga/.
Note 1: Reported growth rates for mutants
As discussed in the main text, FBA (and other steady state models) can not simulate "rate" without specification of the specific substrate uptake rates (substrate uptake per unit biomass per unit time). Consequently the reported growth rates for the mutants should be more correctly interpreted as biomass yields.
Note 2: Maximum theoretical yield of succinate
The maximum theoretical yield of succinic acid reported in this study is calculated using FBA, whereas external H+ was balanced. In case where H+ is regarded as unbalanced (or external) metabolite, maximum yield is 0.98 g/g glucose. This difference is very high and hence can result in big differences in the predictions reported. However, the choice is not trivial since the exact mechanism by which succinic acid is transported out of cell is unknown. Moreover, in case where H+ is not balanced, certain contradictions with the experimental observations were found under anaerobic conditions. For this reason we chose to use a conservative estimate for the maximum theoretical yield. We also note that the theoretical yields were calculated with the constraints for maintenance cost, and no CO2 uptake. Thus the reported yields are slightly lower than the stoichiometric yields (1.124 g/g glucose in case of succinate).
Note 3: Data availability
The flux distributions, model reactions and other data related to this article can be obtained for non-profit research purposes by contacting the corresponding author (JN).
Declarations
Acknowledgements
Authors are grateful to Miguel Rocha, Ana Paula Oliveira, John Villadsen and Donatella Cimini for fruitful discussions. IR is grateful for the financial support provided by FCT (Portuguese Science Foundation) under the Post-Doctoral grant BPD 11634/2002.
Authors' Affiliations
(1)
Center for Microbial Biotechnology, BioCentrum-DTU, Technical University of Denmark, Lyngby, Denmark
(2)
Centro de Engenharia Biológica, Universidade do Minho, Braga, Portugal
(3)
Fluxome Sciences A/S, Søltofts Plads, Lyngby, Denmark
Copyright
© Patil et al; licensee BioMed Central Ltd. 2005
This article is published under license to BioMed Central Ltd. This is an Open Access article distributed under the terms of the Creative Commons Attribution License (http://creativecommons.org/licenses/by/2.0), which permits unrestricted use, distribution, and reproduction in any medium, provided the original work is properly cited.