CLU: A new algorithm for EST clustering
BMC Bioinformatics
2005
6(Suppl 2):S3
Abstract
Background
The continuous flow of EST data remains one of the richest sources for discoveries in modern biology. The first step in EST data mining is usually associated with EST clustering, the process of grouping of original fragments according to their annotation, similarity to known genomic DNA or each other. Clustered EST data, accumulated in databases such as UniGene, STACK and TIGR Gene Indices have proven to be crucial in research areas from gene discovery to regulation of gene expression.
Results
We have developed a new nucleotide sequence matching algorithm and its implementation for clustering EST sequences. The program is based on the original CLU match detection algorithm, which has improved performance over the widely used d2_cluster. The CLU algorithm automatically ignores low-complexity regions like poly-tracts and short tandem repeats.
Conclusion
CLU represents a new generation of EST clustering algorithm with improved performance over current approaches. An early implementation can be applied in small and medium-size projects. The CLU program is available on an open source basis free of charge. It can be downloaded from http://compbio.pbrc.edu/pti
Keywords
Local Similarity
Cluster Size Distribution
Cluster Program
Cancer Genome Anatomy Project
Short Frame
Background
Expressed sequence tags (ESTs) represent a significant advancement in modern biology. With their introduction in early 90's they represent the first truly high-throughput technology that deluged the databases and made the advent of advanced computer technologies in biology inevitable. The flood of these short, error-prone messages represents another important, although not immediately obvious revolution: it has heralded the transition of modern biology from genetics to the genomics era. ESTs have offered the first glimpse at the transcriptome, i.e. a volume of messages, copied from genes and forwarded to all corners of a living cell. An EST library is essentially a coarse-grained snapshot of all mRNA molecules present at a given time in a biological sample. Currently there are more accurate and advanced technologies to analyze the function of genomes, but EST sequencing was one of the first approaches and is still in extensive use today.
For EST sequences, only a few hundred readable bases are produced from each sequencing read, and yet a full gene transcript may be several thousands of bases long (Figure
1
outlines the EST production process). In publicly available databases, EST length varies from less than 20 to over 7000 base pairs, with an average length of 360 base pairs and standard deviation of 120 base pairs (data from dbEST, Genbank rel. 104). Obviously, not all of these sequences are true single-read tags, but they are submitted and accepted as such, bringing extra complications to EST analysis. There is significant diversity in EST generation methods. One of the most significant is using random primers, which results in production of fragments without direction, originating from different non-overlapping parts of the same mRNA [
1
]. ESTs provide a "tag level" association with an expressed gene sequence, trading quality and total sequence length for the high quantity of samples.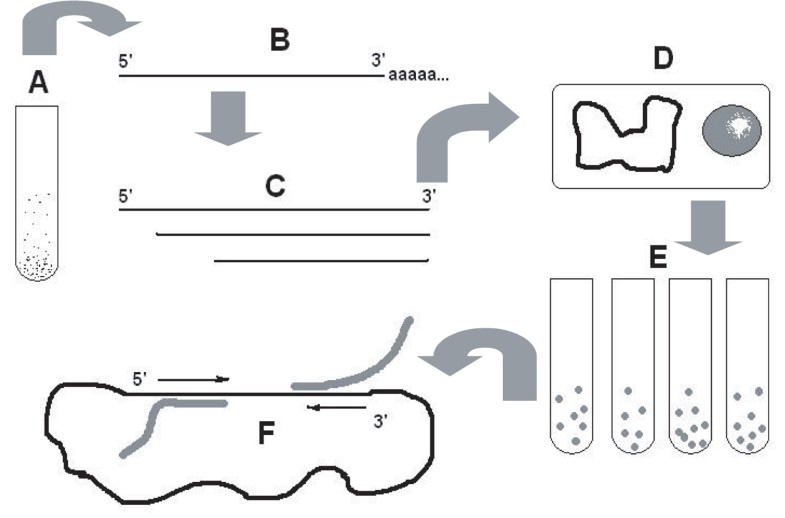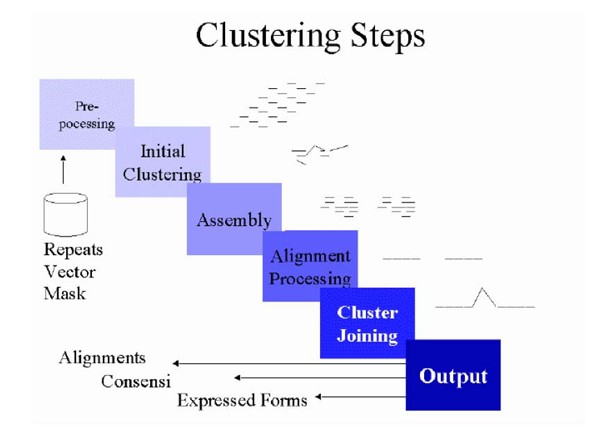 A large scale and systematic public effort to isolate all human genes began in 1993 when the Integrated Molecular Analysis of Genomes and their Expression (IMAGE) consortium was formed to create, collect and characterize cDNA libraries from various tissues and different state of normalization [2]. This initiative gained significant momentum when Merck & Co. provided funding to the Washington University Genome Sequencing Center to partially sequence clones from the IMAGE cDNA libraries to generate expressed sequence tags. EST sequences are now submitted to dbEST – a special division of Genbank [3]. Apart from the centralized resources there are countless smaller databases, scattered throughout academic and commercial research laboratories, often available for download. An example of such ongoing EST sequencing project Rat EST can be found at the University of Iowa http://ratest.eng.uiowa.edu. Large quantities of ESTs are also collected among other data in disease-oriented resource centers such as Cancer Genome Anatomy Project at the National Cancer Institute, USA http://cgap.nci.nih.gov.
Practical application of a particular EST clustering technique results in a database of clustered ESTs, often including mRNA, genomic DNA sequence and other available information: a so called gene index. The primary goal of most gene indices is to reconstruct the gene complement of a genome and therefore require strict criteria to assign one gene to one cluster. This approach is implemented by TIGR [4], UniGene [5], IMAGEne [6] and MERCK [7]. A novel approach, implemented by STACK [8] aims to capture transcript variation in the context of developmental and pathological states. This approach incorporated additional steps that were tolerant of sub-sequence diversity and the ability to perform assembly analysis. The gene indexing projects described below implement a combination of data preparation, clustering, assembly, alignment analysis, consensus generation, clone linking and visualization.
In order to achieve maximum performance with minimal compromise on sensitivity we have developed a new algorithm for nucleic acid sequence comparison. Recently, the growth rate of sequence data in genomic databases has surpassed the growth rate of computer performance, mostly due to introduction of high throughput sequencing technologies like EST manufacture and to a multiplicity of genome sequencing projects. So far the existing clustered EST databases manage to cope with the deluge of data, but only with a help of high-end computer facilities. Projection of this situation into the future suggests that the progress of computer hardware design may not be sufficient. New algorithmic approaches are required to mitigate this problem.
Some latest developments in the EST clustering systems give preference to fast sub-linear algorithms [9]. The sheer speed of sequence comparison is the obvious advantage of this family of algorithms. There are also some disadvantages. First of all, the speed comes at the price of precision. A higher false-positive rate is compensated by a thorough alignment at the subsequent cluster assembly stage. False-negative cases, once dropped, are hard to detect. To cut the probable loss of matching sequence pairs, clustering programs have to be tuned to higher sensitivity. As a result, the slow cluster assembly stage becomes overloaded with sequences that can't be aligned (i.e. false-positives). Many fast sub-linear algorithms require an extensive pre-clustering procedure. Apart from being resource consuming, this stage is also a difficult parallel optimization. Pre-calculated index tables need to be adjusted with each update of the initial data set. A clustering system, built around a fast, but imprecise sub-linear algorithm would require lots of compensatory mechanisms and additional routines. Complex structure obstructs further development of the clustering system as a whole.
In spite of the seemingly obvious choice of the fastest possible algorithm we experiment here with another strategy. Although linear class algorithms are generally slower then sub-linear, they have some advantages as a basis of an EST clustering system. A more precise algorithm would produce much less false-positive and false-negative results. Sensitivity to small regions of local similarity can improve quality of results by detecting short, but non-random overlaps between EST fragments and may result in much longer consensus sequences. Detecting small regions of similarity, even if accompanied by much longer non-similar stretches, is crucial for detecting alternative gene variants.
Methods
Fast algorithm for sequence comparison
Suppose we have a query nucleic acid sequence (EST, for example) S q . We are to compare this query sequence to a sequence S b to reveal their possible similarity. To consider only words situated within a short distance from each other we introduce a short frame sliding by one position at a time along S b . We compare the words found anywhere in the sequence S q to the words found in each frame of S b . The frame containing few or none of coinciding words is most probably unrelated to S q . A high number of words, coincident between S q and a short frame in S b , may indicate a zone of local similarity, providing that the words are informative (not too abundant). To accelerate the comparison all words found in sequence S q are presented in a table (H). The table H is a linear array, where the offset itself is a hash value of certain oligonucleotide. Each element of this array contains a number, associated with a corresponding oligonucleotide. Each value of the hash table H can be differentially weighted. Some words, for example repeats of one letter, are less informative. Words over-abundant in a sequence S q are likely to be less informative than unique or rare words. Differential weighting allows ignoring low-complexity regions and short tandem repeats without extensive pre-processing.
We slide the frame W repeatedly along S b by one letter at a time, calculating a similarity function F(W i ) for each frame W i .
Where w is the width (number of words) of the frame W.
This algorithm was developed specifically for EST clustering. It cannot be applied to compare protein sequences, it not sensitive enough to weak similarities between evolutionary-related sequences. High sensitivity to weak similarity is not required for clustering ESTs, where only fragmented copies of the same gene must be put in the same cluster. Excess sensitivity would also cause a problem generating false positive matches in the case of paralogous transcripts.
The implementation of our nucleotide sequence-matching algorithm uses binary encoding, similar to that of Cray Bioinformatics Library http://www.apbionet.org/pr/cray-lion-kooprime.html. This approach reduces the memory consumption and accelerates computation. Each word extracted from the encoded sequence serves as an index in the in the query sequence hash-table. The algorithm operates with only integer numbers, which also improves the performance. The computation is reduced to a few CPU instructions per base pair plus a short vector multiplication per whole sequence.
Discussion
The CLU algorithm has been implemented as a working prototype, able to perform the most basic of the EST clustering functions – isolation of clusters, alignment and consensus generation. As a standalone application this program can be very practical for analysis of small-to-medium size EST libraries, custom microarray design, etc. The current implementation doesn't keep the alignments of clusters for analysis and generates a cluster consensus based on unsorted pair-wise alignments only. The program performs both clustering and cluster assembly, but the quality of results is curbed by the performance limitation of a desktop PC. Fast sequential pair-wise alignment implemented in the prototype version is only tolerable in a prototype-level testing, and it can't compete in accuracy with the tools, specifically developed for sequence assembly, like PHRAP. Improvement of the consensus generation and introduction of multiple alignments is the priority in development of the stringent clustering application. Sequential pair-wise alignment of low-quality EST may reduce consensus quality and is significantly affected by the order of alignments. The introduction of a more sophisticated multiple alignment will generate more representative consensus and correct this problem.
A major improvement can be an introduction of a pre-processing stage. This stage can be based on one of the fast sub-linear algorithms. Unlike the systems initially built around fast sub-linear sequence comparison, our system doesn't experience the problem of excessive false matches, is not supported by further assembly and doesn't rely on extensive pre-processing. The additional fast comparison stage should aim not to detect the matches, but rather to cut most obviously non-matching ESTs from further comparison. Development of a sub-linear booster for pre-selecting ESTs before comparison is currently in progress at Pennington Biomedical Research Center. Another improvement currently being implemented is a scalable parallel version of the CLU EST clustering algorithm for high-performance grid computing.
An implementation of the CLU algorithm can be downloaded from http://compbio.pbrc.edu/pti. The C++ code is provided free of charge. This version requires an input file in XML format. A program for converting standard FASTA format into CLU input is also provided.
Declarations
Acknowledgements
This work was partially supported by the Louisiana BoR-HEF(2000-05)-08 grant.
Authors' Affiliations
(1)
Pennington Biomedical Research Center, Baton Rouge, USA
(2)
South African National Bioinformatics Institute, Bellville, South Africa
Copyright
© Ptitsyn and Hide; licensee BioMed Central Ltd. 2006
This article is published under license to BioMed Central Ltd. This is an open access article distributed under the terms of the Creative Commons Attribution License (http://creativecommons.org/licenses/by/2.0), which permits unrestricted use, distribution, and reproduction in any medium, provided the original work is properly cited.