PROMPT: a protein mapping and comparison tool
BMC Bioinformatics
2006
7:331
Received: 28 April 2006
Accepted: 04 July 2006
Published: 04 July 2006
Abstract
Background
Comparison of large protein datasets has become a standard task in bioinformatics. Typically researchers wish to know whether one group of proteins is significantly enriched in certain annotation attributes or sequence properties compared to another group, and whether this enrichment is statistically significant. In order to conduct such comparisons it is often required to integrate molecular sequence data and experimental information from disparate incompatible sources. While many specialized programs exist for comparisons of this kind in individual problem domains, such as expression data analysis, no generic software solution capable of addressing a wide spectrum of routine tasks in comparative proteomics is currently available.
Results
PROMPT is a comprehensive bioinformatics software environment which enables the user to compare arbitrary protein sequence sets, revealing statistically significant differences in their annotation features. It allows automatic retrieval and integration of data from a multitude of molecular biological databases as well as from a custom XML format. Similarity-based mapping of sequence IDs makes it possible to link experimental information obtained from different sources despite discrepancies in gene identifiers and minor sequence variation. PROMPT provides a full set of statistical procedures to address the following four use cases: i) comparison of the frequencies of categorical annotations between two sets, ii) enrichment of nominal features in one set with respect to another one, iii) comparison of numeric distributions, and iv) correlation of numeric variables. Analysis results can be visualized in the form of plots and spreadsheets and exported in various formats, including Microsoft Excel.
Conclusion
PROMPT is a versatile, platform-independent, easily expandable, stand-alone application designed to be a practical workhorse in analysing and mining protein sequences and associated annotation. The availability of the Java Application Programming Interface and scripting capabilities on one hand, and the intuitive Graphical User Interface with context-sensitive help system on the other, make it equally accessible to professional bioinformaticians and biologically-oriented users. PROMPT is freely available for academic users from http://webclu.bio.wzw.tum.de/prompt/.
Keywords
Graphical User Interface
Comparative Proteomics
Document Type Definition
Input Adapter
Minor Sequence Variation
Background
Molecular bioinformatics was born as a science of comparing individual DNA and amino acid sequences with each other. Over the past three decades important biological insights have been obtained by establishing unexpected sequence similarity between seemingly unrelated proteins (e.g., Koonin et al. [1]). More recently, modern high-throughput technologies (genome sequencing, expression profiling, mass spectrometry) injected tremendous amounts of sequence data and associated experimental information into the public databases, creating the need for collective comparisons of large sequence groups (e.g., whole proteomes). The transition from pairwise sequence comparison to comparing large protein datasets against each other is similar to switching from finding differences between individuals to comparing populations of whole countries. Is wine consumption in France higher than in England? Do Germans drive faster than Americans? Analogous queries applied to biological molecules prevail in post-genomic bioinformatics. In many genome sequencing papers one finds a bar chart contrasting the new sequence with other genomes in terms of sequence motif composition. While analysing gene clusters obtained by expression analysis it is typical to ask whether one gene group is significantly enriched in certain functional categories with respect to another one. Are proteins with many interaction partners different from less prolific interactors [2]? Are essential genes more evolutionary conserved than non-essential ones [3]? The list of such questions is endless. Answering some of them involves a mere counting exercise while others require the application of sophisticated bioinformatics approaches and careful statistical analyses.
Mining protein properties at large scale has been especially productive in computational structural genomics where it helped to establish basic facts about structural complements encoded in complete genomes. For example, it was shown that membrane proteins constitute roughly 30% of each proteome [4]. The patterns of globular fold occurrence in different organism groups were carefully investigated [5]. The mechanisms of protein structure adaptation to extreme environments were revealed by comparing the genomes of thermophilic [6, 7], halophilic [8], psychrophilic [9], and barophilic [10] species with their counterparts living under normal conditions.
A recurrent bioinformatics task in comparative proteomics involves mapping and integrating information from disparate sources. While reporting experimental results as well as theoretical predictions one may refer to proteins using the UniProt [11], GenBank [12], or RefSeq [13] nomenclature, or custom IDs for sequences not yet submitted to public databases. The situation is additionally complicated by frequent genome updates which may result in new, previously missed ORFs identified, existing sequences corrected, as well as the removal of misannotated ORFs. As a result, establishing unambiguous correspondence between protein sequence entries and associated experimental data may represent a difficult, albeit trivial challenge.
Countless customized software tools with varying degrees of complexity have been independently written in research labs throughout the world to address protein comparison and mapping tasks, although there are significant commonalities in the technical steps that need to be implemented. The authors of this contribution, too, wrote their share of throw-away perl scripts and quick-shot Java programs to compare GroEL substrates with the rest of the Escherichia coli lysate [14], crystallizable and non-crystallizable proteins [15], disease-associated proteins and those without such association [16], abundant and non-abundant proteins (Ishimama et al., in preparation), as well as completely sequenced genomes [17] and functional properties of alternatively spliced genes [18]. It is precisely the fatigue from re-inventing the wheel over and over again that motivated us to develop a bioinformatics framework for large-scale protein comparisons.
Much to our surprise, we realized that general solutions for comparing and analysing large sets of proteins in the space of arbitrary annotation attributes are currently hardly available or limited to certain application areas. We are aware of only two software projects addressing the need for large scale comparative analysis. The comprehensive Genome Properties resource [19] allows comparing complete prokaryotic genomes based on a multitude of pre-defined property assertions. The system is primarily focused on metabolic information, does not allow user-supplied protein attributes, does not provide statistical tests to validate differences between genomes, and is not available for local installation. GeneMerge [20] is an excellent tool for detecting over-representation of certain functional or categorical descriptors in a given subset of proteins relative to the general set based on rigorous statistical tests, but it provides neither integration with bioinformatics databases nor a graphical user interface.
Here we describe a platform-independent system named PROMPT (Protein Mapping and Comparison Tool) capable of addressing a wide spectrum of routine tasks in comparative proteomics. PROMPT enables the user to compare arbitrary protein sequence sets, revealing statistically significant differences in their annotation features. Protein annotation can be imported from a variety of standard bioinformatics databases as well as from generic XML description files. Facilities are provided for linking experimental information obtained from different sources to appropriate genes despite discrepancies in gene identifiers and minor sequence variation. The entire functionality of the system is available via a full-featured server-independent graphical user interface. At the same time, a Java API is provided for integration with user applications.
Results
Here, we demonstrate the functionality of PROMPT based on three well documented test cases. Each case study highlights different elementary analysis modes of PROMPT. All used data can be found on the PROMPT home page ([35], [see Additional file 2]), where we additionally provide detailed step-by-step instructions for all cases along with up-to-date information.
In the first case we have reproduced our own previously published analysis of GroEL substrates from
E.coli
[
14
]. In this work, essentially the entire GroEL-substrate proteome consisting of approximately 250 proteins was identified by a combination of biochemical analyses and quantitative proteomics. What protein features determine substrate specificity of GroEL? To answer this question we imported into PROMPT 20 annotation features for all
E.coli
proteins directly from the PEDANT genome database and compared GroEL substrates with 3202
E.coli
lysate proteins [
36
]. The only significant difference reported between these two protein datasets was in terms of their structural folds. Using PROMPT's nominal comparison method we could easily demonstrate that the GroEL substrates are significantly enriched in proteins possessing the TIM-barrel fold (Figure
7
). Possible evolutionary implications of this phenomenon are discussed in Kerner
et al
. [
14
]. Thus, PROMPT allows finding significant enrichments and differences of categorical features between two sets of elements. Furthermore, the generic solution allows an analysis independent of the feature semantic and problem domain.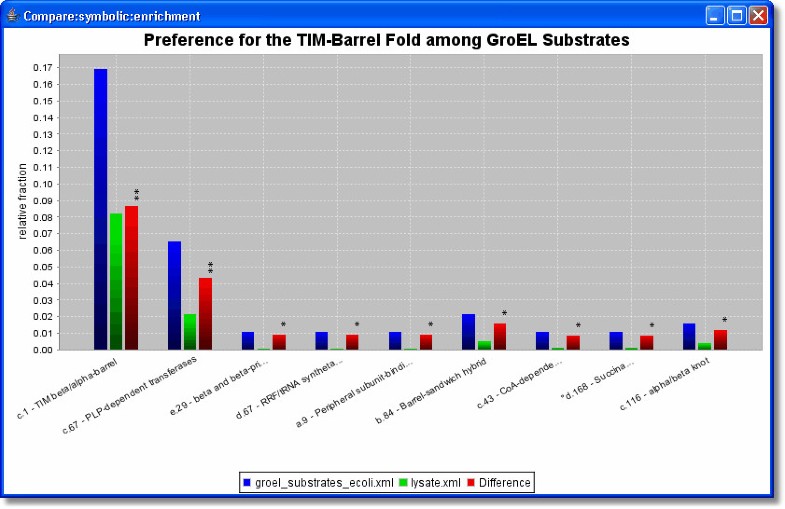 In the second example we repeat the analysis of protein expression in yeast from Ghaemmaghami
et al.
[
37
]. This case highlights the ease of using external data with PROMPT, comparing numerical distributions and performing correlation analyses. Absolute protein abundance levels and steady-state mRNA expression levels in
S.cerevisae
were already available as tab-delimited text files associated with the publications by Ghaemmaghami
et al.
[
37
] and Holstege
et al.
[
38
], and could be imported easily using PROMPT's tab-delimited input facility. The first question we addressed was whether protein abundance correlates with mRNA expression levels. In addition to calculating the Pearson correlation coefficient PROMPT assesses its statistical significance by performing a correlation test. For visualization of results PROMPT will suggest appropriate options which in this case include a static scatter plot of abundance versus mRNA levels with logarithmic axes and linear- as well as polynomial loess regression lines (Figure
8A
). Besides the statistical test results, descriptive key data such as minimum, maximum, mean, median and standard deviation are always returned by PROMPT and can be analysed, sorted and further processed within a comfortable spread sheet viewer as seen in Figure
8B
.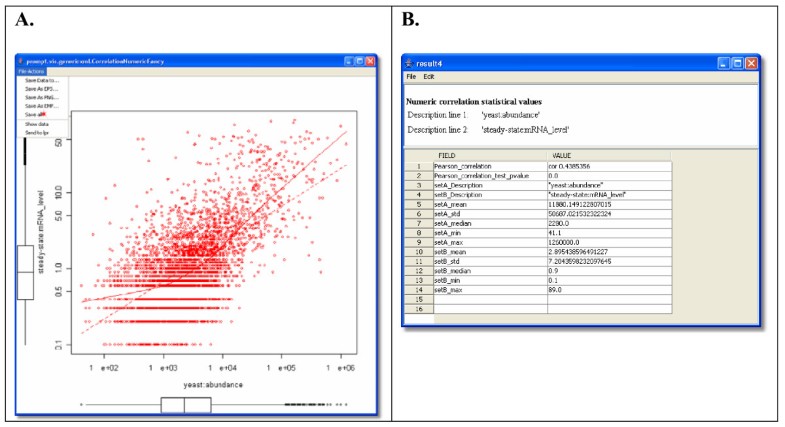 Another question investigated by Ghaemmaghami
et. al.
[
37
] was whether essential proteins are more abundant than non-essential proteins. Within a few seconds the results reported by the authors could be reproduced using PROMPT's generic method to compare numerical distributions. Specifically, we compared the abundance distributions of all yeast proteins
vs.
the essential proteins. Applicable statistical tests were automatically performed by PROMPT. First, the value distributions were compared with the Kolmogorov-Smirnov and Mann-Whitney tests based on the complete data set. Secondly, we attempted to identify potential local differences between the two distributions by binning the data and comparing individual bins of both groups separately. This demonstrates that essential proteins are significantly underrepresented within the logarithmic abundance ranges 8 to 11 and significantly overrepresented within the range 13 to 16. The bin intervals can be chosen either automatically or manually guided by a user-friendly graphical dialog box [see
Additional file 4
]. The resulting comparison of the protein abundance levels of essential proteins
versus
the complete yeast proteome is shown in Figure
9
.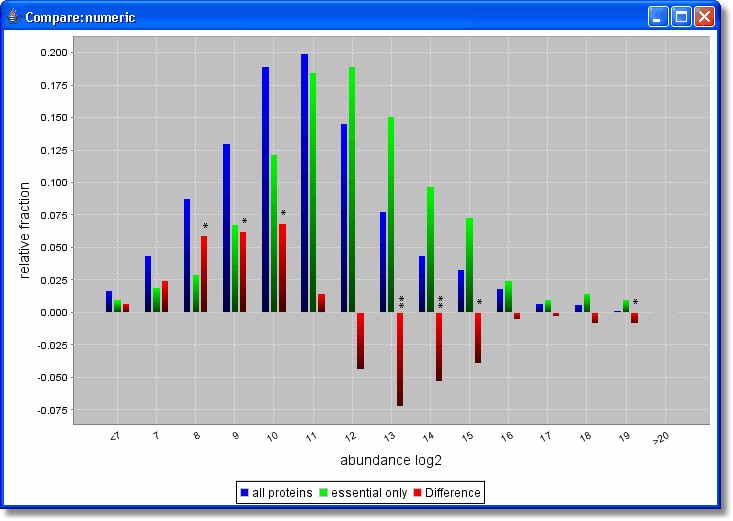 In the final example we use PROMPT to automatically retrieve protein sequences by sequence identifiers from public databases and to calculate some of their basic properties such as the isoelectric point. As input we used two lists of GenBank [12] identifiers of membrane and globular proteins of E.coli. In this experiment we use only multi-spanning membrane proteins with more than 6 membrane spanning regions predicted by TMHMM 2.0 [39] to avoid any noise from false positive predictions or small membrane-coupled proteins. As seen in the supplementary information [see Additional file 5], longer membrane proteins are less hydrophobic than shorter ones. The observed high correlation between the protein length and its hydrophobicity (expressed as the GRAVY index) of -0.7 is significant with a p-value of 3 E-54. Sequence based properties can also be used in any other generic analysis. For example, the additional figures [see Additional file 6] show a comparison of the automatically derived pI values of membrane and lysate proteins. In addition to the methods based on amino acid sequences, PROMPT provides statistical analyses and comparisons of symbol frequencies of arbitrary alphabets. Thus, in addition to finding over- or under-represented amino acids in a given protein dataset [see Additional file 7], it is also possible to calculate the enrichment/depletion of other symbols such as those taken from the three-state secondary structure alphabet with Helix (H), Strand (E) and Coil (C) as elements.
Discussion and conclusion
PROMPT is a platform-independent, multi-purpose stand-alone software system for solving a broad spectrum of standard problems in comparative proteomics. It is implemented as a highly-reusable and extensible framework for analysing biological data. With its rich data integration functionality and built-in statistical tests, PROMPT facilitates data mining and hypothesis testing.
PROMPT makes possible incorporation of new algorithms by providing hulls, layers and infrastructure. The availability of both scripting-capability and an intuitive GUI with a context-sensitive help system makes PROMPT equally accessible to both professional bioinformaticians and biologically oriented users. The structure of PROMPT is well adapted for batch processing and automation.
Unlike the multitude of specialized analytical tools, PROMPT has been designed as a versatile general platform for routine analyses and comparisons in the field of molecular bioinformatics. The current version of PROMPT includes a large set of generic comparison methods and statistical tests applicable to any nominal and numeric data as shown in Table 2. User-specific extensions and custom methods can be seamlessly integrated by providing Java classes that implement the interfaces defined in the PROMPT documentation and by adding additional entries to the application's configuration file. Although PROMPT is easily extensible by third-parties, we encourage members of the scientific community to suggest new PROMPT features that may be of particular interest to their research. In the long run we hope to make PROMPT a community resource for comparative proteomics.
Availability and requirements
Project name: PROMPT "Protein Mapping and Comparison Tool"
Project home page: http://webclu.bio.wzw.tum.de/prompt/
Operating system(s): Platform independent
Programming language: Java
Other requirements: Java 1.5 or higher, R 2.0 (r-project.org) or higher, NCBI Blast 2.1.3 or higher (blastall and formatdb binaries)
License: Source code and executables are freely available for academic users from our web site.
Any restrictions to use by non-academics: Licence required
Declarations
Acknowledgements
We thank Antonio J. Martín-Galiano, Axel Facius, Thomas Rattei, Jürgen Cox, Philip Wong, Volker Stümpflen and Christina Samel for careful reading of the manuscript. Björn Schrader, Christopher Rivera and Frank Hager for technical help. This work was supported by the DFG Program "Bioinformatics Initiative Munich".
Authors' Affiliations
(1)
Department of Genome Oriented Bioinformatics, Technische Universität München, Wissenschaftszentrum Weihenstephan, Freising, Germany
Copyright
© Schmidt and Frishman; licensee BioMed Central Ltd. 2006
This article is published under license to BioMed Central Ltd. This is an Open Access article distributed under the terms of the Creative Commons Attribution License (http://creativecommons.org/licenses/by/2.0), which permits unrestricted use, distribution, and reproduction in any medium, provided the original work is properly cited.