Methodology article

Open Access
A combined approach to data mining of textual and structured data to identify cancer-related targets
BMC Bioinformatics
2006
7:354
Received: 10 February 2006
Accepted: 20 July 2006
Published: 20 July 2006
Abstract
Background
We present an effective, rapid, systematic data mining approach for identifying genes or proteins related to a particular interest. A selected combination of programs exploring PubMed abstracts, universal gene/protein databases (UniProt, InterPro, NCBI Entrez), and state-of-the-art pathway knowledge bases (LSGraph and Ingenuity Pathway Analysis) was assembled to distinguish enzymes with hydrolytic activities that are expressed in the extracellular space of cancer cells. Proteins were identified with respect to six types of cancer occurring in the prostate, breast, lung, colon, ovary, and pancreas.
Results
The data mining method identified previously undetected targets. Our combined strategy applied to each cancer type identified a minimum of 375 proteins expressed within the extracellular space and/or attached to the plasma membrane. The method led to the recognition of human cancer-related hydrolases (on average, ~35 per cancer type), among which were prostatic acid phosphatase, prostate-specific antigen, and sulfatase 1.
Conclusion
The combined data mining of several databases overcame many of the limitations of querying a single database and enabled the facile identification of gene products. In the case of cancer-related targets, it produced a list of putative extracellular, hydrolytic enzymes that merit additional study as candidates for cancer radioimaging and radiotherapy. The proposed data mining strategy is of a general nature and can be applied to other biological databases for understanding biological functions and diseases.
Keywords
Gene OntologyData MiningProtein Data BankIngenuity Pathway AnalysisProstatic Acid Phosphatase
Background
Recent advances in genomics and associated high throughput technologies have resulted in the exponential growth of biological databases. These consist of annotated genomic databases such as those at NCBI Genomic Biology [1], Ensembl [2] and UCSC Genome Bioinformatics [3]; specialized primary databases of proteins including UniProt (the universal protein resource) [4] and the RCSB Protein Data Bank (PDB, the database of protein structures) [5]; and derived databases such as EMBL-EBI InterPro (database of protein families, domains and functional sites) [6]. In parallel with structured data, the corpus of scientific literature (textual data) has been expanding rapidly. Structured and textual data are fertile grounds in the bioinformatics community for the development of data mining tools to identify key entities (genes/proteins) involved in biological processes and provide important biological insights. The combination of these two resources has resulted in knowledge bases that represent derived information on interactions among entities (see references [7–12]).
Deriving biological insights from these unprecedented quantities of data is a challenge [13–16]. In recent years, tools for data mining retrieval of information have made considerable progress [17–20]. However, several problems persist: (i) incorrect, incomplete or several (synonyms, homonyms etc.) descriptions of entities, (ii) inefficient search engines associated with databases, (iii) constant need for annotation updates and for query-tool improvements, and (iv) inherent complexity of the biological phenomena and biological systems [17, 21, 22]. Moreover, various databases and their associated tools provide information at different levels of reliability and accuracy [21].
We present a systematic strategy for data mining that aims to address the above-mentioned problems (Figure
1
). It is based on (i) use and combination of several resources (literature text, structured databases and knowledge bases), (ii) retrieval capabilities of text mining tools selected for this purpose, (iii) search within the Gene Ontology (GO) [
23
] and filtering of entities by GO terms within knowledge bases, and (iv) enlargement of the searched space by functionally-related entities. The strategy is conceived so that it can be used by any researcher for a particular problem. The intent is to develop a facile and reliable data mining approach that allows the identification of new targets.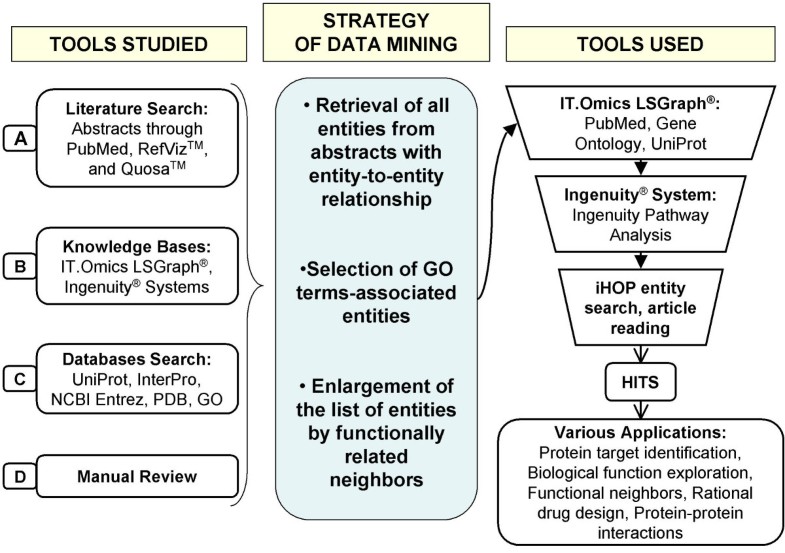 To develop the appropriate strategy, we have explored and tested the performance of various data mining tools and databases to arrive at a protocol that is most appropriate for addressing our needs as well as those of users with other criteria. Specifically, our sequence of procedures examined PubMed abstracts [24], gene/protein databases – UniProt [4] and NCBI Entrez Gene [25], and state-of-the-art pathway knowledge bases – IT.Omics LSGraph® [8] and Ingenuity® Systems, Ingenuity Pathway Analysis [9].
The method was applied to the identification of cancer-related enzymes with hydrolytic activities that are overexpressed in the extracellular space of solid tumor cells. The developed strategy was evaluated by determination of hydrolases suitable for our in-house EMCIT (Enzyme-Mediated Cancer Imaging and Therapy) technology [26], which aims to precipitate water-soluble radioactive prodrugs within the extracellular spaces of solid human tumors for their diagnosis and/or therapy. In general, these proteins are attached to the membrane via glycopolyinositol (GPI) linkers or they are secreted in the extracellular space.
We have used the method to distinguish hydrolases that are overexpressed by human prostate, breast, lung, colon, ovarian, and pancreatic cancers. The approach has led to the recognition of a number of cancer-related putative targets for the EMCIT technology, including prostatic acid phosphatase (PAP), prostate-specific antigen (PSA), and sulfatase 1 (SULF1). Finally, the strategy and selected tools have helped us to determine several proteins that may be useful in other fields of cancer biology, specifically in the identification of biomarkers valuable in diagnosis, prognosis, and therapy [27–30].
Conclusion
We have developed a new, rapid, data mining strategy that combines the literature, web-based gene-product databases, and complex knowledge pathway databases. The strategy, which is based on a combination of curated knowledge pathway bases with protein databases, has revealed the unique characteristics of several programs, including the entity retrieval capability and the Gene Ontology term-filtering specification of LSGraph and the full-text-based knowledge of IPA. The complementarity of content and functionalities of the query tools in the knowledge bases help to ascertain the identified hits as well as to discover other related neighbors of the known targets. We believe that this strategy overcomes many data mining drawbacks.
The application of this strategy to the search for extracellular hydrolases involved in human cancers has led to the discovery and identification of several previously "hidden" proteins that would not have been detected by a search using a single information source. Our findings indicate that the approach benefits from the complementarity of the databases and query tools employed and can distinguish useful and previously uncharacterized cancer-related targets with additional characteristics (other cellular localization, biological function) valuable in the noninvasive radiodiagnosis and treatment of cancer. Alkaline phosphatase (various cancers), prostatic acid phosphatase and prostate-specific antigen (prostate cancer), and extracellular sulfatase 1 (pancreatic cancer) are four interesting results. While these are being used in our laboratory as potential targets in the design of novel, radiolabeled diagnostic and therapeutic agents for cancer, the strategy for data mining is of a general nature and can be applied to other biological databases for understanding biological functions and diseases.
Methods
A graphical representation including the steps of the strategy of our data mining method is presented in Figure 1 and Table 1. The sequence of tools used in our strategy has been determined after exploration of available tools and databases (that were accessible to us) in four different analysis components (Figure 1): literature databases (A), knowledge pathway databases (B), annotated gene/protein databases (C), and manual review (D).
Literature (A)
The literature search (A) was done using PubMed and the RefViz™ (version 1.1.0) [31] and Quosa™ (version 7.14) [32] applications. RefViz and Quosa hunt through PubMed [24], Web of Science® [59], and other literature sources and use symbolical, graphical visualization to explore the reference collections for the specific keyword.
Knowledge bases (B)
The functional relationship, knowledge-base search (B) used the pathway analysis programs LSGraph (version 1.5, Life Science Graph®, IT.Omics, Lille, France) [8] and Ingenuity Pathways Analysis (IPA) (version 2.0, Ingenuity® Systems, Mountain View, California, U.S.A.) [9]. LSGraph is free for academia and IPA provides (as do other similar commercial programs) free trials. Exploration was carried out for proteins with required characteristics (extracellular or integral to membrane, related to cancer). Both applications were used to enlarge the set of entities by functionally related neighbors (Figure 2). For both LSGraph and IPA, every entity functional relationship in the networks is supported by published information.
LSGraph and Gene Ontology
This application performs advanced bibliographic queries in the abstracts of PubMed by desired keyword («filter» function) and carries out exhaustive searches due to the systematic coverage of synonyms and homonyms. LSGraph can also interpret large-scale experimental datasets (microarrays). Its «Most cited entities» function allows the retrieval of the entities that are discussed most frequently in abstracts selected by «filter» function keyword and exports them into the user-defined set (see in detailed algorithm steps below). In our case, we set this function so that we retrieved all entities in the current literature, ranked in order from most to least cited.
Additional LSGraph function «Best GO» of the Gene Ontology can identify and rank all GO terms associated with the entities and subsequently downsize the list based on the GO term of choice. The Gene Ontology (GO) project is a collaborative effort that aims to address the need for consistent descriptions of gene products in different databases [60]. The GO consortium is developing three, structured, controlled vocabularies (ontologies) that describe gene products in terms of their associated biological processes, molecular functions, and cellular components in a species-independent manner. We used one of the organizing principles, cellular component, to associate the searched gene products annotated with the term «extracellular region» or «membrane». The «extracellular region» term ([GO:0005576]; 4434 entities share this term, December 2005) is hierarchically inferior directly under the cellular component tree but does not include proteins attached to the cell membrane. The term «membrane» ([GO:0016020]; 17193 entities share this term, December 2005) is attributed to proteins attached or within the membranes enclosing cells or any membranes of eukaryotic organelles. Later strategy-filtering with IPA-location categories can distinguish the plasma membrane specifically.
Ingenuity Pathway Analysis (IPA)
This is a web-based software application that allows users to identify the biological mechanisms, pathways, and functions most relevant to a dataset of genes or proteins of interest. It is founded on the largest knowledge base of biological networks created from millions of expert-curated relationships between genes, proteins, cells, tissues, drugs, and diseases. The networks linked to cancer are generated from the full text of articles (contrary to LSGraph) published in the most important scientific journals. Imported gene identifiers (here from LSGraph) are mapped to its corresponding gene object in the Ingenuity Pathways Knowledge Base (IPKB). These genes, called focus genes, are overlaid onto a global molecular network developed from information contained in the IPKB. Networks of these focus genes are then algorithmically generated based on their connectivity. The Functional Analysis of IPA identifies the biological functions and/or diseases that are most significant to the data set (e.g. cancer).
Databases (C)
The gene/protein database search (C) was performed using the world's largest collections of genes and proteins, UniProt [4], InterPro [6] and NCBI Entrez [61]. UniProt (the Universal Protein Resource) is the catalog of information on proteins created by joining the information contained in Swiss-Prot, TrEMBL, and PIR. InterPro is a derived database of protein families, domains, and functional sites in which identifiable features found in known proteins can be applied to unknown protein sequences. It contains the most comprehensive and complete annotations of proteins in various organisms. NCBI Entrez (The Entrez Global Query Cross-Database Search System) searches simultaneously against a set of databases for proteins, genes, structures, conserved domains, homologues and other criteria. These three databases were selected based on our own experience, the content quantity and quality, and the need to ensure that we maximally covered the collections of gene products.
Manual review (D)
Manual review of the literature (D) was performed on the full text of publications identified in PubMed queries directly or indirectly through online links to references in gene/protein databases.
Tools applied in our strategy
The combined strategy suggested in this work is conceived as follows (Figure 1): use of an effective tool for entity retrieval from the literature text and gene/protein databases (LSGraph search in PubMed), selection (filter-down) of entities upon the specific user-defined GO terms, and subsequent enlargement of the entity list by functional pathway neighbors (LSGraph and IPA). The accuracy of the results was assessed using control proteins that we know are extracellular and involved in cancer.
The comparison of data mining components
A
though
D
led to the use of tools in the following sequence of steps (Figure
1
, Table
1
: first column):
(i)

Using analysis tools incorporated in LSGraph, we filtered the complete corpus of the PubMed down to abstracts that contain evidences of entity-to-entity relationship and are related to one of the six tumor-tissue types. The keywords "cancer" or "tumor" were not used in the query, but later in IPA (see (v)), because the evidence for the disease at this level of the search may not necessarily be known. Instead, the tissue names, prostate/prostatic, breast, lung/pulmonary, ovary/ovarian, colon/colonic, pancreas/pancreatic, which are present in the abstracts, were used in the searches. To ensure that we would not miss studies on model organisms such as the mouse, the search was not limited to humans.

(ii)

The LSGraph function «Most cited entities» was used to extract all entities present in retrieved abstracts defined by the «filter» keyword and order them from the most cited to the least cited entity.

(iii)

Entities with localization specified by cellular component, «extracellular region», «membrane», of the Gene Ontology database (LSGraph «Best GO») were saved in a new set containing protein identifiers, viz. UniProt accession numbers.

(iv)

The set with all UniProt identifiers was imported into the IPA and thus enlarged by related entities (functional neighbors) (Figure 2).

(v)

The functional analysis of IPA can identify the biological functions and/or diseases that are most significant to the dataset. Genes from the dataset found to be associated with "cancer" were considered for further analysis (Figure 2). Up to this point, the filtering was done for tissue type only (prostate, breast, etc.) and not for the pathological process of interest, i.e. cancer. From this point on, the entities were sifted down to the set known to be involved in cancer by selecting the IPA subnetworks in which cancer occurs as the most significant annotation. Figure 3 is an example of subnetworks for prostate cancer.

(vi)

The final set of filtered entities was exported and stored in a Microsoft Excel spreadsheet (see Additional file 1) containing the gene product name, synonyms, description, UniProt accession number (AC), IPA-defined cellular localization and protein family.

(vii)

The identified extracellular proteins that were retained by the above-mentioned criteria were filtered by IPA protein family (defined by Entrez Gene). The final count of hits was compared with the number of hits identified by the literature search method (A) and the single gene/protein database method (C).
Detailed analysis of resulting enzyme hits was done retrospectively in their most cited articles using iHOP (information hyperlinked over proteins) [34], a program that finds links to gene and protein databases (UniProt, PDB and NCBI databases) and identifies the particular gene product if the gene name or synonym name is known.
The proposed method is rapid, and the protocol can be performed within several days. Steps (i) – (iii) are automatized searches where only the filtering keyword entries or GO term entries are required. Steps (iii) – (v) as well as step (vii) require the manual export/import of the UniProt identifiers from LSGraph into IPA and from IPA into Microsoft Excel file format. Resulting proteins hits with enzymatic activities were confirmed manually by checking the associated literature references; hydrolases were confirmed among "Enzymes," "Peptidases," "Phosphatases," and other IPA families. Particular cases (see Results and Discussion) were consulted in original publications.
Declarations
Acknowledgements
This work was supported in part by the US Department of Defense, W81XWH-04-1-0499, Radiodiagnosis and Radiotherapy of Breast Cancer, W81XWH-06-1-0043, Radiodiagnosis and Radiotherapy of Prostate Cancer, and W81XWH-06-1-0204, Radiodiagnosis and Radiotherapy of Ovarian Cancer. We thank Pavel Hradecky, M.D. for his valuable suggestions.
Authors' Affiliations
(1)
Harvard Medical School, Department of Radiology, Boston, USA
(2)
Bauer Center for Genomics Research, Harvard University, Cambridge, USA
Copyright
© Pospisil et al; licensee BioMed Central Ltd. 2006
This article is published under license to BioMed Central Ltd. This is an Open Access article distributed under the terms of the Creative Commons Attribution License (http://creativecommons.org/licenses/by/2.0), which permits unrestricted use, distribution, and reproduction in any medium, provided the original work is properly cited.