Distill: a suite of web servers for the prediction of one-, two- and three-dimensional structural features of proteins
BMC Bioinformatics
2006
7:402
Received: 06 July 2006
Accepted: 05 September 2006
Published: 05 September 2006
Abstract
Background
We describe Distill, a suite of servers for the prediction of protein structural features: secondary structure; relative solvent accessibility; contact density; backbone structural motifs; residue contact maps at 6, 8 and 12 Angstrom; coarse protein topology. The servers are based on large-scale ensembles of recursive neural networks and trained on large, up-to-date, non-redundant subsets of the Protein Data Bank. Together with structural feature predictions, Distill includes a server for prediction of C α traces for short proteins (up to 200 amino acids).
Results
The servers are state-of-the-art, with secondary structure predicted correctly for nearly 80% of residues (currently the top performance on EVA), 2-class solvent accessibility nearly 80% correct, and contact maps exceeding 50% precision on the top non-diagonal contacts. A preliminary implementation of the predictor of protein C α traces featured among the top 20 Novel Fold predictors at the last CASP6 experiment as group Distill (ID 0348). The majority of the servers, including the C α trace predictor, now take into account homology information from the PDB, when available, resulting in greatly improved reliability.
Conclusion
All predictions are freely available through a simple joint web interface and the results are returned by email. In a single submission the user can send protein sequences for a total of up to 32k residues to all or a selection of the servers. Distill is accessible at the address: http://distill.ucd.ie/distill/.
Keywords
Solvent AccessibilityPrincipal EigenvectorContact DensityRelative Solvent AccessibilityHomology Information
Background
De novo prediction of protein three-dimensional structure from the primary sequence remains a fundamental and extraordinarily challenging problem. Many one-dimensional and two-dimensional structural features, i.e. structural properties of individual residues or of couples of residues in a protein, have long been identified as useful intermediate representations between the primary sequence and the full three-dimensional structure, which can be adopted as a stage towards the prediction of protein structure and function. For instance accurate secondary structure and solvent accessibility information have been shown to improve the sensitivity of fold recognition methods (e.g. [1, 2]) and are at the core of most ab initio methods (e.g. see [3]) for the prediction of protein structure.
We have developed a number of predictors of structural features of proteins. Some of the features predicted are novel and highly informative (e.g. protein contact density [4], local structural motifs [5], multi-class coarse contact maps [6]), others are well established (secondary structure, solvent accessibility, residue contact maps) but predicted at state-of-the-art accuracy levels [4, 7].
All methods are freely available through simple web interfaces, which allow the processing of medium- to large-scale jobs by any selection of the servers with only a small number of manual submissions.
Results
Porter, tested by a rigorous 5-fold cross validation procedure on S2171, achieves 79% correct classification on the "hard" CASP 3-class assignment (DSSP H, G, I → helix; E, B → strand; S, T, . → coil) [7], and currently has the highest performance (approximately 80%) of all servers tested by assessor EVA [24]. When homology information from the PDB is available, Porter's predictions are more reliable, up to over 90% correct (in the sense of matching DSSP assignments) when templates with over 90% sequence similarity are available [18], and about 88% for all residues for which any template information is available. This result is not surprising by itself because, although different programs for assigning secondary structure from the experimental structure often differ by up to 20%, once a semantics is chosen (e.g. DSSP over STRIDE or DEFINE) it is possible to classify secondary structure almost perfectly [25]. That is, it is true that there is some ambiguity in the assignment of secondary structures, but this is in large part due to the different definitions of secondary structures by different automated assignment programs, and only by a smaller amount to actual uncertainties as to what the structure may be.
PaleAle's accuracy, measured on the same large, non-redundant set adopted to train Porter (S2171) exceeds 53% correct 4-class classification, and roughly 80% 2-class classification (Buried vs Exposed, at 25% threshold). As in the case of Porter, predictive accuracy improves significantly when homology information is available [18], up to 70% correct prediction for the 4-class case and 87% for the 2-class one, when templates with over 90% sequence similarity are available, and roughly 65% for residues for which any kind of template information is available.
The accuracy of BrownAle, measured on S2171, is 46.5% for the 4-class problem, and roughly 73% if the 4 classes are mapped into 2 (dense vs. non dense). In both cases the classification performance of BrownAle is 16% above a base-line statistical predictor [4].
Tables
1
and
2
summarise the performances of XXStout measured on one fifth of the S2171 set after the exclusion of proteins longer than 200 residues (327 chains in total). Performances are given for the protein length/5 and protein length/2 contacts with the highest probability, for sequence separations of at least 6, at least 12, and at least 24, in CASP style [
26
]. These performances compare favourably with the best predictors at the latest CASP competition [
4
].
Table 1
XXStout performance.
| separation | ≥ 6 | ≥ 12 | ≥ 24 |
| --- | --- | --- | --- |
| 8Å | 46.4% (5.9%) | 35.4% (5.7%) | 19.8% (4.6%) |
| 12Å | 89.9% (2.3%) | 62.5% (2.0%) | 49.9% (2.2%) |
Table 2
XXStout performance.
| separation | ≥ 6 | ≥ 12 | ≥ 24 |
| --- | --- | --- | --- |
| 8Å | 36.6% (11.8%) | 27.0% (11.0%) | 15.7% (9.3%) |
| 12Å | 85.5% (5.5%) | 55.6% (4.6%) | 43.8% (4.9%) |
Figure
4
shows the expected accuracy of the C
α
trace reconstructor, as a function of sequence similarity to the closest homologue in the PDB, measured on the S258 set. The accuracy is measured as the TM score to the C
α
trace of the experimental structure. For sequence similarity above 30% the predictions' TM score is on average slightly above 0.7 indicating high reliability, is approximately 0.45 in the 20–30% interval, and 0.27 in the region below 20%. If reconstruction performances are measured on the S258 set without allowing homology information at any stage (pure
ab initio
predictions) the average TM score is 0.27, with 43 of the 258 structures above a TM score of 0.4 [
11
]. The reliability score reported in the remarks field of the PDB file has an average correlation of 0.7 with the TM score against the true structure, and thus provides a good estimate of the quality of the prediction.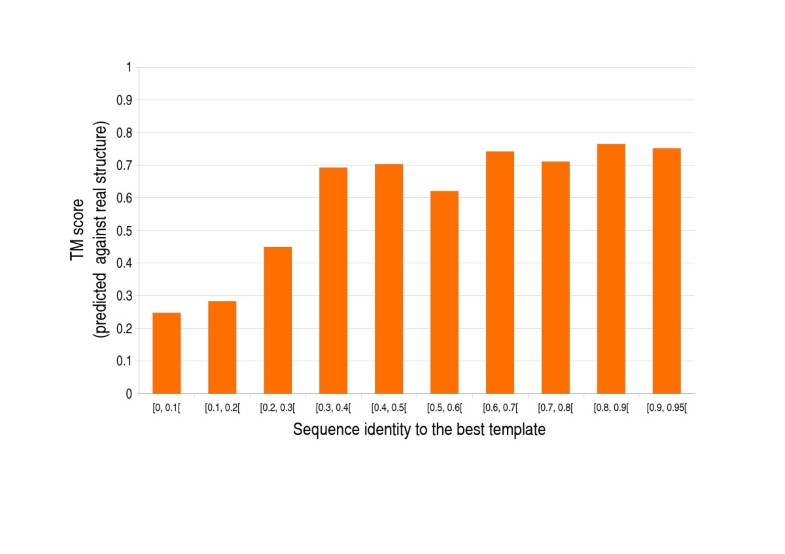 Conclusion
The servers we designed allow the annotation of protein sequences with a number of structural features which are at least partially orthogonal. Given the speed of the underlying methods, large- or even genomic-scale predictions can be handled by our servers in response of users' queries – with up to 32,768 residues handled in a single submission. Up to 20,000 queries per day can be processed by the servers based on their current implementation (a 40 CPU cluster), and nearly 30,000 tasks from 63 national or supernational domains have been served to date.
Our servers provide fast, reliable prediction of protein structural features for the ab initio case, and allow fast, reliable, large-scale predictions of protein structures for the case in which some homology to the PDB is detectable.
We are in the process of: extending the use of homology information to all prediction stages; building a parallel pipeline to Distill, for the case in which marginal similarity templates exist in the PDB for a query. Training of the systems for the latter case is completed and we expect that the new pipeline will be running over the next few months, complementing the current system with high-throughput fold recognition facilities.
Availability and requirements
The servers are freely available for academic users at the address http://distill.ucd.ie/distill/. Linux and Windows binaries for all the servers are freely available for academic users upon request. The sets used for training, testing and benchmarking the servers (S2171 and S258) are available upon request.
Declarations
Acknowledgements
We wish to thank Quan Le for useful discussions. This work is supported by Science Foundation Ireland grants 04/BR/CS0353 and 05/RFP/CMS0029, grant RP/2005/219 from the Health Research Board of Ireland, a UCD President's Award 2004, and an Embark Fellowship to AV from the Irish Research Council for Science, Engineering and Technology. We also wish to acknowledge the SFI/HEA Irish Centre for High-End Computing (ICHEC) for the provision of computational facilities and support.
Authors' Affiliations
(1)
School of Computer Science and Informatics, University College Dublin, Belfield, Dublin 4, Ireland
Copyright
© Baú et al; licensee BioMed Central Ltd. 2006
This article is published under license to BioMed Central Ltd. This is an Open Access article distributed under the terms of the Creative Commons Attribution License (http://creativecommons.org/licenses/by/2.0), which permits unrestricted use, distribution, and reproduction in any medium, provided the original work is properly cited.