DNA Molecule Classification Using Feature Primitives
BMC Bioinformatics
2006
7(Suppl 2):S15
Published: 26 September 2006
Abstract
Background
We present a novel strategy for classification of DNA molecules using measurements from an alpha-Hemolysin channel detector. The proposed approach provides excellent classification performance for five different DNA hairpins that differ in only one base-pair. For multi-class DNA classification problems, practitioners usually adopt approaches that use decision trees consisting of binary classifiers. Finding the best tree topology requires exploring all possible tree topologies and is computationally prohibitive. We propose a computational framework based on feature primitives that eliminates the need of a decision tree of binary classifiers. In the first phase, we generate a pool of weak features from nanopore blockade current measurements by using HMM analysis, principal component analysis and various wavelet filters. In the next phase, feature selection is performed using AdaBoost. AdaBoost provides an ensemble of weak learners of various types learned from feature primitives.
Results and Conclusion
We show that our technique, despite its inherent simplicity, provides a performance comparable to recent multi-class DNA molecule classification results. Unlike the approach presented by Winters-Hilt et al., where weaker data is dropped to obtain better classification, the proposed approach provides comparable classification accuracy without any need for rejection of weak data. A weakness of this approach, on the other hand, is the very "hands-on" tuning and feature selection that is required to obtain good generalization. Simply put, this method obtains a more informed set of features and provides better results for that reason. The strength of this approach appears to be in its ability to identify strong features, an area where further results are actively being sought.
Keywords
Class Label
Binary Classifier
Weak Classifier
Weak Learner
Wavelet Filter
Background
During the past decade, nanopore detectors have been shown to be helpful in DNA molecule classification [
1
–
5
]. The detectors relate ionic current blockade measurements from a nanometer-scale pore to single molecule translocation [
1
–
3
]. Alpha-Hemolysin channels provide inexpensive and reproducible nanopores due to their self assembling property in lipid bilayers. For DNA classification, the alpha-Hemolysin pore is optimal due to the fact that single-stranded DNA (ssDNA) translocates in alpha-Hemolysin pore whereas double-stranded DNA (dsDNA) does not. Instead it is held in a vestibule of the pore [
5
]. For DNA measurements using nanopores, an important milestone is the ability to rapidly identify individual bases or base-pairs in single DNA molecules. One end of double-stranded DNA (dsDNA) can be captured by the alpha-Hemolysin pore and held for an extended period of time [
5
]. Extensive characterization of the ionic current blockade associated with such an event is thus made possible. In [
6
], Winters-Hilt
et al
. use an SVM-based decision-tree to classify features vectors obtained from blockade current measurements from a nanopore detector. The DNA hairpins they choose differ only in one base pair. Their results show accuracies close to 99%. The classification strategy adopted by Winters-Hilt
et al
. is shown in Figure
1
. In their technique, signal acquisition is performed using a time-domain, thresholding, Finite State Automaton. This is followed by adaptive pre-filtering using a wavelet-domain Finite State Automaton. Feature extraction on acquired channel blockades is done by Hidden Markov Model processing; and classification is done by Support Vector Machine (SVM). Figure
1
shows the optimal SVM architecture for classification of molecules 9CG, 9GC, 9TA, 9AT, and 8GC. The approach proposed by Winters-Hilt
et al
. provides excellent classification accuracy in classifying DNA hairpins that differ only in one base-pair. This approach requires a decision tree structure consisting of binary classifiers at each node. Each binary classifier assigns a class label to the input data or rejects the input data if the classification confidence is low. Strong negatives are handed to the next node (another binary classifier) in the decision tree. Although it can be automated (removing the expert from the problem application), the technique requires exploring all possible topologies of the SVM decision tree structure to be comprehensive. In practice, greatly reduced tree searches over linear topologies are indicated in [
6
]. Even with the linear tree exploration, however, training the decision tree can be time consuming and computationally expensive. We propose a technique that replaces the SVM decision tree structure proposed in [
6
] with a classification frame work based on boosting. The proposed framework begins with the same features as used by Winters-Hilt
et al
. and then generates more features from the existing set of features by applying wavelet filters and principal component analysis on the original features (which partly recovers transition probability information lost in the feature compression used in [
6
]). AdaBoost is used to perform selection of weak classifiers learned from the enhanced feature set consisting of the original and derivative features. An ensemble is obtained that consists of a weighted vote of the weak learners chosen by AdaBoost.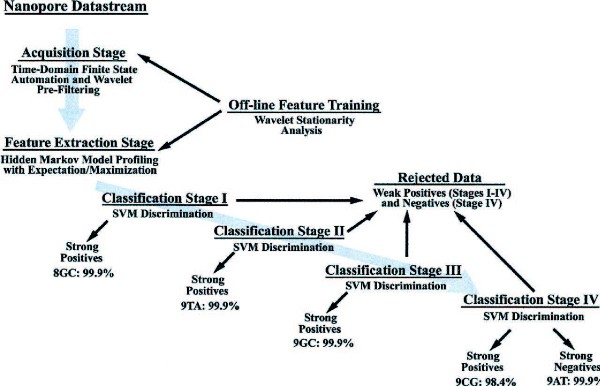 Results and Discussion
We applied several rounds of AdaBoost on data sets consisting of following feature sets
Data set I: HMM Projections

Data set II: Data set I enhanced with first 50 principal components obtained from HMM projections, approximation and detail coefficients obtained using a haar filter

Data set III: Data set II enhanced with approximation and detail coefficients obtained using a second and tenth order Daubechies wavelet filter

Data set IV: Data set III enhanced with approximation and detail coefficients obtained using a second and tenth order Symlets wavelet filter
In each case number of rounds of boosting were equal to the total number of features available in the data set. The classification results are shown in Figure
11
. It can be seen that the overall classification performance improves as more feature types are added to the dataset. In Figure
11
, when only HMM features were used, the classification accuracy for the 8GC, 9AT, 9CG, 9GC, and 9TA molecules was 93.3%, 82.3%, 64.1%, 83.1%, and 84.3% respectively. This performance is remarkable, considering the fact that boosted naive Bayes was not even able to obtain a weak learner using HMM features. This handicap of naive Bayes can be attributed to the independence assumption in computing the joint probabilities of features. In the proposed approach, weak learners are obtained using individual features (feature primitives) and not a group of features. It should be noted, however, that the Daubechies and Symlet filters re-couple the components. As a result of the use of primitives in the set of learners, one poor feature cannot affect a good feature just because they are both being used to learn a weak classifier at the same time. The classification performance as more types of features are added can be seen in Figure
11
.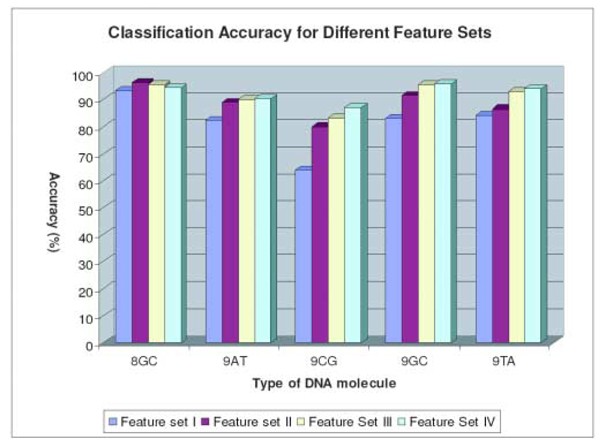 Authors' Affiliations
(1)
Department of Electrical Engineering and Computer Science, Tulane University, New Orleans, USA
(2)
Department of Computer Science, University of New Orleans, New Orleans, USA
(3)
Research Institute for Children, New Orleans Children's Hospital, New Orleans, USA
Copyright
© Iqbal et al; licensee BioMed Central Ltd. 2006
This article is published under license to BioMed Central Ltd. This is an open access article distributed under the terms of the Creative Commons Attribution License (http://creativecommons.org/licenses/by/2.0), which permits unrestricted use, distribution, and reproduction in any medium, provided the original work is properly cited.