Research article

Open Access
DNA-based watermarks using the DNA-Crypt algorithm
BMC Bioinformatics
2007
8:176
Received: 26 February 2007
Accepted: 29 May 2007
Published: 29 May 2007
Abstract
Background
The aim of this paper is to demonstrate the application of watermarks based on DNA sequences to identify the unauthorized use of genetically modified organisms (GMOs) protected by patents. Predicted mutations in the genome can be corrected by the DNA-Crypt program leaving the encrypted information intact. Existing DNA cryptographic and steganographic algorithms use synthetic DNA sequences to store binary information however, although these sequences can be used for authentication, they may change the target DNA sequence when introduced into living organisms.
Results
The DNA-Crypt algorithm and image steganography are based on the same watermark-hiding principle, namely using the least significant base in case of DNA-Crypt and the least significant bit in case of the image steganography. It can be combined with binary encryption algorithms like AES, RSA or Blowfish. DNA-Crypt is able to correct mutations in the target DNA with several mutation correction codes such as the Hamming-code or the WDH-code. Mutations which can occur infrequently may destroy the encrypted information, however an integrated fuzzy controller decides on a set of heuristics based on three input dimensions, and recommends whether or not to use a correction code. These three input dimensions are the length of the sequence, the individual mutation rate and the stability over time, which is represented by the number of generations. In silico experiments using the Ypt7 in Saccharomyces cerevisiae shows that the DNA watermarks produced by DNA-Crypt do not alter the translation of mRNA into protein.
Conclusion
The program is able to store watermarks in living organisms and can maintain the original information by correcting mutations itself. Pairwise or multiple sequence alignments show that DNA-Crypt produces few mismatches between the sequences similar to all steganographic algorithms.
Keywords
Fuzzy ControllerSecret MessageSynonymous CodonImage SteganographyInput Dimension
Background
Sensitive information, especially secret information must be protected against unauthorized access. To achieve this researchers have looked for new cryptographic or steganographic techniques. Existing algorithms encrypt or hide information in binary files, however there are other media, which can be used. There are several algorithms, which encode information into DNA sequences. Examples are the concepts of Clelland et al., Gehani et al., Leier et al, Wong et al. and Arita et al [1–5]. These techniques can be used for authentication or to store data for long time.
Results
The program described above was tested by in silico experiments using the DNA sequence encoding the Ypt7 in Saccharomyces cerevisiae.
Ypt7
The small GTPases termed Ypt in yeast and Rab in higher eukaryotes are molecular switches in cellular transport processes [21]. Each Ypt protein is localized to the membrane of specific intracellular compartments and highly specific for a particular transport step [22].
The Ypt7 GTPase from S. cerevisiae is involved in late endosome-to-vacuole transport and vacuole fusion events [23, 24]. Ypt7 is one of the 11 members of the S. cerevisiae Ypt family and is homologous to mammalian Rab7.
Analysis of the Ypt7 DNA sequence showed that 32% of the codons allow synonymous substitutions, resulting in 16 bytes, which could be encrypted (Table
6
). The first steganogram contains the message "this is a test" and the second one "yet another test" [see Additional file
4
].
Table 6
DNA-Crypt analysis of the Ypt7 DNA sequence. It is possible to encrypt 16.5 bytes in the Ypt7 DNA sequence.
| name | amino acids | syn. codons | bytes |
| --- | --- | --- | --- |
| Ypt7 | 206 | 32.039% | 16.5 |
The results of the analyses of these steganograms with the fuzzy controller are shown in table
7
. Translation with DNA-Crypt and the
Expasy Translate Tool
shows that the translated amino acid sequences are identical [
25
].
Table 7
Ypt7 steganogram fuzzy controller results
| name | φ | correction code |
| --- | --- | --- |
| steganogram 1 | 9.48 | 8/4 Hamming-code |
| steganogram 2 | 10.5 | 8/4 Hamming-code |
The pairwise and the multiple sequence alignments show a few mismatches between the three sequences (Figures
9
,
10
,
11
).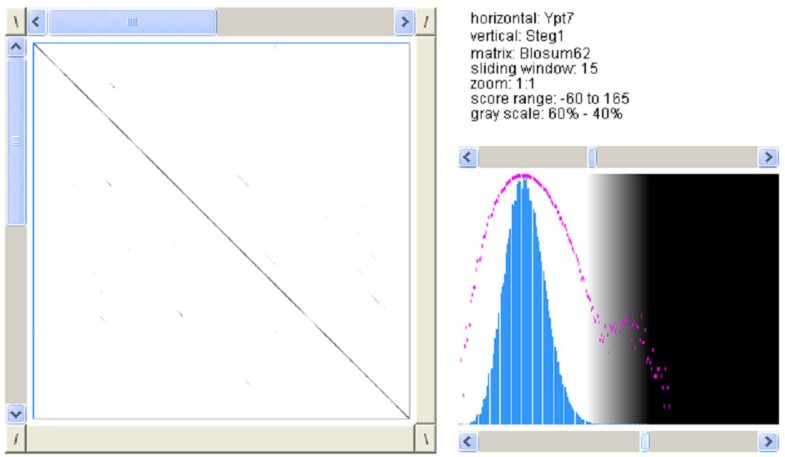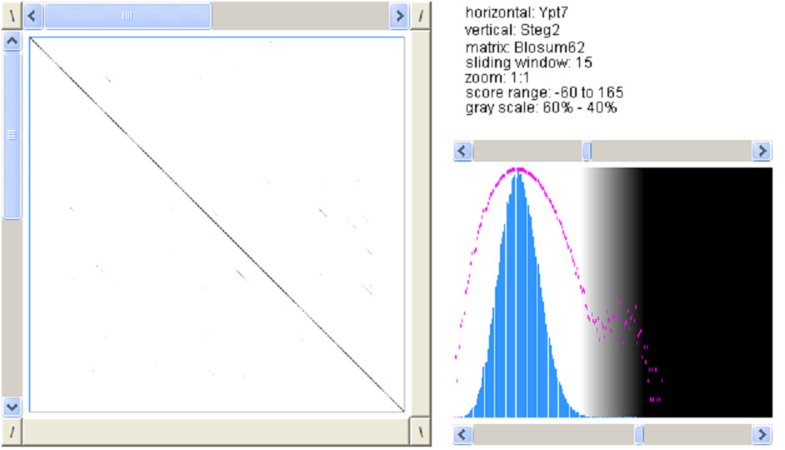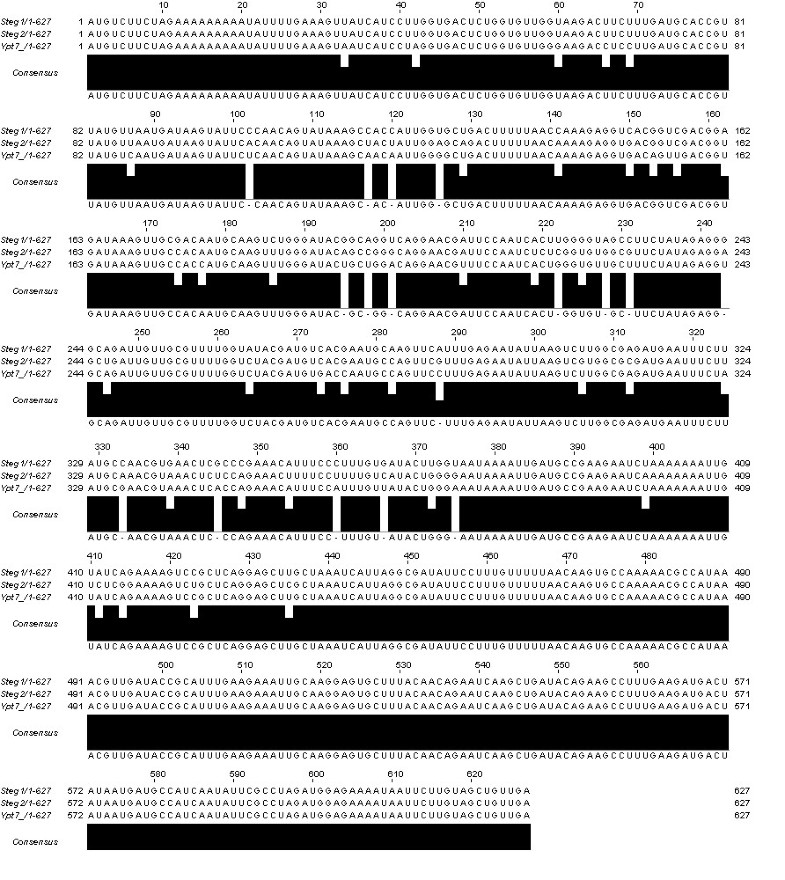 The pairwise sequence alignment was performed with Dotlet and the multiple sequence alignment was performed using ClustalW of the European Bioinformatics Institute with standard settings [26, 27].
Discussion
DNA-Crypt produces few sequence mismatches similar to the low noise in image steganography. In case of image steganography one can look at the least significant bits to attack the steganographic algorithms. To attack DNA steganography one can perform pairwise or multiple sequence alignments with the original sequences.
Conclusion
The DNA-Crypt algorithm can encode cryptic messages into DNA sequences, which can be used as watermarks for authentication. DNA-Crypt is a substantial extension to other steganographic algorithms based on DNA, which can be used in combination with a binary encryption algorithm such as AES, RSA or Blowfish and a mutation correction code such as the Hamming-code or the WDH-code. The most appropriate code of these correction codes can be selected by a fuzzy controller, which uses three input dimensions.
Mutations, which cause changes in the reading frame, are problematic and are not appropriate for DNA steganography. Mutations, which change a non-synonymous codon to a synonymous codon or vice versa are more important as these mutations cause errors in the encrypted information. The relevance of these errors depends on the encrypted information. If the encrypted information is an image, e.g. a logo, there would be only a linear colour shift in the image, which is not very relevant and can be corrected very easily. However if the encrypted information must remain correct, e.g. a password, the WDH-code must be used to detect these mutations.
We have not encoutered any problems so far performing our in silico analyses using DNA-Crypt watermarks in DNA coding regions. The use of DNA-Crypt in non-coding sequences like a regulatory RNA sequence or promoter, and enhancer sequences has to be tested in silico and in vivo. Further analyses to clarify, whether alternative splicing events pose a problem for watermarks still have to be carried out. In conclusion DNA-Crypt algorithm represents an interesting tool for hiding authenticating watermarks within coding DNA sequences in silico and most probably in living organisms without affecting the process of protein translation and protein function.
Availability and requirements
Declarations
Acknowledgements
The authors thank Prof. Dr. Achim Clausing and Dr. Mark Kail for critical reading the manuscript. This work is part of the PhD thesis of DH.
Authors' Affiliations
(1)
Department of Experimental Tumorbiology, University of Muenster, Muenster, Germany
Copyright
© Heider and Barnekow; licensee BioMed Central Ltd. 2007
This article is published under license to BioMed Central Ltd. This is an Open Access article distributed under the terms of the Creative Commons Attribution License (http://creativecommons.org/licenses/by/2.0), which permits unrestricted use, distribution, and reproduction in any medium, provided the original work is properly cited.