Methodology article

Open Access
A procedure for identifying homologous alternative splicing events
BMC Bioinformatics
2007
8:260
Received: 22 March 2007
Accepted: 19 July 2007
Published: 19 July 2007
Abstract
Background
The study of the functional role of alternative splice isoforms of a gene is a very active area of research in biology. The difficulty of the experimental approach (in particular, in its high-throughput version) leaves ample room for the development of bioinformatics tools that can provide a useful first picture of the problem. Among the possible approaches, one of the simplest is to follow classical protein function annotation protocols and annotate target alternative splice events with the information available from conserved events in other species. However, the application of this protocol requires a procedure capable of recognising such events. Here we present a simple but accurate method developed for this purpose.
Results
We have developed a method for identifying homologous, or equivalent, alternative splicing events, based on the combined use of neural networks and sequence searches. The procedure comprises four steps: (i) BLAST search for homologues of the two isoforms defining the target alternative splicing event; (ii) construction of all possible candidate events; (iii) scoring of the latter with a series of neural networks; and (iv) filtering of the results. When tested in a set of 473 manually annotated pairs of homologous events, our method showed a good performance, with an accuracy of 0.99, a precision of 0.98 and a sensitivity of 0.93. When no candidates were available, the specificity of our method varied between 0.81 and 0.91.
Conclusion
The method described in this article allows the identification of homologous alternative splicing events, with a good success rate, indicating that such method could be used for the development of functional annotation of alternative splice isoforms.
Keywords
Neural Network
Alternative Splice
Sequence Change
Target Event
Alternative Splice Event
Background
In recent years, understanding the contribution of alternative splicing (AS) to biological processes has become an active area of research in many fields of biology and biomedicine [1–9]. This has been motivated by the biological relevance of AS, a process shown by a large fraction of human genes (~74%[10]), which results in the diversification of the nature and expression pattern of their corresponding products [2, 8]. For instance, it has been found that different alternative splice isoforms of the DSCAM protein are involved in the development of neuronal interconnections by choosing the proper interaction partners [2]. AS is also able to alter the substrate specificity of enzymes by modifying their active site, as previously shown for Anopheles dirus's glutathione S-transferase [3]. In the case of transcription factors, AS plays a regulatory role that has a clear impact on the levels of gene expression [11, 12]. The roles of transcription factors isoforms are very broad, and depend on the nature of the sequence changes associated with the AS event [11]: loss of the DNA-binding domain results in isoforms that will act as dominant-negative inhibitors of the corresponding full-length isoforms. In other cases, functional modulation is obtained by small insertions/deletions in the space between DNA-binding domains, etc. All these examples illustrate the importance of understanding the functional role of alternative splice isoforms if the aim is to improve our knowledge of biological processes like development, tissue differentiation, resistance to insecticides, etc.
In addition to its intrinsic biological interest, there is also a major biomedical interest in understanding the functional role of gene isoforms, as deviations from a gene normal AS pattern -either through isoform expression imbalance or presence of aberrant isoforms- are at the origin of many diseases [13, 4, 14]. Examples cover different cancer types -leukaemia, colon cancer, etc- [15], neurological [1] and immune disorders [16], etc. Availability of functional annotations for AS events is also relevant in applied biomedical research, as these may contribute to the selection of animal models for the above-mentioned diseases given that proper models must show coincidence in the AS patterns of the disease gene with its human ortholog [16]. Lastly, drug design strategies are also starting to include knowledge of the different functional roles of alternative splice isoforms [5], as targeting the wrong isoform may result in unexpected damaging effects [17].
All these facts stress the importance of having functional annotations of AS events and have fuelled bioinformatics research in this field. Indeed, a blossoming of bioinformatics studies has been witnessed in recent years [18–20] which have led to important advances in the enumeration of a gene isoforms [21–23, 19, 24, 20, 25], in the processing of expression data [10, 23, 8], in the characterization of the nature of AS changes [26, 6, 27, 23, 28], and in the study of the evolutionary role of AS [29–31, 23, 32, 9, 33]. However, the functional annotation of AS, or annotation of the biological/biochemical role of the different isoforms expressed by a gene, still remains an open problem [23].
A natural approach to this problem would be to directly determine the functional effects of AS by studying their impact on protein structure. This approach may work in some cases, in particular when sequence changes involve gain/loss of domains of known function [11]. However, when sequence changes are small, or involve substitutions, or domain insertions/deletions in non-annotated parts of the protein, functional inference may be very difficult [23]. For example, in the case of rat Piccolo C2A, an apparently innocent insertion results in an isoform with completely unexpected structural modifications [34, 23]. Within this context, annotation processes based on data mining the increasingly large amount of experimental information available on AS, may be a good option to obtain information on the functional effects of AS. Implementation of these annotation protocols requires a database of known AS events that can be queried and a method for the identification of homologous [35] or equivalent AS events that will allow the identification of proper candidates in the database.
Here we present a protein-level procedure aimed at the identification of homologous AS events, which works irrespective of the nature of the associated sequence change between isoforms,
i.e.
substitution, insertion/deletion, or a mixture of both. The procedure (illustrated in Figure
1
) is conceptually similar to standard procedures for protein function annotation. It is based on the utilisation of the two isoforms of a target AS event to query an isoform database. The resulting hits are then combined to give a small set of candidate AS events which are subsequently scored by 100 neural networks (NN). The method has been tested giving an accuracy of 0.99 and a precision and sensibility of 0.98 and 0.93, respectively, confirming that the method constitutes a positive step towards the functional annotation of AS events.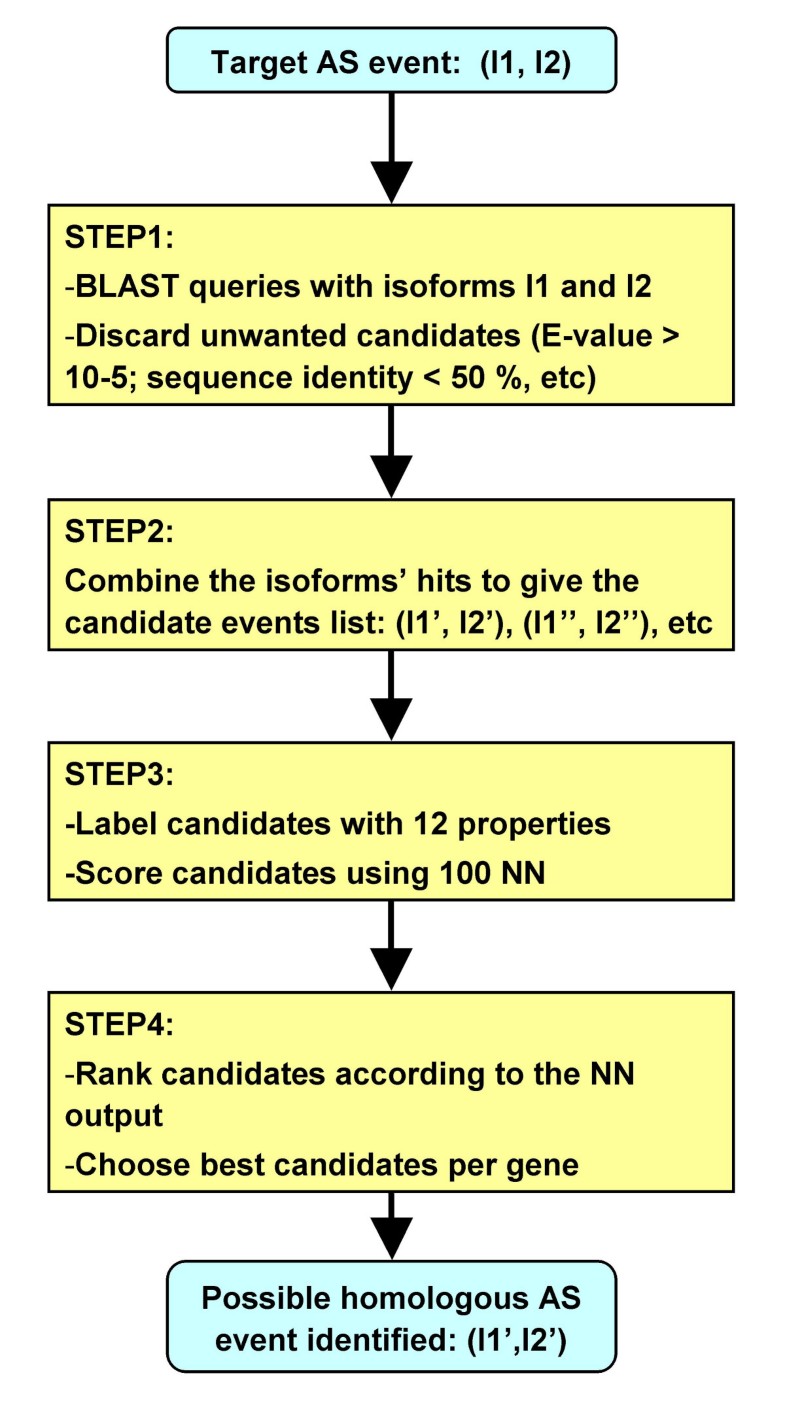 Discussion and conclusion
We have developed a method for the identification of homologous, or equivalent, AS events based on the combined use of NN and sequence searches. The method works at protein level, where AS changes are either insertions/deletions and/or substitutions. Its performance is reasonably good when tested under different conditions (presence or absence of the homologue AS event in the isoform database), regardless of whether we consider its accuracy or ability to discard false positive hits. We have also compared the performance of our method with that of a simple control method in which the use of NN was eliminated. This control method is an adaptation to the protein level of a previously described strategy for finding conserved AS events [45], which we have extended to cover the full range of AS events. We observe that while the accuracy of both methods is comparable, our approach has a better ability to discard false positives, due to the presence of the neural network. These results indicate that our method constitutes a positive step towards the development of protocols for the functional annotation of AS events using information from public databases.
Abbreviations
AS:

alternative splicing
NN:

neural network.
Declarations
Acknowledgements
The authors are grateful to Adrian Shepherd for lending us a copy of his FFNN neural networks package. XdC acknowledges funding from the Spanish government (grant BIO2006-15557). MO acknowledges funding from Genoma España (GNU4-Structural Bioinformatics) and the Spanish government (grant BIO2006-01602). DT and AH acknowledges David Piedra for his support with the resampling protocol.
Authors' Affiliations
(1)
Molecular Modelling and Bioinformatics Unit, Institut de Recerca Biomèdica (IRB), Parc Científic de Barcelona (PCB), Barcelona, Spain
(2)
Protein Structure and Modelling Node, Instituto Nacional de Bioinfomática, Genoma España, Parc Científic de Barcelona, Barcelona, Spain
(3)
Departament de Bioquímica i Biologia Molecular, Universitat de Barcelona, Barcelona, Spain
(4)
Institució Catalana de Recerca i Estudis Avançats (ICREA), Barcelona, Spain
(5)
Computational Biology Program, Barcelona Supercomputing Center, Barcelona, Spain
Copyright
© Talavera et al; licensee BioMed Central Ltd. 2007
This article is published under license to BioMed Central Ltd. This is an Open Access article distributed under the terms of the Creative Commons Attribution License (http://creativecommons.org/licenses/by/2.0), which permits unrestricted use, distribution, and reproduction in any medium, provided the original work is properly cited.