PARPs database: A LIMS systems for protein-protein interaction data mining or laboratory information management system
BMC Bioinformatics
2007
8:483
Received: 14 August 2007
Accepted: 19 December 2007
Published: 19 December 2007
Abstract
Background
In the "post-genome" era, mass spectrometry (MS) has become an important method for the analysis of proteins and the rapid advancement of this technique, in combination with other proteomics methods, results in an increasing amount of proteome data. This data must be archived and analysed using specialized bioinformatics tools.
Description
We herein describe "PARPs database," a data analysis and management pipeline for liquid chromatography tandem mass spectrometry (LC-MS/MS) proteomics. PARPs database is a web-based tool whose features include experiment annotation, protein database searching, protein sequence management, as well as data-mining of the peptides and proteins identified.
Conclusion
Using this pipeline, we have successfully identified several interactions of biological significance between PARP-1 and other proteins, namely RFC-1, 2, 3, 4 and 5.
Keywords
Protein Identification
Structure Query Language
FASTA File
Laboratory Information Management System
Human Protein Reference Database
Background
Proteomics aims to identify, characterize and quantify all of the proteins expressed by a given living organism, tissue or cell line[1]. Typically, this approach subjects protein mixtures to proteolytic digestion prior to liquid chromatographic separation and MS/MS analysis of the resulting peptides [2]. Several database search engines, notably Mascot[3], Sequest [4], and X!Tandem [5] assign probable peptide sequences to MS/MS spectra and infer the identity of the proteins present in the sample analyzed. High-throughput proteomic experiments generate large data sets of protein identifications, which can only be properly validated and reported through adequate data processing [1, 6, 7]. Subsequent integration, sorting and comparison of these datasets pose significant challenges, especially when simultaneously analysing multiple experiments.
One of the most effective approaches to elucidate the biological function of a protein is the identification of its interaction partners. We are only now beginning to appreciate the nature and complexity of networks of interacting proteins. The unravelling of any such network using traditional biochemical approaches remains a significant challenge. Recently, however the application of high-throughput technologies, such as large-scale yeast two-hybrid analysis and mass spectrometry coupled to immuno- or affinity-based capture has made possible the rapid generation of huge protein interaction datasets [8–10]. As consequence, researchers often face the dilemma of how to effectively utilize all available data. Investigators relying solely on a traditional approach to draw conclusions or set research priorities are likely to find themselves outpaced by peers who combine in silico biology and empirical methods. Thus for protein interaction studies, there is clearly a need to develop a systematic and stepwise in silico approach to predict potential interactors. This approach will most likely improve our understanding of how complex biological systems work.
The need to develop a Laboratory Information Management System (LIMS) for researchers in the field of proteomics that would allow to track, archive and aid in a greater understanding of how biological systems work has been recognized. In 2002, Cho and co-workers developed an original LIMS for proteome research (YPRC-PDB)[11], constructed using a commercial database (RDB). They intended to establish YPRC-RDB as a proteome data warehouse. In 2003, Goh and co-workers [12] developed SPINE2, a LIMS for structural proteomics, constructed with MySQL and Perl, and also designed to work as a pipeline to public data resources. In 2004, Garwood and co-workers [13] developed PEDRo, The Proteomic Experimental Data Repository, constructed with a native XML database, Xindice with an ambitious Apache Software Foundation basis. The XML-based document format has been chosen for communication that the other formats. The native XML database has great potential, but many have critical limitations for proteomic research. On the other hand, commercially available LIMSes (Amersham Biosciences and Bio-Rad Laboratories Inc, etc.) have also been developed and released, but they are not exactly suitable for laboratories like ours because the generic solutions are first and foremost prohibitively expensive. These systems are usually re-packagings of applications developed for the pharmaceutical industry for drug discovery and development.
The focus of our laboratory is the study of the action of poly(ADP-ribose) polymerases (PARPs) and their role in the cell. Poly(ADP-ribosylation) is a post-translational protein modification consisting of long chains of poly(ADP-ribose) (pADPr) synthesized by PARPs at the expenses of NAD+. Poly(ADP-ribose) chains are short-lived owing to the activity of the poly(ADP-ribose) glycohydrolase enzyme, which catabolizes the pADPr within minutes of its synthesis[14]. The PARP family may comprise as many as 17 members which share a common catalytic domain responsible for the synthesis of poly(ADP-ribose) [15–17]. The best characterized and abundant member of this family is PARP-1, a 113-kDa nuclear protein comprising a DNA-binding domain made of two zinc fingers that allow PARP-1 to be rapidly activated in response to DNA damage. Poly(ADP-ribose) crucially contributes to chromatin remodelling, DNA damage repair, regulation of transcription, and cell division [18–20]; and PARP-1 is an important actor in many key cellular processes, including BER, transcription, and apoptosis.
We herein describe the architecture and major features of a web-based utility called "PARPs database" (PARPs-DB), which is designed to rationally organize the protein and peptide data generated by the LC-MS/MS analysis of tryptic digest of proteins that co-immunoprecipitate with PARPs proteins into reports meaningful to biological researchers. PARPs-DB offers a LIMS work environment to annotate and study protein-protein interactions and its easy-to-use relational data management system can rapidly supply information pertaining to the biological characteristics of a majority of proteins in a proteomic dataset. The major features of our LIMS are flexibility, compactness, and connectivity to public databases.
Also presented is a list of previously unidentified PARP-1 interactors that were found via affinity co-immunoprecipitation, as well as the analysis of these new PARP-1 interactions generated through PARPs-DB.
Given the advantages provided by an in silico approach that can predict or prioritize potential interactors, it seems reasonable to propose that PARPs-DB will become an essential tool for initially evaluating novel hypotheses and will offer improved rationale for the prioritization of potential interactors. In effect, by facilitating the processing of protein-protein interactions and the selection of the most promising interactors (to be submitted first to empirical measurements) PARPs-DB should lower the cost and shorten the time necessary to discover the most biologically significant interactions between PARPs and other proteins.
We don't have infrastructure to access on-line but the PARPs database source codes and user documentation are available for the scientific community [21]. Tools from the Sashimi project that were used in PARPs-DB are also available [22]. Licensed programs in Sourceforge such as Mascot, Sequest or Oracle were not included in the PARPs repository. Dialects for MySQL and PostgreSQL servers were developed in alpha version and are available upon request. Further information on these scripts can be obtained from the corresponding author (see Additional file 1).
Construction and Content
Design of the PARPs database software
PARPs Database consists of a core system of services that provide underlying system functionality. Modules, which provide most data handling and analytical support (such as LC-MS/MS data mining), plug into the core. This design means the platform is easily expandable: the architecture allows new analytical modules to be added and integrated without having to modify the core system. PARPs database was designed to be platform-independent and easy to maintain, and is implemented in Solaris Sun Operating system 10 (Sun Microsystems, Santa Clara, CA, USA). It requires access to an Oracle 10 g relational database (Oracle, Redwood Shores, CA, USA), with which it communicates through an abstraction layer that isolates the core system from subtle differences between Oracle database builds. The user interface supports the use of the Apache server[23] for external access via the Hyper Text Transfer Protocol (HTTP). It consists of a set of programs, written in the Practical Extraction and Report Language (Perl) and in PL/SQL, which generates the user interface in Hypertext Transfer Markup Language (HTML), using Cascading Style Sheets (CSS), eXtensible Markup Language (XML) Style sheet Language Transformation (XSLT), and the Scalable Vector Graphics language (SVG). A web browser is used as the user interface of the LIMS, because it is universally available on most client systems. Internet Explorer 6.0 or later, Netscape 7.1 or later, or Firefox version 1.03 or later should be installed in the client PC.
Dialects for PostgreSQL and MySQL servers were implemented, and support for Microsoft SQL is under development.
Database design
Figure
1
outlines the database schema for the data pertaining to experimental protocols, data analysis and results (the full-scale schema is available on-line as Supplemental Figure
1
). The database is defined in the Unified Modeling Language [
24
], which is a standard notation designed to improve the process of developing large software systems [
25
]. In this context, it allows us to describe experimental methods, results, and subsequent analyses in an implementation-independent manner. UML schemas (Figure
1
) are referred to as class diagrams. They consist of boxes (classes), representing important entity types, connected by various types of lines and arrows signifying the relationship between them.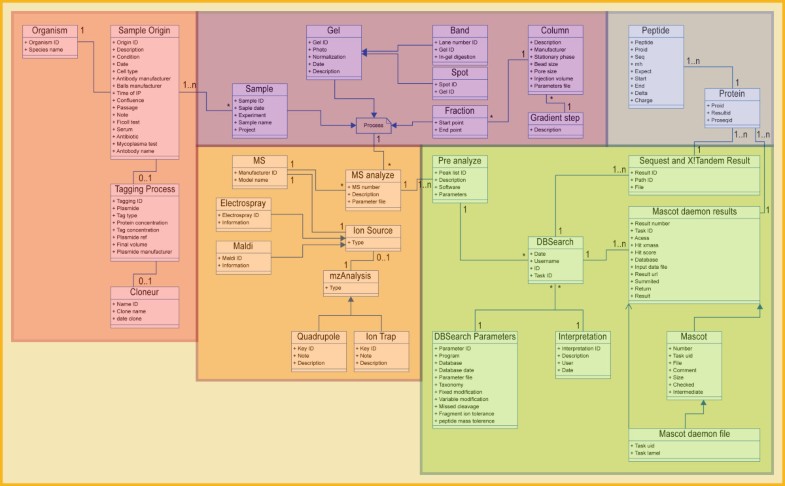 The sample origin (shown in red) holds basic information, such as the specific biological material used, which subcellular fraction was studied, and the experimental conditions to which the organism was subjected. Sample origin has also two offsprings: 'organism' holds the name of the species/strain used and a list of the relevant gene/mutations carried; and 'tagging process' describes the labelling of the parts of a combined sample for differential expression studies, such as isotope-coded affinity tag (ICAT) mass spectrometry[26].
The sample (shown in purple) simply holds an identification code (laboratory-specific), the production date, and the name of the responsible person.
The next classes represent sample's processing step before moving on to run a mass spectrometry experiment. For example, running a two-dimensional gel with sample, then putting a spot from that gel through two-dimensional liquid chromatography. The class HPLC describes the equipment's origin, its dimensions, the stationary phase, the pore size in the beads, the total injection volume, and the flow rate. The class gel capture the description of the gel, the image analysis software used, and whatever images of the gel are available, referred to by URIs (Universal Resource Identifiers). There are also several parameters describing the gel itself (for example, percent acrylamide in the mix, the solubilisation buffer and stain used, a measure of the total protein on the gel, the in-gel digest).
Mass spectrometry (shown in orange). Details about the makeup of the mass spectrometry machine is stored in seven classes. Source is an abstract class that will, in practice, be either MALDI or Electrospray, each of which has its own set of fields (voltages of various kinds; tip, solvent, and interface details for electrospray; laser wavelength and matrix type for MALDI runs). Instrument represents the mass analysing and fragmentation section of the mass spectrometer (for example, Quadrupole, Ion Trap, or Collision Cell, each with its own parameters).
MS results analysis (shown in green). To perform a protein identification, a particular Peak list would be submitted to an identification tool, such as Mascot, Sequest and X!Tandem. The classes 'DBSearch Parameters' capture information about who processed data, when they did it, what program they used, what database was used, what errors were taken into account when searching, what potential modifications were allowed on proteins from the sample that generated the peak list.
The protein tables (shown in blue) store identifiers (accession numbers) that point to external web-based information sources. Short text annotations such as Gene Ontology [27] descriptions, descriptions of functional or structural regions within the protein sequence, and information about associated diseases and biological pathways are also stored when available. While the identifiers serve as links to external databases and web pages, the annotations stored within PARPs-DB are human readable and easily searchable. PARPs-DB also supports input of local protein sequences and annotations, as well as pointers to local databases. A sequence or annotation marked as "defunct" will not automatically be deleted from the database, which means old FASTA files can be reanalysed with new annotations even if their records have been deleted or replaced by subsequent information in the primary source.
The database was designed to contain a minimal amount of information but still sufficient data to allow effective Structured Query Language (SQL) queries. These queries enable ready access to any information stored in the database as well as in the XML files generated by the data analysis server. With the tables and XML files serving as the primary data storage objects, the relational dataset is relatively easy to build, maintain and query.
LC-MS/MS data analytical module
A key design element of PARPs database is the ability to generate analytic modules that plug into and use the core of PARPs system. Three pivotal LC-MS/MS tools integrated in PARPs-DB are the peptide-spectrum matching programs: Sequest, X!Tandem and Mascot. We have also included PeptideProphet to validate peptides assigned to MS/MS spectra [28] and ProteinProphet to infer the proteins[29] present in the sample from the list of observed peptides. These open-source tools are components of the Trans Proteomic Pipeline (TPP) from Seattle Institute for Systems Biology (ISB) [30]. To access MS/MS data, RAW files were converted to the open file format (mzXML or mzData) using Readw.exe from Sashimi for LTQ mass spectrometer for example or our own conversion software. Sashimi [22]is a project initiated at the ISB that aims at providing the scientific community with free and open-source software tools for the downstream analysis of mass spectrometric data. Sashimi is focused on the bioinformatics standards necessary to the set up of a generic proteomic pipeline using common output formats at each processing step. We have also integrated three executable: Sequest2XML, Mascot2XML and Tandem2XML, also from Sashimi, to convert search engine outputs (DAT, OUT and XML files) to pepXML[31].
Links to public databases
The underlying protein knowledge base used by PARPs-DB was extracted from multiple online resources, based on cross-references. Five human gene and protein data sources were integrated within PARPs-DB : protein databases maintained by IPI [32] and UniProt [33], and three NCBI databases: Entrez Gene [34], RefSeq [35], and GenPept. Three protein-protein interactions databases were also included in PARPs-DB's knowledge base : the Biomolecular Interaction Network Database (BIND)[36], the Database of Interacting Proteins (DIP)[37] and Human Protein Reference Database (HPRD) [38]. For each identified protein stored in PARPs-DB, the data analysis server gathers the protein's function, sequence and post-translational modifications from the above sources and presents the extracted data along with the identified protein. Different strategies have been used to update our databases. For protein databases such as Uniprot and IPI, we use Perl scripts to download Fasta files from the Uniprot and EBI server. A report of the new release updates is produced. For protein-protein interaction databases such as HPRD and BIND, monthly updates are also performed through Perl scripts.
Protein-Protein interaction viewer
Finally, in order to visualize protein-protein interaction networks, we have developed a protein-protein interaction viewer, in Java language (Java JDK 1.4.2_05 and Netbeans 3.6). This viewer uses three libraries: Xerces Java Parser 2.6.2, Piccolo Java 1.1, and JDOM 1.0 this last library being used to manipulate and parse the XML files. The central organization of the protein-protein interaction viewer is a network graph with molecular species represented as nodes and intermolecular interactions represented as links, that is, edges between nodes. This application provides basic functionality for integrating data on the graph, a visual representation of the graph and integrated data. Data are integrated with the graph model using attributes. Graphical browsers allow the user to examine all attributes on the currently selected nodes and edges.
One of the most fundamental tools for interpreting molecular interaction data is visualization of nodes and edge as two dimensional network. It utilizes a relaxation layout algorithm which attempts to prevent overlapping of nodes. This viewer is small, stable, multi-platform and simple to use. It can function as a stand-alone applet or be integrated into a web application.
PARP-1 co-immunoprecipitation
Cell culture
Human cervical carcinoma HeLa cells obtained from ATCC (Manassas, VA, USA) were cultured in Dulbecco's modified Eagle's medium (DMEM) supplemented with 10% fetal bovine serum, 2 mM L-glutamine, 100 U/ml penicillin and 100 μg/ml streptomycin in an humidified atmosphere of 5% CO2 at 37°C. All the above-mentioned reagents were purchased from Invitrogen (Burlington, ON, Canada).
Immunoprecipitation of endogeneous PARP-1
Cells grown in 150 mm culture dishes were washed with ice-cold phosphate-buffered saline (PBS). 400 μl/dish of ice-cold lysis buffer (175 mM KPO4, pH 8.0, 150 mM NaCl, 1% NP-40, 1 mM DTT, 0.5 mM PMSF and Complete™ protease-inhibitor cocktail (according to Roche diagnostics instructions)) was added to the cells. Cells were harvested using a cell scraper. Lysed cells coming from three dishes were pooled then gently mixed by inversion for 1 hour at 4°C and centrifuged 10 minutes at 6000 g at 4°C to remove insoluble cellular debris. The cellular extract was mixed with 180 μl of magnetic beads coupled to protein G (Dynal, Invitrogen) and 8 μl of monoclonal antibody to PARP-1(F1-23)or 8 μl of normal mouse IgG as control and incubated during 2 hours at 4°C with rotation. The beads had been previously blocked during 1 hour with 1% BSA and washed with lysis buffer. At the end of the incubation period, the beads were washed 3 times with lysis buffer. 180 μl of 2× Laemmli SDS sample buffer containing 5% (v/v) β-mercaptoethanol was added to the beads and they were placed in a boiling bath for 5 minutes to elute the immunoprecipitated proteins.
Protein separation and digestion
Immunoprecipitated proteins were separated by SDS 8% PAGE. The gel was fixed for 30 min with 10% (v/v) methanol and 7% (v/v) acetic acid solution, then stained with SYPRO Ruby fluorescent protein stain (Bio-Rad, Hercules, CA, USA) according to the manufacturer's instruction. The entire protein profile of the immunoprecipitated proteins was sliced from the gel into 50 bands using a gel excision Lanepicker™ (The Gel Company) and placed into a 96-well plate. In-gel protein digests were performed on a MassPrep™ liquid handling station (Waters) using sequencing-grade modified trypsin (Promega) according to the manufacturer's instructions. Peptide extracts were evaporated to dryness using a SpeedVac™ and resuspended in 10 μl of 0.1% formic acid in water.
LC-MS/MS
Final extracts were analysed by LC-MS/MS using an LCQ-DECA XP mass spectrometer equipped with a nanospray ESI (electrospray ionization) source and a Surveyor autosampler and HPLC system (Thermo Electron). A 5 μl volume of extract was first focused on a Peptide CapTrap™ (Michrom Bioresources) and then loaded on a Biobasic C18 PicoFRIT™capillary column (PFC7515-BI-10; New Objective). Elution of peptides was performed using a linear acetonitrile gradient (0–60%) over 20 min at a flow rate of approximately 200 nl/min (buffer A: 0.1% formic acid in water; buffer B: 0.1% formic acid in acetonitrile). MS, including collision-induced dissociation, was performed in an automated fashion using the dynamic exclusion option.
Protein identification
Peptides were assigned MS/MS spectra by searching using Sequest (version 2.0 SR2), Mascot (version 2.1) and X!Tandem (2006.04.01.2) and the assignments were also validated with Scaffold software (Proteome Software Inc.; version Scaffold-01_03_02). MS/MS spectra were searched against the IPI human protein database (version 3.01)[32] to which the sequences of protein constructs, proteins of interest, and common contaminants were added. Searches were performed specifying complete (fixed) carbamidomethylation modification of cysteine (+57 Da) and oxidation of methionine (+16 Da) residues. The digestion enzyme parameter was set to trypsin. The proteins identified in this paper were obtained with a Scaffold probability cut-off of 80%.
Western blots
Total protein extracts and proteins eluted from the immunoprecipitations were separated by 8% SDS-PAGE and then transferred onto a 0.45 μm pore-size PVDF membrane (Millipore, Bedford, MA, USA). After incubating 1 hour with the blocking solution (PBS with 0.1% (v/v) Tween-20 (PBS-T) containing 5% non-fat milk), the membrane was probed with primary antibodies to PARP1 (C2-10, mouse monoclonal 1:5000) or RFC1 (Replication factor C, 140 kDa subunit, rabbit polyclonal antibody 1:2500) (Bethyl Laboratories, Montgomery, TX, USA) overnight at room temperature with shaking. After washing with PBS-T, species-specific horseradish peroxidase-conjugated secondary antibody was added for 1 hour at room temperature. The signals were finally detected with the Western Lightning™ Chemiluminescence reagent plus kit (Perkin Elmer, Boston, MA, USA).
Conclusion
The work presented here has demonstrated how bioinformatics can supplement conventional biological investigation. The PARPs-DB enables storage, annotation and representation of data generated by molecular biology. Moreover this system has identified a previously unknown protein interaction of PARP-1. The PARPs database allows the effective description of proteomics experiments and analysis of protein-protein interactions.
Because the PARPs database was developed to facilitate data sharing and exchange, it includes the latest standard format to allow sharing of experimental design and results with the scientific community. We have incorporated tools allowing the extraction of protein-protein interactions from the HPRD, DIP and BIND public databases, literature and other sources of information. Reports for peptide and protein analyses are output. These provide comparison reports from multiple or concatenated experiments, thereby significantly increasing the confidence in peptide and protein identifications.
The biochemical data between PARP-1 and RFC complex confirmed the interaction reported earlier. However, substantially more work is required to delineate the specificity and the structural interaction with respect to the regulation of their cellular function between PARP-1 and RFC complex. It is anticipated that the building of such an integrated platform, which can be constantly up-graded, could provide a predictive understanding of a novel gene's function in its biological context. A key design element of PARPs database is the ability to add tools or module that plug into and use the core systems. The PARPs-DB will be expanded as needed in order to make the analyses more efficient.
Availability and requirements
Abbreviations
SQL:

Standard Query Language
NCBI:

National Center for Biotechnology Information
MS:

Mass spectrometry
PARP:

Poly(ADP-Ribose) Polymerase
ISB:

Institute for Systems Biology
EBI:

European Bioinformatics Institute
LDAP:

Lightweight Directory Access Protocol
IPI:

International Protein Index
HPRD:

Human Protein Reference Database
BIND:

Biology Interaction Database.
Declarations
Acknowledgements
This study was supported by the Canadian Institutes of Health Research and the program in functional Genomics from CIHR. We thank Pierre Gagné and Eric Winstall for critical revision of the manuscript and Ken Sin Lo for data processing.
Authors' Affiliations
(1)
Health and Environment Unit, CHUQ, Laval University Medical research Center, Québec, Canada
(2)
Eastern Quebec Proteomic Center, CHUQ, Quebec, Canada
(3)
Caprion Pharmaceuticals, Montréal, Canada
Copyright
© Droit et al; licensee BioMed Central Ltd. 2007
This article is published under license to BioMed Central Ltd. This is an Open Access article distributed under the terms of the Creative Commons Attribution License (http://creativecommons.org/licenses/by/2.0), which permits unrestricted use, distribution, and reproduction in any medium, provided the original work is properly cited.