SignS: a parallelized, open-source, freely available, web-based tool for gene selection and molecular signatures for survival and censored data
BMC Bioinformatics
2008
9:30
Received: 13 September 2007
Accepted: 21 January 2008
Published: 21 January 2008
Abstract
Background
Censored data are increasingly common in many microarray studies that attempt to relate gene expression to patient survival. Several new methods have been proposed in the last two years. Most of these methods, however, are not available to biomedical researchers, leading to many re-implementations from scratch of ad-hoc, and suboptimal, approaches with survival data.
Results
We have developed SignS (Signatures for Survival data), an open-source, freely-available, web-based tool and R package for gene selection, building molecular signatures, and prediction with survival data. SignS implements four methods which, according to existing reviews, perform well and, by being of a very different nature, offer complementary approaches. We use parallel computing via MPI, leading to large decreases in user waiting time. Cross-validation is used to asses predictive performance and stability of solutions, the latter an issue of increasing concern given that there are often several solutions with similar predictive performance. Biological interpretation of results is enhanced because genes and signatures in models can be sent to other freely-available on-line tools for examination of PubMed references, GO terms, and KEGG and Reactome pathways of selected genes.
Conclusion
SignS is the first web-based tool for survival analysis of expression data, and one of the very few with biomedical researchers as target users. SignS is also one of the few bioinformatics web-based applications to extensively use parallelization, including fault tolerance and crash recovery. Because of its combination of methods implemented, usage of parallel computing, code availability, and links to additional data bases, SignS is a unique tool, and will be of immediate relevance to biomedical researchers, biostatisticians and bioinformaticians.
Keywords
Random Forest
Parallel Computing
Lasso
Fault Tolerance
Gene Selection
Background
Many microarray studies involve human samples for which survival data are available. In the last two years there has been an increase in the number of new methods proposed for this kind of data [1–11]. Many of these papers have emphasized not only gene selection and survival prediction, but also "signature finding": discovering sets of correlated genes that are relevant for survival prediction. For end-users (e.g., biomedical researchers with microarray data for a sample of patients for which survival is known), however, most of these methods are not easily accessible, which might explain why many papers in the primary biomedical literature implement from scratch varied ad-hoc approaches in the context of survival prediction.
Unfortunately, in many cases, survival data are reduced to arbitrarily determined classes (such as dead or alive at a given, arbitrary, time), with the consequent loss of information, simply because tools for class prediction are much more widely available. Thus, tools for end users are badly needed that, while retaining user-friendliness, do not compromise statistical rigor.
Statistically, and in addition to appropriate analysis of censored data, such a tool should ensure that selection biases [12–15] are accounted for, to prevent overoptimistic assessments of the quality of the final model selected. Moreover, such a tool should also present the user with assessments of the stability of the results obtained: variable selection with microarray data (in general, in scenarios where the number of variables ≫ than the number of samples) can lead to many solutions that have similar prediction errors, but that share few common genes [16–18]. Choosing one set of genes without awareness of the multiple solutions can create a false perception that the selected set is distinct from the rest of the genes. Besides the statistical features, interpretation of results is enhanced if the tool provides additional information about "the interesting genes" such as PubMed references, Gene Ontology terms, and links to the UCSC and Ensembl databases and KEGG and Reactome pathways.
Such a tool should also try to incorporate the increasing availability of multicore processors and clusters made with off-the-shelf components. Since CPU performance has improved less than 20% per year since 2002 [19], the major opportunities for significant speed gains and the ability to analyze ever larger data sets with more complex analysis methods do not lie in faster CPUs. Rather, it is widely acknowledged that scaling to larger data sets and reducing user waiting time depends crucially on our ability to efficiently use parallel, distributed, and concurrent programming because of the increase in the available number of CPUs and CPU cores [20–23]. This trend affects even the laptop market (many laptops currently incorporate dual-core CPUs) and, therefore, the gains from parallel computing can be realized not only on computing clusters, but also in workstations and laptops.
Parallelization, such as provided by MPI [24], allows us to distribute the computations over a computing cluster, thus decreasing execution time. For an end user, parallelization can result in dramatic decreases in the time she/he needs to wait for the analysis to complete (see Benchmarking section). For developers, bioinformaticians, and biostatisticians, parallelization results in speed increases that ease method comparisons using extensive simulations and provides an example for the parallelization of further algorithms.
Regarding the user interface, web-based applications have been gaining popularity in bioinformatics among other reasons because they allow the development of user-friendly applications that do not require software installation or upgrades from the user [25]. In addition, web-based applications, if run in a computing cluster and implemented appropriately, make it possible to exploit parallelization.
Finally, source code availability under an open-source license allows researchers to improve upon the method, fix bugs, and verify claims by method developers, encourages reproducible research, and ensures that tool ownership resides in the international research community. These are all issues of particular concern in bioinformatics, where expedite progress builds upon previous research [26, 27]. Moreover, the value of code availability is further enhanced when standard best practices in software development (see review and references in [28]) and the usual open source development mode [29], are followed.
We have developed a web-based tool, SignS (Signatures for Survival data), to fulfill the above needs. We know of no equivalent tool, and only BRB-ArrayTools [30], by R. Simon and A. P. Lam, provide somewhat similar functionality, but it is not web-based, does not ease accessing additional information, does not use parallel computing, and source code is not available. Thus, SignS is a unique tool, of immediate utility for biomedical researchers studying gene expression and its relation to survival (as is common, for example, in many cancer studies), and of broad appeal also to computational biologists, biostatisticians, and bioinformaticians because of the methods it implements and the combination of parallelization with web-based computing in an open-source application.
Implementation
SignS is as a web-based application (and underlying R package) that provides four methods for gene selection with survival data: the method by Gui and Li [2], the approach of Dave et al. [1], a method that uses random forests with conditional inference trees [3, 31], and a boosting method with component-wise univariate Cox models [3, 32]. There are few methods that explicitly attempt to perform gene selection with survival data while preserving the identity of the individual genes and allowing the recovery of highly correlated genes. Moreover, there are few comparisons among the available methods, except those from [2, 8, 33–37]. In this context, we chose to implement these four very different approaches. The available comparisons indicate that penalization methods, specially those based on the L1 penalty, such as Lasso and LARS, tend to perform well and return results with relatively few genes, thus enhancing interpretation [33, 35, 36]. The method of Gui and Li can approximate the Lasso or LARS estimates, while selecting more relevant genes [2]. On the other hand, relatively heuristic and simple approaches such as those based on clustering and the idea of signatures can sometimes perform remarkably well, compared to sophisticated penalization approaches [36]. The method of Dave et al. [1] is one such method that attempts to explicitly return signatures for survival data. Finally, ensemble approaches are currently gaining popularity. The recent review by [34] has found that random forest-based methods, as in [31], can yield the best survival time predictions and, thus, we have also included this method. An alternative approach to using ensembles is via boosting, as in [3, 32, 38]; this approach has the advantage of providing for explicit variable selection and being computationally efficient, and has been shown to be competitive for at least some microarray data sets [3]. We have parallelized all the algorithms, providing significant decreases in user wall time (see below).
Results
Functionality
SignS provides estimates of the performance of the final model using 10-fold CV (cross-validation). To assess predictive performance we use a simple and common [1, 2, 6–8, 10, 11, 33, 49–51] strategy: splitting the test samples into several (2, 3, or 4) groups based on their predicted scores (or predicted survival for random forests), and comparing the survival functions of these groups. It must be emphasized that the predicted scores are obtained from a full (or double: [15]) cross-validation, so the predicted scores for a sample correspond to the CV-fold for which that sample never participated in any of the steps leading to the final model.
If a validation data set is provided, the performance of the final model is also evaluated against this validation data set. The validation data set is only used to assess predictive performance, and is not used in any way to build the model.
To assess the stability of the results obtained, we report the number of signatures and the identity of the genes in each signature for the run with the original sample and the 10 CV runs, as well as tables with number (and percentages) of common genes in different runs. The list of these signatures and genes can be sent to our application PaLS [52] to examine PubMed references, Gene Ontology terms, KEGG pathways or Reactome pathways that are common to a user-selected percentage of genes and/or signatures. In other words, the shared features of each signature or set of selected genes can be examined with respect to Gene Ontology terms, KEGG and Reactome pathways, and PubMed references. Tables with output from each run include clickable links to our application IDClight [53] which provides additional information, including mapping between gene and protein identifiers, PubMed references, Gene Ontology terms, and KEGG and Reactome pathways.
SignS can run in platforms that range from a laptop to a cluster of workstations. Our installation runs on a cluster of 30 computing nodes, each with two dual-core AMD Opteron CPUs and 6 GB of RAM. In our implementation, additional nodes provide load-balancing, high-availability, and shared storage. We also incorporate a careful scheme for fault tolerance and crash recovery (see section "Crash recovery and fault tolerance"). The input for the web-based application are either plain text files, or files that come from other tools of the Asterias suite [54]. Further documentation and examples for the web-based application are available from its on-line help [55]. SignS has been running in production use for over a year and a half; monthly users in the last seven months, from 1 May to 30 November of 2007, are 490 (May), 490 (June), 270 (July), 390 (August), 680 (September), 780 (October), and 800 (November). Bug-tracking is available from [56]. SignS also includes a test suite that uses FunkLoad [57]; the tests allow to verify that the user interface and numerical output are working, thus ensuring appropriate quality control and regression testing.
The web-based application is accessible from [58]. All source code, including the web-based application, R code, and functional tests, are available from Launchpad [59] and [60] under open source licenses, GNU GPL for the R package (required for compatibility with the R and BioConductor packages used) and the Affero Public license for the rest of the code.
Benchmarking
The speedups achieved in the method by [
2
] with our code changes (see "Implementation and parallelization") and parallelization are shown in Figure
1a
), using realistic ranges of numbers of genes and samples (arrays). Before any parallelization, rewriting the sequential code leads to speed improvements of factors between 2 (= 1/0.5) and 5 (= 1/0.2). These speed improvements are larger as we increase the number of arrays and, specially, the number of genes. Parallelization leads to further, and large, increases in speed, which are almost linear with the number of slave processes (concurrently running R processes). With 60 slave processes, there is a speed improvement of a factor of about 50: in parallel computing [
24
,
61
] other factors in addition to number of CPUs can become limiting, in our case most likely bandwith and latency of inter-node communication, and potential bottlenecks from memory and cache in nodes made of dual-core processors [
22
]. Moreover, the rewritten code (either on a single CPU or parallelized) shows good scalability: running time increases sublinearly with both number of arrays and number of genes (e.g., doubling the number of genes results in an increase in computing time which is less than double).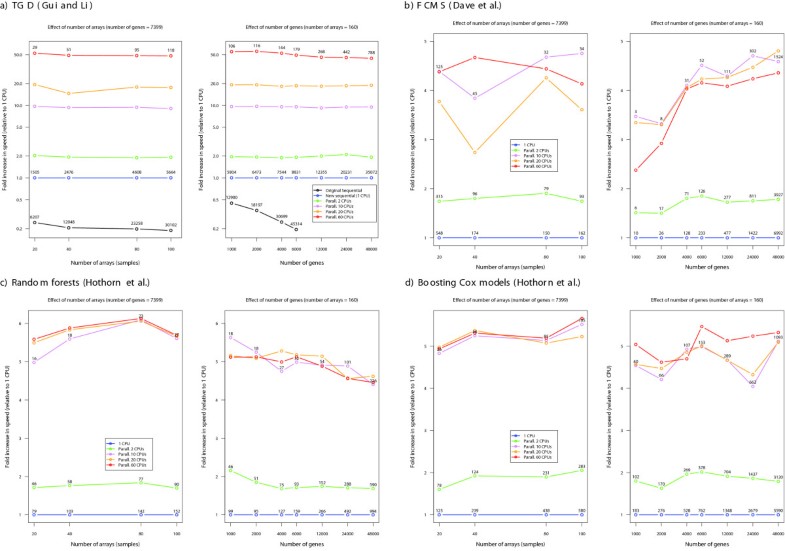 For the other three methods (FCMS, random forests, boosting) parallelization results in more modest gains (see Figure
1b
). First, there is no gain in speed when we use more than 10 slave processes. This is what we would expect, since we parallelize over cross-validation runs (see "Implementation and parallelization" and "Adding other algorithms" for rationale) and adding further nodes can not result in increased speed since those are not used. In all three cases, however, the increases in speed with only 2 CPUs are almost equivalent to doubling execution speed. For FCMS, the scaling with number of genes is superlinear (e.g., doubling the number of genes results in increases in computing time which are more than double), a result of the superlinear scaling of clustering and model selection with number of genes; changes in computing time with number of arrays, however, do not show a consistent increase with number of arrays and, with small number of arrays, computing time can be much larger, because the model selection step takes much longer (the number of models to consider is often much larger with 20 arrays than with 80 or 100 arrays). For random forest, increases in number of genes only result in noticeable changes in computing time for large numbers of genes (6000 and over), which is to be expected since the random forest algorithm, itself, always uses at most 200 genes, so we will not notice the increase in computing with number of genes through random forest, but rather through the preliminary gene selection step (and possible communication costs). Increases in computing time with number of arrays, when using random forests, are modest and sublinear. With boosting, increases in computing time with number of genes are more noticeable, but only become linear over 6000 genes; increases in computing time with number of arrays are almost linear. Figure
2
shows the time a user will wait for the web-based application to complete (user wall time) as a function of the number of simultaneous users using the application in that very moment. (When using a slow internet connection these numbers will increase and, e.g., uploading a data set of 8.5 MB, such as DLBCL, to the application can take over 5 minutes). As can be seen from the figure, SignS can handle a large number of simultaneous users and shows excellent scalability with number of users. This is the result of both the parallelization of the computations and the load balancing of the non-parallelized code. Note that situations with 10 or more simultaneous users are completely unrealistic, since the average number of daily users of SignS is less than 30. The above benchmarks, though, show that SignS can handle even those high numbers of users, which makes it suitable for classroom use.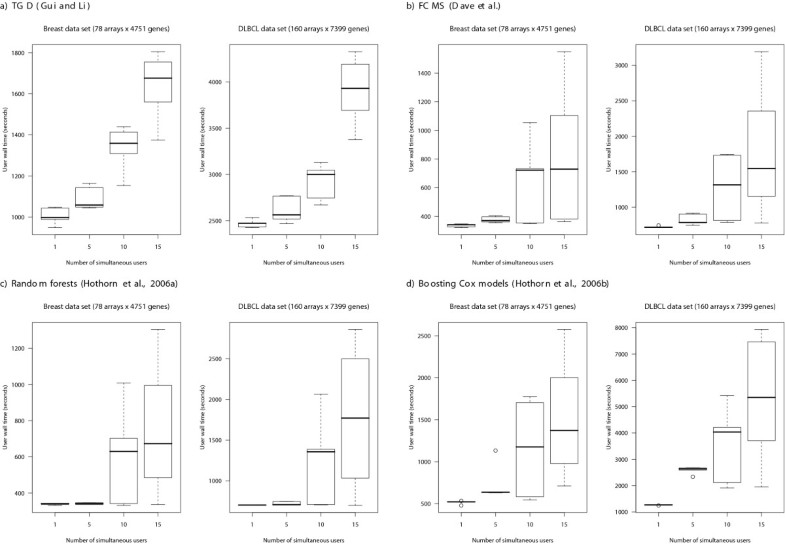 Scripts for all benchmarks are available from the repositories.
Discussion
We have developed a web-based tool (and underlying R package), SignS, for gene selection and signature building from microarray data when we have censored and survival data. SignS presents several unique features that make it very relevant for both applied and methodological work.
First, there are no alternative web-based applications for these types of analysis. Source code and packages are available from some other approaches (e.g., [3, 4, 8, 31]), but most of them are out of the direct reach of biomedical researchers, as they all require a minimal proficiency with R and BioConductor. There is only one alternative application with biomedical researchers as target users, BRB-ArrayTools [30]. In contrast to BRB-ArrayTools, SignS is available as a web-based application (BRB-ArrayTools is only available as an Excel add-on) and, therefore, SignS does not require any specific operating system or application, just a web browser. In addition, the complete code of SignS is available as open source (and we follow standard best practices in software development and the usual open source development mode). Moreover, SignS implements four very different, complementary methods of analysis. Finally, the availability of both the source code and the scripts for each run immediately provide for "reproducible research": the complete results can be reconstructed as the user has the code that implements the entire sequence of steps and the parameter settings used. "Reproducible research" is a problem of great importance with complex analysis sequences that is gaining attention in the analysis of genomic data [62]. By themselves, these features make SignS a unique and pioneering tool.
Second, SignS is one of the very few genomic analysis tools to use parallel computing. Parallel computing is crucial to allow further improvements in user wall time and to analyze ever larger data sets: betting on single CPU performance improvements is no longer reasonable, given both the slow increase in CPU speed in the last five years, and the increased availability of multi-core and multi-CPU computers, from laptops and workstations to clusters. Our results, using realistic scenarios regarding number of genes and samples, show that: a) our web-based implementation of SignS can handle a large number of simultaneous users with good scalability (see Figure 2); b) the performance improvements of parallelization can be harvested even in dual-core laptops and personal computers: relative speed increases of the R code with 2 CPUs are around 2× for TGD, and 1.8× for the other three methods (see Figure 1).
Moreover, by its usage of parallel computing, SignS sets a standard in terms of implementing tools that take advantage of recent advances in hardware and computer science. SignS represents a rare case example of combining a user-friendly web-based interface with parallel computing, –including fault-tolerance and crash recovery– that, by making the full source code available, allows other researchers to build upon our work and, by the usage of open source licenses, ensures that the code remains owned by the research community. Extending upon our work is further eased because we use no Python-specific web-frameworks nor R extensions as a web-based application; therefore, the logic of the application (including the web-based application and the fault tolerance mechanisms) could be programmed in any other language and the computational engine could be different from R.
Third, SignS strives to ease the biological interpretation of results using functional annotation of results via links to additional data bases that allow mapping between gene and protein identifiers, PubMed references, Gene Ontology terms, and KEGG and Reactome pathways. Moreover, SignS further enhances the critical assessment of results by allowing the examination of possible multiple equivalent solutions (using cross-validation and analysis of similarities among results of the different runs).
Conclusion
SignS fills an important need as a user-friendly, web-based application for gene selection and signature finding with survival data. It is also a unique tool (by its combination of methods implemented, usage of parallel computing, code availability, and links to additional data bases), and thus it will be of immediate interest to biomedical researchers, biostatisticians and bioinformaticians. Moreover, SignS sets a high standard for future applications of this kind.
Availability and requirements
Project name: SignS
Project home page: http://signs2.bioinfo.cnio.es
Operating system: Platform independent (web-based application)
Programming language: R, Python
Other requirements: A web browser.
License: None for usage. Web-based code: Affero GPL (open source). R code: GPL (open source).
Any restrictions to use by non-academics: None.
Abbreviations
CGI:

Common Gateway Interface
GO:

Gene Ontology
KEGG:

Kyoto Encyclopedia of Genes and Genomes
LAM:

Local Area Multicomputer
MPI:

Message Passing Interface.
Declarations
Acknowledgements
A. Alibés and A. Cañada for IDClight and PaLS. C. Lázaro-Perea, three anonymous reviewers, and J. Gui for comments on previous versions of the ms. T. Hothorn, A.-L. Boulesteix and W. van Wieringen for answers to questions on forests and boosting. Bioinformatics.org and The Launchpad for repository hosting. To S. Aguilar for practical examples of computable commitments and tolerance to partial failure. Funding provided by Fundación de Investigación Médica Mutua Madrileña and Project TIC2003-09331-C02-02 of the Spanish MEC. The author was partially supported by the Ramón y Cajal programme of the Spanish MEC.
Authors' Affiliations
(1)
Statistical Computing Team, Structural Biology and Biocomputing Programme, Spanish National Cancer Center (CNIO), Madrid, Spain
Copyright
© Diaz-Uriarte; licensee BioMed Central Ltd. 2008
This article is published under license to BioMed Central Ltd. This is an Open Access article distributed under the terms of the Creative Commons Attribution License (http://creativecommons.org/licenses/by/2.0), which permits unrestricted use, distribution, and reproduction in any medium, provided the original work is properly cited.