RNA STRAND: The RNA Secondary Structure and Statistical Analysis Database
BMC Bioinformatics
2008
9:340
Received: 15 May 2008
Accepted: 13 August 2008
Published: 13 August 2008
Abstract
Background
The ability to access, search and analyse secondary structures of a large set of known RNA molecules is very important for deriving improved RNA energy models, for evaluating computational predictions of RNA secondary structures and for a better understanding of RNA folding. Currently there is no database that can easily provide these capabilities for almost all RNA molecules with known secondary structures.
Results
In this paper we describe RNA STRAND – the RNA secondary STRucture and statistical ANalysis Database, a curated database containing known secondary structures of any type and organism. Our new database provides a wide collection of known RNA secondary structures drawn from public databases, searchable and downloadable in a common format. Comprehensive statistical information on the secondary structures in our database is provided using the RNA Secondary Structure Analyser, a new tool we have developed to analyse RNA secondary structures. The information thus obtained is valuable for understanding to which extent and with which probability certain structural motifs can appear. We outline several ways in which the data provided in RNA STRAND can facilitate research on RNA structure, including the improvement of RNA energy models and evaluation of secondary structure prediction programs. In order to keep up-to-date with new RNA secondary structure experiments, we offer the necessary tools to add solved RNA secondary structures to our database and invite researchers to contribute to RNA STRAND.
Conclusion
RNA STRAND is a carefully assembled database of trusted RNA secondary structures, with easy on-line tools for searching, analyzing and downloading user selected entries, and is publicly available at http://www.rnasoft.ca/strand.
Keywords
Protein Data BankHepatitis Delta VirusPseudoknotted StructureFree Energy ParameterCanonical Base Pair
Background
The number of solved RNA secondary structures has increased dramatically in the past decade, and several databases are available to search and download specific classes of RNA secondary structures [
1
–
5
]. However, for purposes such as improving RNA energy models [
6
,
7
], evaluating RNA secondary structure prediction software, obtaining distributions of naturally occuring structural features, or searching RNA molecules with specific motifs, researchers need to easily access a much larger set of known RNA secondary structures, ideally all known RNA secondary structures. RNA STRAND aims to provide this capability, in addition to easy search, analysis and download features. Figure
1
shows an example of an RNA secondary structure and highlights some of its structural features.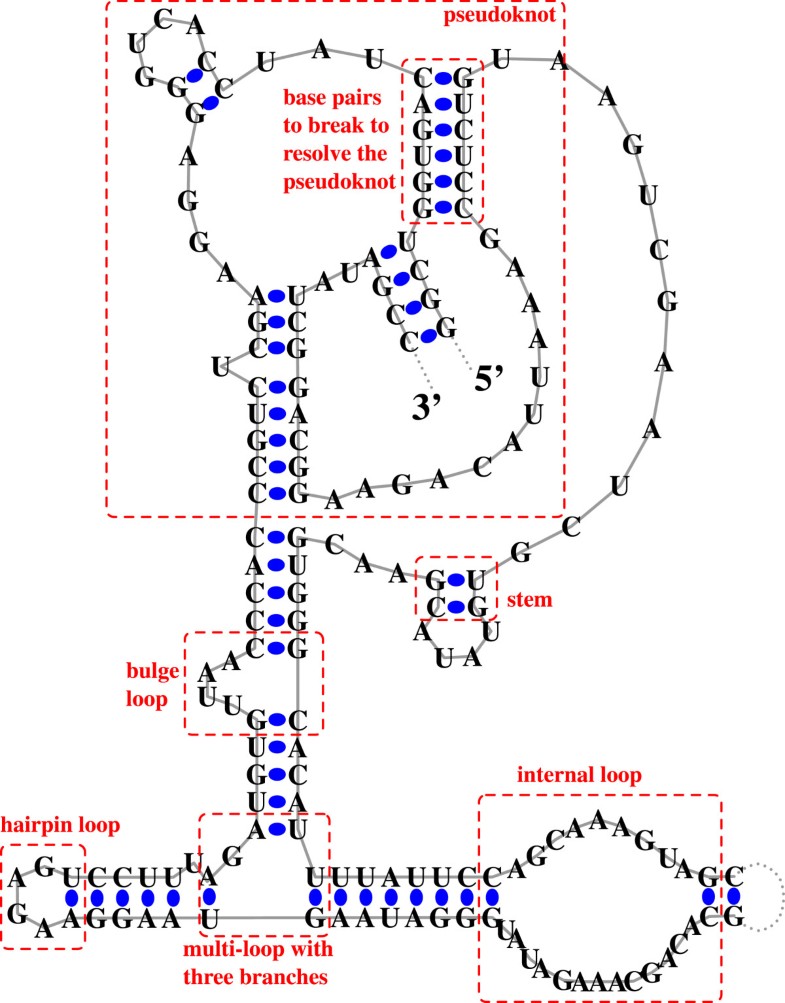 Previous RNA databases provide secondary structure information, but are specialised in a different direction or follow different goals. The Rfam Database [5] contains a large collection of non-coding RNA families; however, many of the corresponding secondary structures are computationally predicted. The Comparative RNA Web Site [1] specialises in ribosomal RNA and intron RNA molecules. The Sprinzl tRNA database [2] specialises in tRNA molecules, the RNase P database [3] specialises in RNase P RNA molecules, and the SRP and tmRNA databases [4] specialise in SRP RNA and tmRNA molecules, respectively. Pseudobase [8] contains short RNA fragments that have pseudoknots. The RAG (RNA-As-Graphs) Database [9] classifies and analyses RNA secondary structures according to their topological characteristics based on the description of RNAs as graphs, but its collection of structures is very limited.
A number of previous databases contain three-dimensional (3D) RNA structures; however, as opposed to proteins, the number of solved RNA 3D structures is much smaller than the number of solved RNA secondary structures. (Only 18% of all RNA molecules we collected have known 3D structures.) As such, all these databases do not include molecules whose secondary structures are known but 3D structures are unknown; examples include: the RCSB Protein Data Bank [10], the Nucleic Acids Database [11], the RNA Structure Database [12] and the Structural Classification of RNA (SCOR) database [13]. NCIR [14] contains non-canonical base pairs in 3D RNA molecules. FR3D [15] provides a collection of 3D RNA structural motifs found in the RCSB Protein Data Bank. Finally, there are other RNA databases that provide RNA sequences, but no experimental structural information, such as the SubViral RNA Database [16], which contains a collection of over 2600 sequences of viroids, the hepatitis delta virus and satellite RNAs, but only mfold-predicted secondary structures.
RNA STRAND spans a more comprehensive range of RNA secondary structures than do previous databases. It currently provides highly accurate secondary structures for 4666 RNA molecules. Since some users of RNA STRAND will likely develop new thermodynamic models, prediction tools or statistical analyses, our data is exclusively determined by carefully conducted comparative sequence analysis [1], or by experimental methods such as NMR or X-ray crystallography [10]. All information has been obtained from publicly available RNA databases. Our goal in creating this database is to provide comprehensive information on structural features – such as types and sizes for stems and loops, pseudoknot complexity and base pair types – that can be interactively analysed or downloaded within and across functional classes of molecules. Such information could be used, for example, to understand what type of structural motifs are common in a specific set of RNA molecules; to estimate the accuracy of RNA secondary structure computational prediction methods; or to improve current thermodynamic models for RNA secondary structure prediction.
Construction and Content
Figure
2
describes the four main modules that comprise RNA STRAND. To create the database, we first collected the data from various external sources, then we processed the data and prepared it for a MySQL relational database. Next, we installed and populated the database, and finally we prepared dynamic web pages that interact with the database. In what follows we describe in detail the construction and content of each module.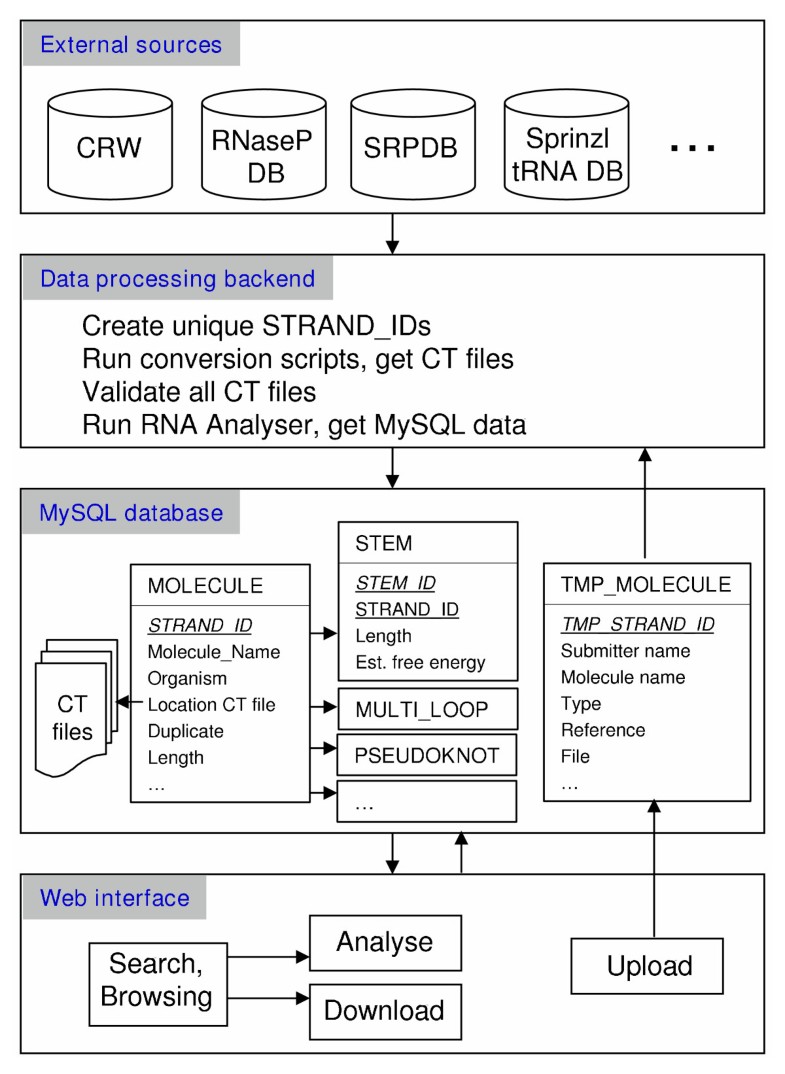 Conclusion
In this paper, we presented RNA STRAND, a new database for RNA secondary structure data that provides access to detailed information on known secondary structures as well as statistical analyses of structural aspects of various types of RNAs. We believe that such information will be useful in the context of understanding RNA structure and function; in particular, we expect it to further facilitate the development and evaluation of energy models for secondary structure prediction. Our database is flexible and extensible; it provides a convenient web interface to its major functions and supports searches according to many criteria, including properties of secondary structure elements. The database is publicly accessible and supports the submission of new RNA structures by the research community. We are committed to keeping RNA STRAND up-to-date with new structures that are added to the eight databases of provenance, and we invite submissions of all types of RNA secondary structures, which will help to further expand the database and increase its usefulness.
In the future, we intend to add RNA secondary structures obtained from the SHAPE technique [40, 41], and also to provide further search options such as searches by specific structural motifs.
Availability and requirements
RNA STRAND is publicly available at http://www.rnasoft.ca/strand. The RNA Secondary Structure Analyser, as well as the database tables, are available upon request from the authors.
Declarations
Acknowledgements
We thank Baharak Rastegari, Yinglei S. Zhao, Mohammad Safari and Jack Jia, who provided an efficient computer program for pseudoknotted structure parsing; Robin Gutell, Christian Zwieb, James Brown and Mathias Sprinzl for providing data and help with the CRW, SRPDB & tmRDB, RNase P DB and Sprinzl tRNA DB, respectively; Simon Moxon and Jennifer Daub for help using the Rfam database; Robert Giegerich and David Mathews for useful discussions; Alex Brown for help with the web interface; and Farheen Rawji for her work on an early version of the RNA Secondary Structure Analyser.
Funding for this work was provided by: Mathematics of Information Technology and Complex Systems Network of Centres of Excellence (to AC and HH); Natural Sciences and Engineering Research Council of Canada Discovery Grant Program (238788 to HH and 217192 to AC).
Authors' Affiliations
(1)
Department of Computer Science, University of British Columbia, Vancouver, Canada
Copyright
© Andronescu et al; licensee BioMed Central Ltd. 2008
This article is published under license to BioMed Central Ltd. This is an Open Access article distributed under the terms of the Creative Commons Attribution License (http://creativecommons.org/licenses/by/2.0), which permits unrestricted use, distribution, and reproduction in any medium, provided the original work is properly cited.