Research Article

Open Access
ExpaRNA-P: simultaneous exact pattern matching and folding of RNAs
BMC Bioinformatics
2014
15:404
Received: 4 August 2014
Accepted: 1 December 2014
Published: 31 December 2014
Abstract
Background
Identifying sequence-structure motifs common to two RNAs can speed up the comparison of structural RNAs substantially. The core algorithm of the existent approach ExpaRNA solves this problem for a priori known input structures. However, such structures are rarely known; moreover, predicting them computationally is no rescue, since single sequence structure prediction is highly unreliable.
Results
The novel algorithm ExpaRNA-P computes exactly matching sequence-structure motifs in entire Boltzmann-distributed structure ensembles of two RNAs; thereby we match and fold RNAs simultaneously, analogous to the well-known "simultaneous alignment and folding" of RNAs. While this implies much higher flexibility compared to ExpaRNA, ExpaRNA-P has the same very low complexity (quadratic in time and space), which is enabled by its novel structure ensemble-based sparsification. Furthermore, we devise a generalized chaining algorithm to compute compatible subsets of ExpaRNA-P's sequence-structure motifs. Resulting in the very fast RNA alignment approach ExpLoc-P, we utilize the best chain as anchor constraints for the sequence-structure alignment tool LocARNA. ExpLoc-P is benchmarked in several variants and versus state-of-the-art approaches. In particular, we formally introduce and evaluate strict and relaxed variants of the problem; the latter makes the approach sensitive to compensatory mutations. Across a benchmark set of typical non-coding RNAs, ExpLoc-P has similar accuracy to LocARNA but is four times faster (in both variants), while it achieves a speed-up over 30-fold for the longest benchmark sequences (≈400nt). Finally, different ExpLoc-P variants enable tailoring of the method to specific application scenarios. ExpaRNA-P and ExpLoc-P are distributed as part of the LocARNA package. The source code is freely available at http://www.bioinf.uni-freiburg.de/Software/ExpaRNA-P.
Conclusions
ExpaRNA-P's novel ensemble-based sparsification reduces its complexity to quadratic time and space. Thereby, ExpaRNA-P significantly speeds up sequence-structure alignment while maintaining the alignment quality. Different ExpaRNA-P variants support a wide range of applications.
Keywords
RNA bioinformatics
Structure-based comparison of RNA
Sparsification
Background
Genome-wide high-throughput transcriptomics has revealed evidence for massive transcription of eukaryotic genomes, vastly exceeding translation to proteins [1]-[3]. Ultimately, the ENCODE project [4] has established pervasive transcription of most of both strands of the human genome. Remarkably, while only a minor fraction of the transcripts codes for proteins, the majority of the non-coding RNAs (ncRNAs) are associated with function [5]. Nevertheless, the functional annotation is lagging behind strongly: reliable automated annotation pipelines exist only for subclasses of ncRNAs like tRNAs, microRNAs, or snoRNAs [6].
Recent computational screens, e.g. [7], reveal stable, conserved structures in a large part of ncRNAs, again pointing to function. The de novo RNA-gene finders qrna [8], MSARi [9], EvoFold [10], and RNAz [11] identify conservation of stable RNA structures in whole genome alignments; this can be boosted by structure-based realignment (REAPR [12]). Identifying RNAs with similar sequence and common secondary structure advances further towards the automatic annotation of non-coding RNAs. At genomic scale, clustering approaches like [13]-[15] identify remote members of RNA-families as defined in the Rfam database [16], and determine new classes of structurally similar – hence, likely functionally related – ncRNAs. Thus, all such analysis of RNAs relies on comparing RNAs.
Results and discussion
We implemented ExpaRNA-P and the chaining algorithm in C++. In particular, we implemented two versions of the traceback: the suboptimal traceback and a heuristic version that, for each match i ∼ k, considers only the optimal EPM ending at that match. Our tool supports two ways to control the EPM enumeration by the suboptimal traceback: either by defining the maximum score difference to the optimal score or the maximum number of EPMs.
In order to assess the performance of ExpaRNA-P, we designed the following pipeline: In a first step we compute the significant EPMs with ExpaRNA-P and use the chaining algorithm to extract from these EPMs an optimal non-overlapping and non-crossing subset. Then we compute a sequence structure alignment that includes all matches of the chained EPMs. For this purpose, we utilize the EPMs as anchor constraints for LocARNA. Consequently, LocARNA runs much faster, since each anchor reduces the alignment space. In correspondence with the analogous idea ExpLoc [30], which utilizes ExpaRNA anchors, we call our pipeline ExpLoc-P.
We performed all benchmarks over the pairwise alignment instances of the BRAliBase 2.1 benchmark set [44],[45]. To measure the quality of the calculated alignment in comparison to the (for each instance) known reference alignment, BRAliBase 2.1 [44] provides the scoring tool compalignp. It computes the similarity between the two alignments as sum-of-pairs score (SPS). Identical alignments receive the SPS score 1; alignments without any correspondence, 0. In this way, we evaluated different variants of our method and later compare them to existing tools. At the same time, we opposed quality to runtime.
Impact of EPM selection on the performance
Comparison to other tools
We benchmarked three existing approaches: LocARNA, ExpLoc [30], and RAF [29]. LocARNA without anchors serves as base line approach; in contrast to ExpLoc-P, ExpLoc identifies EPMs in a single predicted structure for each RNA (using ExpaRNA); and RAF is currently the fastest Sankoff-style alignment approach due to its heuristic filtering based on sequence alignments. We compared these approaches to ExpLoc-P variants 1 and 2, which performed best in the previous section.
Table
2
summarizes the results; we report the speedup over LocARNA, total runtime, and average alignment quality (SPS) across the entire benchmark set (Opteron 2356, 2.3 GHz, single thread). Figure
7
A shows the behavior of the compalignp score dependent on the sequence identity. LocARNA aligned with the best quality at the expense of the highest computation time. The best alignment quality that has been obtained with ExpLoc in [
30
] has been achieved with parameter minsize=10. Even this quality is significantly lower than the one for the two variants of ExpLoc-P (0.81 vs. 0.84 and 0.86). Moreover, the overall speedup for this setting is not much higher than the speedups for ExpLoc-P. Although RAF achieved the best speedup of 14.4, the quality drops tremendously for sequence similarities below 50%.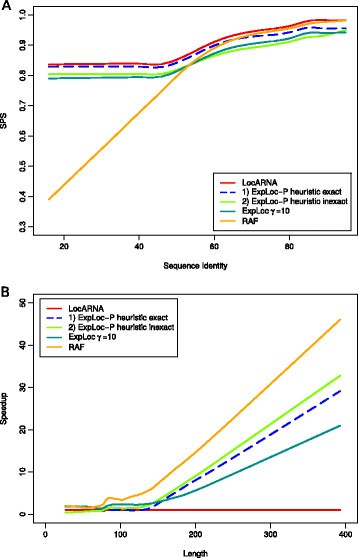 Table 2
Comparison of RNA alignment methods
| | LocARNA | ExpLoc-P | ExpLoc-P | ExpLoc | RAF |
| --- | --- | --- | --- | --- | --- |
| | | (variant 1) | (variant 2) | γ =10 | |
| Speedup | 1 | 3.9 | 4.6 | 5.0 | 14.4 |
| Runtime | 13.8 h | 3.5 h | 3.0 h | 2.8 h | 1.0 h |
| SPS | 0.87 | 0.86 | 0.84 | 0.81 | 0.86 |
The quality drop of RAF alignments at low sequence identities is strongly reminiscent of pure sequence alignment methods. Thus, we conjecture that the specific use of sequence-based heuristics by RAF, while guaranteeing sequence alignment like run-time behavior, compromises RAF's use for 'hard' RNA alignment instances that require structure-based alignment methods.
Furthermore, we investigated the dependency of the lengths of the input sequences on the speedup (see Figure 7B). As expected, the speedup increased for longer input sequences. For RNA sequences longer than 150 bases, we obtained a significantly better speedup with both variants of ExpLoc-P compared to ExpLoc. Moreover, the speedup difference increases with the lengths of the input sequences (Additional file 1: Figure S4 provides a detailed comparison of ExpLoc-P variants 1 and 2). For the longest input sequences, ExpLoc-P achieved respective speedups of 32 and 35 for variants 1 and 2, and RAF of almost 50.
To summarize, ExpLoc-P provided the best trade-off between alignment quality and speedup in this setting; robustly, it maintained high alignment quality over the entire range of sequence identities; finally, it proofed to be particularly suited for long instances.
Conclusion
We have introduced the algorithm ExpaRNA-P that very efficiently identifies exact pattern matches in RNAs by matching and folding them simultaneously. The method is a major achievement over previous approaches (including the "predecessor" ExpaRNA) that – without being more efficient – are much less flexible, since they require a priori known or unreliably predicted structure.
Due to its novel ensemble-based sparsification, the algorithm ExpaRNA-P has only a very low (quadratic) time and space complexity, equalling sequence alignment. This sparsification technique is particularly relevant, since similar techniques can likely be applied to other RNA analysis methods.
We have developed two major variants of this method; one requires strict matches in all positions of an EPM (strict EPMs), the other relaxes this (therefore, relaxed EPMs) to allow mismatches at structural positions. The latter supports compensatory mutations, which are highly relevant in RNA structure analysis in general.
Our benchmarks study EPMs as anchor constraints to speed up RNA structure alignments (in the form of simultaneous alignment and folding by LocARNA). EPMs from structure ensembles have turned out to be substantially more reliable than EPMs from fixed structures. At comparable speed ups, this results in increased quality. Most importantly, the novel approach keeps up the alignment quality even for sequences of low identity, which is ultimately decisive for structure alignment. In striking contrast, the alignment quality of the similarly fast alignment tool RAF breaks down – very much like pure sequence alignment.
We have implemented rigorous suboptimal traceback, which provides extensive control of the set of enumerated EPMs. For example, this level of control is required in the analysis of structural variants common to the RNAs. In addition, we have developed a heuristic traceback, which performs almost indistinguishable in our benchmark. Being much faster than the rigorous method, it offers the best speed-quality balance in such settings.
Finally, we conjecture that EPM-based anchor constraints can be combined advantageously with other RNA alignment tools such as RAF. While for LocARNA the constraints yield a considerable speedup, the combination with RAF has the potential to improve RAF's poor alignment quality for low sequence similarity.
Declarations
Acknowledgements
This work was partially supported by the German Research Foundation (BA 2168/3-3 and MO 2402/1-1), the German Federal Ministry of Education and Research (BMBF, grant 0316165A e:Bio RNAsys to RB), the National Science Foundation (Award 0904246 to GML), the Israel Science Foundation (grant 347/09 to GML), and the United States-Israel Binational Science Foundation (BSF) and DFG (grant 2008217 to GML). We thank the anonymous reviewers for their help to improve the paper. Finally, we acknowledge support from the German Research Foundation (DFG) and Leipzig University within the program of Open Access Publishing.
Authors' Affiliations
(1)
Bioinformatics, Institute of Computer Science, University of Freiburg, Freiburg, Germany
(2)
Bioinformatics, Department of Computer Science, University of Leipzig, Leipzig, Germany
(3)
Max Planck Institute of Immunobiology and Epigenetics, Freiburg, Germany
(4)
Department of Computer Science, University of Haifa, Haifa, Israel
(5)
Department of Computer Science and Engineering, NYU-Poly, Brooklyn, USA
(6)
Center for Biological Signaling Studies (BIOSS), University of Freiburg, Freiburg, Germany
(7)
Centre for Biological Systems Analysis (ZBSA), University of Freiburg, Freiburg, Germany
(8)
Center for non-coding RNA in Technology and Health, University of Copenhagen, Frederiksberg C, Denmark
Copyright
© Otto et al.; licensee BioMed Central. 2014
This article is published under license to BioMed Central Ltd. This is an Open Access article distributed under the terms of the Creative Commons Attribution License (http://creativecommons.org/licenses/by/4.0), which permits unrestricted use, distribution, and reproduction in any medium, provided the original work is properly credited. The Creative Commons Public Domain Dedication waiver (http://creativecommons.org/publicdomain/zero/1.0/) applies to the data made available in this article, unless otherwise stated.