Research article

Open Access
Identifying target processes for microbial electrosynthesis by elementary mode analysis
BMC Bioinformatics
2014
15:410
Received: 10 June 2014
Accepted: 3 December 2014
Published: 30 December 2014
Abstract
Background
Microbial electrosynthesis and electro fermentation are techniques that aim to optimize microbial production of chemicals and fuels by regulating the cellular redox balance via interaction with electrodes. While the concept is known for decades major knowledge gaps remain, which make it hard to evaluate its biotechnological potential. Here we present an in silico approach to identify beneficial production processes for electro fermentation by elementary mode analysis. Since the fundamentals of electron transport between electrodes and microbes have not been fully uncovered yet, we propose different options and discuss their impact on biomass and product yields.
Results
For the first time 20 different valuable products were screened for their potential to show increased yields during anaerobic electrically enhanced fermentation. Surprisingly we found that an increase in product formation by electrical enhancement is not necessarily dependent on the degree of reduction of the product but rather the metabolic pathway it is derived from. We present a variety of beneficial processes with product yield increases of maximal 36% in reductive and 84% in oxidative fermentations and final theoretical product yields up to 100%. This includes compounds that are already produced at industrial scale such as succinic acid, lysine and diaminopentane as well as potential novel bio-commodities such as isoprene, para-hydroxybenzoic acid and para-aminobenzoic acid. Furthermore, it is shown that the way of electron transport has major impact on achievable biomass and product yields. The coupling of electron transport to energy conservation could be identified as crucial for most processes.
Conclusions
This study introduces a powerful tool to determine beneficial substrate and product combinations for electro-fermentation. It also highlights that the maximal yield achievable by bio electrochemical techniques depends strongly on the actual electron transport mechanisms. Therefore it is of great importance to reveal the involved fundamental processes to be able to optimize and advance electro fermentations beyond the level of lab-scale studies.
Keywords
CathodeElectro synthesisBio productionMediatorNAD/NADHExtracellular electron transportElectro fermentationAnaerobic fermentation
Background
Metabolic redox limitations can be a crucial factor determining the viability of an industrial biotechnology process [1]. It could be shown, that increasing the amount of redox cofactors such as NADH or NADPH available to the microorganisms is an effective way to increase the product yield of reduced products such as propane [2],[3] and also of commonly produced feed amino acids, e.g. lysine [4]. One novel and very promising approach to optimize the cellular redox state for production is to stimulate the metabolism electrically and therefore direct electron flow to desired products. The technique, termed microbial electrosynthesis or electro fermentation, shows potential to increase the efficiency of microbial production by providing additional electron donors or acceptors to the cells [5],[6]. Even though nowadays already discussed as revolutionising future technology, little is known about its true potential as the fundamental processes still remain unclear [7],[8].
Before general process design steps can be approached, a better understanding of the overall net benefits of possible target processes is needed [7],[9]. These need to feature the production of a higher value carbon-body from a ubiquitous available cheap source by the investment of a reasonable amount of electric energy. While the first published electrically enhanced fermentations display in general proof-of-concept-studies, interesting substrate and product combinations still have to be investigated. The biggest challenge to drive microbial electrochemical technologies beyond fundamental studies is the optimisation of the microbial catalyst. Therefore the actual metabolic processes of microbe and electrode interaction need to be unveiled as they will not only decide about the choice of organism but might also play an important role for the achievable process benefit.
The research field of microbial fuel cells studies microbe-electrode interactions for many years. While key reactions could be identified a thorough understanding of the metabolic response to electrical enhancement has not been achieved yet [10],[11]. The focus of microbial electrosynthesis especially requires more knowledge about cathodic electron transport and extracellular electron transfer (EET) capabilities of model organisms for production such as E. coli.
For anodic EET of electrogens such as Geobacter and Shewanella two main mechanisms are identified: direct electron transfer, which is performed by direct contact between the electrode surface and cellular components of the outer membrane (usually cytochromes), and indirect EET, which includes all forms of electron transfer between electrode and organisms mediated by soluble electron carrier molecules [12],[13]. First studies on the cathode confirmed the possibility of donating additional electrons to the microbial metabolism by both EET mechanisms and its potential to increase production [5],[14]-[17]. But it was also found that the involved mechanisms for electron uptake differ significantly from the known electron donating mechanisms [10],[18],[19].
Regardless of the major carbon metabolic pathway the effect of electrical enhancement is typically assumed to result in an increase or decrease of intracellular redox factors such as NADH or NADPH [8],[11]. Electron transfer towards an anode is assumed to be coupled to energy conservation where the electrode functions as solid final acceptor during respiration [20],[21]. However the exact ratio of electrons and protons that are transported remains purely speculative. Furthermore, it is not known by which mechanisms non-metal-respiring organisms might transfer electrons to an anode and whether that transfer promotes ATP generation or not [22]. Even though there is even less information available about cathodic electron transfer there is a general concept proposed that assumes the creation of a proton motive force by intracellular electron consumption, which is available for ATP synthesis [5],[11],[23],[24]. In mediated electrically enhanced fermentations of Actinobacillus succinogenes Park and Zeikus observed an electron flow from the cathode into the product succinate [25]. Simultaneously, the electron transfer via the reduced mediator Neutral Red and the proton-pumping fumarate reductase complex of A. succinogenes induced proton translocation and therefore increased ATP synthesis [26]. While the activity of the proton pumping fumarate reductase of A. succinogenes is most likely solely responsible for the reported increase in proton flux through the ATPase complex, nowadays the theory about cathodic EET generally assumes that all electrons supplied by EET enter the cytoplasm as negative charge and catalyse intracellular, proton consuming reductions. Simultaneously, the proton consumption would lead to a proton gradient across the inner membrane that drives ATP synthesis [5]. But is this the only possibility? Observed is poor growth in very thin biofilms on cathodes [15],[18], which seems to be surprising if cathodic EET could deliver redox power as well as energy (NADH and ATP). So the questions are: Are the protons involved in cathodic electron transfer generally available for ATP generation? And does electron transfer towards an anode always occur by the respiratory chain which thereby creates a proton gradient? What other ways of EET could occur and how would this impact production?
Aim of this work is to present a useful analysis tool, which is able to identify beneficial production processes for microbial electrosynthesis, and at the same time enables insight into the energy conservation possibilities during anaerobic electrically enhanced fermentation. Using
in silico
approach to calculate the metabolic impact of different electron transport routes during electrically enhanced fermentation enables the evaluation of different mechanisms while current knowledge gaps remain. Pandit et al. recently presented a first computational approach that characterized the general role of bio electrosynthesis in chemical production using a genome scale metabolic model of
E. coli
[
24
]. Within their model it is assumed that cathodic electrons enter the metabolism and directly reduce NAD
+
to NADH. Analogous to the theory discussed before the authors precariously assume the creation of a proton motive force that drives ATP synthesis even though the fumarate reductase of
E. coli
is, unlike the one of
A. succinogenes,
a non-proton-pumping enzyme [
27
]. Not surprisingly they report an increase of ATP yield caused by electron supply. We regard extracellular electron transport coupled and uncoupled to ATP synthesis and discuss the properties of both options to boost the production of various valuable products. Four different electron transport scenarios for mediated cathodic and anodic EET are described in the following paragraph and are visualised in Figure
1
A and B.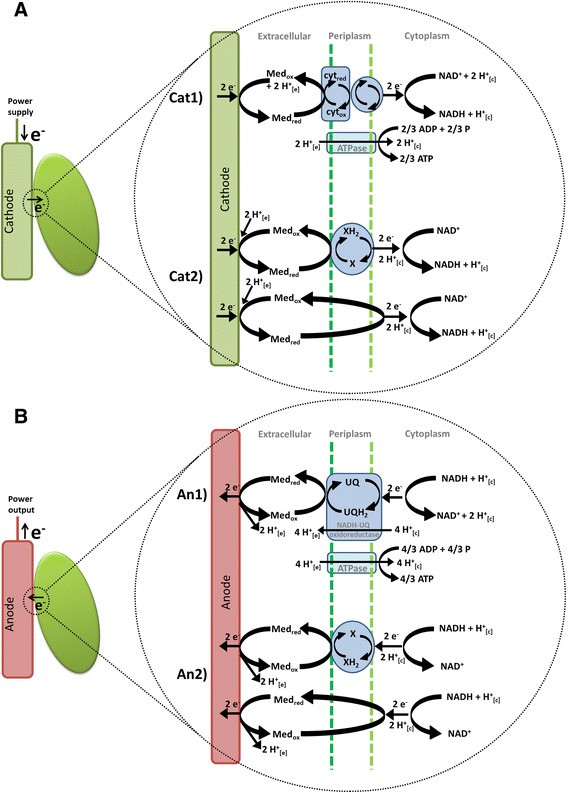 Cathode 1 (Cat1)
Mediator oxidation occurs on outer membrane cytochromes that transfer the electrons into the organism and finally onto NAD. Charge-imbalance creates driving force for 1 proton per electron to enter the cytosol and drive ATP-synthase (transport of 3 protons catalyses the generation of one molecule ATP).
Cathode 2 (Cat2)
The mediator transfers its electrons and protons directly onto NAD without creating a driving force for ATP synthesis. This could happen by diffusion into the cytoplasm or catalyzed by enzymes such as hydrogenases.
Anode 1 (An1)
Electrons from the Quinone-pool are transferred to the mediator molecule by membrane-bound cytochromes of the respiratory chain. Running the electron transport chain via Quinones creates a proton gradient that drives ATP synthesis.
Anode 2 (An2)
The anode acts like an electron sink by directly accepting electrons from NADH. This could happen either catalyzed by membrane-bound enzymes such as hydrogenases or by diffusion of the mediator into the cytoplasm.
Note that apart from the mediator diffusion model all models could theoretically also happen as direct electron transfer between the electrode surface and the cellular membrane.
Metabolic modelling by elementary mode analysis
We created core networks of metabolic carbon pathways to determine the effect of electrical enhancement through the different EET ways on production. The tool chosen for the metabolic analysis is elementary mode analysis (EMA), which determines all possible solutions of the metabolic matrix by calculating a unique set of so called elementary flux modes (efms) [28]. Each elementary flux mode pictures the proposed cellular metabolism in steady-state conditions and together all efms span the complete solution space for each network. Within this solution space we can determine maximum yields for certain products and reconstruct carbon fluxes within the network for example to study changes in by-product formation. The advantage of EMA over other modelling approaches is the calculation of ALL solutions rather than only one best solution (e.g. in flux balance analysis). Thereby we can not only assess theoretical maximum yields for production and biomass formation but are also able to compare all possible metabolic flux distributions, which presents a more holistic view of the impact of each EET model [29].
Elementary mode analysis is based purely on stoichiometry of the reaction equations and steady-state conditions of the organism. Therefore the solution space can be regarded as outer boundaries of the metabolic possibilities. Here we use this effectively to determine the maximum theoretical possible advantage of EET on production. Actual in vivo yields will lie inside the determined solutions space. However they will usually be lower than the theoretical maximum yield and will depend on many factors such as thermodynamics, enzyme kinetics, gene regulation and product toxicity, which are not taken into account here.
The presented metabolic analysis was implemented exemplarily for the central carbon metabolism of Escherichia coli as model organism for industrial biotechnology. Tools for its genetic modification are well established which makes it an attractive host for the production of various compounds. Even though E. coli does not show a comparable electrical activity to Geobacter or Shewanella species, it was shown to be able to exchange electrons with electrodes via soluble mediator molecules [30]-[32]. Furthermore recent studies report successful transfer of functional molecules from the electron transport chain of Shewanella oneidensis into E. coli and therefore suggest that the microbe could be modified for optimized electron exchange mechanisms [33],[34].
Results and discussion
In the following sections we present calculated carbon yields for the production of biomass and various valuable compounds including carboxylic acids, alcohols and aromatics via electrically enhanced fermentation. The initial idea of microbial electrosynthesis was to start from the fully oxidized substrate CO
2
and provide all electrons by an electrode. But a disadvantage of using CO
2
as sole substrate is the extremely high electron demand and energy limitation by the strictly anaerobic pathways such as the Wood Ljungdahl pathway. Hence many approaches regard the conversion of organic molecules from waste streams, such as acetate, lactate or glycerol by non-acetogenic organisms as more beneficial [
35
],[
36
]. Within this work we focus on microbial electrosynthesis from substrates other than CO
2
, mainly glucose and glycerol, a process which is often referred to as "electro fermentation" [
7
],[
37
]. Sugar fermentations are dominating in bio-industry and were therefore investigated to determine the potential of electrical enhancement to boost these processes [
38
]. As a second substrate of interest glycerol was chosen as it represents a cheap C-source often produced as a waste in biodiesel production [
39
]. Its more reductive state compared to glucose suggests it could result in higher yields when converted into more reduced compounds and require less additional electrons [
40
]. A current review by Jang et al. summarizes important C2-C6-products and their biological production [
38
]. We implemented all anaerobic production pathways in our metabolic network and analysed the theoretical yields of each compound under electrical enhancement. Figure
2
shows the metabolic fluxmap of the presented
E. coli
carbon network including all product pathways. A full list of all maximum product yields, with and without biomass formation as well as the number of computed
elementary flux modes
for each substrate and product combination can be found in Additional file
1
.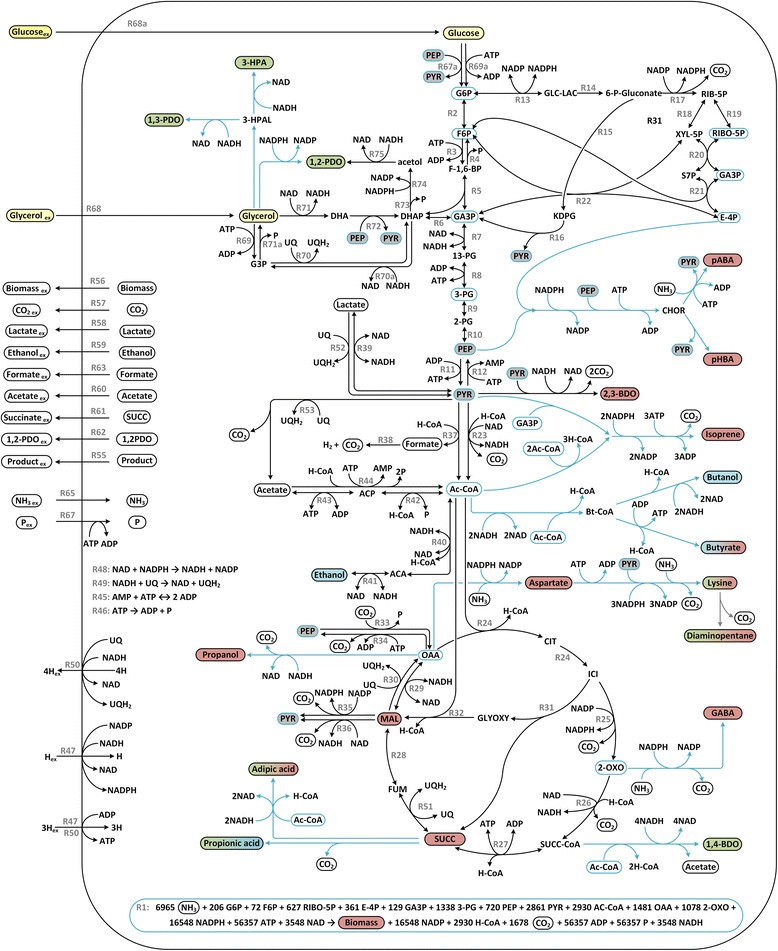 Conclusions
To understand benefits and limitations of microbial electrosynthesis a detailed understanding and analysis of the involved metabolic processes is needed. The presented analysis is the first published approach to methodically screen bio-production processes for their potential benefit from electrical enhancement and could successfully identify 18 target products with possible product yield increases between 7% and 84%. Even though in vivo yields will usually be lower than the here presented theoretical maximum yields these examples show a great potential of microbial electrochemical techniques to boost anaerobic glycerol and sugar fermentation. Contrary to the assumption reduced compounds such as bio-fuels and alcohols would always require electron input we revealed 12 production processes that show increased product yields on an anode while only 6 of the 20 studied products benefit from additional electron supply. Due to the anoxic fermentation conditions required for an electrically enhanced process intracellular NADH levels are increased, so that in most cases an overall surplus of redox equivalents is accumulated. A benefit from cathodic EET is only seen for production pathways that purely rely on NADH input (e.g. 1,2-PDO, 1,3-PDO, 3-hydroxypropionic acid) while other products even though further reduced than the substrate are limited by redox surplus and/or energy requirements (e.g. propanol, 2,3-butanediol).
The accumulation of NADH during anaerobic growth could also explain the poor growth performance observed for cathodic cultures. Our analysis shows that the presence of an anode promotes biomass formation while electron supply by a cathode limits the metabolic options of the organism during growth. This limitation could possibly be turned into a benefit by coupling growth to production as explained for the example of the anaerobic conversion of glycerol to 1,3-PDO on a cathode.
The elementary mode analysis does not only identify target processes but also highlights the major importance of electron transport mechanism and its coupling to energy conservation. For the majority of products a crucial dependence of maximum achievable product yield and ATP availability was detected. Therefore it is important to direct the focus of current research in the microbial electrosynthesis community towards fundamentals of electron transport as these are needed to be understood to design processes that approach the full potential of microbial electrochemical techniques.
Methods
The basic E. coli core model used for the in silico analysis includes: Embden–Meyerhof–Parnas pathway/glycolysis, glycerol degradation, Entner–Doudoroff pathway, pentose phosphate way, tricarboxylic acid cycle, glyoxylic shunt, anaplerotic reactions, anaerobic fermentation, electron transport chain, import and export reactions and interaction with a soluble electron carrier (see Figures 1 and 2). For the production of industrial relevant products that are not metabolites of the main network, engineered pathway branches for production were implemented. Because oxygen will lead to abiotic current production in most cathodes, we assumed anaerobic conditions as a technical requirement and performed all calculations under anaerobic conditions.
The main network includes 57 metabolites, 75 Reactions (24 reversible) and we calculated up to 215,000 efms per scenario. The full networks can be found in the supplementary information (Additional file 1).
The stoichiometric analysis of metabolic networks was performed based on the elementary mode analysis framework introduced by Schuster et al. [
59
] The java implemented free software
efmtool
(version 4.7.1) [
60
] was used within MATLAB, MathWorks (version R2012a), to compute for each network the elementary flux modes which represent all possible and unique steady-state flux distributions the network could have based on reaction stoichiometry. It does not take regulatory or thermodynamic constraints into account, which means that the theoretical maximum yields are the absolute maximum possible and that
in vivo
yields will very likely be lower. Nevertheless, it represents the most reliable estimate of the capacity of a network. The operational mode that shows maximum possible carbon flux from substrate into product is referred to as
top mode
. Maximal theoretical yields for biomass or a certain product are obtained by calculating the carbon balance of all carbon containing substrates entering the network and the carbon containing products leaving the network:
Where flux product is the reaction rate for products leaving; flux substrate the reaction rate for substrate uptake and carbon product and carbon substrate the number of carbon atoms in the product and substrate molecules, respectively.
Abbreviations
2:

3-BDO: 2,3-Butanediol
DoR:

Degree of reduction
EET:

Extracellular electron transfer
efm(s) :

Elementary flux mode(s)
pABA:

para-Aminobenzoic acid
1:

2-PDO: 1,2-propanediol
1:

3-PDO: 1,3-propanediol
pHBA:

Para-Hydroxybenzoic acid
Declarations
Acknowledgements
The authors want to thank The University of Queensland and the Australian Research Council (DE120101549) for financial support.
Authors' Affiliations
(1)
Centre for Microbial Electrosynthesis, The University of Queensland, Brisbane, Australia
(2)
Advanced Water Management Centre, The University of Queensland, Brisbane, Australia
Copyright
© Kracke and Krömer; licensee BioMed Central. 2014
This article is published under license to BioMed Central Ltd. This is an Open Access article distributed under the terms of the Creative Commons Attribution License (http://creativecommons.org/licenses/by/4.0), which permits unrestricted use, distribution, and reproduction in any medium, provided the original work is properly credited. The Creative Commons Public Domain Dedication waiver (http://creativecommons.org/publicdomain/zero/1.0/) applies to the data made available in this article, unless otherwise stated.