SubPatCNV: approximate subspace pattern mining for mapping copy-number variations
BMC Bioinformatics
2015
16:16
Received: 8 August 2014
Accepted: 11 December 2014
Published: 16 January 2015
Abstract
Background
Many DNA copy-number variations (CNVs) are known to lead to phenotypic variations and pathogenesis. While CNVs are often only common in a small number of samples in the studied population or patient cohort, previous work has not focused on customized identification of CNV regions that only exhibit in subsets of samples with advanced data mining techniques to reliably answer questions such as "Which are all the chromosomal fragments showing nearly identical deletions or insertions in more than 30% of the individuals?".
Results
We introduce a tool for mining CNV subspace patterns, namely SubPatCNV, which is capable of identifying all aberrant CNV regions specific to arbitrary sample subsets larger than a support threshold. By design, SubPatCNV is the implementation of a variation of approximate association pattern mining algorithm under a spatial constraint on the positional CNV probe features. In benchmark test, SubPatCNV was applied to identify population specific germline CNVs from four populations of HapMap samples. In experiments on the TCGA ovarian cancer dataset, SubPatCNV discovered many large aberrant CNV events in patient subgroups, and reported regions enriched with cancer relevant genes. In both HapMap data and TCGA data, it was observed that SubPatCNV employs approximate pattern mining to more effectively identify CNV subspace patterns that are consistent within a subgroup from high-density array data.
Conclusions
SubPatCNV available through http://sourceforge.net/projects/subpatcnv/is a unique scalable open-source software tool that provides the flexibility of identifying CNV regions specific to sample subgroups of different sizes from high-density CNV array data.
Keywords
DNA copy-number variationsApproximate pattern miningHapMapCancer
Background
DNA copy-number variations — deletion or amplification of DNA segments — are one type of structural aberrations that could lead to phenotypic variations and pathogenesis. For example, it has been previously reported that many CNVs are responsible for cellular function abnormalities in cancer [1,2]. Being able to characterize and identify these causal CNVs is essential in understanding the molecular mechanisms of cancer for developing effective treatment. Advanced high-throughput genomic technologies for array-based comparative genomic hybridization (CGH) or genotyping arrays are capable of running genome-wide studies to characterize copy-number variations. CNV data analysis is becoming increasingly important as more and more CNV data are accumulated for international effort in cancer in The Cancer Genome Atlas (TCGA) and population genetics studies in HapMap [3]. However, as an important source of genetic variations spanning a larger fraction of genome than single nucleotide polymorphisms (SNPs), CNV data was under utilized in those studies. Previous studies taking advantage of the high-throughput technology to identify driver CNVs share little agreement and, as such, the results are difficult to decipher [4,5] given the uncertainties in CNV data analysis by different computational methods, in particular, heuristic evaluations of an exponential number of combinations of regions of consecutive probe features in arbitrary subsets of samples. It is evident that advanced data mining algorithms, similar to those methods for difficult SNP analysis problems in GWAS [6], are in great needed for CNV analysis.
In this paper, we introduce a tool for mining CNV subspace patterns called SubPatCNV. The pattern mining methodology that SubPatCNV is built upon overcomes the computational demand of evaluating an exponential number of patterns. Specifically, SubPatCNV is an approximate association pattern mining algorithm [7] under a spatial constraint on the copy-number variation probe features. The approximate association pattern mining framework allows consideration of large, common CNV regions across patient subsets as well as exhaustive analysis of all potential aberrant CNV regions. SubPatCNV provides the flexibility to identify aberrant CNV regions that are specific to a subset of patients and correlates clinical variables to patient subsets for cancer subtype discovery.
To evaluate how effectively SubPatCNV can detect CNV patterns relevant to true patient subgroups as a benchmark test, SubPatCNV was applied to analyze a collection of HapMap samples of high-density arrays. In the test, SubPatCNV was capable of detecting large germline CNV patterns in which the support samples are only specific to one of the four populations in the HapMap samples. SubPatCNV was further tested on ovarian cancer CNV datasets to demonstrate its application in cancer studies. SubPatCNV reported CNV regions highly enriched with cancer-relevant genes.
Methods
This section describes the methodology of SubPatCNV for data preparation, approximate pattern mining and implementation. Figure
1
outlines the workflow of SubPatCNV.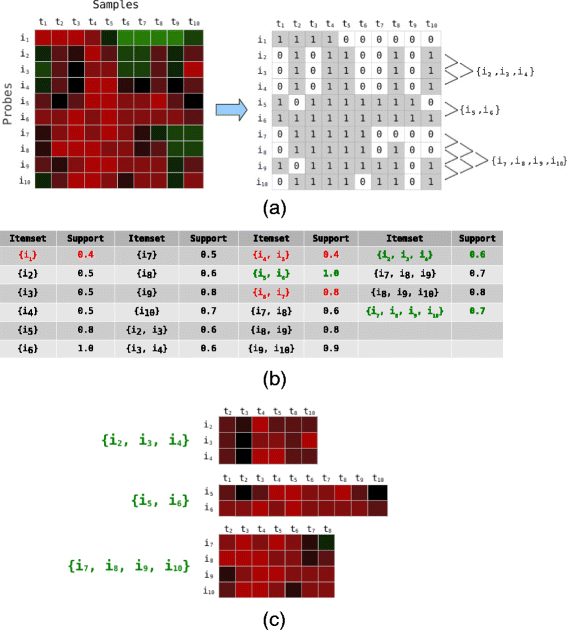 Results
Since there is no ground truth in available large-scale CNV datasets, directly benchmarking the performance of frequent CNV discovery is not possible. Instead, we benchmarked the performance of frequent CNV discovery by SubPatCNV on HapMap data [3] by utilizing the population information as a measure of the quality of the discovered frequent CNV patterns. We expect that frequent patterns which are true germline CNV patterns in some population(s) will show population preferences. To demonstrate SubPatCNV's applicability to cancer CNV analysis, we also performed experiments on the TCGA ovarian cancer dataset.
Discussions and conclusions
In this paper, we motivate and introduce a new copy-number variation discovery software tool called SubPatCNV. This tool is based on different fundamentals compared with other existing methods since it is built on approximate association pattern mining techniques and takes advantage of the inherit correlation between log-intensity values of nearby probes to improve the pruning strategy in order to search through very large CNV datasets. SubPatCNV are excel in identifying all CNV events as a coherent regions specific to sample subgroups. In Additional file 1: Table S1, we report the overall density of CNV patterns in the chromosomes. The densities varies by the cutoff for binarization and support but are comparable to the 0.5% density of the HapMap Consortium CNV calls (http://hapmap.ncbi.nlm.nih.gov/downloads/cnv_data/). For example, when the binarization is 1% density and the support is 0.1, the overall density of the CNV patterns is also 0.5%. The comparison shows that the CNV discovery trends with segmentation of individual samples or pattern discovery of subgroups are consistent with the HapMap data.
Note that GISTIC and JISTIC were primarily developed to identify recurrent CNVs, which are not necessarily coherent patterns. Thus, the primarily focus of the comparison with JISTIC in the experiments on the HapMap data is to show that SubPatCNV is a more appropriate tool to identify CNVs in population stratification. The same conclusion also applies to cancer CNV data if the primary goal is to detect the same patterns. However, in general, SubPatCNV probably will not perform better than GISTIC or JISTIC to identify recurrent cancer CNVs regardless of whether the CNVs in a region co-occur. In addition, another limitation of SubPatCNV is absence of the overall significance of the patterns. Evaluation of the statistical significance of pattern mining requires advanced statistical approaches such as swap permutations, multiple testing correction and holdout set evaluation [22,23], which are often not directly applicable in large real datasets with approximate patterns. Other advanced methods such as large-margin-based clustering [24] can detect subsets with globally similar CNV profiles without focusing on detecting local patterns. Thus, SubPatCNV is a useful unique tool that is highly supplementary to the existing tools.
Recently, the new generations of DNA sequencing technology also provide short read data for CNV detection. Previous work demonstrated that when a reference data is available, CNV detection from the short reads is also reliable. In the future, we will extend SubPatCNV to include a second module to handle short read data for the same analysis.
Availability and requirements
Project name: SubPatCNV Project website: http://sourceforge.net/projects/subpatcnv/ Operating system(s): Platform independent Programming language: C++ / MATLAB Other requirements: None License: Free Any restrictions to use by non-academics: None
Abbreviations
CNV:

Copy number variations
ETI:

Error tolerant itemset
arrayCGH:

Array-based comparative genomic hybridization
SubPatCNV:

Subspace patterns for copy-number variation discovery
TCGA:

The cancer genome atlas
GISTIC:

Genomic identification of significant targets in cancer
Declarations
Acknowledgements
We sincerely thank the anonymous reviewers for constructive comments. This work is supported by NSF grant # IIS1117153 and NSF grant # IIS0916439. GF was supported by a University of Minnesota Rochester Biomedical Informatics and Computational Biology Program Traineeship Award. The results published in this paper are in part based upon data generated by The Cancer Genome Atlas established by the NCI and NHGRI: http://cancergenome.nih.gov/.
Authors' Affiliations
(1)
Department of Computer Science and Engineering, University of Minnesota, Minneapolis, USA
(2)
Department of Genetics and Genomic Sciences, Mount Sinai School of Medicine, New York, USA
Copyright
© Johnson et al.; licensee BioMed Central. 2015
This is an Open Access article distributed under the terms of the Creative Commons Attribution License (http://creativecommons.org/licenses/by/2.0), which permits unrestricted use, distribution, and reproduction in any medium, provided the original work is properly credited. The Creative Commons Public Domain Dedication waiver (http://creativecommons.org/publicdomain/zero/1.0/) applies to the data made available in this article, unless otherwise stated.