Research article

Open Access
Systematic computation with functional gene-sets among leukemic and hematopoietic stem cells reveals a favorable prognostic signature for acute myeloid leukemia
BMC Bioinformatics
2015
16:97
Received: 1 August 2014
Accepted: 24 February 2015
Published: 24 March 2015
Abstract
Background
Genes that regulate stem cell function are suspected to exert adverse effects on prognosis in malignancy. However, diverse cancer stem cell signatures are difficult for physicians to interpret and apply clinically. To connect the transcriptome and stem cell biology, with potential clinical applications, we propose a novel computational "gene-to-function, snapshot-to-dynamics, and biology-to-clinic" framework to uncover core functional gene-sets signatures. This framework incorporates three function-centric gene-set analysis strategies: a meta-analysis of both microarray and RNA-seq data, novel dynamic network mechanism (DNM) identification, and a personalized prognostic indicator analysis. This work uses complex disease acute myeloid leukemia (AML) as a research platform.
Results
We introduced an adjustable "soft threshold" to a functional gene-set algorithm and found that two different analysis methods identified distinct gene-set signatures from the same samples. We identified a 30-gene cluster that characterizes leukemic stem cell (LSC)-depleted cells and a 25-gene cluster that characterizes LSC-enriched cells in parallel; both mark favorable-prognosis in AML. Genes within each signature significantly share common biological processes and/or molecular functions (empirical p = 6e-5 and 0.03 respectively). The 25-gene signature reflects the abnormal development of stem cells in AML, such as AURKA over-expression. We subsequently determined that the clinical relevance of both signatures is independent of known clinical risk classifications in 214 patients with cytogenetically normal AML. We successfully validated the prognosis of both signatures in two independent cohorts of 91 and 242 patients respectively (log-rank p < 0.0015 and 0.05; empirical p < 0.015 and 0.08).
Conclusion
The proposed algorithms and computational framework will harness systems biology research because they efficiently translate gene-sets (rather than single genes) into biological discoveries about AML and other complex diseases.
Keywords
Functional gene-set
Dynamic network biomarker
Relative effect analysis
Leukemic stem cell
AML outcome
Background
Acute myeloid leukemia (AML) has a high mortality rate. Leukemic stem cells (LSC) represent a rare self-renewing cellular subpopulation in each AML. Their chemo-resistant properties are associated with adverse outcomes [1,2]. However, the key events that confer stem cell-like characteristics to LSCs remain unclear. Still, gene expression markers for LSC among studies lack reproducibility, although the characterization of these genes is likely to reveal novel and tractable targets to improve treatment outcomes [3-5].
We hypothesize that one main limitation is that there is no definitive method to isolate LSC from bulk cell samples, and therefore, methods attempting to identify LSC signature are limited by cell heterogeneity. To overcome this problem, we have developed a novel computational systems biology analysis framework. This framework has a four-fold advantage: i) It enables multi-resource data integration and biologically functional interpretation by working on the scale of functional gene-sets; ii) It defines a cluster of functionally interpretable gene-sets shared among LSC populations generated by different labs; iii) It identifies mutual functional relationships from a network of spatiotemporally (disease developmentally) dynamic expression; iv) It provides a personalized leukemic prognostic indicator derived from the identified gene-set clusters. Here, we present the method and demonstrate its application to identify a common LSC signature. The identified LSC-associated biomarkers have a direct link to biological interpretation and clinical application.
First, to facilitate multi-resource data integration and biologically functional interpretation, knowledge-centric analysis (or the analysis of gene-sets) was developed by us and others, e.g., GSEA (Gene Set Enrichment Analysis) [6-8]. The analysis of gene-sets is superior to single-gene analysis in regard to noise and dimension reduction, as well as its desired biological interpretability [9]. However, most gene-set analysis methods impose inherent limits on low cross-dataset comparison or reproducibility from gene-by-sample measurements, as only the genes measured by all collected platforms can be interrogated together. Improved gene-set analyses condense transcriptomic data from gene-by-sample measurements (gene profiles) to gene-set-by-sample measurements (gene-set profiles), which are gene-coverage-difference tolerable and a breakthrough in genome analytics coordinates. Such gene-set-by-sample analyses facilitate the integration and analysis of multiple datasets, platforms, or layers of omics-data, by assigning them into a uniform gene-set scale [10-13]. Some transcription-focused methods, such as GSVA (Gene Set Variation Analysis), condense gene expression values into gene-set scores by evaluating sample-wise enrichments. Yet an open question is the sample-wised statistics before calculating gene-set scores, which limits a mechanistic representation of individual samples. To overcome these deficiencies, we have developed a gene-set-by-sample algorithm, FAIME (Functional Analysis of Individual Microarray (or RNA-seq) Expression) [7,8]. Note that for each sample, FAIME compares the cumulative effects of genes inside a gene-set with the effects of those outside. Additionally, FAIME employs an expression-based weight to rectify biases introduced by low-valued genes [14], and thus quantifies gene-sets primarily according to its highly expressed gene members. However, sensitivity remains a challenge as, at a significance level of false discovery rate (FDR) of 0.05, FAIME could identify hundreds of gene-sets, an impractical number for wet-lab validation. Therefore, we introduce in this study a new weighting parameter into the FAIME algorithm to better control the type-I error, especially for small gene-sets. Additionally, the integration of microarray and RNA-seq data is a new task that we have performed in this study, given the increase in their publication and availability.
Second, dynamic network biomarker (DNB) analysis has been developed on the gene level to address the challenge of temporal and spatial gene expression profiling. It identifies the disease biomarkers leading the whole system from the normal state to a disease state [15,16]. Here, we demonstrate the first dynamic network biomarker analysis on the gene-set level (termed dynamic network mechanism – DNM analysis). These gene-set-based network-relationship dynamics (rather than the static featured single gene-set up- or down-regulations) translate seemingly uninterpretable genomic data into distinct clinical prognoses. In particular, the identified gene-sets define a new biomarker for the characterized stem cell sub-population.
Finally, the goal of cancer treatment is to improve outcomes by earlier diagnosis and targeted therapy for each patient. We have developed the relative expression concept to build a personalized prognostic indicator on the gene level [17,18]. In this study, we expand the concept of relative expression to gene-set clusters and identify a prognostic indicator evaluated by three large cohorts. Meta-analysis is a powerful solution in identifying common LSC signatures shared among different LSC subpopulations with the challenge of small sample size and high cell heterogeneity. In this study, we pool sorted samples from eight labs, including microarray and RNA-seq data, into three groups: HSC+ (verified hematopoietic stem cells enriched, n = 23), LSC+ (LSC enriched, n = 77), and LSC- (LSC depleted, n = 59) cells. Enlarged sample size ensures reliable detection.
Molecular Signature Database (
MSigDB
) [
19
] is the most popular gene-set database that defines groups of genes associated with a common function, pathway or other characteristics using biological evidence. Built on MSigDB-defined gene-sets and the above four strategies (Figure
1
), we generated gene-set profiles using FAIME (with a weighting parameter) and identified a cluster of three gene-sets with 30 genes representative for LSC-. We also generated gene-set profiles using the GSVA method and identified another cluster of three functional gene-sets with 25 genes in LSC+. The genes within each cluster of gene-sets display simultaneous co-variation with high mutual correlation exclusively within the corresponding cell subpopulations. Using available samples of primary AML patients, we further assessed the clinical relevance by prognosis and the biological relevance by ontology for both gene sets.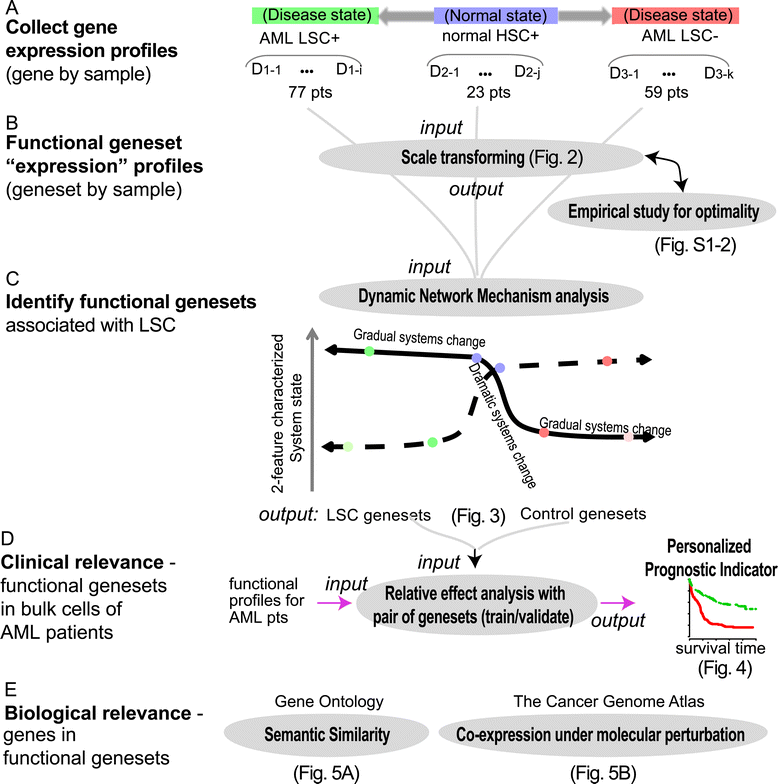 Conclusion
Computational strategies
Diverse signatures derived from the analysis of LSC gene expression profiles at the gene level confirm the heterogeneity of AML [5]. However, analyzing functional gene-sets can reveal common networks that are important for regulating LSC functions [39]. By meta-analysis and inter-dataset normalization, we have improved the reproducibility of characterizing clinically relevant LSC-signatures on the gene-set level. The other advantage of gene-set based algorithms is their ability to build functional profiles, facilitating computational identification and subsequent biological interpretation [7,21]. Building on gene-set-by-sample profiles, we successfully integrated microarray and RNA-seq data and performed two novel gene-set-analysis methods to reveal critical gene-sets for disease diagnosis and prognosis.
A precise gene-set-by-sample profile is a necessary prerequisite for functional class scoring approaches (reviewed by Khatri et al. [40]). It is the pan-genome weighting approach that more heavily weights highly-expressed genes and thus distinguishes FAIME.α from other gene-set analysis methods. Specifically, it biases of not only extremely high-valued genes by ranking but also the noise of low-valued genes by weighting, per sample. GSVA, on the other hand, heavily weights the two-tails of statistics and is sample-wise dependent [21]. FAIME.5 is an improved gene-set algorithm characterized by individualized, non-parametric, and un-supervised statistic (i.e., without the use of sample-wise estimation of differential expression).
We introduced novel dynamic network biomarker analysis on the gene-set level (DNM analysis) to represent LSC sub-populations. The identified gene-sets define new biomarkers for the regulation of stem cell function in AML, by characterizing dynamic features rather than the static differences. DNM has the ability to discovery significant regulatory changes of functional gene-sets across disease progression stages. By taking into account of a critical transition from normal state to disease state during cell development, DNM outperforms other gene-set analytic strategies in capturing critical signatures. The proposed RXA-GSP (Relative Effect Analysis with Functional gene-set-Group Pairs algorithm) is a parameter-free model with respect to gene-sets and is designed to bridge cancer biology from the lab to the clinic [17,18]. It can be extended to other applications when analyzing biological imbalance within a patient. RXA-GSP naturally fits the "two-hit hypothesis" for malignancy: one leads to uncontrolled cellular proliferation and evasion of apoptosis and the other adjusts inhibition of differentiation [41]. It is particularly useful for efficiently translating microarray or RNA-seq data to clinical discoveries.
Altogether, researchers can apply these proposed computational strategies to study other diseases in a systematic "gene-to-function, snapshot-to-dynamics, and biology-to-clinic" framework. Previously, we have successfully demonstrated the application of gene-to-function (FAIME) on head and neck cancer, snapshot-to-dynamics (DNB) on diabetes, and biology-to-clinic (RXA-GSP) on breast cancer [7,16,17]. Increasing evidence suggests the feasibility of analyzing an individual's transcriptome on a pathway-level for clinical decision-making and precise mechanism comprehension. Additionally, different methods perform differently under different conditions or parameter settings in their ability to detect the complex abnormality in cancer. Researchers need to make ad hoc modifications and select among analysis algorithms to make biological discoveries.
Biological discoveries
This work sheds promising insight into gene-set profiles by defining the LSC- signature of 30-gene and the LSC+ signature of 25-gene for prognosis in AML. These signatures suggest potential therapeutic regimens to eradicate quiescent, chemotherapy-resistant LSCs, because they exhibit two key characterizes - independence of cell cycle status and not substrates for drug efflux pump proteins [39]. The LSC- signature of 30-gene exposed a promising molecular target, AURKA [26,27], to potentially eliminate chemotherapy-resistance in LSC. The LSC+ signature of 25-gene included known cancer genes in the 12p13-p11.1 region [32] as well as genes in the 5q31.1 region [29] that are known to be associated with myelodysplastic syndrome and AML. The only common gene from both signatures, myeloperoxidase (MPO), is implicated as a biomarker for favorable prognosis in AML and its transcription levels reflect epigenetic modification [42]. This is not surprising because MPO is known to be expressed by the myeloid lineage in AML but not in HSC [43]. Given the complex system changes in tumor progression, we expect that new gene-set clusters could be prioritized using alternative GSEA methods.
The two identified clusters of gene-sets significantly predicted overall survival for 1478 primary AML patients, regardless of the inter-patient and intra-patient variability of AML phenotypes. Their prognostic independence is consistent with the published LSC-derived prognostic signature. However, previously identified genes are associated with adverse prognosis in AML [22]. Our results suggest that the regulation of stem cell function in AML also contains a favorable prognostic component. Notably, the ability of LSC- representative gene-sets to significantly stratify 548 patients with cytogenetically normal AML is intriguing for precision medicine, as cytogenetically normal AML is difficult to stratify for patient outcomes. Evidence from the literature further supports clinical relevance of the identified DNM gene-sets and the selected control gene-sets. These LSC- control gene-sets included published LSC highly-expressed genes that were previously associated with unfavorable event-free survival in patients with AML [22]. The LSC+ control gene-sets included fenretinide-down-regulated genes that were significantly correlated with poor-prognosis in AML patients [44]. In contrast, the LSC- DNM gene-sets are down-expressed in LSC and consist of genes indicating good outcome (and/or) genes being repressed by forskolin or IL2, two AML drugs that stop blood cell differentiation or induce prolonged remissions in advanced AML [45]. Genes associated with the Scp2 GWAS study [29] are potential new drug targets according to our results.
Genes from the identified functional gene-sets significantly share biological processes and molecular functions, suggesting a new aspect of stem cell biology. The questions of how these genes coordinate in the regulation of stem cell function or determine "stemness" warrant future investigation. We confirmed the biological co-expression of the LSC+ signature of 25-gene in AML patients carrying positive RAS molecular activity. As previous publications attest, it was RAS molecular activity rather than gene mutation that disturbed the identified LSC+ signaling and showed a prognostic factor.
In conclusion, LSC, or leukemia-initiating cell is a rare cellular subpopulation that must be eradicated to cure a patient of leukemia. However, their underlying mechanisms remain a biological conundrum, partly due to limited sample size and inter-patient and intra-patient variability. This study proposes a comprehensive knowledge-driven systematic analysis to functionally characterize LSC collected by different laboratories, followed by a novel dynamic network analysis. Two identified LSC- subpopulation-specific gene-set clusters, showing significant biological and clinical relevance, have been validated independently. The proposed framework extends our ability to re-use multiple layers of "omics"-data, to derive a new gene-set from coordinated gene-sets, and to discover new prognostic indicators, thus bridging cancer biology in the lab and the clinic.
Abbreviations
AML:

Acute myeloid leukemia
CGP:

Chemical and genetic perturbations
CtI:

'Inter-module' co-variation within this sample group t
CtO:

'Cross-module' co-variation between this sample group t and control group
DNB:

Dynamic network biomarker
DNM:

Dynamic network mechanism
SD:

Standard deviation
ELN:

European LeukemiaNet
FAIME:

Functional analysis of individual microarray (or RNA-seq) expression
FDR:

False discovery rate
IPA:

Ingenuity pathway analysis
GO:

Gene ontology
GS:

Gene set
GSEA:

Gene set enrichment analysis
GSVA:

Gene set variation analysis
HSC+:

Verified hematopoietic stem cells enriched
LSC:

Leukemic stem cell
LSC+:

LSC enriched
LSC-:

LSC depleted
MSigDB:

Molecular signature database
PCC:

Pearson correlation coefficients
RXA-GSP:

Relative effect analysis with gene-set pairs
Declarations
Acknowledgements
We thank Dr. Gangqing Hu from National Heart, Lung and Blood Institute, NIH, for providing the RPKM values for one CD34+ RNA-seq data, Peter J.M. Valk, Ruud Delwel, and Bob Lowenberg from Department of Hematology, Erasmus University Medical Center, Rotterdam, the Netherlands, for providing the detailed survival information of their patients in the dataset GSE14468 to support our secondary data analyses. We acknowledge The Cancer Genome Atlas Consortium for providing detailed raw data. We thank Joshua Stevens_Stein for his assistance editing this manuscript.
This work was supported by the National Institutes of Health [R21 CA167305-01A1 to Y.X., B.W., C.J, C.M.J]; 973 Project of China [2014CB910504 to C.L.], National Natural Science Foundation of China [61134013, 91029301, and 11326035 to C.L.], the Knowledge Innovation Program of CAS [KSCX2-EW-R-01 to C.L.], and 863 Project [2012AA020406 to C.L.]. Funding for open access charge: National Institutes of Health [R21 CA167305-01A1].
Authors' Affiliations
(1)
Department of Pediatrics, and Comer Children's Hospital, Section of Hematology/Oncology, The University of Chicago, Chicago, USA
(2)
Key Laboratory of Systems Biology, Institute of Biochemistry and Cell Biology, Shanghai Institutes for Biological Sciences, Chinese Academy of Sciences, Shanghai, China
(3)
Department of Medicine, The University of Chicago, Chicago, USA
(4)
Laboratory Schools, The University of Chicago, Chicago, USA
Copyright
© Yang et al.; licensee BioMed Central. 2015
This is an Open Access article distributed under the terms of the Creative Commons Attribution License (http://creativecommons.org/licenses/by/4.0), which permits unrestricted use, distribution, and reproduction in any medium, provided the original work is properly credited. The Creative Commons Public Domain Dedication waiver (http://creativecommons.org/publicdomain/zero/1.0/) applies to the data made available in this article, unless otherwise stated.