Research article

Open Access
Learning-guided automatic three dimensional synapse quantification for drosophila neurons
BMC Bioinformatics
2015
16:177
Received: 16 February 2015
Accepted: 16 May 2015
Published: 28 May 2015
Abstract
Background
The subcellular distribution of synapses is fundamentally important for the assembly, function, and plasticity of the nervous system. Automated and effective quantification tools are a prerequisite to large-scale studies of the molecular mechanisms of subcellular synapse distribution. Common practices for synapse quantification in neuroscience labs remain largely manual or semi-manual. This is mainly due to computational challenges in automatic quantification of synapses, including large volume, high dimensions and staining artifacts. In the case of confocal imaging, optical limit and xy-z resolution disparity also require special considerations to achieve the necessary robustness.
Results
A novel algorithm is presented in the paper for learning-guided automatic recognition and quantification of synaptic markers in 3D confocal images. The method developed a discriminative model based on 3D feature descriptors that detected the centers of synaptic markers. It made use of adaptive thresholding and multi-channel co-localization to improve the robustness. The detected markers then guided the splitting of synapse clumps, which further improved the precision and recall of the detected synapses. Algorithms were tested on lobula plate tangential cells (LPTCs) in the brain of Drosophila melanogaster, for GABAergic synaptic markers on axon terminals as well as dendrites.
Conclusions
The presented method was able to overcome the staining artifacts and the fuzzy boundaries of synapse clumps in 3D confocal image, and automatically quantify synaptic markers in a complex neuron such as LPTC. Comparison with some existing tools used in automatic 3D synapse quantification also proved the effectiveness of the proposed method.
Keywords
Synapse detectionAutomatic quantification3D confocal imageModel selectionBIOCAT
Background
The subcellular distribution of synapses is fundamentally important for the assembly, function, and plasticity of the nervous system, and disruption of synapse development has been implicated in many types of neurological disorders [1–9].
Recent advances in imaging technologies now allow us to go beyond the traditional measure of synapse formation and dendritic spines, and to study the distribution of the synapses themselves in a three-dimensional context. Automated and effective quantification tools are a prerequisite to large-scale studies of the molecular mechanisms of subcellular synapse distribution. Current analysis is largely manual or semi-manual and often limited to arbitrarily selected parts of the dendritic field. Such practices make the process labor intensive and sometimes subjective.
However, computational challenges exist for the analysis of new data due to several reasons. The first issue is the large size of higher-dimensional biological image sets, which greatly increases the computational demand on the model and renders the design of an efficient and effective algorithm difficult. In addition, noise, staining artifacts and the optical limit (light microscopy can cause fuzzy images due to wavelength limit) prevent effective and precise detection; the anisotropic nature of the confocal images (xy resolution is higher than the z direction) requires special algorithm design. Moreover, accurate quantification is made challenging when crowded objects form clumps with large morphology or images display high contrast variation from region to region. Therefore, automatic synapse quantification from large, multichannel, high-dimensional confocal images requires special consideration to achieve the necessary robustness and efficiency.
While automatic quantification tools are available for 2D image analysis [10–12] and there are studies for quantifying other 3D biological objects than synapses (e.g., cells/nuclei) [13–16], existing tools for 3D synapse quantification are not yet sufficient. For example, automatic synapse detection based on connected component analysis falls short in quantifying clumps of multiple synapses. Threshold-based approach or variants compromise robustness for applicability to large high-dimensional images [5, 17]. On the other hand, sophisticated segmentation methods, such as those based on level sets, are less efficient and may have issue extending to 3D due to the resolution disparity between xy-z directions in confocal imaging. They also often involve human interaction and are thus not suitable for large, high-dimensional images on a regular PC.
To overcome these problems, we utilize an automatic learning-based method for effective and efficient quantification. Central to our method is a multidimensional discriminative model learned from reliable 3D feature descriptors. When discriminative models have been found effective in automatic 2D image recognition tasks [11, 18–20], the general consensus on 3D biological images has been that a discriminative model can also lead to more robust quantification results with 3D images [15, 21, 22] and is suitable for large-scale analysis, due to minimal user intervention once the model is trained, which is a good property for large-scale data analysis, as is necessary in genetic screening [23]. However, the application of discriminative models to 3D biological images has lagged behind their successful 2D counterparts. Other than the fact that the availability of large-volume 3D images is relatively recent, it may also be related to the need for 3D training sets and the lack of an ergonomic tagging tool using the 3D-WYSIWYG (What You See Is What You Get) strategy. The recent availability of the visualization tools such as Vaa3D [24], which allows for ergonomic tagging, aligned with the strong demand for automatic 3D quantification.
In this paper, we present a learning-guided approach for automatic 3D synapse quantification. We use a discriminative model to detect the synapses. The model output then guides automatic contour-based splitting to further improve the robustness of synapse quantification. Assisted by other modules such as multichannel co-localization and proximity analysis that will overcome staining artifacts, the process provides effective synapse-quantification for multichannel, high-dimensional light images. As the test system, we will use the lobula plate tangential cells (LPTCs) in the brain of Drosophila melanogaster, a system in which the subcellular localizations of gamma aminobutyric acid (GABA)-ergic synapses can be imaged in three dimensions using high-resolution confocal microscopy. In the Methods section, algorithms used to detect and quantify the GABA synaptic markers in LPTC's axon as well as dendritic areas are described. The qualitative and quantitative results as well as discussions are then presented, followed by the conclusions.
Results and discussions
Figure
6
demonstrates the results of synapse detection on axon and dendrite images of LPTC, each contains hundreds to thousands of synaptic markers. Figure
6a
) c) and d) show the detected centers overlaid on the original images. Visually we can see that our method is overall effective in detecting synapses. On Fig.
6d
) we can see that the method is robust against staining artifacts that are present in the image. Figure
6b
) exemplifies the result of detected synapses after splitting. We can see clumps of multiple synapses were split reasonably. Total numbers of synapses detected were 208 on the LPTC axon terminal image and 2932 on the dendrite image.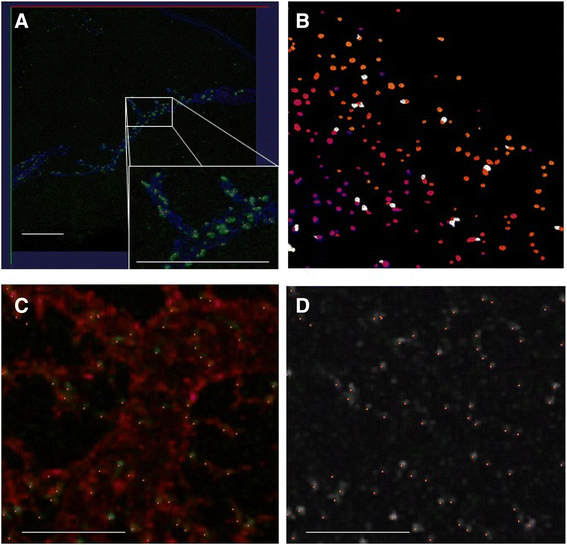 To further derive quantitative measure on the algorithm's effectiveness, we manually annotated 5 regions in the LPTC axon image and 10 regions in the LPTC dendrite images. The regions were randomly chosen from the image, with the condition that the region contains reasonable amount of synapses (at least 10). The tool we used to annotate in the 3D volume image was Vaa3D [
24
]. Opinions from two computer scientists and two neuroscientists were collected during the annotation of the markers to reach a consensus (Fig.
7a
gives an example of the manual annotation). These manual annotations in the synapse channel were used as references for deriving quantitative measures of precision and recall described below.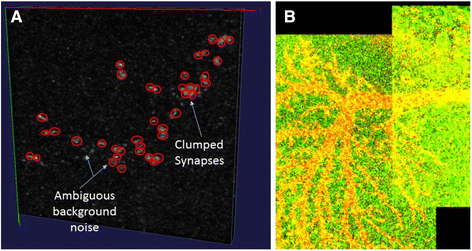 Precision and recall statistics of the 3D synapse detection algorithms were then calculated on each of these regions. It was done by performing a comparative analysis of the detected markers that fell within the boundaries of each manually annotated region of the whole image. First, we calculated the precision by counting the precisely detected synaptic markers that fell in the image region with respect to the total detected markers by the algorithm. A detected marker was defined as a precise one if it was within the 7*7*5 proximity of a reference synaptic center. Similarly, successfully recalled markers were defined as detected markers that are near the reference markers, within the same bounds as used for precision. Overall recall for a region was then calculated as the number of recalled markers divided by the total number of annotated markers in the region. These two measures are combined as their harmonic mean to yield an aggregate F-measure assessing the overall accuracy of the algorithm on each region with the F-measure = 2* (Precision * Recall)/(Precision + Recall). For a fair comparison with other object detection/segmentation methods, only the signal in the synapse channel was used for all methods when reporting the results.
Tables
2
and
3
list the precision, recall and F-measure on axon images and dendrite images, respectively. We can see from Table
2
that the synaptic center learning model delivered an effective result with a precision of 87.58 % and an F-measure of 84.98 % on axon. After the detected centers were further refined based on splitting guided using the detected markers, the results were further improved. The average F-measure was improved to 89.80 % and the average precision was improved to 93.27 %.
Table 2
Results of synapse detection on axon terminal using proposed method
Region

Precision

Recall

F-Measure

Precision

Recall

F-Measure

Method

Synapse Learning Model

After Model-guided Splitting

Region 1

92.86

82.69

87.48

94.29

82.69

88.11

Region 2

94.12

84.62

89.11

97.62

81.54

88.86

Region 3

76.92

86.67

81.50

83.33

93.33

88.05

Region 4

90.67

82.80

86.55

95.45

87.10

91.08

Region 5

83.33

77.42

80.27

95.65

90.32

92.91

AVERAGE

87.58

82.84

84.98

93.27

87.00

89.80
Table 3
Results of synapse detection on dendrite using proposed method
Region

Precision

Recall

F-Measure

Precision

Recall

F-Measure

Synapse Learning Model

After Model-guided Splitting

Region 1

76.92

76.22

76.46

87.50

76.00

81.35

Region 2

83.33

41.67

55.56

83.33

50.00

62.50

Region 3

83.33

77.78

80.46

88.89

77.78

82.96

Region 4

84.21

83.33

83.77

89.47

83.33

86.29

Region 5

93.75

75.00

83.33

93.33

70.00

80.00

Region 6

92.31

57.14

70.59

92.31

57.14

70.59

Region 7

56.10

85.19

67.65

72.73

81.48

76.86

Region 8

95.65

88.00

91.67

95.00

76.00

84.44

Region 9

92.31

77.78

84.42

92.59

85.19

88.73

Region 10

62.96

82.35

71.36

56.25

88.24

68.70

AVERAGE

82.09

74.45

76.53

85.14

74.52

78.24
In Table 3, the synaptic center learning model delivered 82.09 % average precision. After model-guided splitting, the average precision was increased to 85.14 %. We see that most regions have good precisions but a few have low precisions. In addition to artifacts, image stitching could also be a source of error since the contrast disparity can be picked up by RATS. Figure 7b shows an example of such stitching. Working with stitched images more effectively can be a potentially important task in the future for large microscopic images from optical systems. The low recall regions were often due to the ambiguous artifacts related to intracellular transport.
Comparison with other methods
We then compared our methods with other approaches that were used in synapse quantification, the 3D Object Counter [5, 46] and its variant. Considering that RATS has been used for generating mask in our process, we also compared to RATS when it is used as the segmentation method followed by 3D object counter to yield the count. The leaflet size of RATS was set such that it has a quadtree that is at least 5-level deep. For fair comparison, the RATS parameters were the same across all methods. For axon image, the leaflet size was set to 204; the minimum noise was set to 10, and the scaling factor was 3. For the dendrite image, they were set to 259, 4 and 3, respectively.
Table
4
lists the results of the original 3D object counter on the same regions that we have tested for the synapses on the axon terminal. Table
5
lists the results of RATS-variant of 3D object counter.
Table 4
Results for Synapse detection on Axon Terminal using the original 3D Object Counter
| Region | Precision | Recall | F-Measure |
| --- | --- | --- | --- |
| Region 1 | 82.14 | 57.69 | 67.78 |
| Region 2 | 93.10 | 60.00 | 72.97 |
| Region 3 | 83.33 | 93.33 | 88.05 |
| Region 4 | 90.24 | 55.91 | 69.05 |
| Region 5 | 90.91 | 48.39 | 63.16 |
| AVERAGE | 87.94 | 63.06 | 72.20 |
Table 5
Result for Synapse detection on Axon Terminal using 3D Object Counter with RATS
| Region | Precision | Recall | F-Measure |
| --- | --- | --- | --- |
| Region 1 | 92.00 | 63.46 | 75.11 |
| Region 2 | 96.00 | 55.38 | 70.24 |
| Region 3 | 81.82 | 86.67 | 84.17 |
| Region 4 | 94.12 | 56.99 | 70.99 |
| Region 5 | 90.00 | 45.16 | 60.14 |
| AVERAGE | 90.79 | 61.53 | 72.13 |
To compare with another learning-based tool, Table
6
lists the results with ilastik [
49
], which is an interactive learning and segmentation tool. Feature descriptors were chosen following the recommendation of the ilastik tutorial, which includes all features on a range of object sizes from 0.7px to the estimated size of target object. The comparison was performed on the synapses on axon because ilastik user interface is not responsive when working with the large dendrite image on a desktop with 8G RAM.
Table 6
Result for Synapse detection on Axon Terminal using ilastik
| Region | Precision | Recall | F-Measure |
| --- | --- | --- | --- |
| Region 1 | 85.71 | 57.69 | 68.97 |
| Region 2 | 88.24 | 63.08 | 73.56 |
| Region 3 | 84.62 | 100.00 | 91.67 |
| Region 4 | 89.13 | 62.37 | 73.38 |
| Region 5 | 91.67 | 51.61 | 66.04 |
| AVERAGE | 87.87 | 66.95 | 74.72 |
Table
7
lists the comparison of summarizing precision rates, recall rates and F-measure of all the algorithms on the axon terminal. We can see that, while the traditional methods had an F-measure of around 72 %, our proposed method, with clump splitting guided by the synaptic markers detected from the discriminative model, gained the best F-measure of 89.80 %. Table
8
shows the comparison results on the dendrite which has a similar trend of increase.
Table 7
Comparison of results of synapse detection on axon
| Algorithm | Precision | Recall | F-Measure |
| --- | --- | --- | --- |
| 3D Object Counter | 87.94 | 63.06 | 72.20 |
| 3D Object Counter + RATS | 90.79 | 61.53 | 72.13 |
| ilastik | 87.87 | 66.95 | 74.72 |
| Proposed: model output | 87.58 | 82.84 | 84.98 |
| Proposed: splitting guided by the model | 93.27 | 87.00 | 89.80 |
Table 8
Comparison of results of synapse detection on dendrite
| Algorithm | Precision | Recall | F-Measure |
| --- | --- | --- | --- |
| 3D Object Counter | 88.93 | 47.39 | 61.61 |
| 3D Object Counter + RATS | 84.56 | 60.26 | 69.52 |
| Proposed: model output | 82.09 | 75.28 | 77.22 |
| Proposed: splitting guided by the model | 85.14 | 74.52 | 78.24 |
A statistical summary of size is also performed for all the detected synaptic markers between the size of 8 voxels and 1000 voxels. The maximum size of the detected object is 141 and 214 voxels for the axon and dendrite image, respectively. The minimum size is 8 voxels based as the set lower bound. And the average size of all the synaptic markers on the axon and dendrite images are 35.6 and 35.2 voxels respectively.
The results above were based on the synapse channel for a fair comparison. The morphology channel was not used and the colocalization analysis was not performed. Validation using the proximity analysis with the morphology channel reduced the number of synapses to 183 and 1984 for axon and dendrite. The removed ones were mostly staining artifacts or marker-like objects not associated with the neuron of interest.
Discussion
From the results in Table 7 and Table 8, it can be shown that there was a marked increase in overall detection performance from the 3D object counter, to the learning model based marker detection, and finally the combination of segmentation and splitting with the learning model based detection results. The largest increase in model F-measure came from the model-based synapse detection. Using the results of model-based detection to supervise splitting was a logical extension to the algorithm flow and further increased accuracy.
This increase in effectiveness can be attributed to the algorithm robustly handling cases of false detections caused by noise and under-segmentation of adjoining synapses. Global threshold based object detection methods like Object Counter 3D cope poorly with background noise and variances in average intensity across large images. If the threshold criterion is tightened to attempt to eliminate noise, less intense foreground structures can be lost. It was also unable to handle clumps of synapses. Attempting to add more granular threshold approaches such as RATS reduces adverse effects from intensity variance, but is not enough to significantly improve results. The learning-based segmentation tool ilastik obtained better results than the thresholding-based approaches, but still fell short in overall F-measure. The results indicate that RATS or a simple pixel classifier by itself is not sufficient for robustly extracting the synaptic markers. In the proposed method, using a learning model based approach combined with adaptive thresholding allowed us to identify structures that are likely to be synapses. Model-guided synapse clump splitting enabled the method to further improve recall and precision.
Most segmentation methods start with detection of whole objects. Our learning model instead identified markers of possible synaptic centers. Our method thus naturally handled the cases of both isolated and adjoining synapses. The output of our supervised model for synapse center detection could then be combined with object detection. This pairing made up for the weaknesses of only object detection, and allowed for better guided splitting of clumps, even in denser regions. It led to the overall improved F-measure. This approach is expected to be suitable with confocal light microscopy where fuzzy clumps can be a common situation.
In addition to providing an effective way to work with fuzzy synaptic clumps, the benefit of our learning-guided approach is that the supervised learning model is easy to train and the model is stable and free of tuning after training. The BIOCAT tool also provides a flexible learning pipeline. The drawback is that it does involve extra work to annotate the training set, which is not always straightforward at first for non-technical users. For the case of synapse detection, we have found that a training set can be small (several dozen samples are often sufficient), so the needed effort for annotating the training set is also small, especially compared with the time-consuming and subjective effort of manually annotating hundreds or even thousands of synapses.
In future work, we will work on other types of synaptic markers to verify and improve the proposed process. For example, the synaptic markers imaged in the paper are post-synaptic receptors. We will incorporate other evidences such as the pre-synaptic markers to increase the reliability of synapse quantification. Manual annotation can also be improved for more comprehensive and accurate validation. We will also work on solving the contrast variations among stitched images duration quantification.
Conclusion
In this paper, we presented a novel learning-guided synapse detection and quantification method for automatic recognition and quantification of synaptic marker using 3D confocal microscopic images of fruit fly neurons. The involved algorithms overcome the traditional methods' shortcoming in handling cases of false detections caused by noise and under-segmentation of adjoining synapses, and were able to quantify a large number of synapses from the entire neuron.
Declarations
Acknowledgements
The authors thank Drs. Alexander Borst for the UAS-RDL-HA transgenic fly line. The authors thank Dr. Hanchuan Peng at Allen Brain Institute for his constructive suggestions on computational algorithms during the project. The work is supported by the National Institute of Mental Health of the National Institute of Health under Award Number R15MH099569 (J.Z.). We also thank NIH (R01MH091186 and R21AA021204) (B.Y.), Protein Folding Disease Initiative of the University of Michigan (B.Y.), and the Pew Charitable Trusts (B.Y.) for supporting the research.
Authors' Affiliations
(1)
Department of Computer Science, Northern Illinois University, DeKalb, USA
(2)
Life Sciences Institute and Department of Cell and Developmental Biology University of Michigan, Ann Arbor, USA
Copyright
© Sanders et al.; licensee BioMed Central. 2015
This is an Open Access article distributed under the terms of the Creative Commons Attribution License (http://creativecommons.org/licenses/by/4.0), which permits unrestricted use, distribution, and reproduction in any medium, provided the original work is properly credited. The Creative Commons Public Domain Dedication waiver (http://creativecommons.org/publicdomain/zero/1.0/) applies to the data made available in this article, unless otherwise stated.