QoRTs: a comprehensive toolset for quality control and data processing of RNA-Seq experiments
BMC Bioinformatics
2015
16:224
Received: 26 May 2015
Accepted: 9 July 2015
Published: 19 July 2015
Abstract
Background
High-throughput next-generation RNA sequencing has matured into a viable and powerful method for detecting variations in transcript expression and regulation. Proactive quality control is of critical importance as unanticipated biases, artifacts, or errors can potentially drive false associations and lead to flawed results.
Results
We have developed the Quality of RNA-Seq Toolset, or QoRTs, a comprehensive, multifunction toolset that assists in quality control and data processing of high-throughput RNA sequencing data.
Conclusions
QoRTs generates an unmatched variety of quality control metrics, and can provide cross-comparisons of replicates contrasted by batch, biological sample, or experimental condition, revealing any outliers and/or systematic issues that could drive false associations or otherwise compromise downstream analyses. In addition, QoRTs simultaneously replaces the functionality of numerous other data-processing tools, and can quickly and efficiently generate quality control metrics, coverage counts (for genes, exons, and known/novel splice-junctions), and browser tracks. These functions can all be carried out as part of a single unified data-processing/quality control run, greatly reducing both the complexity and the total runtime of the analysis pipeline. The software, source code, and documentation are available online at http://hartleys.github.io/QoRTs.
Keywords
Quality ControlRNA-SeqNext-generation sequencingDifferential expressionDifferential transcript regulationDifferential splicing
Background
High throughput next-generation sequencing of RNA (RNA-Seq) provides an unprecedented volume of transcriptomic information [1]. However, like all sequencing technologies, RNA-Seq is prone to certain biases, errors, and artifacts, necessitating robust and comprehensive quality control (QC).
In most cases, major biases will be predictable and can be accounted for in downstream analyses. Many inherent biases will uniformly affect all replicates, and thus may not invalidate cross-sample or cross-condition comparisons, depending on the analysis methodology used [2–4]. In other cases, it may be possible to correct or adjust for such biases [5, 6].
However, RNA-Seq is a complex multi-stage process with numerous potential modes of failure, both known and unknown. Mistakes or inconsistencies in sample prep, library creation, or in sequencing itself could potentially introduce unanticipated artifacts, biases, or errors that could lead to flawed results. In some cases such anomalies will be obvious, but in many cases major artifacts can be obfuscated by the sheer quantity of data involved. In these (presumably rare) instances, it is vital that such issues be detected so that they can be dealt with properly. However, as the full set of all possible problems that could ever arise with this technology is unknown, there is no comprehensive way to automatically test for data quality.
Two existing tools, RSeQC and RNA-SeQC, can be used to perform some quality control on RNA-Seq datasets [7, 8]. Other general-purpose tools can perform limited quality control on next-gen sequencing data, including RNA-Seq [9, 10]. While these tools can provide some of the functionality necessary to validate the quality of RNA-Seq data, they all have significant shortcomings that limit their utility.
Here we introduce QoRTs, the Quality of RNA-Seq ToolSet: a comprehensive, multifunction software package that generates a broad array of quality control metrics and allows bioinformaticians to view and compare RNA-Seq data across numerous replicates, organized and differentiated by batch, biological condition, library, read-group, and/or sample [11].
Implementation
The QoRTs software package consists of two distinct modules: a java package which performs most of the data processing and a companion R package for visualization and cross-replicate comparison. A recommended analysis pipeline is illustrated in Fig.
1
.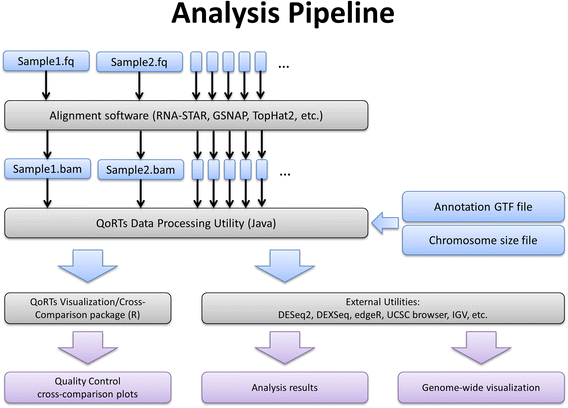 All count files, QC statistics, and browser tracks for a given replicate can be generated using a single command and over a single pass through the alignment file, greatly streamlining the analysis pipeline. If desired, individual sub-functions can be deactivated to reduce runtime.
QoRTs is both fast and efficient: it can generate a comprehensive array of quality control metrics, browser tracks, summary plots, and read counts in 3–6 min per million read-pairs. For typical genomes and annotations the QoRTs data processing utility requires less than 4 gigabytes of free memory. The companion R-package (used for generating plots and pdf reports) has much lower resource requirements and can generally run on any desktop computer that can support R.
The java package was written in the Scala programming language and uses the Picard sam-jdk API [12]. However, since all necessary libraries are compiled to java bytecode and packaged in the distribution jar file, neither Scala nor Picard is required for use. QoRTs is designed to run on any machine that has both java (version 6 or higher, 64-bit) and R (3.0.2 or higher), without any additional dependencies.
Conclusions
The QoRTs software package is a powerful, efficient, and convenient multifunction toolkit capable of facilitating quality control, data visualization, and data processing. It quickly and efficiently generates numerous QC metrics and provides tools for cross-comparison of samples by batch or group, greatly simplifying the identification of outliers and of phenodata-associated patterns.
In addition, QoRTs reproduces and/or improves upon the data processing functionality provided by numerous other disparate tools such as the samtools bam2wig tool, the DEXSeq count tool, and the HTSeq-count tool [22, 26, 27, 31]. These functions, along with the generation of the QC metrics, can be executed as part of a single unified data-processing/quality-control run, greatly reducing both the complexity and the total runtime of the analysis pipeline.
Availability and requirements
Project name: QoRTs

Project home page: http://hartleys.github.io/QoRTs/index.html

Operating system(s): Platform independent

Programming language: R, Java/Scala

Other requirements: Java 1.6 or higher (64-bit), R 3.0.2 or higher.

License: This software is "United States Government Work" under the terms of the United States Copyright Act. It was written as part of the authors' official duties for the United States Government and thus cannot be copyrighted. This software is freely available to the public for use without a copyright notice. Restrictions cannot be placed on its present or future use.
Abbreviations
QC:

Quality control
QoRTs:

Quality of RNA-Seq Toolset
RNA-Seq:

Next-generation RNA sequencing
Declarations
Acknowledgements
This research was supported by the Intramural Research Program of the National Human Genome Research Institute, National Institutes of Health. The authors would like to thank Dr. Peter Chines for providing invaluable beta testing and user feedback, and Dr. Nancy Hansen for assistance in preparing the manuscript.
Authors' Affiliations
(1)
Comparative Genomics Analysis Unit, Cancer Genetics and Comparative Genomics Branch, National Human Genome Research Institute, National Institutes of Health, Bethesda, USA
Copyright
© Hartley and Mullikin. 2015
This is an Open Access article distributed under the terms of the Creative Commons Attribution License (http://creativecommons.org/licenses/by/4.0), which permits unrestricted use, distribution, and reproduction in any medium, provided the original work is properly credited. The Creative Commons Public Domain Dedication waiver (http://creativecommons.org/publicdomain/zero/1.0/) applies to the data made available in this article, unless otherwise stated.