Methodology article
Open Access
Odintifier - A computational method for identifying insertions of organellar origin from modern and ancient high-throughput sequencing data based on haplotype phasing
BMC Bioinformatics
2015
16:232
Received: 25 March 2015
Accepted: 21 July 2015
Published: 28 July 2015
Abstract
Background
Cellular organelles with genomes of their own (e.g. plastids and mitochondria) can pass genetic sequences to other organellar genomes within the cell in many species across the eukaryote phylogeny. The extent of the occurrence of these organellar-derived inserted sequences (odins) is still unknown, but if not accounted for in genomic and phylogenetic studies, they can be a source of error. However, if correctly identified, these inserted sequences can be used for evolutionary and comparative genomic studies. Although such insertions can be detected using various laboratory and bioinformatic strategies, there is currently no straightforward way to apply them as a standard organellar genome assembly on next-generation sequencing data. Furthermore, most current methods for identification of such insertions are unsuitable for use on non-model organisms or ancient DNA datasets.
Results
We present a bioinformatic method that uses phasing algorithms to reconstruct both source and inserted organelle sequences. The method was tested in different shotgun and organellar-enriched DNA high-throughput sequencing (HTS) datasets from ancient and modern samples. Specifically, we used datasets from lions (Panthera leo ssp. and Panthera leo leo) to characterize insertions from mitochondrial origin, and from common grapevine (Vitis vinifera) and bugle (Ajuga reptans) to characterize insertions derived from plastid genomes. Comparison of the results against other available organelle genome assembly methods demonstrated that our new method provides an improvement in the sequence assembly.
Conclusion
Using datasets from a wide range of species and different levels of complexity we showed that our novel bioinformatic method based on phasing algorithms can be used to achieve the next two goals: i) reference-guided assembly of chloroplast/mitochondrial genomes from HTS data and ii) identification and simultaneous assembly of odins. This method represents the first application of haplotype phasing for automatic detection of odins and reference-based organellar genome assembly.
Keywords
Ancient DNAHigh-throughput sequencingMitochondrial assemblyNumtNuptOdinPhasing
Background
It is now widely appreciated that DNA sequences from a cellular organellar genome can be inserted and integrated into another organellar genome in many different species [1]. For example, in plants, sequences of the chloroplast genome can be inserted into both the mitochondria (mtpt) [2, 3] and nucleus (nupt) [4, 5], while mitochondrial DNA (mtDNA) can be inserted into the nucleus (numt) [5]. Many numt sequences have been reported in fungi, insects, and vertebrates [6] (including fish [7], birds [8], amphibians [9], and reptiles [10, 11]). These sequences can even be copied to other loci multiple times in the new hosting genome [12]. The mechanisms underlying this DNA transfer process are not yet completely understood [8, 13], but studies suggest that such integrations are enabled by different genetic and environmental factors during the repair of double strand breaks by non-homologous end joining [14–16]. The extent of the DNA insertions can be very large, both regarding the number of occurrences as well as the length of the insertion. For example, those in the human nuclear genome represent the entire mitochondrial genome [17].
Although the existence of organellar-derived inserted sequences (hereby referred to as "odins") was first accepted more than 30 years ago [1], the techniques that are currently available for the identification of such sequences are not suited to the complexity and size of high-throughput sequencing (HTS) datasets. However, accurate identification of odins is extremely important because if not accounted for, they can confound the results of sequence-based analyses that rely on the principle of orthology [18]. For example, because the rate of evolution of nuclear inserted sequences is different to those of the homologous source organellar sequences, inaccurate phylogenetic reconstructions [19] or spurious cryptic species (morphologically identical but genetically different species) can be inferred [20]. Furthermore, population genetic studies such as demographic profiles can be benefited from the identification of odins [21].
Traditionally, laboratory methods to identify odins include mitochondrial enrichment [22–24], PCR on diluted extracts [25], PCR amplification from RNA derived from coding DNA [26, 27], and nested PCR [22, 23]. Since mtDNA and plastid DNA (ptDNA) is usually found at higher copy number than nuclear DNA, the integration of careful steps to identify odins into automatic computational methods for organellar sequence assembly has not been deeply explored. However, the supposition that the true organellar sequence will ultimately be determined is challenged by cases of preferential amplification [28] or primer binding bias during the PCR step [29]. Given this, current computational methods for dealing with odins may miscall single nucleotide variants (SNVs) or indels, leading to a possible erroneous consensus organellar sequence. Traditional computational methods for identification of odin-derived SNVs and thus assembly of accurate organellar sequence rely on identifying changes in the phylogenetic position of the closest reference mitogenome [29], changes in the structure of rDNA [30] and misplaced stop codons [31, 32]. Following the advent of HTS, several methods have been designed that take advantage of the amount of mapping reads. Examples of these coverage-based methods are those that simply retain the nucleotide that is present in the highest copy number (majority count, MC) or quality in each position [24, 33], or stricter strategies that retain the nucleotide if it is present at a minimum ratio of 2/3 [33]. Another method is based on either masking known numts or disregarding putative numts by using only the unique mapping reads if both nuclear and organellar genomes are available [34]. Yet another method uses de novo assembly of the organellar genome, which is then manually curated [35].
Each of these methods has drawbacks. Laboratory methods are difficult, if not impossible, to apply to DNA where a reference genome is lacking, or where the DNA and/or cellular membranes are sufficiently degraded so as to preclude techniques such as nested PCR and organellar enrichment, such as in ancient DNA (aDNA) samples [36, 37], where numts have also been documented [38, 39]. Even in modern samples with well-preserved DNA, the consensus sequences obtained by MC may be inaccurate if there was library construction or amplification bias [40]. Available computational methods are limited to odins producing stop codons or changes in structure in coding or tRNA genes, thereby missing some portions of the genomes. Methods based on masking numt sequences or using only reads mapping uniquely to a genomic reference that contains the nuclear and the mitochondrial genomes together are naturally limited to analysis of data from well-studied organisms. Also, de novo sequence assembly is a rather unsupervised method of producing a consensus sequence that has a high risk of having chimeric regions containing both odin and source organellar sequences. Lastly, these computational methods do not allow for the simultaneous identification and assembly of odins, which is suboptimal given their possible use in evolutionary studies. For example, as relics of ancient mtDNA, these pseudogenes can be used for inferring ancestral states or rooting mitochondrial phylogenies [41]. Additionally, when numerous and selectively unconstrained, numts can be used for the study of spontaneous mutation in nuclear genomes [6, 42].
We present a computational method, odintifier, for the identification and reconstruction of odins based on haplotype phasing of HTS data [43]. Our method is the first application of haplotype phasing for automatic detection of odins and reference-based organellar genome assembly. As the method requires only an organellar genome of the species or a close relative, it can be applied to datasets from both ancient as well as modern non-model organisms. To aid in the time consuming manual curation that a de novo assembly would require, the method can also be used to assess the organellar genome obtained from a previous assembly and at the same time identify any present region source of odins.
Broadly speaking, a haplotype is the sequence of nucleotides along a single chromosome, and haplotype phasing algorithms assign a genotype to a chromosome. To date, the application of haplotype phasing has largely been limited to studying the evolution of haplotypes [
44
–
47
] and genomic diversity between populations [
48
,
49
], as well as for detecting associations among individuals [
50
–
52
] or to diseases [
53
–
55
]. While the organellar genome is haploid, the odin can be considered to be polyploid, with one copy being from the source organelle and one or more being from the host organelle. For example, a region from the mitochondria (the source organelle) would be one haplotype, and the sequence from that mitochondrial region inserted into the nucleus (the host organelle) would be the other haplotype. Thus, there will be haplotype informative reads [
56
] (i.e. reads that cover the heterozygous sites arisen by the odins) that can help separate the inserted and the source sequences (Fig.
1
). Thus, the application of phasing in odintifier allows to achieve the next two main goals: i) reference-guided assembly of chloroplast/mitochondrial genomes from HTS data and ii) identification and simultaneous assembly of odins.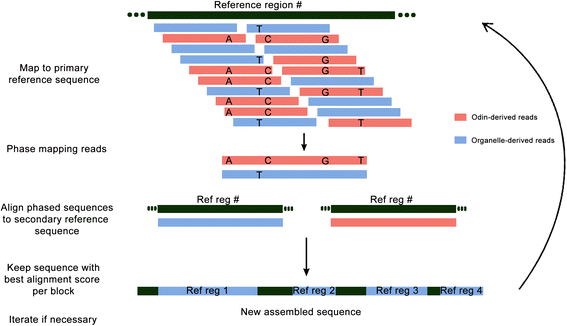 Discussion
We showcase the use of phasing for accurate reference-based assembly of organellar genomes and simultaneous identification of odin sequences. To this end, we used four different datasets of different complexities regarding the extent of organellar sequence insertions into other organellar genomes, and the integrity of the DNA extracted with different protocols (organelle-enriched and DNA shotgun sequencing from ancient and modern samples).
Conclusions
To our knowledge, odintifier represents the first integration of phasing algorithms into a reference-based organellar genome sequence assembly method, that furthermore allows for the simultaneous identification and reconstruction of odin sequences. We applied our method on four datasets encompassing plants and felines to show that it is able to i) reconstruct the odin sequence, ii) reconstruct more accurate organellar genomes, iii) provide an objective reference-based assembly pipeline that does not require arbitrary coverage thresholds for calling the consensus sequence, and iv) be applicable to HTS datasets from modern as well as from aDNA. These datasets represent different levels of complexity regarding the quality of the DNA (modern and ancient), the extent of the occurrence of odins, and the method of the DNA sequencing (shotgun and organellar-enriched). Thus, we prove that our method can be applied on many kinds of datasets, without requiring any specific guideline for their generation. Although in general, as for many other types of analyses, longer read lengths are preferred, given that they would span a longer region that can contain SNVs, thus providing more haplotype informative reads for the phasing algorithm.
We demonstrated that odintifier can be used in mainly three different ways: 1) As an assembler for datasets with few odins, 2) as an assembler for datasets with multiple odins with the use of various iterations, 3) as a complementary aid together with de novo or coverage-based sequence assembly in order to provide an improved sequence and to identify regions source of odins. Finally, given the principle in which the method works, it could be potentially applied not only for reconstruction of odins, but also for disentangling sets of paralogous genes in nuclear genome assembly. It is hoped that with future improvement of phasing algorithms, their use in other non-conventional aspects such as that presented here will be more widely spread.
Methods
Data sources
We used four different datasets to validate odintifier and to prove the benefits that can be obtained from its use on real cases. First, in order to determine the quality of a de novo assembled plastid sequence and to simultaneously reconstruct the odin sequence we used the assembled chloroplast and dataset from the plant Ajuga reptans (bugle), published by Zhu et al. (2014) [35]. Briefly, organelle-enriched DNA was prepared by differential centrifugation and then 2 Gb of 100 bp paired-end reads from an 800 bp library were sequenced using the Illimina HiSeq2000 platform. Then, RNA isolation and RT-PCR were performed. The plastid sequence that we used as reference has the GenBank id NC_023102.1 and the mitochondrion sequence has the id NC_023103.1.
Secondly, in order to test odintifier on an assembled mitochondrial sequence from a feline species, a taxonomic group that is known to present a large number of numts [57], with the goal of assembling a mitochondrial sequence clean of odin-derived sequences, we used the dataset produced by Cho et al. (2014) [69] from Panthera leo ssp. using HiSeq2000 with read and insert lengths of ~90 bp and ~400 bp, respectively. For the analysis of this dataset with our phasing-based method, we used as reference sequences the assembled mitochondrial sequence generated by Ma and Wang (2014) [59] (KF776494) and that from Panthera leo persica (NC_018053.1 [60]).
Thirdly, in order to validate the use of odintifier on an aDNA dataset and obtain both the source and the inserted sequence, we used an unpublished dataset derived from an ancient sample of Panthera leo leo (Barnett et al. unpublished). This data was generated from a fragment of male Barbary lion skull sampled from the Muséum National d'Histoire Naturelle in Paris (Accession Number 1931–582). We also used the reported gene sequence of atp8 from Panthera leo persica (NC_018053.1 [60]) and from Panthera leo spelaea (DQ318556.1 [61]) as well as the corresponding numt sequence from Panthera leo spelaea (DQ318555.1 [61]) for the mapping step of this dataset.
Lastly, in order to test our method on the most complex possible dataset and evaluate the impact of the mapping stringency parameters compared to the other coverage-based methods, we applied odintifier on an aDNA dataset from a common grapevine (Vitis vinifera). This is a species with a very large proportion of ptDNA inserted into the mitochondrial [62] and the nuclear genomes [70], thus containing many regions with very large amounts of alleles. Such regions significantly challenge the accurate sequence reconstruction by the method. The DNA library of this dataset was enriched for chloroplast DNA with an approach that led to the enrichment of genuine chloroplast DNA, as well as mtpts and nupts (See Suppl Information for further details). For the mapping step we used two different reference sequences: i) the plastid genome (NC_007957.1 [71]) and ii) the nuclear (Vitis vinifera assembly 12X, GenBank assembly accession GCA_000003745.2) and mitochondrial (NC_012119.1 [62]) genomes together.
Data pre-processing
Firstly, adapter sequences and low quality bases were removed from the reads. Subsequently, the cleaned reads were mapped against their corresponding reference sequence with bwa [72] (see Suppl Information for details). We refer to this reference sequence used for the mapping as primary reference. Next, the bam file of each dataset was sorted with samtools v 0.1.18 [73], and duplicates were detected with Picard v1.92 [74] for subsequent removal. The resulting bam files were realigned with GenomeAnalysisTK v2.8 [75, 76]. SNV calling was then performed with GenomeAnalysisTK UnifiedGenotyper with -stand_call_conf 30.0, −stand_emit_conf 10.0, −glm SNP, −dcov 300. Finally, diploid phasing was performed with GenomeAnalysisTK ReadBackedPhasing with --phaseQualityThresh 10.0. Resulting alignments were visualized with IGV v2.2.11 [77].
Due to the presence of various numt-generated multiallelic regions in the African lion dataset, we also used a second strategy for SNV calling and phasing, consisting of using samtools instead of GenomeAnalysisTK. Specifically, we used samtools calmd to generate the MD tag followed by samtools phase with -F so that chimeras are not fixed, given that they could represent an odin. We performed a total of 31 iterations, 26 with the regular GenomeAnalysisTK-based procedure, and 5 using the alternative samtools-based approach (one after regular iteration 15, 20, 23, 24, and 25). Out of the five iterations of mapping followed by samtools for phasing, we used bwa with -n 0.001 for the first three, and a more relaxed -n 0.0001 for the last two.
Method development
A python script was made to process the phased SNVs from the mapping against the primary reference, producing two sequences per phased region. Another script was developed in R v2.15.3 [78] using the package Biostrings v2.26.3 [79] to align the masked phased block sequences to another reference sequence, which we will refer to as the secondary reference sequence (see Suppl Info for further details on the distinction of primary and secondary reference sequence).
Afterwards, based on the alignment score to the secondary reference, the origin of the sequences from each region is determined as either organellar or odin. The output of this script is the final phased consensus sequences of the organellar genome and the odin. Finally, using bedtools v2.17.0 [80] the phased regions with coverage less than 1 are masked.
Datasets containing a large number of multiallelic blocks can undergo various iterations of mapping, SNV calling, phasing, and post processing until the recovered sequences do not significantly change from one iteration to the next. Afterwards, further iterations following a different procedure in which we use samtools for SNV calling and phasing as previously described on the African lion dataset can be performed to boost the accuracy of the sequence reconstruction. To this end, odintifier sorts the reads from the two bams generated by samtools into those coming from the organellar genome and those coming from the odin. The scripts of the method are available at https://github.com/SamaZYX/odintifier.
Majority count and 2/3 ratio assembly
The performance of odintifier was compared against two other widely used reference-based assembly methods based on coverage. To do this, we used GenomeAnalysisTK with the VCF generated in the SNV calling step filtered by two abundance criteria: 1) "MC", in which the most common nucleotide is kept for the reference, and 2) "2/3", an approach in which the alternative nucleotide is kept when present at a minimum ratio of 2/3. Finally, positions with coverage less than 1 on the assembled sequence were masked.
Analysis of reconstructed sequences
Firstly, in order to characterize the mtpt from bugle, the reconstructed odin sequence was translated with transeq EMBOSS v6.4.0.0 [81] using the translation table 11 and non-synonymous SNVs were identified. Afterwards, sequence similarity dendrograms of the assembled sequences from the two lion datasets and bugle were obtained. To this end, the sequences were aligned with MUSCLE v3.8.31 [82] and the control region was removed from the African lion alignment. Then, a phylogenetic tree was constructed with MEGA v5.2.2 [83] using the neighbor-joining pair-wise distance method with 100 bootstrap replicates for all the datasets.
Furthermore, in order to characterize the mapping stringency impact on the tested coverage and phasing-based methods, the grapevine dataset was mapped against the plastid reference genome (NC_007957.1 [71]) in four different ways: 1) a relaxed one disabling the seed, 2) default parameters, 3) strict one of -n 0.1, and 4) a stricter of -n 2. The assembled sequences from the four different mappings were aligned with MUSCLE [82]. Then, we manually characterized each of the differing positions between the 12 assembled sequences compared to the reported reference sequence of grapevine chloroplast. To aid the manual characterization of positions in regions of multiple alleles, we also mapped the reads against the concatenated fasta of the nuclear, mitochondrial and plastid genomes as primary reference with mapping stringency of -n 2.
Lastly, in order to characterize the distribution of the odins of plastid origin in grapevine, we used LASTZ v1.02.00 [84] with the default parameters to align its plastid genome (NC_007957.1 [71]) to the nuclear (Vitis vinifera assembly 12X, GenBank assembly accession GCA_000003745.2) and mitochondrial (NC_012119.1 [62]) genomes. The distribution of the translocations was visualized with circos v0.63 [85].
Declarations
Acknowledgements
We are thankful to Jeffrey P. Mower for providing the reads of the bugle dataset. We are also thankful to Boris Gasparyan for helping to collect the common grapevine sample for one of the datasets used in this study, and to Shanlin Liu for computational technical support. This work was supported by the Lundbeck Foundation grant number R52-A5062, and the European Union's Seventh Framework Programme for Research, Technological Development and Demonstration under grant agreement no. FP7-PEOPLE-2011-IEF-298820.
Authors' Affiliations
(1)
Centre for GeoGenetics, The Natural History Museum of Denmark, University of Copenhagen, Copenhagen, Denmark
Copyright
© Samaniego Castruita et al. 2015
This is an Open Access article distributed under the terms of the Creative Commons Attribution License (http://creativecommons.org/licenses/by/4.0), which permits unrestricted use, distribution, and reproduction in any medium, provided the original work is properly credited. The Creative Commons Public Domain Dedication waiver (http://creativecommons.org/publicdomain/zero/1.0/) applies to the data made available in this article, unless otherwise stated.