Research article
Open Access
Sequence specificity between interacting and non-interacting homologs identifies interface residues – a homodimer and monomer use case
BMC Bioinformatics
2015
16:325
Received: 30 March 2015
Accepted: 30 September 2015
Published: 8 October 2015
Abstract
Background
Protein families participating in protein-protein interactions may contain sub-families that have different binding characteristics, ranging from right binding to showing no interaction at all. Composition differences at the sequence level in these sub-families are often decisive to their differential functional interaction. Methods to predict interface sites from protein sequences typically exploit conservation as a signal. Here, instead, we provide proof of concept that the sequence specificity between interacting versus non-interacting groups can be exploited to recognise interaction sites.
Results
We collected homodimeric and monomeric proteins and formed homologous groups, each having an interacting (homodimer) subgroup and a non-interacting (monomer) subgroup. We then compiled multiple sequence alignments of the proteins in the homologous groups and identified compositional differences between the homodimeric and monomeric subgroups for each of the alignment positions. Our results show that this specificity signal distinguishes interface and other surface residues with 40.9 % recall and up to 25.1 % precision.
Conclusions
To our best knowledge, this is the first large scale study that exploits sequence specificity between interacting and non-interacting homologs to predict interaction sites from sequence information only. The performance obtained indicates that this signal contains valuable information to identify protein-protein interaction sites.
Keywords
Protein-protein InteractionSequence specificityNon-interacting homologsSequence-based interface predictionSequence harmony
Background
Protein-protein interactions (PPIs) play a central role in virtually all cellular processes. Proteins interact with other proteins to accomplish specific biological functions, such as DNA replication or RNA transcription, gene translation, gene regulation and protein transport, as well as signal transduction. Identification of interaction sites between two binding proteins is essential to understand complex formation and investigate their function (e.g., [13, 20, 53]). In particular, information about specific amino acid residues that play essential roles in protein interactions usually has a wide range of applications such as design of the targets of drugs and antimicrobials (e.g., [40]).
Despite continual improvement, certainly over the last decade, experimental techniques for large scale determination of PPIs are not yet able to provide comprehensive coverage over all PPIs in the detail needed to allow better understanding of the evolutionary and physical forces that govern them (e.g., [13, 23, 24]).
During the past decades, several types of computational methods have been developed for protein interaction prediction. Docking and modeling approaches that rely mainly on surface complementarity and electrostatics to predict structural complexes. These approaches fit together two known structures through their interacting surfaces, or predict protein–protein interaction sites from known monomer structures [13, 23, 41, 47]. However, these methods require structure information of proteins, which remains relatively scarce and expensive. Therefore with the increasing amount of sequence data from sequencing initiatives, a method that only uses sequence information without known structures to predict protein-protein interaction sites is becoming increasingly attractive.
Several such computational methods aim to predict the possibility of interaction between two proteins [15, 35, 52]. Perhaps the most well-known technique for predicting PPIs from sequence data is the 'mirror tree' method (e.g., [38]). This method infers interactions from the correlation of evolutionary patterns, as seen in phylogenetic trees representing each of the interaction partners. However, this correlation may instead arise from functional relatedness as well as a number of other general evolutionary mechanisms [8, 29].
Predicting intra-protein and inter-protein residue-residue contacts from sequence covariation has recently revived [19, 22, 32–34, 51, 55]. This is directly due to the availability of large amounts of sequence data and the recent development of so-called direct-coupling methods (e.g., [55]. The idea has been studied in the eighties (e.g., [1]) and nineties (e.g., [16, 27]). The main limitation of these methods is that, typically, five times more sequences than the alignment length (the '5 L' rule) are required [21, 22, 32, 33, 51]. For most proteins, this is not available. In addition, the application to inter-protein residue contacts is hampered by the need to construct large correlated alignments. Here, for each sequence an ortholog in the other alignment must be included, so that positional variations of the alignment of one interaction partner may be correlated with those of the other protein.
For identifying protein-protein interaction (PPI) sites, often conservation measures on sequence features are used [45]. For example, ISIS by Ofran and Rost combine PSI-blast profiles and predicted solvent accessibility and secondary structure to predict interface sites [35, 36]. SPPIDER [43] uses in addition several structure-derived features in an elaborate Machine learning approach. In addition, sequence and network features [12, 48], as well as conservation in combination with specificity [31] are also used to predict interaction sites. Several findings indicate that the interface rim tends to be more conserved than the interface core (e.g., [5, 18, 44]), while localized conservation of single residues can indicate interaction hot spots [9, 35, 50]. At the level of PPI networks, mixed results are being reported. Some conserved PPI network motifs appear related to conserved sequence motifs [12, 48]. Overall conservation patterns, however, are found to be weak and mostly not significant (e.g., [28, 42]).
Although progress has been made in predicting binding sites from sequence information, the problem remains far from solved and several limitations persist. First, extracting evolutionary information from sequence data critically depends on sequence alignments containing large numbers of sequences. Second, most methods rely on a combination of structural and sequence features (e.g., [52, 54]). While combined methods can achieve high prediction performance, the performance of sequence-only methods remains modest [35, 37, 42].
Specificity of interaction, i.e. differences between groups of homologs that display different interactions has previously been reported. Pirovano et al. [39] identified interface residues by comparing homologs with different binding partners. Manning et al. [31] predicted positions which define sequence subfamily specificity, where some of these positions were binding sites. Based on a dataset of yeast interaction data and fungal ortholog groups, it has been suggested that, in addition, specificity between non-interacting and heteromeric interacting protein pairs might be used to detect the interaction sites [14]. Interestingly, here only up to one hundred sequences were needed to detect the specificity signal between binding and non-binding groups, far fewer than the '5 L' needed for covariation-based methods. However, the performance of their predictions is only just above random, indicating a need for a cleaner dataset for obtaining proof of principle.
In this paper, we investigate whether specificity between interacting and non-interacting subgroups can be used to predict interaction sites. To address this question, we chose homodimers as a use case to construct interacting subgroups and monomers to constitute non-interacting subgroups. In this way, we can confirm that all sequences in the interacting subgroup physically interact, and that we have a sub-group of monomers known not to (self) interact. Furthermore, the specificity signal is from compositional differences of one chain rather than multiple chains as would be the case when comparing heteromeric interacting groups with non-interacting groups. All homodimers and monomers were obtained from PISA which is a resource for exploring marcromolecular interfaces [26]. We compiled a new database derived entirely from crystallized proteins in the PDB [4], and compared homodimers with homologous non-interacting monomers in a multiple sequence alignment. Starting with 9152 homodimers and 13,355 monomers, we constructed 1,592 pair groups for which we predicted putative interface residues. We found that the compositional differences between interacting and non-interacting subgroups pinpoint interface positions. We also found that various filters on the input sequences yielded a stronger specificity signal and a better prediction performance. Finally, we relate our method with a sequence-only method, SPPIDER [43].
Results
We applied our analysis on the 10 pair-group sets created based on sequence identity (i.e., the complete set, <99 %, <98 %, <95 %, <90 %, <80 %, <70 %, <60 %, <50 % and <40 %) for Test-set 1. The number of pair-group alignments in each of the sets can be found in Additional file 1: Table S1. With lower sequence identity cut-off values, the numbers of homodimer and monomer sequences within each of the groups and the total number of groups are reduced. The complete set (Test-set 1) consists of 1593 pair-group alignments, each containing on average 25 homodimer and 14 monomer sequences per group.
Discussion
Interaction site prediction using sequence information alone remains a challenging problem. It is particularly important in the context of increasing protein sequence data and given the relative paucity of structure information which always needs expensive and time-consuming experiments. We demonstrate that sequence specificity information from interacting proteins and their non-interacting homologs is able to detect interaction sites. To the best of our knowledge, this is the first time that predicting interaction sites using subfamily specificity by including non-interacting information is performed at a scale beyond a few protein families.
Our results show that prediction is well beyond random: The SH signal is able to obtain ROC values greater than 0.6 AUC. The AUC increases to 0.7 if the dataset is filtered on sequence length and HSP-length between interacting and non-interacting groups. HSPs are formed by BLAST local alignments based upon residue similarity, thus residues should be similar. However, this goes against looking for differences between two subgroups, which is the hallmark of SH scoring. Since shorter HSPs should have more similar alignment positions to get a high-enough BLAST score, longer HSPs may contain less similar positions; i.e., that differ more between the subgroups, here implying interface residues that confer interaction specificity. Additionally, alignments comprising shorter HSPs contain larger regions of higher divergence, which will likely lead to more false positive predictions.
For our analysis, on average only 25 homodimer and 14 monomer sequences were used in a group. Furthermore, we do not lose prediction performance with low numbers of sequences, above the minimum of 5 required in our analysis. This is a vast improvement to covariance-based methods that require an estimated five times more sequences than the length of the alignment to detect interacting sites. Thus, this opens up the possibility of deriving interaction signals from genomes with little sequence data available, or from sparsely sampled protein families.
We observe that conservation of interaction sites is indistinguishable from other surface sites (Fig. 2), which corroborates observations by others (e.g., [7, 28]). This also helps explain why predicting interaction sites only using sequence conservation information still remains a very difficult problem. We also observe low correlation (R = 0.22) between AUC of ROC plots and sequence length of query homodimers, which suggests that the size of protein and its interface are unimportant factors in interaction. That is similar to what Dhole et al. [10] reported recently.
The definition of 'non-interacting' in our manuscript is not that the monomer can not interact with all the other proteins but the monomer loses the interaction with another monomer (itself). It is reported that, the same protein involved in different interaction might have different binding sites [35]. If the monomer in our non-interacting group also binds to other proteins, the interaction sites might be different. Then, the sequence specificity between the interacting sub-group (homodimer) and monomer sub-group can still be used to pinpoint the homodimer interaction sites.
Our dataset is obtained from PISA and PDB and might include any bias which the PDB has. To test this, we map the homodimer query sequences from each group in Test-set 1 (both Complete and Selected) onto CATH superfamilies and calculate the overall performance of our method (Average area Under Curve, AUC) for each superfamily. Our Test-set 1 covers all four main classes, 62.5 % (25/40) architectures, 11.5 % (158/1375) topologies, 8 % (219/2738) superfamilies in CATH while only comprising 1593 out of 69058 (2.3 %) total proteins in CATH. Our method does not only predict superfamiles which are enriched in PDB but also those for which few (homodimer) structures are solved. For the selected dataset, the sequences map to 7 superfamilies. Interestingly, we also selected one superfamily which our method can not predict well. The results of this can be found in Additional file 1: Figure S7 and S8.
In order to show that we exploit useful information from sequence (sequence specificity between interacting and non-interacting homologs) to predict interaction sites, we compared our results with other sequence-based methods. A clean comparison is difficult, since methods may rely on a particular way in which the data is prepared (e.g., particular database, or % identity filtering), and, in our case the inclusion of a non-interacting group. Figure
7
shows the prediction performance of other interacting site prediction methods using their own dataset from a recent benchmark [
10
]. Note that, due to the lack of a non-interacting group, we cannot apply our method to the Dhole et al. benchmark dataset. For comparison, performance of our method and SPPIDER using our dataset are also shown (cf. Table
1
). On our dataset we achieve similar precision, but considerable higher recall than SPPIDER, and we get similar precision and recall compared to the best ones reported by Dhole et al. [
10
]. Overall, we conclude that our method performs well compared to counterparts, although alternative methods may perform better on individual datasets.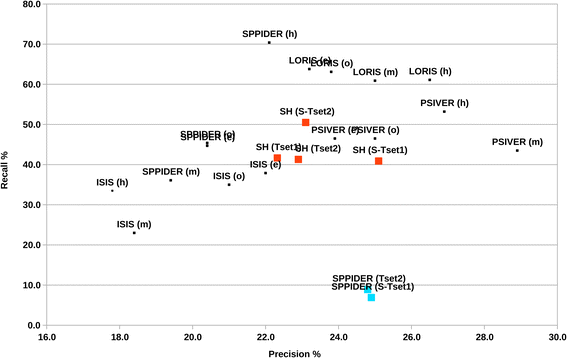 We tested the robustness of our interface prediction to changes in the selection of homodimer and monomer sequences. For selecting sequences into either subgroup, homodimer or monomer, we use an effective e-value cut-off which is based on the first occurrence of a sequence of the other class in the BLAST results; i.e. the first monomer found for a homodimer query determines the e-value cut-off for creating this homodimer group (and vice versa). By changing this e-value cut-off we changed the selection of sequences and thereby test the robustness. We created three variations: 1) By taking the lowest of the two e-values for the homodimer and monomer groups in a pair-group, we obtain a stricter selection; this tests the effect of missing data. 2) By relaxing the threshold up to the point where 20 % of the other class was mixed in, we obtain a looser selection; this tests the effects of polluting the data. 3) By taking a fixed, strict but arbitrary e-value cut-off of 10E-10, we test the case where no complete annotation of interaction status of the sequences is available. Figure
8
summarizes the results for these three variations. For comparison, also the original selections are shown, and
p
-values for the comparisons are listed in Additional file
1
: Table S7. A stricter threshold (variation 1) does not affect results, and neither does a fixed 10E-10 cut-off (variation 3). The polluted or 'mixed' data (variation 2) does yield a lower AUC, but only slightly so. This means our method for predicting interfaces is stable with respect to missing data, incorrect annotations, as well as to a particular choice of e-value cut-off. This opens up the possibility of extending the method to use a single e-value cut-off to delineate both groups, which means a full annotation of interaction status of all proteins may not be required.

Although our results demonstrate an advance in predicting interaction sites from sequence information alone, it is clear that, like other approaches, our approach also holds some limitations. First, detection of functionally conserved homologs is still a difficult problem. Thus, care should be taken in selecting homologous proteins that are likely to conserve interaction. Initially, our procedure was based on ortholog clustering databases, such as COG and OrthoMCL, but unfortunately, interaction appears to be an ill conserved property within these orthologous groups [28]. This introduces considerable noise into the specificity signal [14]. Second, for our prediction we need homologous sets of interacting and non-interacting groups. Not for all interacting proteins will one be able to identify non-interacting homologs. Proteins interacting with different partners might be used instead [14, 39], but that remains to be investigated further.
Conclusion
We have shown it is possible to predict interaction sites out of all residues by combining sequence and group specificity information. When used as a prediction method in its current form, on homodimer versus monomer data the Sequence Harmony specificity signal yields similar precision as other signals but may obtain higher coverage.
Declarations
Acknowledgements
Qingzhen Hou is supported by Chinese Scholarship Council (No.2011627127). Part of this work was supported by the Netherlands Bioinformatics Centre, BioRange research programme. Bas E. Dutilh was supported by CAPES/BRASIL. The authors thank Sanne Abeln for her suggestion on using PISA database to get homodimer datasets and Paul De Geest for mapping all homodimer query sequences to CATH superfamilies.
Open AccessThis article is distributed under the terms of the Creative Commons Attribution 4.0 International License (http://creativecommons.org/licenses/by/4.0/), which permits unrestricted use, distribution, and reproduction in any medium, provided you give appropriate credit to the original author(s) and the source, provide a link to the Creative Commons license, and indicate if changes were made. The Creative Commons Public Domain Dedication waiver (http://creativecommons.org/publicdomain/zero/1.0/) applies to the data made available in this article, unless otherwise stated.
Authors' Affiliations
(1)
Center for Integrative Bioinformatics VU (IBIVU), Vrije University Amsterdam, Amsterdam, The Netherlands
(2)
Theoretical Biology and Bioinformatics, Utrecht University, Utrecht, The Netherlands
(3)
Centre for Molecular and Biomolecular Informatics, Radboud Institute for Molecular Life Sciences, Radboud University Medical Centre, Nijmegen, The Netherlands
(4)
Department of Marine Biology, Institute of Biology, Federal University of Rio de Janeiro, Rio de Janeiro, Brazil