Research Article

Open Access
Diffany: an ontology-driven framework to infer, visualise and analyse differential molecular networks
BMC Bioinformatics
2016
17:18
Received: 15 September 2015
Accepted: 17 December 2015
Published: 5 January 2016
Abstract
Background
Differential networks have recently been introduced as a powerful way to study the dynamic rewiring capabilities of an interactome in response to changing environmental conditions or stimuli. Currently, such differential networks are generated and visualised using ad hoc methods, and are often limited to the analysis of only one condition-specific response or one interaction type at a time.
Results
In this work, we present a generic, ontology-driven framework to infer, visualise and analyse an arbitrary set of condition-specific responses against one reference network. To this end, we have implemented novel ontology-based algorithms that can process highly heterogeneous networks, accounting for both physical interactions and regulatory associations, symmetric and directed edges, edge weights and negation. We propose this integrative framework as a standardised methodology that allows a unified view on differential networks and promotes comparability between differential network studies. As an illustrative application, we demonstrate its usefulness on a plant abiotic stress study and we experimentally confirmed a predicted regulator.
Keywords
Differential networksOsmotic stress responseSystems biology
Background
In the early days of Systems Biology, when molecular interaction data was still relatively sparse, all interactions known for a model organism were typically added to a single large interaction network. Such an integrated view would combine data from the proteome, transcriptome and metabolome [1–4]. While such studies certainly proved valuable to gain insights into the general characteristics of molecular networks, they lack the level of detail required to analyse specific response mechanisms of the interactome to changing conditions or stimuli. Consequently, differential networks have been introduced to model the dynamic rewiring of the interactome under specific conditions [5, 6]. Differential networks only depict the set of interactions that changed after the introduction of a stimulus. Most current research in this field has focused on a single interaction type such as expression data [7, 8], genetic interactions [9] or protein complexes [10]. Further, the analysis is usually limited to the comparison of only two networks [11–13]. At the same time, several promising studies have constructed multiple condition-specific networks such as time-course data [14, 15], tissue-specific networks [16, 17] or stress-induced co-expression networks [18]. These studies analyse general network statistics such as connectivity scores or employ machine-learning techniques to identify significantly rewired genes. However, due to the black-box behaviour of the methods and because these studies do not actually generate and visualise differential networks, the resulting prioritised gene lists cannot be easily interpreted by domain experts. By contrast, we believe it to be crucial that researchers can visualise and further explore the rewiring events in their network context. Unfortunately, there is currently no standardised methodology that would allow to integrate heterogeneous condition-specific networks on the one hand, and produce intercomparable differential networks on the other hand.
Here, we introduce a novel ontology-based framework to standardise condition-specific input networks and to allow an arbitrary number of such networks to be used in the inference of a differential network. The network algorithms are designed to cope with a high variety of heterogeneous input data, including physical interactions and regulatory associations, symmetric and directed edges, explicitly negated interactions and edge weights. Depending on the application, these weights may be used to model the strength of an interaction, determined for instance by the expression levels of the interacting genes, or they may represent the probability that an interaction occurs when dealing with computationally inferred networks such as regulatory associations derived from co-expression analysis.
To the best of our knowledge, our integrative framework named 'Diffany' (Differential network analysis tool) is unique in the emerging field of differential network biology, and we hope its open-source release will facilitate and enhance differential network studies. As one such example, we will present how the reanalysis, with Diffany, of a previously published experimental dataset has unveiled a novel candidate regulator for plant responses to mannitol. Experimental validation confirmed that this regulator, HY5, might indeed be involved in the mannitol-responsive network in growing Arabidopsis leaves.
Framework
In this section, we detail the various parts of the Diffany framework (Additional file 1).
Results
By design, the framework presented here can deal with any mixed input networks of negated edges, different edge weights, directed as well as symmetrical edges and a variety of edge types. Herein lays the main strength of our framework that is thus applicable to a wide range of comparative network studies.
Genetic networks
To evaluate the implementation of our novel framework, we have applied it first to a small, artificial network available in previous literature (Fig.
4
). Using the original inference as inspiration (Fig.
4
a
) to model the input networks (Fig.
4
b-c
), Diffany produced differential and consensus networks (Fig.
4
d-e
). Remarkably, compared to the inference of [
6
], the consensus network generated by Diffany contains one additional edge: the (weak) unspecified genetic interaction (gi) between A and B. Indeed, because our framework is ontology-driven, it can recognise the fact that 'positive gi' and 'negative gi' are both subclasses of the more general category 'genetic interaction'. As a result, there is an edge of type 'unspecified genetic interaction' between nodes A and B in the consensus network.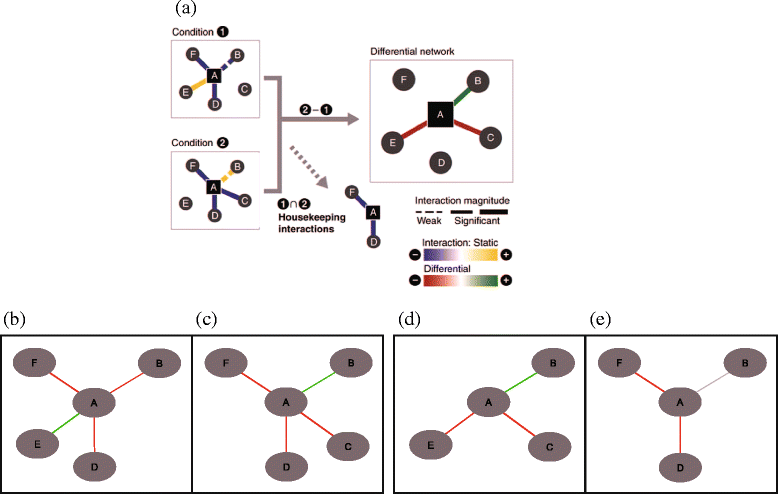 In cases where such general, unspecified edges without polarity are unwanted, it is trivial to remove them from the network in a post-processing filtering step. However, we believe this additional information can be valuable when combined with the information in the differential networks themselves, as the presence or absence of such a generic consensus edge helps distinguishing between the three different cases as depicted in Fig. 1. Specifically, this generic regulatory edge provides evidence for the fact that both the reference and condition-specific network contain a regulatory edge between nodes A and B, but with opposite polarity, as is the case in the top example in Fig. 1. Given that the differential edge presents an increase in regulation, this means that the reference network contained a negative (down-) regulation, and the condition-specific network a positive (up-) regulation. When instead the consensus edge would not have this general, unspecified edge, as in the case of the bottom example in Fig. 1, this would mean that the condition-specific network simply did not have any link between the two nodes.
Heterogeneous data
The second example presents the application of the Diffany inference tool to heterogeneous input networks, further illustrating the power of the Interaction Ontology. Here, a differential and a consensus network are generated from reference and condition-specific networks obtained through integrating various interaction and regulation types (Fig.
5
). Notice how directionality, different edge types and weights can all be mixed freely in the networks.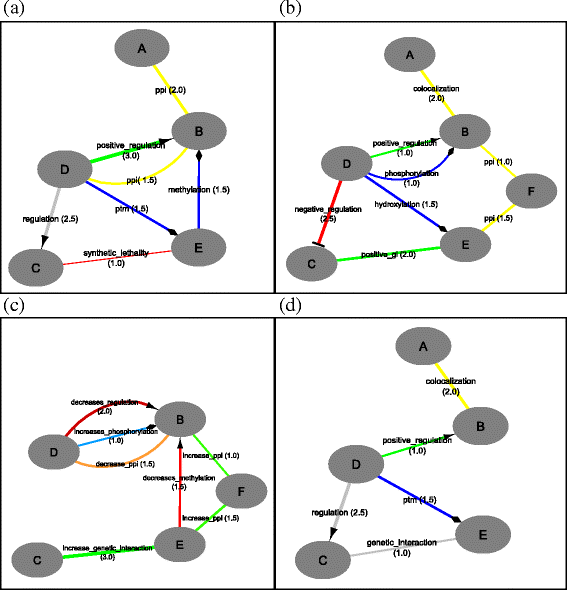 Mannitol-stress in plants
To demonstrate the practical utility of our framework, we have used Diffany to reanalyse a previously published experimental dataset measuring mannitol-induced stress responses in the model plant
Arabidopsis thaliana
[
24
]. In this study, nine-days-old seedlings were transferred to either control medium, or medium supplemented with 25 mM mannitol. At this developmental stage, the third true leaf is very small and its cells are actively proliferating. RNA from these young leaves was extracted at 1.5, 3, 12 and 24 h after transfer. The expression data were processed with robust multichip average (RMA) as implemented in BioConductor [
25
,
26
]. Further, the Limma package [
27
] was applied to identify differentially expressed (DE) genes at two FDR-corrected P-values: 0.05 and 0.1, giving rise to two sets of DE genes for each time-point (Table
1
and Additional file
2
).
Table 1
Number of differentially expressed genes per dataset
| Time point | FDR 0.05 | FDR 0.1 |
| --- | --- | --- |
| 1.5 h | 58 | 78 |
| 3 h | 314 | 456 |
| 12 h | 435 | 581 |
| 24 h | 1500 | 1913 |
| TOTAL | 1638 | 2155 |
Input networks
To determine the set of genes (nodes) relevant to this study, we have first taken all differentially expressed genes across all time-points, using the strict 0.05 FDR threshold. Next, all the PPI neighbours of these genes were extracted from CORNET [28, 29] and added, with the exception of non-DE PPI hubs, as the inclusion of such hubs would extend our networks to irrelevant nodes. Analysis showed that for instance 10 % of all nodes account for 70 % of all PPI edges, and we have removed the bias towards such generic hubs by automatically excluding proteins with at least 10 PPI partners. Note that such hubs will still appear in the networks when they are differentially expressed themselves.
Subsequently, all regulatory neighbours of the extended node set were added, using both the AGRIS TF-target data [30] and the kinase-target relations from PhosPhAt [31]. From the kinase-target relations, hubs with at least 30 partners were excluded, removing mainly MAP kinase phosphatases (MKPs) which are involved in a large number of physiological processes during development and growth [32]. Finally, we also added DE genes from the second, less stringent result set (FDR cut-off 0.1), if they could be directly connected to at least one of the genes found up until that point. This approach allows us to explore also those genes that are only slightly above the strict 0.05 FDR cut-off, while reducing noise by excluding those that are not connected to our pathways of interest. In general, this two-step methodology as well as the hub filtering was found to produce more meaningful results. However, both steps are optional and can be removed from the pipeline when using the Diffany library in other studies.
The reference network was then defined by generating all PPI and regulatory edges between the node set as determined in the previous steps. All edges in the reference network were given weight one, a default value used when no overexpression is measured (yet). This resulted in a reference network of 1393 nodes and 2354 non-redundant edges, of which 56 % protein-protein interactions, 24 % TF regulatory interactions and 20 % kinase-target interactions.
Subsequently, each time-specific network was constructed by altering the edge weights according to the expression levels of the corresponding nodes/genes measured at that time point. All interactions with at least one significantly differentially expressed gene as interaction partner is thus down- or upweighted. To define differential expression, the less stringent criterium (0.1 FDR) is used here. For instance, the activation of a non-DE gene by a gene that is differentially expressed at that specific time point, would get a weight proportional to the fold change of that differentially expressed activator. By contrast, an edge would be removed (weight zero) when the edge does not fit the expression values at this time point, for instance when an activator is overexpressed but the target is underexpressed. This allows us to remove the interactions that, even though reported in the public interaction data, are probably not occurring in this specific context.
As a final result, the information on differentially expressed genes has now been encoded in the edge weights of the time-specific networks. By comparing them to the generic reference network, the Diffany algorithms will now be able to produce differential and consensus networks which depict the changes in expression values across the time measurements. In the following, we describe these results and provide interpretations that show-case how this type of analysis may lead to novel insights.
Differential network for one condition
With the statistically significant DE values translated into input networks, the differential networks can then be generated by either comparing the reference network to each time-specific network individually, or by comparing all time-specific networks against the reference network simultaneously.
As an example of the first mode of comparison, Fig.
6
depicts the differential network after 1.5 hours, illustrating the rewiring events occurring in this short time frame after the induction of mannitol stress. At this early time point, it is rather unlikely that the expression of the DE genes was affected by subsequent transcriptional cascades. By including transcription factors upstream of the DE genes in the network even if they are not DE themselves, it is possible to identify new putative regulators as compared to previous analysis methods. For example, HY5 and PIL5 might be suitable candidates, as they contain a putative phosphorylation site and are thus likely to be posttranslationally regulated.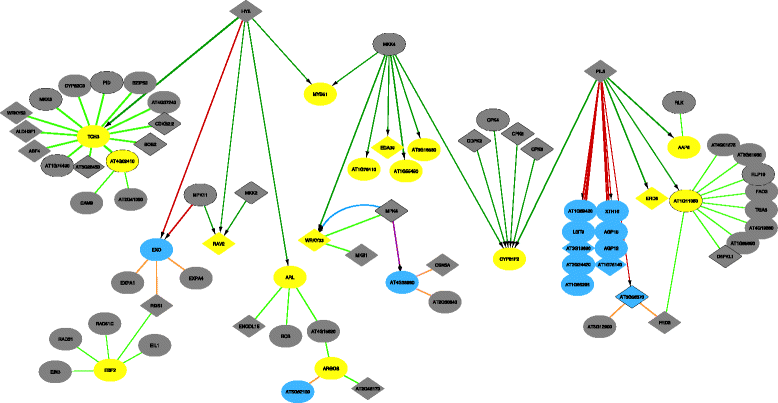 To further investigate the possibility that HY5 would be a transcriptional regulator under mannitol stress, we validated the Diffany results by measuring the expression level of the proposed HY5-target genes in the growing leaves of WT and HY5 loss-of-function mutants. These genes, except ARL, were all underexpressed in hy5 mutants as compared to WT, confirming that HY5 is indeed involved in the regulation of the MYB51, EXO, RAV2 and TCH3 expression in growing Arabidopsis leaves (Additional files 3 and 4).
To further explore if HY5 is involved in leaf growth regulation under mannitol stress, phenotypic analysis was performed on
hy5
mutants under both long term and short term mannitol treatment. The
hy5
seedlings were clearly hypersensitive to stress, with decreased leaf size under long term and short term stress, and showed complete bleaching upon long term mannitol stress (Fig.
7
, Additional file
4
). These biological results demonstrate that HY5, which has been identified with Diffany as a putative regulator of mannitol stress, might indeed be involved in the mannitol-responsive network in growing Arabidopsis leaves.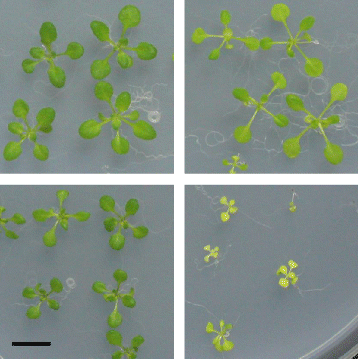 Next to the identification of new putative regulatory links, the differential PPI edges make it possible to understand complex formation under specific conditions. For example, the EBF2 sub-complex presents a nice example of how the induction of one protein is sufficient to increase the activity of a whole complex. The EBF2 is a stress-responsive E3-ligase involved in the posttranslational regulation of the ethylene-responsive factors EIN3 and EIL1 [33, 34]. In this differential network, EBF2 forms a complex with these two targets, which are induced by mannitol as well. However, some of the other members of the SCF-complex, such as CUL1, SKP1, ASK1 and ASK2, are missing from the differential network. As these SCF-complexes are involved in many cellular processes, their specificity being defined by the E3-ligase, we can speculate that the other members of the complex are highly abundant and not specific to mannitol-stress. Their automatic removal from the differential network thus allows the user to focus on the truly interesting genes for this specific stress condition.
Differential network for all conditions
The second mode of comparison allows to simultaneously compare all condition-specific networks to one reference network. In this specific case, such an analysis models the stress-specific, but time-independent response. Fig.
8
shows these rewiring interactions. Strikingly, mainly the overexpressed genes (yellow nodes) remain differentially expressed throughout the time-course experiment, while this is only the case for a few of the underexpressed genes (blue nodes). This implies that in this context, the upregulation of genes is a more stable and long-term process.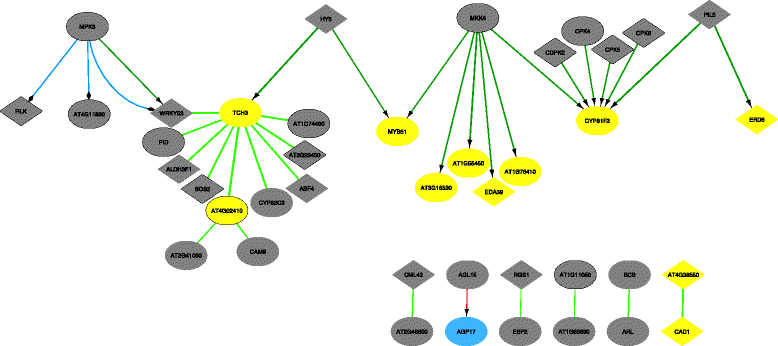 For instance, the upregulation of TCH3 by HY5 is present because TCH3 is overexpressed at all time points and its upregulation by HY5 may thus play a significant role in the overall stress response. To validate this biologically, the expression level of TCH3 and other previously mentioned HY5 target genes was measured in WT and hy5 mutants, 24 h upon transfer to control or mannitol-supplemented medium (Additional file 4). While the induction of TCH3, MYB51 and ARL could be clearly observed in WT plants, a more variable but less pronounced upregulation was observed in hy5 mutants. Thus, HY5 might be involved in the regulation of TCH3, MYB51 and ARL under mannitol, although it is probably not the sole regulator of these targets, but instead acts in parallel with other regulators previously identified in the early mannitol-response of growing Arabidopsis leaves [24, 35].
Finally, we can apply a less stringent criterium to the inference of differential networks by only requiring that three out of four time points need to match for a rewiring event to be included in the differential network (Fig.
9
). This results in more robust network inference, as the differential network would remain the same when some noise would be introduced at one of the time points. Additionally, this method provides a more complete view on the rewiring pathway occurring in response to osmotic stress in plants. All these different settings and options are also available when generating the differential networks through the Cytoscape plugin.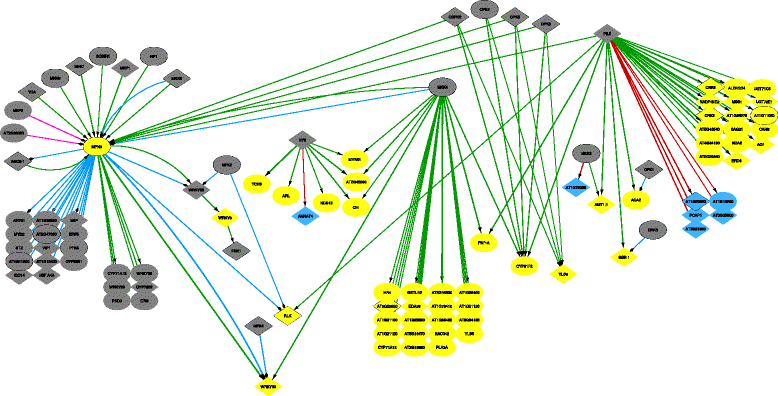 Discussion and conclusion
We have developed an open-source framework, called Diffany, for the inference of differential networks from an arbitrary set of input networks. This input set always contains one reference network which represents the interactome of an untreated/unperturbed organism, while all other networks are condition-specific, each modelling the interactome of the same organism subjected to a specific environmental condition or stimulus. Differential networks allow focusing specifically on the rewiring of the network as a response to such stimuli, by modelling only the changed interactions. At the same time, interactions that remain (largely) the same are summarised in a 'consensus' network that provides insight into the basic interactions that are not influenced by changes of internal or external conditions. The analysis of these differential and consensus networks provides a unique opportunity to enhance our understanding of rewiring events occurring for instance when plants undergo environmental stress, or when a disease manifests in the human body. Further, the fact that the framework can compare an arbitrary number of condition-specific networks to one reference network at the same time, forms a powerful tool to analyse distinct but related conditions, such as different human diseases that may share a defected pathway, or various abiotic stresses influencing a plant in a similar fashion.
In comparison to previous work in the emerging field of differential network biology, Diffany is the first generic framework that provides data integration functionality in the context of differential networks. To this end, we have implemented an Interaction Ontology which enables seamless integration of different interaction types, provides semantic interpretation, and deals with heterogeneous input networks containing both directed and symmetrical relations. This ontology forms the backbone for the implementation of the network inference methods that produces differential networks. As in any Systems Biology study or application, a known challenge involves the issue of non-existing edges: an interaction may be missing from the network because it was experimentally determined that no association occurred, or it may simply be that there is a lack of evidence for the interaction, not actually excluding its existence. To deal with these cases, Diffany allows the definition of negated edges, which are explicit recordings of interactions that were determined not to happen under a specific condition.
To provide easy access to the basic functionality of inference and visualisation of differential and consensus networks, we have developed a commandline interface and a Cytoscape plugin. The Cytoscape plugin allows to generate custom differential networks as well as reproduce the use-cases described in this paper. All relevant code is released under an open-source license.
Finally, we have illustrated the practical utility of Diffany on a study involving osmotic stress responses in Arabidopsis thaliana. The resulting differential networks were found to be concise and coherent, modelling the response to mannitol-induced stress adequately. The analysis of these differential networks and a preliminary experimental validation has led to the identification of new candidate regulators for early mannitol-response, such as PIL5 and HY5, which likely contribute to the fast transcriptional induction of mannitol-responsive genes. Further detailed biological validation, including for instance ChIP experiments and experimental systems biology approaches, are necessary to confirm the role of HY5 in this context and fully unravel the early stress-induced rewiring events of this complex regulatory network.
Declarations
Acknowledgements
We want to thank Nathalie Gonzalez and Jasmien Vercruysse for fruitful discussions and feedback during the development of the framework. We want to thank the reviewers and editor for their constructive input and ideas on rendering this a more comprehensible manuscript.
This work was supported by Ghent University (Multidisciplinary Research Partnership Bioinformatics: from nucleotides to networks) [to SVL, TVP, YVdP], the Research Foundation Flanders (FWO) [to SVL], and the Interuniversity Attraction Poles Program (grant no. P7/29 'MARS') initiated by the Belgian Science Policy Office, by Ghent University (Bijzonder Onderzoeksfonds Methusalem project no. BOF08/01M00408, Multidisciplinary Research Partnership Biotechnology for a Sustainable Economy project no. 01MRB510W) [to MD, DI].
Open Access This article is distributed under the terms of the Creative Commons Attribution 4.0 International License (http://creativecommons.org/licenses/by/4.0/), which permits unrestricted use, distribution, and reproduction in any medium, provided you give appropriate credit to the original author(s) and the source, provide a link to the Creative Commons license, and indicate if changes were made. The Creative Commons Public Domain Dedication waiver (http://creativecommons.org/publicdomain/zero/1.0/) applies to the data made available in this article, unless otherwise stated.
Authors' Affiliations
(1)
Department of Plant Systems Biology, VIB, Ghent, Belgium
(2)
Department of Plant Biotechnology and Bioinformatics, Ghent University, Ghent, Belgium
(3)
Genomics Research Institute, University of Pretoria, Pretoria, South Africa
Copyright
© Van Landeghem et al. 2015