MUMAL2: Improving sensitivity in shotgun proteomics using cost sensitive artificial neural networks and a threshold selector algorithm
BMC Bioinformatics
BMC series – open, inclusive and trusted
2016
17(Suppl 18):472
Published: 15 December 2016
Abstract
Background
This work presents a machine learning strategy to increase sensitivity in tandem mass spectrometry (MS/MS) data analysis for peptide/protein identification. MS/MS yields thousands of spectra in a single run which are then interpreted by software. Most of these computer programs use a protein database to match peptide sequences to the observed spectra. The peptide-spectrum matches (PSMs) must also be assessed by computational tools since manual evaluation is not practicable. The target-decoy database strategy is largely used for error estimation in PSM assessment. However, in general, that strategy does not account for sensitivity.
Results
In a previous study, we proposed the method MUMAL that applies an artificial neural network to effectively generate a model to classify PSMs using decoy hits with increased sensitivity. Nevertheless, the present approach shows that the sensitivity can be further improved with the use of a cost matrix associated with the learning algorithm. We also demonstrate that using a threshold selector algorithm for probability adjustment leads to more coherent probability values assigned to the PSMs. Our new approach, termed MUMAL2, provides a two-fold contribution to shotgun proteomics. First, the increase in the number of correctly interpreted spectra in the peptide level augments the chance of identifying more proteins. Second, the more appropriate PSM probability values that are produced by the threshold selector algorithm impact the protein inference stage performed by programs that take probabilities into account, such as ProteinProphet. Our experiments demonstrate that MUMAL2 reached around 15% of improvement in sensitivity compared to the best current method. Furthermore, the area under the ROC curve obtained was 0.93, demonstrating that the probabilities generated by our model are in fact appropriate. Finally, Venn diagrams comparing MUMAL2 with the best current method show that the number of exclusive peptides found by our method was nearly 4-fold higher, which directly impacts the proteome coverage.
Conclusions
The inclusion of a cost matrix and a probability threshold selector algorithm to the learning task further improves the target-decoy database analysis for identifying peptides, which optimally contributes to the challenging task of protein level identification, resulting in a powerful computational tool for shotgun proteomics.
Keywords
Artificial neural network
Cost sensitive classification
Peptide/protein identification
Phosphoproteomics
Shotgun proteomics
Data mining
Background
The goal in proteome studies is to characterize as many proteins as possible in the samples being analyzed, in order to assign to these proteins a role in cellular activities, including cases of severe disease occurrence due to protein malfunction [1, 2]. For this purpose, liquid chromatography coupled with tandem mass spectrometry (LC-MS/MS) is the most commonly used approach [3–5].
An LC-MS/MS run generates thousands of spectra, where each one represents a peptide. The next step is to assign a peptide sequence to each spectrum based on its spectral peak pattern [6]. There are basically two techniques to interpret MS/MS spectra. One is the so-called de novo approach that analyzes the peak patterns without using any external information [7]. The most common technique, however, uses protein sequence databases, which is the case of computational programs such as Sequest and Mascot [8, 9]. These programs perform an in silico digestion of proteins present in the database (DB) and generate virtual spectra from the resulting virtual peptides. Thus, for each observed spectrum, the program finds its best match to a virtual spectrum and the respective peptide sequence is assigned to the given MS spectrum. The programs normally report the ten best matches. Several scores are attributed to a peptide-spectrum match (PSM) to measure its quality [10]. This strategy can be used to identify and quantify peptides/proteins [11]. Nevertheless, a major issue in this procedure is that a single LC-MS/MS run usually leads to thousands of spectra, where fewer than 20% are interpreted correctly [12].
In this work, we are primarily interested in the identification task. In particular, we aim at performing a computational curation of Sequest PSMs, given the enormous volume of spectra that is usually produced and the potentially large number of false positive hits. In this context, it is important to efficiently estimate the false discovery rate (FDR) of the identifications [13].
A common strategy to FDR estimation is the use of a target-decoy database (TDDB) [14]. In this approach, decoy protein sequences are generated to be used along with target protein sequences for the search, which can be performed using a composite target-decoy DB or in two rounds, i.e., one search for each DB (decoy and target). Common methods for generating decoy sequences are to reverse or shuffle the target sequences, keeping the amino acid distribution. The TDDB strategy relies on the premise that the decoy PSMs are good models of the incorrect target PSMs. Hence, for a wrong PSM, the probability of the assigned peptide sequence to pertain to the target DB is assumed to be the same probability of the sequence to pertain to the decoy DB. As a result, a good estimate for the number of wrong spectrum interpretations among target PSMs is simply the number of decoy PSMs [15]. However, even though the TDDB strategy has been used successfully for FDR estimation, it has not been, in general, suitably applied to optimize sensitivity, i.e., more sophisticated combinations of the PSM scores are not fully explored to increase sensitivity [16]. Furthermore, important scores are left out from the FDR estimation process [13].
PeptideProphet is another known approach used to PSM assessment. This method considers mixed statistical distributions of PSM scores to predict correct and incorrect spectrum interpretations [17, 18]. In the case of Sequest PSMs, for example, the Gaussian and gamma distribution parameters for incorrect and correct PSMs, respectively, are estimated by the Expectation-Maximization algorithm [19]. When the dataset presents the assumed distributions, PeptideProphet can provide an accurate probability that a PSM is correct. On the other hand, in certain datasets the scores might present completely different distributions. Particularly in the case of phosphopeptides, the peptide fragmentation process in the MS/MS run is biased towards phosphate groups, which suppresses important ions and leads to odd spectra [20–22].
MUDE and MUMAL are two more recently introduced methods proposed by our group that explore the TDDB strategy without assuming and relying on a data distribution [3, 12]. Both methods describe a more comprehensive use of PSM scores to enhance sensitivity.
MUDE considers in addition to Xcorr and △Cn, normally used in TDDB analyses, four alternative scores: △m, SpRank, and PercIons, provided by Sequest, and RTp-value, provided by the OpenMS proteomics tool [12, 23]. Furthermore, the problem of finding threshold values for the scores that lead to a desired FDR is treated as an optimization problem. Even though it provides a significant increase in sensitivity, the MUDE approach is capable of producing only linear decision boundaries to separate false positives from true positives because the score thresholds are defined individually.
As in MUDE, the MUMAL method to assess PSMs applies a TDDB analysis using a multivariate approach. However, this is accomplished with machine learning techniques, aimed at providing more flexible decision boundaries to further increase sensitivity in the FDR estimation process [3, 6]. MUMAL replaces the optimization procedure in MUDE with an Artificial Neural Network (ANN) algorithm to perform PSM classification. The resulting ROC (receiver operating characteristic) curve is analyzed according to the decoy count idea, i.e., for each point in the curve, the respective discriminant probability threshold t is used to count the number of decoy hits with probability (generated by the ANN) equal or greater than t. This count is the estimate for the number of target hits with P ≥t that are incorrect. For the ANN model construction, the training set is the data to be analyzed itself, i.e., all Sequest hits, where the attributes are composed by the six scores mentioned above, and the class labels are: 0 for decoy hits, and 1 for target hits. If, on one hand, all of the decoy hits are obviously wrong, on the other hand, only a minor part of target hits are correct. For this reason, by using classical evaluation methods such as accuracy, precision, and recall, the resulting model is regarded as unsatisfactory because most target hits have characteristics similar to decoy hits. However, the ROC analysis is an optimal tool to find appropriate discriminant probabilities that provide the desired FDR with good sensitivity [24]. Nevertheless, there is room for improving sensitivity even further, particularly concerning the classification procedure, because other techniques could be applied for using decoy hits to characterize the wrong interpretations among target PSMs.
In this vein, we again propose to use ANNs as in MUMAL to keep delineating good decision boundaries. However, two important approaches are included in the PSM assessment procedure. The first one is the use of a cost matrix for making the cost of misclassifying an instance of class 0 (decoy hit) higher than the cost of misclassifying an instance of class 1 (target hit) [25]. It provides a bias toward the correct classification of decoy hits, for which the class labels are definitely correct (decoy hits are obviously wrong). In this way, the incorrect target hits, i.e., the ones with the same characteristics of decoy PSMs, but with different label (class 1), tend to be correctly classified as class 0 by the model. Therefore, decoy hits help to pin down incorrect target hits, providing better decision boundaries, which leads to a higher sensitivity.
The second technique we use for improving the MUMAL approach is to apply a threshold selector algorithm (TSA) [26]. After building the model with an ANN with a cost matrix, and analyzing the ROC curve to see which discriminant probabilities provide suitable FDRs, the discriminant probability that leads to a 1% FDR is selected to be the final threshold value t that separates correct from incorrect PSMs. Next, threshold t is set to TSA, which replaces the probabilities generated by the ANN approach with probabilities that make more sense in terms of indicating the PSM correctness. For hits with probability = t, TSA replaces their probabilities with 0.5, and all other PSM probability values are proportionally normalized, keeping the range [0, 1], so that 0.5 is the point of separation between a set of PSMs with high FDR (those with P < 0.5) and a set of PSMs with low FDR (those with P ≥ 0.5). Note that the previous version of MUMAL provides a good approach for separating PSMs with low FDR. However, due to the model problem caused by the fact that many class-1 instances have similar characteristics to class-0 instances, the probability value generated by the ANN approach for a target PSM is not appropriate for its individual evaluation. With the probability value adjustment provided by TSA, in turn, individual assessment of PSMs is now possible, which is very important for the protein inference stage, such as the one performed by ProteinProphet [17].
In this work, we performed experiments with 11 datasets, in a comparison with standard methods for PSM assessment, to demonstrate that our method, named MUMAL2, could achieve an average increase of 15% in sensitivity concerning the best current method, for FDRs varying from 0 to 5%. Still, by using Venn diagrams with peptides identified for a 1% FDR, we demonstrated that almost 4-fold more exclusive peptides were found. Furthermore, in an additional experiment using a dataset with known proteins, the ROC area calculated after the adjustment of probabilities by TSA was 0.93, showing coherent probability values. It is worth noting the demonstration of the predictive power of our method for phosphopeptides. In these cases, the score distribution might be very different from non-phosphopeptide PSMs, which complicates the analysis of traditional computational tools such as PeptideProphet.
Results and discussion
To evaluate MUMAL2, the parameters were kept with default values, i.e., number of nodes in the hidden layer = 4, momentum = 0.2, learning rate = 0.3, and epochs = 1000. The experiments were performed on a Linux machine equipped with Intel® Celeron® CPU N2830 2.16 GHz × 2, and 4 GB of RAM. Our intention was to prove that MUMAL2 can provide a quick answer even on personal computers. In fact, one iteration of MUMAL2, i.e., one execution of the strategy cost matrix + ANN, takes 20 s on average. Because eleven executions to produce the final model are needed, the total time taken is 220 s, in general. We realized that it is not significantly different from MUMAL's running time because MUMAL has also to execute a number of iterations to produce its best results. Therefore, we concentrate the analyses of our experiments on the capacity of our approach to assess PSMs.
Measuring the predictive power of MUMAL2
It is clear, thus, that the application of a supervised ML method here does not follow the classic steps: Build the learning model using a training set, and apply the resultant model to unknown instances. In our case, the ANN is trained and applied using the same data. Notice that the target instances are the ones of interest. Our final aim is to separate wrong targets from correct targets. To this end, we use a higher cost for FPs to force the model to learn how to correctly classify decoys whose labels are obviously correct. That is why we say that decoys help to pin down wrong targets. Next, we apply the final model on the same data to relabel the wrong target hits, i.e., the ones with similar features to decoy hits, to class 0. Thus, it does not make sense to talk about cross-validation to evaluate the model. Instead, we have to verify whether correct and incorrect targets are being identified.
Comparing MUMAL2 with previously proposed methods
The next experiments demonstrate the superior sensitivity of MUMAL2 in relation to important methods for PSM assessment: MUMAL, MUDE, PeptideProphet, and bivariate decoy/target analyses, where the thresholds of two scores, often △Cn and Xcorr, leading to a desired FDR are pursued. For comparisons with phosphodata, we included a bivariate analysis with △M and Xcorr, following Beausoleil et al. and Jiang et al. recommendation [21, 33]. According to them, △Cn scores are often suppressed when phosphopeptides have more than one potential phosphorylation site. Therefore, △M should be used instead. For a detailed description of how the methods used in the comparison were run to produce the results shown next, refer to the works of Cerqueira et al. [3, 34].
Figures
8
and
9
show the curves of the number of identified PSMs vs estimated FDR for all above-mentioned methods applied to the eleven datasets of unknown proteins. It is possible to build such curves because all those approaches provide an effective way to estimate the FDR value for a given set of selected PSMs. The curves show FDR values varying from 0 to 5%, which are the error rates commonly accepted. It can be seen in all cases that MUMAL2 is superior than MUDE, PeptideProphet, and the bivariate analyses.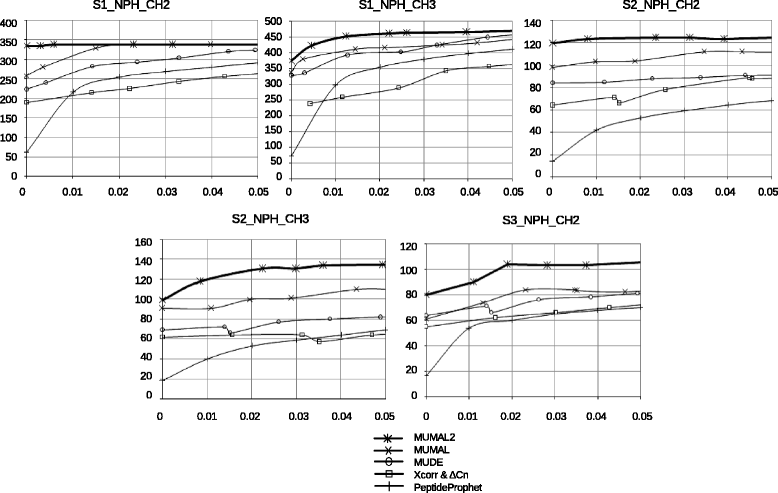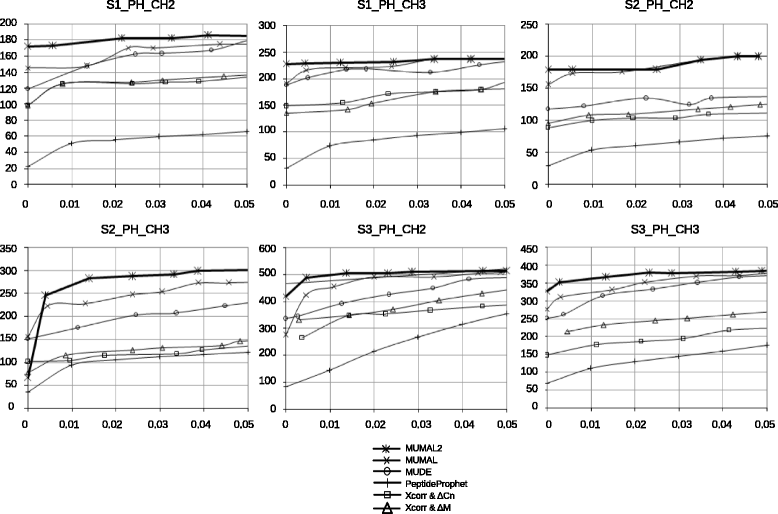 Regarding MUMAL, MUMAL2 has an equal or greater sensitivity. It is expected because MUMAL2 performs 10 executions with CFP varying from 1 to 10. The execution with CFP = 1 is equivalent to the MUMAL execution. Therefore, MUMAL2 cannot be worst, but it can eventually present the same sensitivity as MUMAL. Notice, however, that the number of cases where MUMAL2 has a greater sensitivity is higher than the cases of equal performance. Our method could provide an average increase of 16.5 and 7.2% in relation to MUMAL for non-phosphodata and phosphodata, respectively. It means about 24 and 20 more peptides, on average, respectively.
In particular for a 1% FDR, which is a commonly pursued FDR value, MUMAL2 demonstrates superiority in all cases. For non-phosphorylated proteins, the PSM evaluation provided by MUMAL2 for this FDR led to an average improvement in sensitivity of 16.8% compared with MUMAL, meaning about 23 additional peptides. For phosphorylated proteins, in turn, the increase was approximately 12%, resulting in nearly 31 more peptides.
Figures
8
and
9
demonstrate that MUMAL presented the best performance among the methods being compared with our approach. For this reason, we performed an additional experiment to compare MUMAL2 with MUMAL by means of Venn diagrams to call attention to the higher number of exclusive peptide identifications provided by the former. Figure
10
shows this counting for a 1% FDR in both methods. In all cases, an expressive superiority of MUMAL2 can be noted. On average, the number of exclusive PSMs that our method could find is almost 4-fold greater. This is an important result because more peptides may imply more identified proteins and a higher proteome coverage.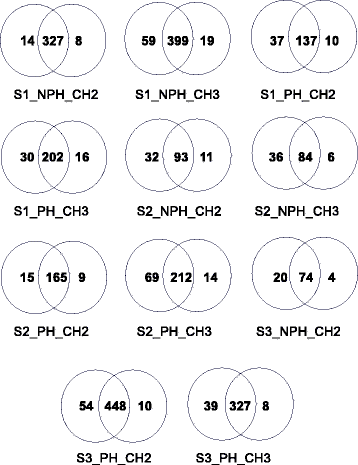 Conclusions
The target-decoy database strategy is widely used for data analysis in shotgun proteomics. Many previous studies have demonstrated the effective capacity of this approach for FDR estimation. However, the classical TDDB procedure does not take sensitivity into account. Fortunately, this fact has been changing since the introduction of MUDE and MUMAL.
In this work, we have further improved sensitivity in MS/MS-based peptide/protein identification by using advanced machine learning methods that use decoys to establish more appropriate decision boundaries. Furthermore, the probabilities assigned to PSMs by our method are proven to be highly accurate. This is a fundamental matter to improve protein inference when the applied approach depends on such probability values, as in the case of ProteinProphet.
We could demonstrate that our new approach has great potential to provide important improvements in protein identification, which will impact future studies that seek a broader understanding of notable cell activities. Hopefully, future research on drug discovery, diseases, and many other studies in life sciences will be positively affected by this new computational strategy for peptide/protein identification.
Abbreviations
MS/MS:

Tandem mass spectrometry
LC-MS/MS:

Liquid chromatography coupled with tandem mass spectrometry
PSM:

Peptide-spectrum match
DB:

Database
FDR:

False discovery rate
TDDB:

Target-decoy database
ANN, Artificial neural network; ROC:

Receiver operating characteristic
AUC:

Area under the curve
TSA:

Threshold selector algorithm
RT:

Retention time
CFP:

Cost of a false positive
CFN:

Cost of a false negative
Declarations
Acknowledgements
This work is supported by FAPEMIG, CNPq, and CAPES.
Funding
Publication charges for this article have been funded by CAPES, FAPEMIG, and Institute of Health Care Engineering with European Notified Body of Medical Devices - Graz University of Technology.
Authors' contributions
AMR and FRC contributed equally to this work. FRC, AG, and CB designed all analyses; AMR, FRC, and APO were responsible for carrying out the analyses; AMR, FRC, and CB wrote the initial draft of the manuscript; APO and AG contributed to posterior revisions to the final draft. All authors read and approved the final paper.
Competing interests
The authors declare that they have no competing interests.
Consent for publication
Not applicable.
Ethics approval and consent to participate
Not applicable.
Open Access This article is distributed under the terms of the Creative Commons Attribution 4.0 International License (http://creativecommons.org/licenses/by/4.0/), which permits unrestricted use, distribution, and reproduction in any medium, provided you give appropriate credit to the original author(s) and the source, provide a link to the Creative Commons license, and indicate if changes were made. The Creative Commons Public Domain Dedication waiver (http://creativecommons.org/publicdomain/zero/1.0/) applies to the data made available in this article, unless otherwise stated.
Authors' Affiliations
(1)
Department of Informatics, Universidade Federal de Viçosa, Viçosa, Brazil
(2)
Department of Computing and Construction, Centro Federal de Educação Tecnológica de Minas Gerais, Timóteo, Brazil
(3)
Department of Computer Science, University of Sheffield, Sheffield, UK
(4)
Research and Product Development of Genoptix, a Novartis company, Carlsbad, USA
(5)
Institute of Health Care Engineering with European Notified Body of Medical Devices, Graz University of Technology, Graz, Austria