Computing structure-based lipid accessibility of membrane proteins with mp_lipid_acc in RosettaMP
BMC Bioinformatics
BMC series – open, inclusive and trusted
2017
18:115
Received: 12 November 2016
Accepted: 8 February 2017
Published: 20 February 2017
Abstract
Background
Membrane proteins are underrepresented in structural databases, which has led to a lack of computational tools and the corresponding inappropriate use of tools designed for soluble proteins. For membrane proteins, lipid accessibility is an essential property. Although programs are available for sequence-based prediction of lipid accessibility and structure-based identification of solvent-accessible surface area, the latter does not distinguish between water accessible and lipid accessible residues in membrane proteins.
Results
Here we present mp_lipid_acc, the first method to identify lipid accessible residues from the protein structure, implemented in the RosettaMP framework and available as a webserver. Our method uses protein structures transformed in membrane coordinates, for instance from PDBTM or OPM databases, and a defined membrane thickness to classify lipid accessibility of residues. mp_lipid_acc is applicable to both α-helical and β-barrel membrane proteins of diverse architectures with or without water-filled pores and uses a concave hull algorithm for surface-residue classification. We further provide a manually curated benchmark dataset that can be used for further method development.
Keywords
Membrane proteinsStructure predictionLipid accessibilityAccessible surface areaRosetta software
Background
Membrane proteins carry out a variety of essential functions and are targeted by over half of drugs in use [1], yet only make up ~2% of proteins in the Protein Data Bank due to difficulties in structure elucidation. The dearth of structures has in turn led to a lack of prediction tools, which have typically focused on either α-helical or β-barrel membrane proteins [2], or on specific features like the prediction of membrane pores [3]. One important characteristic of membrane proteins is accessibility to the lipid environment of the bilayer. Knowledge of lipid accessibility is important for our understanding of membrane protein structure, stability [4], interactions inside the bilayer, the development of membrane protein energy functions, the development of sequence-based predictors, and as an indicator of binding interfaces. While sequence motifs for helix-helix interactions in the membrane have been well-studied [5], the broader picture of large protein-protein interfaces in the membrane is still developing.
Prediction of lipid accessibility is not trivial: the protein 'interior' can either be water accessible, in the case of pores, or buried hydrophobic residues. For the latter, the hydrophobicity profile of buried residues is similar to lipid-facing residues, hence hydrophobicity as a solitary feature would be insufficient for classification. Solvent accessible surface area (SASA) is useful to identify accessibility of the residue to the solvent, yet it does not distinguish between lipid or water accessibility. Further, geometric considerations might be useful for the structures of β-barrels, as sidechains typically either face into the barrel or away from it, but this distinction is typically less clear for α-helical proteins. Therefore, a combination of different features is required for accurate prediction of lipid accessible residues.
The problem is further complicated by the fact that accessibility to lipid relies on protein embedding in the membrane and experimental measurements of membrane embedding features (like depth, angle and membrane thickness) are challenging. Lipid molecules are only present in a few crystal structures, and the model membrane used for crystallization or structure determination is very different from a native membrane environment because it lacks the exact lipid composition [6], membrane thickness, asymmetry [7], lateral pressure [8] and shape [9] (compare micelles, bicelles, nanodiscs, lipidic cubic phases vs. a flat or curved bilayer). Protein embedding in the membrane is therefore predicted using computational approaches that rely on different score functions, such as TMDET [10], PPM [11], and iMembrane [12]. However, benchmarking of these tools is difficult without high-resolution experimental data. Similarly, for lipid accessibility there are no compiled structural databases to test the performance of a predictor from the protein structure, hence expert manual curation of such a database is required.
A range of sequence-based predictors is available that specialize in transmembrane span or topology prediction for α-helical bundles or β-barrels, SASA or lipid accessibility. Transmembrane span predictors classify residues as in the membrane vs. in solution and are able to achieve prediction accuracies >90% in the two-state scenario [13], [14]. Topology predictors [15], [16] classify residues as inside/outside the cell or organelle and in the membrane (for definitions for the OPM (Orientations of Proteins in Membranes) database [11], see http://opm.phar.umich.edu/about.php?subject=topology). SASA predictors classify residues as buried or exposed to the solvent without specifying whether the solvent is water or lipid. They typically use machine learning (for example, support vector machine) approaches and report prediction accuracies in the range of 70-75%: the ASAP tool can be used for both α-helical and β-barrel membrane proteins [17], the MPRAP method is optimized for SASA prediction of both soluble and transmembrane regions of membrane proteins [18], and the TMExpo tool predicts embedding angles in addition to SASA [19]. Further, pore-lining residues and channels can be predicted from the protein sequence using the recently developed tool PRIMSIPLR [3], which achieves a prediction accuracy around 86%. Lipid accessibility (lipid exposed versus lipid buried) can be predicted from the protein sequence with the LIPS server [20], which uses contact maps between helical faces and residue conservation for classification. It achieves a prediction accuracy of 88%, according to the authors.
SASA prediction directly from protein structure can be obtained with a few early predictors (Naccess [21], MSMS [22], GetArea: http://curie.utmb.edu/getarea.html [23]); unfortunately, some of these methods lack benchmarking results, were only tested on a few low-resolution crystal structures or lack availability as a web server and/or lack documentation. The recently developed, well-documented 3V web interface for volume, solvent exclusion and channel prediction does not compute SASA values per residue [24].
Here, we present a method to identify lipid accessible residues from a protein structure that is already transformed into membrane coordinates. Our method uses a 2D concave hull algorithm on a point cloud, which is generated by projecting Cα coordinates from horizontal slices of the protein within the bilayer, onto the plane of the membrane. For each slice, the convex hull, the concave hull and a 'concave shell' are computed, through which lipid accessible residues are identified (see Implementation and Fig. 2). The classification of the concave shell is output as adjusted B-factors in the PDB file, which can be easily visualized or extracted for further analysis. We compute prediction accuracies on a manually curated benchmark dataset available for download at http://tinyurl.com/mp-lipid-acc-dataset. Our method mp_lipid_acc is also publicly available as a webserver on ROSIE [25] at http://rosie.graylab.jhu.edu/mp_lipid_acc/submit. To our knowledge, this is the first tool to classify lipid exposure of residues from a protein structure. Our method is applicable to both α-helical and β-barrel membrane proteins of any architecture and will be useful for a variety of problems from score function derivation, development of sequence-based predictors and structural modeling.
Results and Discussion
We present an algorithm that classifies lipid exposed residues in membrane protein structures. It is applicable to monomeric and oligomeric α-helical and β-barrel membrane proteins with and without pores. Our algorithm uses protein structures transformed into membrane coordinates and a fixed membrane thickness and is applicable to a wide range of protein architectures. Classification is achieved through a 2D concave hull algorithm applied to the point cloud of membrane embedded Cα atoms projected onto the membrane plane. mp_lipid_acc then creates a PDB structure file with modified B-factors that can then be visualized by a provided PyMOL script. We further provide a publicly accessible webserver to run the classification, which is implemented in the ROSIE environment [25], accessible at http://rosie.graylab.jhu.edu/mp_lipid_acc/submit. Additionally, we make our manually curated benchmark dataset available to the public (http://tinyurl.com/mp-lipid-acc-dataset), which will be useful for the development of sequence-based predictors and membrane protein scoring functions.
The prediction accuracies for our benchmark set are shown in Table
1
with counts for true positives, true negatives, false positives and false negatives. Accuracy, sensitivity and specificity are also computed. As a baseline for comparison, we used the prediction of rASA with a cutoff of 0.2. Table
1
shows that while rASA achieves almost as high prediction accuracies as our predictor, it is unable to distinguish between lipid accessible and water accessible residues, as demonstrated by the low sensitivity. In contrast, our simple algorithm correctly identifies lipid exposed residues, achieving a prediction accuracy of 91.2% (Table
1
, Fig.
3
, Table
2
and Additional file
1
: Table S2), with consistently high sensitivity and specificity (~90%).
Table 1
Prediction accuracies in percent for the benchmark set. The first row indicates a prediction using relative accessible surface area in the membrane (cutoff 0.2) without lipid accessibility classification. The second row shows results for predicted lipid accessibility with our concave hull algorithm. Note that mp_lipid_acc is able to identify lipid exposed residues, giving rise to an almost 20% increase in sensitivity over a standard rASA algorithm
| | TP | TN | FP | FN | acc | sens | spec |
| --- | --- | --- | --- | --- | --- | --- | --- |
| rASA | 26526 | 119406 | 7727 | 10602 | 88.8 | 71.4 | 93.9 |
| hull | 33191 | 116548 | 10585 | 3937 | 91.2 | 89.4 | 91.7 |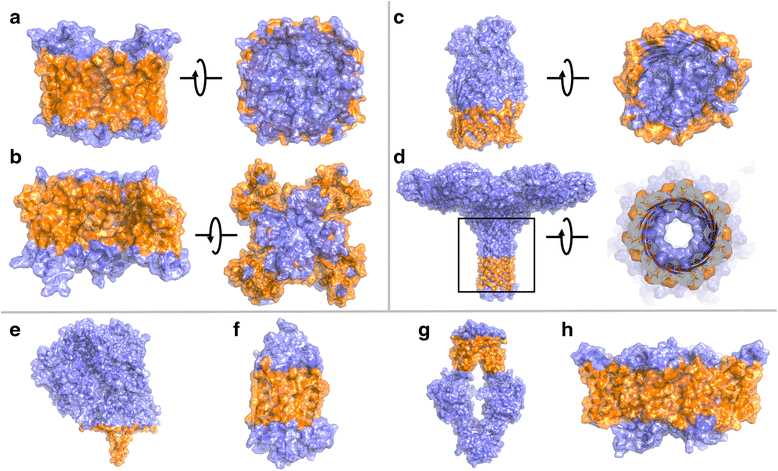 | PDBID | A/B | Feature | Family | Subfigure |
| --- | --- | --- | --- | --- |
| 3D9S | A | aquaporin | aquaporin | A |
| 4DXW | A | ion channel | sodium channel | B |
| 3CSL | B | filled barrel | heme binding | C |
| 3W9T | B | pore-forming toxin | lectin | D |
| 2J7A | A | 1-2TM | nitrite reductase | E |
| 1U19 | A | GPCR | bovine rhodopsin | F |
| 3TUI | A | ABC transporter | methionine transporter | G |
| 4ENE | A | ClC channel | chloride channel | H |
We aimed to classify residues in well-packed α-helical proteins, helical pores, plain β-barrels, β-barrels with plug domains, monomeric and multimeric membrane proteins with and without pores, and multimeric ion channels with a large lipid exposed surface area due to their voltage sensor domains (Fig. 3). Because we are using a concave hull algorithm, mp_lipid_acc is applicable to a wide range of protein architectures that have perimeters of different shapes, for instance oblong protein structures (such as the chloride channel in Fig. 3h), 'winged' structures (such as ion channels with voltage sensor domains in Fig. 3b), and multimeric proteins.
We explored alternate parameterizations of our algorithm to evaluate our default choices for these parameters. The results in Table
3
demonstrate that the classification of lipid accessibility by our algorithm is quite stable with varying parameter sets. The default parameter set we used for benchmarking was a slice width of 10 Å, a distance cutoff of 10 Å, a shell radius of 6 Å and an angle cutoff of 65°. In addition to the default parameter set, we tested additional values for each parameter. Even with different parameter sets, our algorithm consistently achieves accuracies, sensitivities and specificities around 90%, with two exceptions. If the distance cutoff (i.e. 'resolution' of the concave hull) is increased to 15 Å or greater, the algorithm under-predicts lipid accessibility: the number of true positives decreases while the number of false negatives increases. A similar situation occurs when the shell radius is decreased to 4 Å, as fewer residues are classified as lipid exposed.
Table 3
Prediction accuracies for different parameter sets, showing the stability of the algorithm
| | Slice width | Dist cutoff | Shell radius | Angle cutoff | acc | sens | spec |
| --- | --- | --- | --- | --- | --- | --- | --- |
| Default | 10 | 10 | 6 | 65 | 91.2 | 89.4 | 91.7 |
| | 5 | 10 | 6 | 65 | 89.5 | 91.4 | 88.9 |
| | 7.5 | 10 | 6 | 65 | 90.5 | 90.3 | 90.6 |
| | 10 | 5 | 6 | 65 | 87.4 | 92.3 | 86.0 |
| | 10 | 15 | 6 | 65 | 91.5 | 81.3 | 94.5 |
| | 10 | 10 | 4 | 65 | 91.9 | 82.0 | 94.8 |
| | 10 | 10 | 8 | 65 | 90.0 | 91.1 | 89.7 |
| | 10 | 10 | 6 | 50 | 90.9 | 89.5 | 91.4 |
| | 10 | 10 | 6 | 80 | 91.1 | 87.8 | 92.1 |
Runtimes for mp_lipid_acc are consistently short, typically under 1 min for proteins up to 2000 residues, using default parameters (Fig.
4
). The algorithm only takes into account Cα atoms in the protein. We tested using all atoms for the calculation of the hulls and the concave shell, which increased the runtimes considerably (over 1 h), especially for large proteins, while achieving similar results. We therefore only make the option available to use Cα atoms.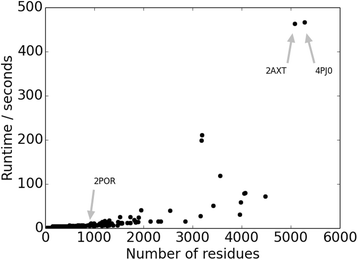 While improvements to the algorithm might lead to a smaller number of false positives, our algorithm is the first to classify lipid exposed residues from the protein structure, yielding prediction accuracies around 90%. It will be useful for molecular modeling and developing score functions and more sophisticated sequence-based approaches for the prediction of lipid accessibility. Classification of lipid accessibility from the structure is also useful to advance our understanding of membrane protein folding, stability and their interactions in the membrane bilayer [4].
Conclusion
Here we present a novel method to classify lipid accessibility in membrane protein structures. Our algorithm is applicable to α-helical and β-barrel membrane proteins with and without pores and for diverse protein architectures. mp_lipid_acc is implemented in RosettaMP and uses membrane embedded structures (from PDBTM or OPM) and a fixed membrane thickness to classify residues based on a concave hull algorithm. To test our method, we manually curated a benchmark dataset, on which mp_lipid_acc achieves accuracies, specificities and sensitivities around 90%. We believe that mp_lipid_acc and our benchmark set are an important first step for sequence- and structure-based prediction of lipid accessibility, score function optimization and membrane protein modeling in general.
Abbreviations
ABC:

ATP-binding cassette
EM:

Electron microscopy
GPCR:

G-protein coupled receptor
PDB:

Protein Data Bank
rASA:

Relative accessible surface area
SASA:

Solvent-accessible surface area
TM:

Trans-membrane
XFEL:

X-ray free electron laser
Declarations
Acknowledgements
The authors gratefully acknowledge Dr. Evan Baugh (NYU Biology dept.) for providing PyMOL/Python scripts used for the manual curation of the benchmark dataset.
Funding
Funding was provided by the Simons Foundation to JKL and RB. SL was supported by NIH R01-GM073151.
Authors' contributions
JKL conceived and designed the study, implemented and benchmarked the code with contribution from RB. SL set up the ROSIE server. JKL wrote the paper with help of RB. All authors have read and approved the final manuscript.
Competing interests
The authors declare that they have no competing interests.
Consent for publication
Not applicable.
Ethics approval and consent to participate
Not applicable.
Open AccessThis article is distributed under the terms of the Creative Commons Attribution 4.0 International License (http://creativecommons.org/licenses/by/4.0/), which permits unrestricted use, distribution, and reproduction in any medium, provided you give appropriate credit to the original author(s) and the source, provide a link to the Creative Commons license, and indicate if changes were made. The Creative Commons Public Domain Dedication waiver (http://creativecommons.org/publicdomain/zero/1.0/) applies to the data made available in this article, unless otherwise stated.
Authors' Affiliations
(1)
Center for Computational Biology, Flatiron Institute, New York, USA
(2)
Departments of Biology and Computer Science, Center for Genomics and Systems Biology, New York University, New York, USA
(3)
Department of Chemical and Biomolecular Engineering, Johns Hopkins University, Baltimore, USA