metaX: a flexible and comprehensive software for processing metabolomics data
BMC Bioinformatics
BMC series – open, inclusive and trusted
2017
18:183
Received: 14 October 2016
Accepted: 3 March 2017
Published: 21 March 2017
Abstract
Background
Non-targeted metabolomics based on mass spectrometry enables high-throughput profiling of the metabolites in a biological sample. The large amount of data generated from mass spectrometry requires intensive computational processing for annotation of mass spectra and identification of metabolites. Computational analysis tools that are fully integrated with multiple functions and are easily operated by users who lack extensive knowledge in programing are needed in this research field.
Results
We herein developed an R package, metaX, that is capable of end-to-end metabolomics data analysis through a set of interchangeable modules. Specifically, metaX provides several functions, such as peak picking and annotation, data quality assessment, missing value imputation, data normalization, univariate and multivariate statistics, power analysis and sample size estimation, receiver operating characteristic analysis, biomarker selection, pathway annotation, correlation network analysis, and metabolite identification. In addition, metaX offers a web-based interface (http://metax.genomics.cn) for data quality assessment and normalization method evaluation, and it generates an HTML-based report with a visualized interface. The metaX utilities were demonstrated with a published metabolomics dataset on a large scale. The software is available for operation as either a web-based graphical user interface (GUI) or in the form of command line functions. The package and the example reports are available at http://metax.genomics.cn/.
Conclusions
The pipeline of metaX is platform-independent and is easy to use for analysis of metabolomics data generated from mass spectrometry.
Keywords
Metabolomics
Pipeline
Workflow
Quality control
Normalization
Background
Biochemicals (metabolites) with low molecular masses are the ultimate products of biological metabolism, while a metabolome represents the total composite in a given biological system and reflects the interactions among an organism's genome, gene expression status and the relevant micro-environment [
1
]. The most prevalent technology used in analysis of metabolomics is non-targeted mass spectrometry (MS) coupled with either liquid chromatography (LC-MS) or gas chromatography (GC-MS) [
2
,
3
]. Generally, these techniques generate a set data of mass spectra with chromatography that includes retention time, peak intensity and chemical masses. Data analysis involves stepwise procedures including peak picking, quality control, data cleaning, preprocessing, univariate and multivariate statistical analysis and data visualization. A number of software packages are available for MS-based metabolomics data analysis as listed in Table
1
, including propriety commercial, open-source, and online workflows. The MS manufacturers generally provide propriety software, like SIEVE (Thermo Scientific), MassHunter (Agilent Technologies) and Progenesis QI (Waters), which are often limited in scope and function. Open-source software, such as XCMS [
4
], CAMERA [
5
], MAIT [
6
], MetaboAnalyst [
7
] and Workflow4Metabolomics [
8
], usually cover limited processing steps. There is no such comprehensive pipeline that is used across the metabolomics community [
9
,
10
]. Referring to the capabilities of the tools mainly used (as shown in Table
1
), an automatic and comprehensive open source pipeline is urgent in bioinformatics analysis of metabolomics. Basically, the pipeline aims for users to easily perform end-to-end metabolomics data analysis with a flexible combination of different methods to efficiently integrate new modules and to build customized pipelines in multiple ways.
Table 1
Qualitative assessment of metaX compared to other existing metabolomics tools
| No. | 1 | 2 | 3 | 4 | 5 | 6 | 7 | 8 | 9 | 14 | 15 | 10 | 11 | 12 | 13 | 14 |
| --- | --- | --- | --- | --- | --- | --- | --- | --- | --- | --- | --- | --- | --- | --- | --- | --- |
| Feature | metaX | MAIT | Workflow4Metabolomics | MetMSLine | metaMS | MetaboNexus | MetaboAnalyst | XCMSOnline | MeltDB | Mzmine | Mzmatch | apLCMS | EigenMS | Metab | Metabomxtr | Metabolomics |
| Year | 2015 | 2014 | 2014 | 2013 | 2013 | 2014 | 2009 | 2012 | 2008 | 2006 | 2011 | 2009 | 2014 | 2011 | 2014 | 2014 |
| Language | R, Java | R | R, Perl, Python, Java | R | R | R | R, Java | R | perl, JavaScript and R | JAVA | JAVA, R | R | R | R | R | R |
| Platform independent | √ | √ | √ | √ | √ | Windows only | √ | √ | √ | √ | √ | √ | √ | √(windows & MacOS) | √ | √ |
| Open source | √ | √ | √ | √ | √ | √ | √ | √ | project- and user-specific access | √ | √ | √ | √ | √ | √ | √ |
| Usable offline | √ | √ | √ | √ | √ | √ | √ | - | - | √ | √ | √ | √ | √ | √ | √ |
| Power analysis | √ | - | - | - | - | - | √ | - | - | - | - | - | - | - | - | - |
| Automatic outlier samples finding | √ | - | √ | √ | - | - | - | - | - | - | - | - | - | - | - | - |
| PCA | √ | √ | √ | √ | - | √ | √ | √ | √ | √ | - | - | - | - | - | √ |
| Cluster analysis | √ | √ | √ | √ | - | √ | √ | - | √ | √ | - | - | - | - | - | √ |
| PLS-DA | √ | √ | √ | - | - | √ | √ | - | √ | - | - | - | - | - | - | - |
| ROC analysis | √ | - | - | - | - | √ | √ | - | - | - | - | - | - | - | - | - |
| Normalization | Sum, PQN, VSN, QC-RSC, ComBat, SVR, quantiles | - | Linear or local polynomial regression fitting | QC-LSC | - | Internal standard or quantile normalization | Normalized by sum/median, Normalized by reference sample/feature, sample specific normalization and quantile normalization | - | Normalized by specific compound or feature | Linear normalizaiton, normalized by internal standards | Normalized by Reference sample | - | combination of ANOVA and singular value decomposition | internal standard, medium, biomass(divides the intensity of each metabolite in a specific sample by the value of the biomass measured for this specific sample) | normalized using a mixture model with batch-specific thresholds and run order correction | normalized by sum,mean or media of each sample;normalized by specific reference;normalized by internal standards or optimal selection of multiple internal standards; |
| Biomarker analysis | √ | - | - | - | - | √ | √ | - | - | - | - | - | - | - | - | - |
| Correlation network analysis | √ | - | - | - | - | - | - | - | - | - | - | - | - | - | - | - |
| Metabolite identification | √ | √ | √ | √ | √ | √ | - | √ | √ | √ | √ | √ | - | - | - | - |
| Functional analysis | √ | - | - | - | - | √ | √ | - | √ | - | - | - | - | - | - | - |
| Quality assessment | √ | - | √ | - | - | - | - | √ | - | - | - | - | - | - | - | - |
| Peak picking | √ | √ | √ | - | √ | √ | √ | √ | √ | √ | √ | √ | - | - | - | - |
| HTML-Based report | √ | - | - | - | - | - | (PDF) | - | (PDF) | - | - | - | - | - | - | - |
We herein developed a comprehensive workflow for analysis of metabolomics data, termed metaX. At the present time, R [11] is a popular statistical programming environment and provides a convenient environment for statistical analysis of metabolomic and other -omics data [12, 13]. We thus designed metaX as an R package that automates analysis of untargeted metabolomics data acquired from LC/MS or GC/MS and offers a user-friendly web-based interface for data quality assessment and normalization evaluation. This workflow, which is open source and rich in functions, encourages experienced programmers to improve the relevant functions or to build their own pipeline within the R framework. Overall, metaX aims to be a tool array that utilizes an end-to-end statistical analysis of metabolomics data.
Implementation
A stepwise overview of data processing using metaX is illustrated in Fig.
1
.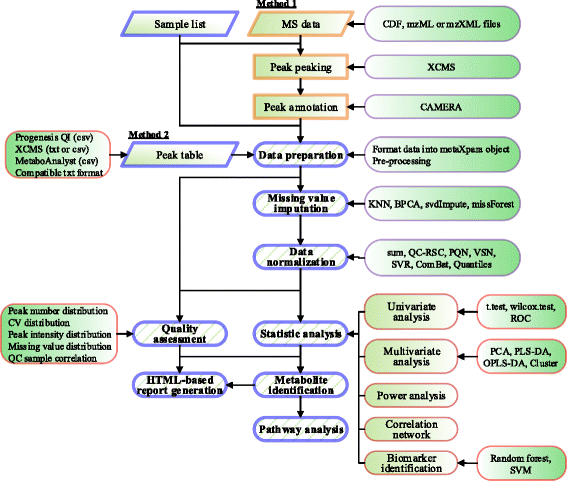 Results and discussion
To illustrate the applications of metaX, a published non-targeted LC-MS metabolomics dataset from a coronary heart disease (CHD) study was used [42, 43]. The dataset consisted of two batches of 138 plasma samples (59 CHD patients, 43 healthy controls and 36 QC samples) acquired in positive ion mode on an LTQ Orbitrap Velos instrument (Thermo Fisher Scientific, MA, USA). LC-MS raw data files were converted to mzXML format using ProteoWizard (version 3.0.5941) [44] and then were processed by XCMS [4] and CAMERA [5] for peak picking and peak annotation, respectively. In total, 1438 features were retained for downstream analysis. The mzXML files can be downloaded from the Dryad Digital Repository [43]. It merits to note that the study focus is mainly on the software application and its capabilities, not on the biological interpretation of the generated results.
Conclusions
metaX presents a complete data processing software that is easy to operate and capable of dealing with large-scale metabolomics datasets. A metaX user can customize the pipeline according to the research requirements. Compared to software for metabolomics datasets that requires high-manual interaction, metaX requires much less manual interaction and can be used in a command line or web-based user-friendly interface. Based upon the fast process and the optimized workflow, therefore, metaX would greatly improve the interpretation of metabolomics data.
Abbreviations
FDR:

False discovery rate
GUI:

Graphical user interface
HMDB:

Human metabolome database
MS/MS:

Tandem mass spectrometry
OPLS-DA:

Orthogonal partial least squares discriminant analysis
PCA:

Principal component analysis
PLS-DA:

Partial least square discriminant analysis
QC:

Quality control
ROC:

Receiver operating characteristic
Declarations
Acknowledgements
We thank Dr. David Broadhurst for the implementation of QC-RSC method.
Funding
This study was supported in part by the International Science & Technology Cooperation Program of China (2014DFB30020), Chinese National Basic Research Programs (2014CBA02002-A, 2014CBA02005) and the National High-Tech Research and Development Program of China (2012AA020202). The funding body was not involved in the design of the study and collection, analysis, and interpretation of data or in writing the manuscript.
Availability of data and materials
GPL-2 licensed and available in the Bioconductor framework.
• Project name: metaX software
• Project home page: http://metax.genomics.cn/
• Operating system(s): Linux, Mac OSX, Windows
• Programming language: R, JAVA
• Other requirements: None
• License: GPL-2
• Any restrictions to use by non-academics: GPL-2
Authors' contributions
BW conceived of and designed the project. BW and CWZ wrote the R package. BW, MZL and CWZ developed the website of metaX. BW, MZL and CWZ performed the data analysis and tested the software. BW and SQL wrote the paper and all authors revised and approved.
Competing interests
The authors declare that they have no competing interests.
Consent for publication
Not applicable.
Ethics approval and consent to participate
Not applicable.
Publisher's Note
Springer Nature remains neutral with regard to jurisdictional claims in published maps and institutional affiliations.
Open AccessThis article is distributed under the terms of the Creative Commons Attribution 4.0 International License (http://creativecommons.org/licenses/by/4.0/), which permits unrestricted use, distribution, and reproduction in any medium, provided you give appropriate credit to the original author(s) and the source, provide a link to the Creative Commons license, and indicate if changes were made. The Creative Commons Public Domain Dedication waiver (http://creativecommons.org/publicdomain/zero/1.0/) applies to the data made available in this article, unless otherwise stated.
Authors' Affiliations
(1)
BGI-Shenzhen, Shenzhen, China
(2)
China National GeneBank-Shenzhen, BGI-Shenzhen, Shenzhen, China