ImmunoNodes – graphical development of complex immunoinformatics workflows
BMC Bioinformatics
BMC series – open, inclusive and trusted
2017
18:242
Received: 15 December 2016
Accepted: 30 April 2017
Published: 8 May 2017
Abstract
Background
Immunoinformatics has become a crucial part in biomedical research. Yet many immunoinformatics tools have command line interfaces only and can be difficult to install. Web-based immunoinformatics tools, on the other hand, are difficult to integrate with other tools, which is typically required for the complex analysis and prediction pipelines required for advanced applications.
Result
We present ImmunoNodes, an immunoinformatics toolbox that is fully integrated into the visual workflow environment KNIME. By dragging and dropping tools and connecting them to indicate the data flow through the pipeline, it is possible to construct very complex workflows without the need for coding.
Conclusion
ImmunoNodes allows users to build complex workflows with an easy to use and intuitive interface with a few clicks on any desktop computer.
Keywords
ImmunoinformaticsKNIMEWorkflow
Background
Immunoinformatics methods have become a vital part of biomedical research. Their applications span a wide variety ranging from basic immunological to translational research, especially in the field of cancer research [1–3]. These applications often involve several methods, varying from pre- and post-processing routines, to complex statistical analysis procedures, and require a high amount of development time. Additionally, the lack of standardized interfaces and data formats renders the use of different tools in the same pipeline difficult. To overcome these problems, several groups have developed web-based workbenches that allow interacting with several different approaches via a unified interface [4, 5]. However, factors such as data volume, speed, robustness, or legal restrictions (e.g., data privacy or restrictions on data sharing), often prevent the use of web-based solutions.
Due to the variety and number of tasks that a typical immunoinformatics analysis conveys, we have developed ImmunoNodes, a set of components, each carrying out one specific task in immunoinformatics (e.g., human leukocyte antigen (HLA) ligand binding prediction or statistical analyses). By chaining several of these tools together one can form a complete data analysis workflow. Workflows not only enable complex automation tasks, but they also increase reproducibility of scientific studies by documenting the complete data analysis in a standardized form.
In this work, we present an immunoinformatics toolbox whose components can be used without transferring data to a central server across the Internet (thus circumventing data privacy restrictions). It enables the user to build complex workflows and offers unified interfaces and data formats. In order to facilitate collaboration between its several components, we have fully integrated ImmunoNodes into the Konstanz Information Miner Analytics Platform (KNIME) [6, 7], an application for visual workflow development. We thus benefit from KNIME's rich functionality covering data mining, statistics, visualization, chemo- and bioinformatics [8–10], as well as computational proteomics [11–13]. ImmunoNodes provides a wide range of well-known tools for HLA binding prediction, HLA class I antigen processing prediction, HLA genotyping, as well as epitope-based vaccine design including epitope-selection and string-of-beads assembly.
Having integrated ImmunoNodes into such a versatile workflow development environment that KNIME is, we hope to ease its use and thus to spread the application of advanced immunoinformatics tools to a wide range of users.
ImmunoNodes is available for all major platforms (Windows, OSX, Linux) and released under a 3-clause BSD license. It can be directly installed from the KNIME-Community repository and its source code can be found at GitHub (https://github.com/FRED-2/ImmunoNodes). The accompanying Docker image can be found at Docker Hub (https://hub.docker.com/r/aperim/immunonodes).
Results
Example workflow 1: HLA ligandomics analysis pipeline
Recently, high throughput methodologies based on liquid chromatography and mass spectrometry (MS) have been successfully used to identify therapeutic targets for cancer immunotherapies [
27
–
29
]. Here, we present a peptide identification workflow for ligandomics analysis using OpenMS [
30
] and ImmunoNodes (Fig.
1
,
http://www.myexperiment.org/workflows/4947
). At the same time, this workflow will exemplify the synergistic effects of combining native KNIME nodes, other community extensions, and ImmunoNodes.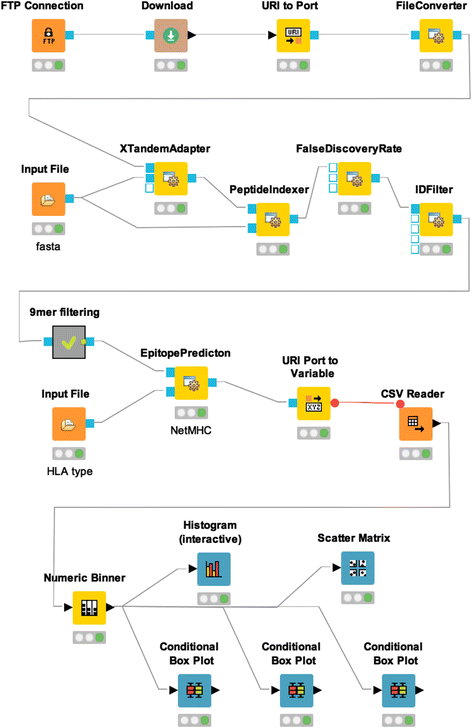 First, ligandomics data of JY cell lines are downloaded from PRIDE [31] via an FTP download node. Then, peptide identification at 5% FDR is applied using OpenMS nodes [11]. The resulting peptides are then annotated with their predicted binding affinity using ImmunoNodes' EpitopePrediction with NetMHC [32] and simple statistics of the predicted binding affinities are calculated and visualized using native KNIME nodes.
Example workflow 2: population-based vaccine design against Zika virus
To demonstrate the usage of ImmunoNodes for vaccine design, we extracted all 221 partially and 30 fully sequenced genomes of Zika virus from the Virus Pathogen Resource database [
33
] (access 02/22/2016). Epitope prediction was performed with PickPocket [
34
] using HLA alleles with a minimal prevalence of 1% in the South American population and nine-mer peptides generated from the extracted protein sequences. The candidate epitopes were filtered based on a binding threshold of 500 nM, and EpitopeSelection was allowed to select up to ten epitopes that guaranteed the maximal obtainable antigen and HLA allele coverage (Fig.
2
,
http://www.myexperiment.org/workflows/4948
).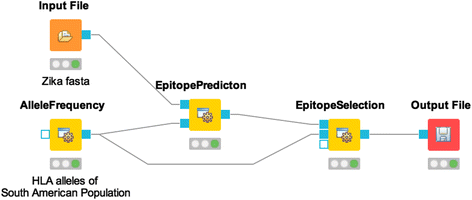 The ten selected epitopes (Table
2
) covered more than 95% (20 of 21) of the HLA alleles prevalent in the South American population, as well as 92% (287 of 312) of the extracted Zika antigens. The alleles of HLA-A, −B, −C of the South American population could be covered by 100%, 83%, and 100% respectively with the selected epitopes, resulting in a 99% population coverage (i.e., the probability that a person of the South American population carries at least one HLA allele that is covered by the vaccine is 99%).
Table 2
Selected Zika epitopes for potential vaccine design using EpitopeSelection
| Sequence | Fraction of Objective | Allele Coverage |
| --- | --- | --- |
| FHTSVWLKV | 0.09 | B*39:01 B*39:06 |
| FTNLVVQLI | 0.12 | A*02:01 |
| TMSYECPML | 0.12 | A*02:17 A*02:01 A*02:04 |
| MAMATQAGV | 0.14 | C*03:04 C*03:03 C*15:03 C*15:02 A*02:01 |
| YRVMTRRLL | 0.10 | C*07:02 |
| VMAQDKPTV | 0.12 | A*02:17 A*02:01 A*02:04 |
| GPIRMVLAI | 0.07 | B*35:06 B*35:04 B*51:01 B*35:01 B*51:04 |
| AWLMWLSEI | 0.08 | A*24:02 A*24:03 |
| QEGAVHTAL | 0.07 | B*40:04 B*40:02 |
| FALAWLAIR | 0.07 | A*68:03 |
Conclusion
The complexity and development time of accurate, state-of-the-art immunoinformatics tasks is high. To maximize quality in the results and to decrease implementation time, it is common that immunoinformatics software makes use of already existing, thoroughly tested libraries. Unfortunately, the installation and configuration of the different components of such pipelines tends to be non-trivial and often exceeds the technical capabilities of many end users.
Having these aspects in mind, we developed ImmunoNodes, an immunoinformatics framework that covers essential tasks of pipelines such as epitope discovery, HLA inference, antigen processing, and vaccine design. Structuring complex scientific tasks into a collection of small, easily executable, simpler computations (i.e., a pipeline or workflow) brings the benefit of adding a certain degree of reproducibility, an aspect desired in all scientific endeavors. Being fully integrated into KNIME using GKN, it enables a wide audience to develop complex analysis workflows without the need of having mastered a programming language. Also, the complexity of installation and configuration of required third-party libraries has been lifted from the end user as a result of the provided Docker images. We therefore are confident that ImmunoNodes will enable a wide range of users to develop innovative and complex pipelines, thus spreading the usage of state-of-the-art immunoinformatics approaches.
Abbreviations
CTD:

Common tool descriptor
GKN:

Generic KNIME node
HLA:

Human leukocyte antigen
IDE:

Integrated development environment
IEDB:

Immune epitope database
KNIME:

Konstanz information miner
TAP:

Transporter associated with antigen processing
TSP:

Traveling salesman problem
VCF:

Variant calling format
XML:

Extensible markup language
Declarations
Funding
This project has received funding from the European Union's Horizon 2020 research and innovation program under grant agreement No. 633592 (APERIM). OK acknowledges funding from the Deutsche Forschungsgemeinschaft (SFB685/B1).
Availability of data and materials
ImmunoNodes' source code is hosted at GitHub (https://github.com/FRED-2/ImmunoNodes) and released under a 3-clause BSD license. Licenses for commercial use are needed for third-party software including the NetMHC-family and the LKH solver. ImmunoNodes is fully integrated into KNIME. It can be directly installed from KNIME's graphical user interface. For further infromation, see the installation guide at https://github.com/FRED-2/ImmunoNodes. KNIME can be downloaded from https://www.knime.org. The presented example workflows can be downloaded from https://www.myexperiment.org or directly from ImmunoNodes' GitHub repository.
Authors' contributions
BS, LG developed and implemented the method. CM implemented the distance-to-self nodes. MW contributed the ligandomics workflow. BS, LG, and OK wrote the paper. OK designed the study. All authors read and approved the manuscript.
Competing Interest
The authors declare that they have no competing interests.
Ethics approval and consent to participate
Not applicable.
Publisher's Note
Springer Nature remains neutral with regard to jurisdictional claims in published maps and institutional affiliations.
Open AccessThis article is distributed under the terms of the Creative Commons Attribution 4.0 International License (http://creativecommons.org/licenses/by/4.0/), which permits unrestricted use, distribution, and reproduction in any medium, provided you give appropriate credit to the original author(s) and the source, provide a link to the Creative Commons license, and indicate if changes were made. The Creative Commons Public Domain Dedication waiver (http://creativecommons.org/publicdomain/zero/1.0/) applies to the data made available in this article, unless otherwise stated.
Authors' Affiliations
(1)
Center for Bioinformatics, University of Tübingen, Tübingen, Germany
(2)
Applied Bioinformatics, Dept. of Computer Science, Tübingen, Germany
(3)
Department of Cell Biology, Harvard Medical School, Harvard University, Boston, USA
(4)
Quantitative Biology Center (QBiC), Tübingen, Germany
(5)
Faculty of Medicine, University of Tübingen, Tübingen, Germany
(6)
Biomolecular Interactions, Max Planck Institute for Developmental Biology, Tübingen, Germany