Research Article

Open Access
Coordinates and intervals in graph-based reference genomes
BMC Bioinformatics
BMC series – open, inclusive and trusted
2017
18:263
Received: 5 April 2017
Accepted: 8 May 2017
Published: 18 May 2017
Abstract
Background
It has been proposed that future reference genomes should be graph structures in order to better represent the sequence diversity present in a species. However, there is currently no standard method to represent genomic intervals, such as the positions of genes or transcription factor binding sites, on graph-based reference genomes.
Results
We formalize offset-based coordinate systems on graph-based reference genomes and introduce methods for representing intervals on these reference structures. We show the advantage of our methods by representing genes on a graph-based representation of the newest assembly of the human genome (GRCh38) and its alternative loci for regions that are highly variable.
Conclusion
More complex reference genomes, containing alternative loci, require methods to represent genomic data on these structures. Our proposed notation for genomic intervals makes it possible to fully utilize the alternative loci of the GRCh38 assembly and potential future graph-based reference genomes. We have made a Python package for representing such intervals on offset-based coordinate systems, available at https://github.com/uio-cels/offsetbasedgraph. An interactive web-tool using this Python package to visualize genes on a graph created from GRCh38 is available at https://github.com/uio-cels/genomicgraphcoords.
Keywords
Pan-genomeSequence graphsReference genomeEpigenomics
Background
A reference genome for a species makes it possible to represent genomic features from different sources in a common reference. Examples of such features can be genes, methylation status or histone modifications. The common reference enables analyses of the relationship between these features, e.g. computing the distance between a gene and a regulatory element. In order to perform such computations generically, a common coordinate system on the reference genome is needed.
Formally, a reference genome coordinate system is a system that uses coordinates to uniquely determine the positions of bases in the reference genome. Until recently reference genomes have exclusively been represented in linear form, meaning that there is only one path from the beginning of each chromosome (or sequence element) to the end. This enables a coordinate system where each base can be uniquely identied by the chromosome ID and the offset from the beginning of the chromosome. An example of a coordinate is chr14, offset 150,000,000, written more compactly as chr14:150m. A genomic interval can then be represented unambiguously by two such coordinates, the start and end position of the interval. Such a linear representation simplifies genomic arithmetics, done by e.g. bedtools [1] and the GSuite Hyperbrowser [2].
A problem with linear reference genomes is that they are unable to represent variation within a species, making them incapable of adequately representing features from individuals that are very different from the reference. A solution to this problem is to use sequence graphs as reference structures [3–6].
In addition to the 24 primary chromosome assemblies, the newest human reference genome, Genome Reference Consortium Human Build 38 (GRCh38), contains 261 alternative loci, regions with significantly different sequences between individuals. GRCh38 can be represented as a sequence graph by connecting the alternative loci to the primary chromosomes (Fig.
1
a
). Generally, a sequence graph can represent genomes from one or more individuals along with additional variation data. Each vertex in the graph represents a DNA-sequence of one or more base pairs, and each edge connects two consecutive sequences in the genome. Examples of the use of sequence graphs are De-Bruijn graphs in
de novo
assembly [
7
–
9
], the software project VG [
10
] that has built a framework for representing variation data on graphs, the
FASTG
[
11
] and
GFA
[
12
] formats, as well as in certain applications for genotyping [
13
] and multiple sequence alignment [
14
].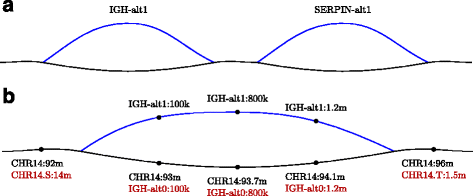 Referencing positions and intervals on graph-based reference genomes poses challenges not present with linear reference genomes. First, positions such as chr1:100 will be ambiguous if there are multiple positions on chromosome 1, on different paths, having offset 100. Second, intervals represented by only a start and an end coordinate will be ambiguous, since there can be different paths taken within the interval. For instance, there is no standard method of representing genes that are partly on alternative loci in GRCh38.
In this article we address these issues by discussing suitable coordinate systems and proposing interval representations for graph-based reference genomes, using GRCh38 and its alternative loci as an example.
Conclusion
After more than three years since the release of GRCh38, only a few bioinformatic tools are using its alternative loci, viz. BWA-MEM [19], iBWA [20], GSNAP [21], and SRPRISM [22]. In order to realize the potential of this additional data in GRCh38, one needs a common framework for referencing positions and intervals in the reference genome. An offset-based coordinate system makes it possible to reference positions, but there is currently no standard approach to reference intervals in graph-based coordinate systems.
We propose a simple way to unambiguously represent genomic intervals by including information about all region paths covered by the interval, as well as the start and end coordinates, using an offset-based coordinate system. We also present ways of representing multipath intervals, and show how these can be used to represent genes on a graph created from GRCh38. Being able to represent genomic intervals on graph-based reference genomes makes it possible, for instance, to analyse a gene on an alternative locus in GRCh38 with epigenetic data (e.g. methylation status) from the main path.
Working with graph-based genomes will inevitably lead to complications not present with linear reference genomes. While the coordinate system for linear reference genomes is simple and achieves our discussed criteria (spatiality, readability, monotonicity and backward compatibility), a graph-based coordinate system will be much more complex and only partially meet these criteria. Thus it is necessary to weigh the different criteria, as well as the overall goal of simplicity, against each other in order to find the most suitable coordinate system.
With a system for representing genomic intervals on graph-based reference genomes and a common coordinate system, researchers can begin to utilize more fully the potential of GRCh38 and future graph-based reference genomes.
Methods
Graphs were created using positions of GRCh38 alternative loci collected from NCBI [23]. The detailed graphs were created using alignments of the alternative loci to the primary assembly generated by NCBI [17]. In all cases, sequence data obtained through the UCSC DAS server were used to merge regions with sequence identity between the main chromosomes and alternative loci.
Gene locations from Refseq [16] and Gencode [18] were downloaded using the UCSC Table Browser [24] and translated to the graph coordinate systems. Both graph creation and interval translation were performed using the software package Offsetbasedgraph. The exact data used is available in the supporting Github repository at https://github.com/uio-cels/genomicgraphcoords.
The software package Offsetbasedgraph is implemented using Python, and the web tool uses Javascript and HTML to visualize gene positions on alternative loci.
Abbreviations
GRCh38 :

Genome Reference Consortium human 38
Declarations
Acknowledgements
Not applicable.
Funding
This work was supported by the Centre for Computational Inference in Evolutionary Life Science (CELS), but otherwise received no specific grant from any funding agency in the public, commercial, or not-for-profit sectors.
Availability of data and materials
The datasets supporting the conclusions of this article are available at the Github repository genomicgraphcoords, https://github.com/uio-cels/genomicgraphcoords.
Our Python package offsetbasedgraph is available through the Python Package Index PyPI, and can be found at https://pypi.python.org/pypi/offsetbasedgraph, version 1.0. The project is platform independent and programmed in Python. Licensed under the GNU GPL license.
Python scripts together with instructions for reproducing the gene experiments can be found at https://github.com/uio-cels/genomicgraphcoords, version 1.1. These scripts are platform independent and programmed in Python. Licensed under the GNU GPL license.
Authors' contributions
KDR and IG drafted the manuscript, and developed the software. KDR, IG, AJN, GOS, IKG and GKS contributed to the conception and design of the study, and to the interpretation of data. All authors have read and approved the final version of the manuscript.
Competing interests
The authors declare that they have no competing interests.
Consent for publication
Not applicable.
Ethics approval and consent to participate
Not applicable.
Publisher's Note
Springer Nature remains neutral with regard to jurisdictional claims in published maps and institutional affiliations.
Open Access This article is distributed under the terms of the Creative Commons Attribution 4.0 International License (http://creativecommons.org/licenses/by/4.0/), which permits unrestricted use, distribution, and reproduction in any medium, provided you give appropriate credit to the original author(s) and the source, provide a link to the Creative Commons license, and indicate if changes were made. The Creative Commons Public Domain Dedication waiver (http://creativecommons.org/publicdomain/zero/1.0/) applies to the data made available in this article, unless otherwise stated.
Authors' Affiliations
(1)
Department of Mathematics, University of Oslo, Oslo, Norway
(2)
Department of informatics, University of Oslo, Oslo, Norway
(3)
Department of Biosciences, University of Oslo, Oslo, Norway