Research Article
Open Access
EPSILON-CP: using deep learning to combine information from multiple sources for protein contact prediction
BMC Bioinformatics
BMC series – open, inclusive and trusted
2017
18:303
Received: 27 September 2016
Accepted: 30 May 2017
Published: 17 June 2017
Abstract
Background
Accurately predicted contacts allow to compute the 3D structure of a protein. Since the solution space of native residue-residue contact pairs is very large, it is necessary to leverage information to identify relevant regions of the solution space, i.e. correct contacts. Every additional source of information can contribute to narrowing down candidate regions. Therefore, recent methods combined evolutionary and sequence-based information as well as evolutionary and physicochemical information. We develop a new contact predictor (EPSILON-CP) that goes beyond current methods by combining evolutionary, physicochemical, and sequence-based information. The problems resulting from the increased dimensionality and complexity of the learning problem are combated with a careful feature analysis, which results in a drastically reduced feature set. The different information sources are combined using deep neural networks.
Results
On 21 hard CASP11 FM targets, EPSILON-CP achieves a mean precision of 35.7% for top- L/10 predicted long-range contacts, which is 11% better than the CASP11 winning version of MetaPSICOV. The improvement on 1.5L is 17%. Furthermore, in this study we find that the amino acid composition, a commonly used feature, is rendered ineffective in the context of meta approaches. The size of the refined feature set decreased by 75%, enabling a significant increase in training data for machine learning, contributing significantly to the observed improvements.
Conclusions
Exploiting as much and diverse information as possible is key to accurate contact prediction. Simply merging the information introduces new challenges. Our study suggests that critical feature analysis can improve the performance of contact prediction methods that combine multiple information sources. EPSILON-CP is available as a webservice: http://compbio.robotics.tu-berlin.de/epsilon/
Keywords
Contact predictionMeta algorithmsDeep learning
Background
Contact prediction methods identify residue pairs that are in spatial proximity in the native structure of a protein. Contacts can be used as constraints to guide ab initio methods [1–5] and to reconstruct the 3D structure of a protein [6–11]. In the 11th Critical Assessment of Structure Prediction (CASP11), a bi-annual set of blind studies to assess the current state of the art in protein structure prediction, predicted contacts were the decisive factor to model the structure of target T0806-D1 with unprecedented accuracy for ab initio methods [12]. Furthermore, predicted contacts can be used to compute long-range contact order (LRO) [13] to predict the folding rates of globular, single-domain proteins [14]. This is possible because long-range contact order and its variations correlate with protein folding rates [13, 15–17].
Despite recent successes, contact prediction remains a difficult problem. The difficulty is primarily due to the size of the solution space which renders an exhaustive search unfeasible. To render the search tractable, information are given as priors to constrain the search space. Currently, many different sources of information are used in contact prediction. Each source comes with its specific strengths and weaknesses. It is therefore promising to combine as many sources as possible so as to combine their strengths and to alleviate their weaknesses. Methods from machine learning are well-suited for this task; they can be used to automatically determine how information sources should be combined and which combination is most appropriate under which conditions.
Ensembling is one common approach in machine learning to combine multiple sources of information. It uses diverse models, each capturing different aspects of the data. Ensembling is an established technique to boost the performance of predictors [18–20]. Existing meta methods for contact prediction follow this general idea. They typically outperform methods based on only a single source of information [21–23].
Clearly, merging multiple information sources is a promising way towards improving contact prediction accuracy. However, leveraging multiple sources of information via machine learning introduces new challenges. Inevitably, the combination of information increases the dimensionality of the feature space that is used as input to the machine learning algorithm. This is problematic, because the high dimensionality of the feature space increases learning complexity, data size, and training time. High-dimensional spaces also promote over-fitting because a learner might pick up irrelevant patterns in the data that explains the training data but does not generalize to unseen data. Therefore, we cannot simply rely on the concatenation of features that work well by themselves and need to find a more powerful representation of our information to construct strong prediction methods.
In this paper, we develop a novel meta prediction method called EPSILON-CP (combining evolutionary, physicochemical and sequence-based information for contact prediction, eps is extended to epsilon) based on deep neural networks that combines sequence-based, evolutionary, and physicochemical information. In the case of contact prediction, traditional features used in sequence-based methods suffer from high dimensionality. Our study suggests that many of these features are not effective in the context of meta contact prediction. Meta contact predictors include features based on other predictors (for instance co-evolutionary information). We develop a new representation with drastically reduced dimensionality that translates into a deep neural network predictor with improved performance.
We show that this approach reaches 35.7% accuracy for the top L/10 long-range contacts on 21 CASP11 free modeling target domains, 11% better than the CASP11 winning version of MetaPSICOV, where L is the length of the protein. The increase in mean precision on 1.5L is 17%. We further show through a feature importance analysis that dropping the amino acid composition from the feature set results in a dimensionality reduction of up to 75%. The approach presented here might be seen as a roadmap to further boost the performance of contact prediction methods.
Related work
The focus of this paper is the combination of information sources to improve contact prediction. Therefore, we will review related work with respect to the leveraged information sources. In addition, we will discuss how current meta approaches combine multiple information sources for contact prediction.
Methods: Contact Predictor EPSILON-CP
Results and discussion
In the first experiment, we evaluate the performance of EPSILON-CP on the three benchmark sets described in Methods. We compare our method to the CASP11 version of MetaPSICOV [23], which outperformed all other methods in CASP11. At the time of writing, the contact prediction assessment results of CASP12 became available. In CASP12, EPSILON-CP ranked behind the newer version of MetaPSICOV (13th compared to 4th on L/5 on the FM targets and long-range contacts and 7th compared to 3rd for long+medium-range contacts).
However, we were not able to perform our own experiments using top CASP12 algorithms because standalone versions of the top servers (RaptorX, iFold, MetaPSICOV) were not available at the time of writing. Our intention in this paper is to control for pipeline effects, such as generated MSAs [23]. Thus, we used the same MSAs as input to all algorithms to measure their performance under the same conditions. RaptorX [60] does provide a web service, but using their pipeline would no longer allow us to control for pipeline effects. As standalone versions of the best CASP12 participating methods are not yet available, we benchmark our algorithm against the best algorithm from CASP11, which is the CASP11 version of MetaPSICOV.
MetaPSICOV operates in two stages. Stage 1 is the output of a neural network classifier. Stage 2 filters predictions of stage 1. We will compare our method to MetaPSICOV stage 2 and will from now on refer to MetaPSICOV stage 2 as MetaPSICOV. Our evaluation focuses on long-range contacts since they are the most helpful in structure prediction. We used the multiple sequence alignments from the original MetaPSICOV paper [23] to ensure that our results are comparable with this study.
In the second experiment, we analyze the importance of features. We evaluate the reduced feature set in the context of meta approaches. To show that the reduction in dimensionality by excluding features is not detrimental to the performance, we compare the performance of the neural network with both the refined feature set and the complete feature set.
In the third experiment we show data that combining multiple sources of information improves the prediction accuracy. We evaluate the performance of the individual methods as well as their combinations. If the assumption holds, performance should improve with additional information sources.
Finally, we briefly discuss limitations of our approach.
Performance on test data sets
We will first evaluate contact prediction performance on 21 hard free modeling (FM) targets from the CASP11 experiment. Contact prediction is most useful for free modeling targets because they cannot be modeled by only using templates due to the lack of similar structures. In the spirit of the CASP evaluation, we analyzed the results on the basis of the 26 target domains.
Figure
1
and Table
2
summarize the performance on the CASP11 set. EPSILON-CP achieves a mean precision of 0.305 on
L
/5, compared to 0.284 for MetaPSICOV. The relative increase in mean precision on average over all cut-offs compared to MetaPSICOV is roughly 12% and 72% over EPC-map. In general, the precision advantage increases with longer cut-offs, see for instance 17% over MetaPSICOV for 1.5
L
. We conducted a paired student t-test to validate the significance of the results. The performance improvement is significant on
L
and 1.5
L
, with a
p
-value <0.022 and 0.001 respectively. In practice, these cut-offs are the most important for structure prediction. Kamisetty et al. [
30
] observed better performance by using at least
L
contacts, RBO Aleph [
61
] uses 1.5
L
contacts. For additional comparisons on medium- and long-range contacts to top 10 predictors from CASP11 consult the supplementary section (Additional file
1
). It also includes a head-to-head comparison between EPSILON-CP and MetaPSICOV on all 21 FM targets.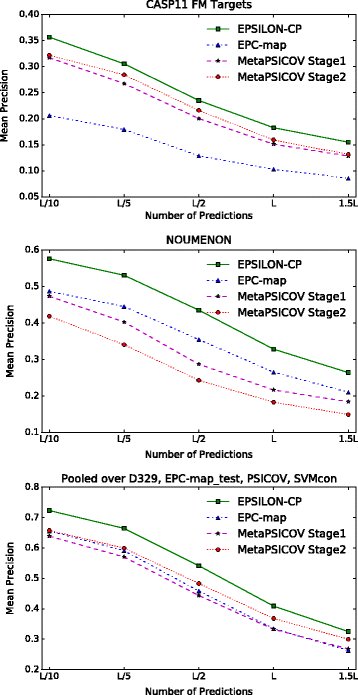 Table 2
Mean precision for long-range contacts on 21 CASP11 FM hard targets
| | L/10 | L/5 | L/2 | L | 1.5L |
| --- | --- | --- | --- | --- | --- |
| EPC-map | 0.206 | 0.18 | 0.129 | 0.103 | 0.086 |
| MetaPSCIOV (stage 1) | 0.317 | 0.268 | 0.2 | 0.151 | 0.129 |
| MetaPSICOV (stage 2) | 0.322 | 0.284 | 0.216 | 0.159 | 0.132 |
| EPSILON-CP | 0.357 | 0.305 | 0.235 | 0.182 | 0.155 |
| CCMpred | 0.221 | 0.182 | 0.145 | 0.111 | 0.092 |
| GaussDCA | 0.209 | 0.186 | 0.135 | 0.104 | 0.087 |
| GREMLIN | 0.207 | 0.165 | 0.12 | 0.086 | 0.078 |
| PSICOV | 0.189 | 0.147 | 0.112 | 0.087 | 0.074 |
On the NOUMENON [47] dataset the difference in performance is more pronounced. Here, EPSILON-CP outperforms MetaPSICOV stage 2 on average by 65%. The trend continues that the relative mean precision increases over longer cut-offs from 37% on L/10 to 77% on 1.5L. EPSILON-CP has an accuracy of 26.4% on 1.5L compared to 14.9% for MetaPSICOV stage 2. Notably, MetaPSICOV stage 1 outperforms stage 2 on this dataset. A possible explanation are the low confidence predictions of stage 1 – on this data set even for short-range contacts. Since stage 2 is essentially a filtering step, the performance may further deteriorate because of false negatives.
We also see a strong decline in prediction accuracy for the co-evolutionary methods (see Tables
3
and
4
for comparison). Here, EPSILON-CP outperforms the co-evolutionary methods 5-fold with an accuracy of 53.1
%
on
L
/5 compared to 8.3
%
for GaussDCA. In general, there is a big improvement over the co-evolutionary methods.
Table 3
Mean precision for long-range contacts on the NOUMENON data set
| | L/10 | L/5 | L/2 | L | 1.5L |
| --- | --- | --- | --- | --- | --- |
| EPC-map | 0.487 | 0.445 | 0.355 | 0.265 | 0.21 |
| MetaPSCIOV (stage 1) | 0.473 | 0.403 | 0.287 | 0.217 | 0.184 |
| MetaPSCIOV (stage 2) | 0.419 | 0.341 | 0.243 | 0.183 | 0.149 |
| EPSILON-CP | 0.576 | 0.531 | 0.435 | 0.328 | 0.264 |
| CCMpred | 0.095 | 0.095 | 0.083 | 0.074 | 0.066 |
| GaussDCA | 0.084 | 0.083 | 0.077 | 0.07 | 0.065 |
| GREMLIN | 0.071 | 0.073 | 0.065 | 0.059 | 0.056 |
| PSICOV | 0.083 | 0.069 | 0.063 | 0.055 | 0.053 |
Table 4
Mean precision for long-range contacts for proteins from D329, SVMcon Test, PSICOV and EPC-map_test
| | L/10 | L/5 | L/2 | L | 1.5L |
| --- | --- | --- | --- | --- | --- |
| EPC-map | 0.656 | 0.591 | 0.459 | 0.335 | 0.263 |
| MetaPSCIOV (stage 1) | 0.639 | 0.57 | 0.444 | 0.333 | 0.268 |
| MetaPSCIOV (stage 2) | 0.658 | 0.599 | 0.483 | 0.368 | 0.3 |
| EPSILON-CP | 0.723 | 0.665 | 0.542 | 0.409 | 0.325 |
| CCMpred | 0.511 | 0.456 | 0.345 | 0.249 | 0.197 |
| GaussDCA | 0.481 | 0.423 | 0.322 | 0.238 | 0.192 |
| GREMLIN | 0.5 | 0.448 | 0.338 | 0.243 | 0.192 |
| PSICOV | 0.452 | 0.39 | 0.285 | 0.203 | 0.163 |
On the easier pooled data set the improvements are less pronounced but EPSILON-CP still outperforms the second best method by 10% on L/5 improving the accuracy from 59.94% to 66.47% (see also Table 4 for a complete overview, including results from co-evolutionary methods). The proteins are easier compared to CASP11 and NOUMENON since most proteins have a lot of known homologs.
Summarizing, our classifier improves contact prediction over MetaPSICOV. Further, we could employ a similar strategy to MetaPSICOV stage 2 to boost performance.
Feature importance analysis reveals that AA composition is obsolete in meta contact predictors
In the previous section, we have shown that our meta prediction method generally improves contact prediction results over MetaPSICOV. Combining multiple sources of information can help to mitigate drawbacks exhibited by individual methods. Similar to ensembling in machine learning, to maximize the impact the sources should be as diverse as possible. However, this approach of combining information as features in a machine learning system also has downsides. The concatenation of features increases the dimensionality of the learning problem which might lead to a harder learning problem and to diminishing returns in prediction precision.
The increase in dimensionality introduces mainly two problems. First, due to the curse of dimensionality the training data that is necessary to generalize correctly increases exponentially [34]. This results in a more complex optimization problem as well as increased data size and slower training. Second, most of the commonly used feature sets have been devised to be used on their own and not in the context of meta approaches. Therefore, the features from different information sources might contain information of the same subspace and thus their combination might not contribute to learning.
To investigate this issue in the context of contact prediction, we re-evaluated the features. In our initial experiments, the training of the neural network suffered especially from the large data set and the high dimensional feature set which lead to slow training. Thus, we conducted a feature analysis to potentially reduce the dimensionality of our learning problem.
Using neural networks for feature selection was not straightforward because there is no simple way of computing feature importance from neural networks and feature selection experiments were unfeasible due to long training times and the amount of features.
Thus, we employed XGBoost [62] for evaluating feature importance, which is a decision tree-based algorithm. During construction, tree-based algorithms perform a feature importance ranking. The feature importance can be used as a starting point to evaluate the feature set. Although interesting, the feature importance sometimes lack meaningfulness. Correlation can inflate or deflate the importance of a feature. XGBoost splits the data set recursively. In each split, the feature that best separates the two classes is chosen. Features used in earlier splits are deemed more important. The specific feature importance measure we use is called mean decrease of impurity [63]. Thus, the feature importance values need to be critically analyzed.
An excerpt of the results is shown in the feature importance plot (see Fig.
2
, average over 5-fold cross-validation). We include the results of two co-evolutionary methods to show the difference in importance depending on the method. For the purpose of visibility, the rest are left out and some features with fairly similar importance have been aggregated and averaged (see for instance the global features).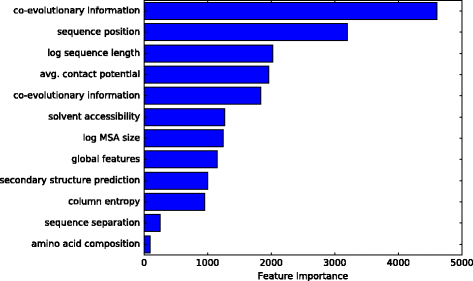 Strikingly, the feature importance of the amino acid composition is the lowest of all features. Interestingly, this feature has 485 dimensions and makes up 75% of the features. Note that the real feature importance according to XGBoost might be masked by the aforementioned covariance issues. Nevertheless, we used this feature importance information to refine our representation and re-train the neural network model.
To test the utility of the amino acid composition in our neural network model, we re-trained the system with and without the amino acid composition. The result is depicted in Fig.
3
. Removing the amino acid composition does not harm performance. Performance actually increases slightly by 1−2
%
, likely due to the easier optimization problem (see Fig.
3
square and star marker). The results are based on our original training set, a smaller set where the feature set does not yet contain EPC-map. The smaller training set is a strict subset of the final training set, combining 557 proteins from EPC-map_train with 100 randomly chosen proteins from the MetaPSICOV training set that exceed 200 amino acids. Due to the aforementioned scaling issues, we cannot replicate the experiment on the whole data set in a reasonable time with the neural network. With XGBoost however, we were able to verify that the performance is not harmed. XGBoost allowed us to test both configurations (with and without amino acid composition) on the whole data set. The difference in performance is less pronounced because XGBoost already largely ignores unimportant variables, but here the accuracy improved as well or at least remained the same (tested via 5-fold cross-validation). For instance on
L
/10 the accuracy increased from 53.96
%
to 54.57
%
, on medium-range contacts the performance increased on average by 0.5
%
.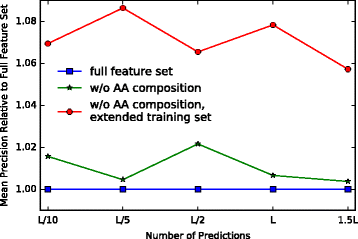 Training on more data generally improves the performance of neural networks [64]. The significant reduction in dimensionality made it possible to increase the training set size from the smaller, original training set to the final training set described in Data and Training Setup. The performance improvements are depicted in Fig. 3 (circle marker compared to star marker). Here, we compare the performance without the amino acid composition on the original and the final training set. On EPC-map_test the mean precision increased by 6% on long-range contacts.
Our assumption is that the introduction of evolutionary information renders the amino acid composition redundant.
Combination of different sources of information
In this section, we aim to quantify the benefit on contact prediction accuracy of combining multiple information sources. Figure
4
compares the performance of the individual types of information on long-range contacts on the EPC-map_test data set. We use the following abbreviations: S for sequence-based information, E for evolutionary information and P for physicochemical information. S uses the feature set introduced in Features (see "
Features
" section) without the input features obtained from the co-evolutionary methods and EPC-map. We pick GaussDCA [
51
] as the representative for evolutionary information because it had the highest feature importance out of all the evolutionary methods in our experiment. For physicochemical information we use EPC-map as the representative algorithm. In this experiment, we removed GREMLIN from the EPC-map algorithm. Strictly speaking, the physicochemical predictor in EPC-map also contains some sequence-based features and could also be seen as a mix of sequence-based and physicochemical information. The EPC-map_test set contains many small proteins with rather small multiple sequence alignments [
22
]. EPC-map performs well on this set with a mean accuracy of 50% [
22
] because the small protein size (smaller than 150 amino acids) enables generation of decoys with good quality which impacts physicochemical contact prediction. Nevertheless, combining multiple sources of information clearly improves the results. The performance increases by almost 80% from 31.6
%
on
L
/5 for S to 56.8
%
for S,E,P. The increase over P is 22%.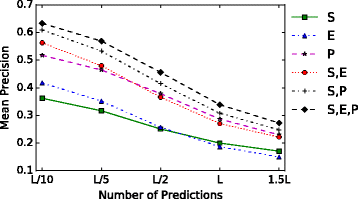 Limitations
The main limitation of our approach is that contacts are predicted in isolation. Since there are reoccurring contact patterns, it makes sense to try to incorporate predictions of surrounding contacts. This could be done in a similar fashion to MetaPSICOV stage 2, where an excerpt of the contact map is used as an input for a second model. Ideally, this could be done with end-to-end learning and include a feedback loop.
A second limitation concerns the feature set. Most of the feature set is computed on a fixed window of the sequence potentially ignoring useful information. More powerful methods that work directly on sequences (convolutional neural networks, recurrent neural networks) instead may be able to lift this limitation.
Conclusion
We presented EPSILON-CP, a contact predictor that combines evolutionary information from multiple sequence alignments with physicochemical information from structure prediction methods and with sequence-based information. These three sources of information are combined using a deep neural network model. We show that combining multiple sources of information improves prediction accuracy when compared to the CASP11 winning version of MetaPSICOV. We use stacking and train a deep neural network to derive on this relationship from data, effectively learning when a specific source of information is most likely to be effective.
The key to performance improvements achieved by our method is the reduced and refined feature set. Due to a careful feature analysis, we found that the amino acid composition, a commonly used feature, can be removed without harming the performance. Our hypothesis is that the introduction of evolutionary methods make the amino acid composition redundant. Our results show that common features must be re-evaluated in the context of meta approaches so as to avoid redundant features that do not contribute to learning. We removed features related to the amino acid composition, reducing the size of the feature set by 75%. This allowed us to train more complex networks and to increase the size of the training set considerably. Using this strategy, EPSILON-CP achieves 35.7% mean precision for the top L/10 predicted long-range contacts on 21 CASP11 FM hard targets, 11% higher than the second-best method. For the top 1.5L long-range contacts the improvement is 17%.
Our study suggests that further improvements in contact prediction will arise from adequately balancing feature-set size and feature expressivity on the one hand, and the size of the training data and the complexity of machine learning algorithms on the other hand. We demonstrated that a reduced feature set enables an increased amount of training data, which leads to improved contact prediction. We hypothesize that further improvements will result from creating even more powerful and compact feature sets that in turn enable the expansion of the training set and the use of more sophisticated learning methods.
Abbreviations
AA:

Amino acid composition
APC:

Average product correction
CASP:

Critical assessment of structure prediction
FM:

Free modeling
FP:

False positives
MSA:

Multiple sequence alignments
SGD:

Stochastic gradient descent
TP:

True positives
Declarations
Acknowledgments
We thank Tomasz Kosciolek for providing the alignments they used in CASP11.
Funding
This work was supported by the Alexander-von-Humboldt Foundation through an Alexander-von-Humboldt professorship sponsored by the German Federal Ministry for Education and Research (BMBF).
Availability of data and materials
The datasets generated and/or analysed during the current study are available in the rbo-epsilon repository, https://github.com/lhatsk/rbo-epsilon
Authors' contributions
Conceived and designed the experiments: KS MS OB. Performed the experiments: KS. Analyzed the data: KS. Wrote the paper: KS MS OB. All authors read and approved the final manuscript.
Competing interests
The authors declare that they have no competing interests.
Consent for publication
Not applicable.
Ethics approval and consent to participate
Not applicable.
Publisher's Note
Springer Nature remains neutral with regard to jurisdictional claims in published maps and institutional affiliations.
Open Access This article is distributed under the terms of the Creative Commons Attribution 4.0 International License (http://creativecommons.org/licenses/by/4.0/), which permits unrestricted use, distribution, and reproduction in any medium, provided you give appropriate credit to the original author(s) and the source, provide a link to the Creative Commons license, and indicate if changes were made. The Creative Commons Public Domain Dedication waiver (http://creativecommons.org/publicdomain/zero/1.0/) applies to the data made available in this article, unless otherwise stated.
Authors' Affiliations
(1)
Robotics and Biology Laboratory, Department of Electrical Engineering and Computer Science, Technische Universität Berlin, Berlin, Germany