Methodology article

Open Access
A deep convolutional neural network approach to single-particle recognition in cryo-electron microscopy
BMC Bioinformatics
BMC series – open, inclusive and trusted
2017
18:348
Received: 16 November 2016
Accepted: 13 July 2017
Published: 21 July 2017
Abstract
Background
Single-particle cryo-electron microscopy (cryo-EM) has become a mainstream tool for the structural determination of biological macromolecular complexes. However, high-resolution cryo-EM reconstruction often requires hundreds of thousands of single-particle images. Particle extraction from experimental micrographs thus can be laborious and presents a major practical bottleneck in cryo-EM structural determination. Existing computational methods for particle picking often use low-resolution templates for particle matching, making them susceptible to reference-dependent bias. It is critical to develop a highly efficient template-free method for the automatic recognition of particle images from cryo-EM micrographs.
Results
We developed a deep learning-based algorithmic framework, DeepEM, for single-particle recognition from noisy cryo-EM micrographs, enabling automated particle picking, selection and verification in an integrated fashion. The kernel of DeepEM is built upon a convolutional neural network (CNN) composed of eight layers, which can be recursively trained to be highly "knowledgeable". Our approach exhibits an improved performance and accuracy when tested on the standard KLH dataset. Application of DeepEM to several challenging experimental cryo-EM datasets demonstrated its ability to avoid the selection of un-wanted particles and non-particles even when true particles contain fewer features.
Conclusions
The DeepEM methodology, derived from a deep CNN, allows automated particle extraction from raw cryo-EM micrographs in the absence of a template. It demonstrates an improved performance, objectivity and accuracy. Application of this novel method is expected to free the labor involved in single-particle verification, significantly improving the efficiency of cryo-EM data processing.
Keywords
Cryo-EMParticle recognitionConvolutional neural networkDeep learningSingle-particle reconstruction
Background
Single-particle cryo-EM images suffer from heavy background noise and low contrast, due to the limited electron dose used in imaging in order to reduce radiation damage to the biomolecules of interest [1]. Hence, a large number of single-particle images, extracted from cryo-EM micrographs, is required to perform a reliable 3D reconstruction of the underlying structure. Particle recognition thus represents the first bottleneck in the practice of cryo-EM structure determination. During the past decades, many computational methods have been proposed for automated particle recognition, mostly based on template matching, edge detection, feature extraction or neural networks [2–15]. The template matching methods depend on a local cross-correlation that is sensitive to noise, and a substantial fraction of false positives may result from false correlation peaks [2–8]. Similarly, both the edge-based [9, 10] and feature-based methods [11–13] suffer from a dramatical reduction of performance with lower contrast of the micrographs. In a different approach, a method based on a three-layer pyramidal-type artificial neural network was developed [14, 15]. However, there is only one hidden layer in the designed neutral network, which is insufficient to extract rich features from single-particle images. A common problem for these automated particle recognition algorithms lies in the fact that they cannot distinguish "good particles" from "bad" ones, including overlapped particles, local aggregates, background noise fluctuations, ice contamination and carbon-rich areas. Thus, additional steps comprising unsupervised image classification or manual verification and selection are necessary to sort out "good particles" after initial automated particle picking. For example, TMaCS uses the support vector machine (SVM) algorithm to classify the particles initially picked by a template-matching method to remove false positives [16].
Deep learning is a type of machine learning that focuses on learning from multiple levels of feature representation, and can be used to make sense of multi-dimensional data such as images, sound and text [17–22]. It is a process of layered feature extraction. In other words, features in greater detail can be extracted by moving the hidden layer down to a deeper level using multiple non-linear transformations [22]. Convolutional neural network (CNN) is a biologically inspired deep, feed-forward neural network that has demonstrated an outstanding performance in speech recognition [23] and image processing, such as handwriting recognition [24], facial detection [25] and cellular image classification [26]. Its unique advantage lies in the fact that the special structure of shared local weights reduces the complexity of the network [27, 28]. Multidimensional images can be directly used as inputs of the network, which avoids the complexities of feature extraction in the reconstructed data [17, 27].
The particle recognition problem in cryo-EM is fundamentally a binary classification problem, and is based on the features of single-particle images. We devised a novel automated particle recognition approach based on deep CNN learning [
27
]. Our algorithm, named DeepEM, is built upon an eight-layer CNN, including an input layer, three convolutional layers, three subsampling layers, and an output layer (Fig.
1
). In this study, we applied this deep-learning approach to tackle the problem of automated template-free particle recognition. The DeepEM algorithm was examined through the task of detecting "good particles" from cryo-EM micrographs taken in a variety of situations, and demonstrated improved accuracy over other template-matching methods.

Results
Experiments on the KLH dataset
We first tested our DeepEM algorithm on the Keyhole Limpet Hemocyanin (KLH) dataset [35] that was previously used as a standard testing dataset to benchmark various particle selection methods [3, 4, 6, 8, 11–13, 16]. For the KLH dataset, the recall and the precision both reached ~90% at the same time in the precision-recall curve (Fig. 3f) plotted against a manually selected set of particle images from 32 micrographs that did not include any particle images used in the training dataset. Our approach achieved a higher precision over all the particle images selected, whereas the recall was kept at a high value, indicating that fewer false-negative particle images were missed among the micrographs. In a typical KLH micrograph (Fig. 3c), all true particle images were automatically recognized by our method with a threshold of 0.84, as determined by the F 2-score (see Methods and Eq. 6) (Fig. 3e). A comparison of the precision-recall curves between DeepEM, RELION [36] and TMACS [16] suggests that DeepEM outperforms these two template-matching based methods (Additional file 1: Figure S4).
To understand the impact of the number of training particles on algorithm performance, we varied the particle number in the KLH training dataset from 100 to 1200, and plotted the corresponding precision-recall curves (Fig.
4
). In each testing case, the number of positive particles was kept equal to that of the negative particles. Although there was clear improvement in the precision-call curve when the training particle number was increased from 100 to 400, there was little improvement with a further increase of the training dataset size. The best result was obtained in the training run with 800 positive particle images.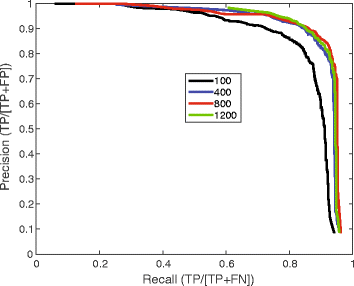 Experiments on cryo-EM datasets
We also applied our method to several challenging cryo-EM datasets collected using a direct electron detector, including the 19S regulatory particle, 26S proteasome and NLRC4/NAIP2 inflammasome [37]. Figure 3d shows a typical micrograph of the 19S regulatory particle, in which DeepEM selected almost all true particle images contained in the micrograph. At the same time, it avoided selecting non-particles from areas containing aggregates and carbon film. The precision-recall curve resulting from the test on the 19S dataset is shown in Fig. 3f. The precision and recall both reach ~80% at the same time. The picked particles were approximately as well-centered as the manually boxed ones. To further verify that the selected particle images are correct, we performed unsupervised 2D classification. The resulting reference-free class averages from about 100 micrographs were consistent with different views of the protein samples (Additional file 1: Figure S5).
Two difficult cases from the inflammasome dataset were examined. Figure
5a
shows a micrograph with a high particle density that contains excessively overlapped particles and ice contamination. Most methods based on template matching were incapable of avoiding particle picking from overlapped particles and ice contaminants in this case. Figure
5b
presents another difficult situation, in which the side views of the inflammasome display a lower SNR, lack low-frequency features, and are dispersed with a very low spatial density. In both cases, DeepEM still performed quite well in particle recognition, while avoiding the selection of overlapping particles and non-particles. Further tests on similar cases from other protein samples suggested that this observation had a good reproducibility (Additional file
1
: Figure S6). Most importantly, DeepEM was able to determine the structure of the human 26S proteasome [
38
].

Computational efficiency
The DeepEM algorithm was first tested on a Macintosh with a 3.3 GHz Intel Core i5 and 32 GB memory, running Matlab 2014b. When the size of the particle images increases, the parameter space increases substantially, so that it costs more computational time for each micrograph. We usually binned the original micrographs 2 or 4 times to reduce the size of the particle images. For the KLH dataset, it took about 7300 s per micrograph with a micrograph size of 2048 by 2048 pixels and particle image size of 272 by 272 pixels. For the 19S regulatory particle, inflammasome and 26S proteasome datasets, it took about 790, 560, and 1160 s per micrograph with a binned micrograph size of 1855 by 1919 pixels and particle image sizes of 112 by 112, 160 by 160, and 150 by 150 pixels, respectively. To speed up the calculations, multiple instances of the code were run in parallel. We also implemented a Graphic Processing Unit (GPU)-accelerated version of DeepEM in Matlab. We tested it on a desktop computer with 4.0 GHz Intel Core i7-6700 k, 64GB memory and Geforce GTX 970, running Matlab 2016a and CUDA 8.0. It only took about 190, 50, 40, and 60 s per micrograph for the KLH, 19S regulatory particle, inflammasome and 26S proteasome datasets, respectively. The GPU-accelerated DeepEM version therefore speeds up the computation by at least an order of magnitude.
Discussion
Based on the principles of deep CNN, we have developed the DeepEM algorithm for single-particle recognition in cryo-EM. The method allows automated particle extraction from raw cryo-EM micrographs, thus improving the efficiency of cryo-EM data processing. In our current scheme, a new dataset containing particles of significantly different features may render the previously trained hyper-parameters suboptimal. Readers are directed to Table 1 as references for the hyper-parameter tuning for specific cases. Indeed, finding a set of fine-tuned hyper-parameters leading to optimized learning results on new datasets therefore demands additional user intervention in CNN training. In the above-described examples, we screened several combinations of hyper-parameters to empirically pinpoint an optimal setting. This procedure may be inefficient and can be laborious in certain cases. An automated method for the systemic tuning of hyper-parameters could be developed in the future to address this issue.
The execution of the DeepEM algorithm requires users to first label several hundreds of 'good particles' and 'bad particles' for CNN training purpose, which can be readily assembled from several micrographs. Further processing of these raw particle images is not needed. By contrast, in the traditional template-matching methods [2–8, 36], users need to first obtain many high-quality class averages or an initial 3D model, which involves multiple steps of single-particle analysis significantly more laborious than the single step of manual particle labeling required by our DeepEM approach. If the template is based on a 3D model, it is usually not trivial to determine a high-quality initial model from new samples, which involves a complete procedure of the ab initio 3D structure determination at low resolution [1]. If the template is based on a set of 2D class averages, users still have to first manually pick thousands of particles and then perform 2D image clustering to generate high-quality 2D classes. Moreover, the number of the reference images are often very limited and hardly include all kinds of orientations, potentially introducing orientation bias in particle picking through template matching. Thus, the preparation step of DeepEM is considerably easier than those of template-matching methods.
Although there are unlimited possibilities for the design of deep CNNs, we made some explorations that helped us understand the optimal use of CNNs for our single-particle recognition problem. First, we examined the noise tolerance of the algorithm with simulated datasets. When the SNR is decreased to 0.005, the DeepEM can still recognize particle images after proper training (Fig.
6
). Second, we replaced the sigmoid activation function with a rectified linear unit (ReLU) function. Our results indicate that the ReLU function gives rise to a slightly inferior accuracy in particle recognition than the sigmoid function (Additional file
1
: Figure S7). Third, we attempted to design a six-layer CNN, but found that it failed to produce a better or equivalent performance (data not shown). Thus, it is likely that the eight-layer CNN we designed possesses the minimum depth suited to our problem. A deeper CNN might enable greater capacities in these tasks and awaits further investigation. Finally, from the experiments on the inflammasome dataset, we noticed that DeepEM is more effective for feature-rich data. It exhibits a reduced performance when tested on the side views as compared to the top views of the inflammasome (Fig.
4c
), because the side views exhibit significantly less low-frequency features than the top views. Thus, the richness of low-frequency particle features is positively correlated with the achievable performance of CNNs.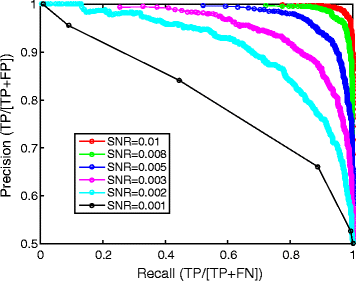 Our DeepEM algorithm framework exhibits several advantages. First, with sufficient training, DeepEM can select true particles without picking non-particles in a single, integrative step of particle recognition. In fact, it performs as well as a human worker. Similar performance was previously only made possible by combining several steps, encompassing automated particle picking, unsupervised classification and manual curation. Second, DeepEM features traits representative of other artificial intelligence (AI) or machine learning systems. The more it is trained or learned, the better it performs. We found that with iterative updating or optimization of the training dataset, the particle recognition performance of DeepEM can be further improved, which was not possible for conventional particle-recognition algorithms developed so far. Therefore, the performance of earlier algorithms was intricately bound by their mathematics and control parameters, and DeepEM overcomes these limitations.
Conclusion
DeepEM, which is derived from deep CNNs, has proved to be a very useful tool for particle extraction from noisy micrographs in the absence of templates. This approach gives rise to improved "precision-recall" performance in particle recognition, and demonstrates a higher tolerance to much lower SNRs in the micrographs than was possible with older methods based on template-matching. Thus, it enables automated particle picking, selection and verification in an integrated fashion, with a quality comparable to that of a human worker. We expect that this development will broaden the applications of modern AI technology in expediting cryo-EM structure determination. Related AI technologies may be developed in the near future to address key challenges in this area, such as deep classification of highly heterogeneous cryo-EM datasets.
Abbreviations
AI:

Artificial intelligence
CNN:

Convolutional neural network
Cryo-EM:

Cryo-electron microscopy
KLH:

Keyhole Limpet Hemocyanin
SNR:

Signal-to-noise ratio
Declarations
Acknowledgements
The authors thank H. Liu, Y. Xu, M. Lin, D. Yu, Y. Wang, J. Wu and S. Chen for helpful discussions, as well as S. Zhang for assistance in the code adaptation for GPU-based acceleration. The computation was performed in part using the high-performance computational platform at the Peking-Tsinghua Center for Life Science at Peking University, Beijing, China.
Funding
The cryo-EM experiments were performed in part at the Center for Nanoscale Systems at Harvard University, Cambridge, MA, USA, a member of the National Nanotechnology Coordinated Infrastructure Network (NNCI), which is supported by the National Science Foundation of the USA, under NSF award no. 1541959. This work was funded by a grant of the Thousand Talents Plan of China (Y.M.), by grants from the National Natural Science Foundation of China No. 11434001 and No. 91530321 (Y.M., Q.O.), and by the Intel Parallel Computing Center program (Y.M.).
Authors' contributions
Conceived and designed the experiments: YZ QO YM. Performed the experiments: YZ. Analyzed the data: YZ YM. Contributed reagents/materials/analysis tools: QO YM. Wrote the manuscript: ZY YM. All authors have read and approved the final manuscript.
Ethics approval and consent to participate
Not applicable.
Consent for publication
Not applicable.
Competing interests
The authors declare that they have no competing interests.
Open AccessThis article is distributed under the terms of the Creative Commons Attribution 4.0 International License (http://creativecommons.org/licenses/by/4.0/), which permits unrestricted use, distribution, and reproduction in any medium, provided you give appropriate credit to the original author(s) and the source, provide a link to the Creative Commons license, and indicate if changes were made. The Creative Commons Public Domain Dedication waiver (http://creativecommons.org/publicdomain/zero/1.0/) applies to the data made available in this article, unless otherwise stated.
Authors' Affiliations
(1)
Center for Quantitative Biology, Peking University, Beijing, China
(2)
State Key Laboratory for Artificial Microstructure and Mesoscopic Physics, Peking University, Institute of Condensed Matter Physics, School of Physics, Beijing, China
(3)
Peking-Tsinghua Center for Life Sciences, Peking University, Beijing, China
(4)
Intel Parallel Computing Center for Structural Biology, Department of Microbiology and Immunobiology, Dana-Farber Cancer Institute, Harvard Medical School, Boston, USA