Predicting combinative drug pairs towards realistic screening via integrating heterogeneous features
BMC Bioinformatics
BMC series – open, inclusive and trusted
2017
18(Suppl 12):409
Published: 16 October 2017
Abstract
Background
Drug Combination is one of the effective approaches for treating complex diseases. However, determining combinative drug pairs in clinical trials is still costly. Thus, computational approaches are used to identify potential drug pairs in advance. Existing computational approaches have the following shortcomings: (i) the lack of an effective integration of heterogeneous features leads to a time-consuming training and even results in an over-fitted classifier; and (ii) the narrow consideration of predicting potential drug combinations only among known drugs having known combinations cannot meet the demand of realistic screenings, which pay more attention to potential combinative pairs among newly-coming drugs that have no approved combination with other drugs at all.
Results
In this paper, to tackle the above two problems, we propose a novel drug-driven approach for predicting potential combinative pairs on a large scale. We define four new features based on heterogeneous data and design an efficient fusion scheme to integrate these feature. Moreover importantly, we elaborate appropriate cross-validations towards realistic screening scenarios of drug combinations involving both known drugs and new drugs. In addition, we perform an extra investigation to show how each kind of heterogeneous features is related to combinative drug pairs. The investigation inspires the design of our approach. Experiments on real data demonstrate the effectiveness of our fusion scheme for integrating heterogeneous features and its predicting power in three scenarios of realistic screening. In terms of both AUC and AUPR, the prediction among known drugs achieves 0.954 and 0.821, that between known drugs and new drugs achieves 0.909 and 0.635, and that among new drugs achieves 0.809 and 0.592 respectively.
Conclusions
Our approach provides not only an effective tool to integrate heterogeneous features but also the first tool to predict potential combinative pairs among new drugs.
Background
The anomaly of the expression level of an individual gene can cause a disease. Specific individual drugs are able to treat the disease by activating or inhibiting the protein regulating the expression of the disease-associated gene. However, the vast number of diseases falls into complex diseases, which cannot be treated by this individual-drug treatment with an expected efficacy [1]. The underlying reason is that complex diseases may involve numerous genes, multiple metabolic pathways as well as diverse environmental factors.
As one of the multiple-target treatments, drug combination has been applied in treating complex diseases (e.g. HIV/AIDS [2] and colorectal cancer [3]) and demonstrated its effectiveness in clinics. However, most experimental approaches of drug combination heavily depend on clinical experience or the test-and-trial strategy. Due to the high cost in both time and money, it is impossible to screen an effective combination of individual drugs among all the possible pairwise combinations on a large scale in wet lab.
Fortunately, the number of available drug combinations is increasing [4]. For example, Drug Combination Database (DCDB) collected 1363 drug combinations (including 330 approved, 1033 investigational, and 237 unsuccessful usages), which involves 904 individual drugs. In addition, a large amount of heterogeneous information (e.g. drug-drug interactions, targets etc.) about individual drugs can be exploited. Thus, it is promising to develop computational approaches to speed up the screening of combinative drug pairs for the treatment of complex diseases [5–9].
Existing computational approaches can be roughly grouped into two types, disease-driven and drug-driven. Disease-driven approaches rely heavily on how well the disease-associated genes or the disease-specific pathways for a disease of interest are known [6, 8, 9]. Diverse assumptions are adopted among them. For examples, (1) two drugs can be combined if their targets are the same or related in terms of the functional pathways of a given disease [6]; (2) the optimum drug combinations can be obtained by maximizing on-target coverage while minimizing off-target effects according to the drug-target network related to the disease-associated genes [8]; and (3) drugs sharing no target or independent signaling mechanisms could be combined, if they have the active functional targets, which are of high-degree and closely connected in the disease-related protein interaction network [9]. For specific diseases, disease-driven approaches are able to predict multiple combinations among drugs. However, it's hard to integrate other information, such as pharmacology or clinic phenotype, into existing models of current approaches which only use genotype information.
In contrast, focusing on drugs but not diseases, drug-driven approaches are able to predict the candidates of pairwise combinations between individual drugs on a large scale, by holding the underlying assumption that combinative drug pairs are similar to each other and different from ineffective drug pairs. This kind of approaches first represents each drug pair as a feature vector, which characterizes various attributes of the drug pair [
5
,
7
]. Then, varied computational models are built by supervised learning (e.g. frequency-based lazy learning [
5
] and logistic regression [
7
]) to predict unknown drug pairs. To achieve better performance, these approaches usually extract drug features from heterogeneous sources, such as ATC codes (drug classification information) and side effects, and concatenate the heterogeneous features into a vector of very high dimension straightforwardly. However, this concatenation leads to a time-consuming training and even results in an over-fitted classifier. More importantly, current drug-driven approaches are narrowly applicable to the drugs having one or more approved combinative drug pairs, but ignore the need of screening potential combinations for newly-coming drugs which have no approved combination at all (see also Fig.
1
).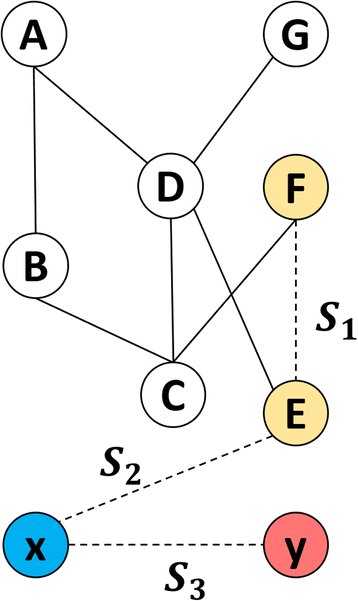 This work develops a novel drug-driven approach. Firstly, we extract four features derived from pharmaceutical drug-drug interactions (DDI), ATC classification codes, targets and side effects. Then, to tackle the abovementioned issues not addressed by former drug-driven approaches, we first design a fusion scheme, which integrates these four features. Then we elaborate appropriate cross validations for three kinds of realistic screening scenarios of drug combinations. Lastly, experiments on real data demonstrate the effectiveness of our fusion scheme for integrating heterogeneous features and its predicting power for not only the drugs having approved combinative partners but also newly-coming drugs that have no known combination. In addition, an extra investigation, inspiring the design of our approach, shows how each kind of heterogeneous feature is related to combinative drug pairs.
Conclusions
Predicting drug combination for complex diseases remains a challenging computational problem. In this paper, we have addressed two issues not solved yet by existing approaches, including an effective integration method for heterogeneous features and the prediction for new drugs (drugs were not used in any drug combination before).
We have proposed four kinds of heterogeneous features (e.g. DDI, ATC, DTI, and SE), in particular, DDI was not considered by existing approaches and we have also presented a new interpretation for the other three remaining features. Based on our four observations, we have provided a clear insight on how these features are related to drug combination. We believe that these observations are beneficial to guide drug combination. Sequentially, we have introduced a fusion scheme to integrate these heterogeneous features with the advantage of low-dimension features used in classifiers.
More importantly, our approach is able to predict potential combinative drug pairs in three realistic screening scenarios involving not only known drugs but also new drugs. Our evaluation results show that the approach is promising. One of the future work would be applying a similar technique to predict more than two drugs that can be combined together.
Abbreviations
ATC:

Anatomical Therapeutic Chemical
AUC:

The area under the receiver operating characteristic curve
AUPR:

The area under the precision-recall curve
CV:

Cross-validation
DCDB:

Drug combination database
DDI:

Drug-drug interaction
DTI:

Drug-target interaction
LR:

Logistic regression
PCA:

Principal component analysis
RBF:

Radial basis function
SE:

Side effects
SVM:

Support vector machines
Declarations
Acknowledgements
The abridged 2-page abstract of this work was previously published in the Proceedings of the 12th International Symposium on Bioinformatics Research and Applications, Lecture Notes in Computer Science: Bioinformatics Research and Applications [18].
Funding
The publication cost for this work was funded by RGC Collaborative Research Fund (CRF) of Hong Kong (C1008-16G), National High Technology Research and Development Program of China (No. 2015AA016008), the Fundamental Research Funds for the Central Universities of China (No. 3102015ZY081), the Program of Peak Experience of NWPU (2016) and partially supported by the National Natural Science Foundation of China (No.61473232, 91430111).
Authors' contributions
JYS conceived, designed and carried out the experiments. JYS and SMY drafted the manuscript. JXL and KG collected the heterogeneous data and extracted the corresponding features. JYS and JXL performed the experiments. JYS and PL analysed the data. JYS developed the codes used in the analysis. All authors read and approved the final manuscript.
Ethics approval and consent to participate
Not applicable.
Consent for publication
Not applicable.
Competing interests
The authors declare that they have no competing interests.
Publisher's Note
Springer Nature remains neutral with regard to jurisdictional claims in published maps and institutional affiliations.
Open AccessThis article is distributed under the terms of the Creative Commons Attribution 4.0 International License (http://creativecommons.org/licenses/by/4.0/), which permits unrestricted use, distribution, and reproduction in any medium, provided you give appropriate credit to the original author(s) and the source, provide a link to the Creative Commons license, and indicate if changes were made. The Creative Commons Public Domain Dedication waiver (http://creativecommons.org/publicdomain/zero/1.0/) applies to the data made available in this article, unless otherwise stated.
Authors' Affiliations
(1)
School of Life Sciences, Northwestern Polytechnical University, Xi'an, China
(2)
School of Computer Science, Northwestern Polytechnical University, Xi'an, China
(3)
Department of Chinese Medicine, Shaanxi Provincial People's Hospital, Xi'an, China
(4)
Department of Computer Science, the University of Hong Kong, Hong Kong, China