Methodology Article
Open Access
A proximity-based graph clustering method for the identification and application of transcription factor clusters
BMC Bioinformatics
BMC series – open, inclusive and trusted
2017
18:530
Received: 26 June 2017
Accepted: 14 November 2017
Published: 29 November 2017
Abstract
Background
Transcription factors (TFs) form a complex regulatory network within the cell that is crucial to cell functioning and human health. While methods to establish where a TF binds to DNA are well established, these methods provide no information describing how TFs interact with one another when they do bind. TFs tend to bind the genome in clusters, and current methods to identify these clusters are either limited in scope, unable to detect relationships beyond motif similarity, or not applied to TF-TF interactions.
Methods
Here, we present a proximity-based graph clustering approach to identify TF clusters using either ChIP-seq or motif search data. We use TF co-occurrence to construct a filtered, normalized adjacency matrix and use the Markov Clustering Algorithm to partition the graph while maintaining TF-cluster and cluster-cluster interactions. We then apply our graph structure beyond clustering, using it to increase the accuracy of motif-based TFBS searching for an example TF.
Results
We show that our method produces small, manageable clusters that encapsulate many known, experimentally validated transcription factor interactions and that our method is capable of capturing interactions that motif similarity methods might miss. Our graph structure is able to significantly increase the accuracy of motif TFBS searching, demonstrating that the TF-TF connections within the graph correlate with biological TF-TF interactions.
Conclusion
The interactions identified by our method correspond to biological reality and allow for fast exploration of TF clustering and regulatory dynamics.
Keywords
Transcription factorsGraph theoryGraph clusteringNetwork analysisTF clustersGenome regulation
Background
Transcription factors (TFs) are proteins that specifically regulate the transcription of DNA to RNA within the cell. There are an estimated 1300 human TFs, and they can act as suppressors or enhancers of transcription in a variety of ways, either directly, by binding and remodeling the structure of DNA itself, or indirectly, by binding to and influencing other TFs [1]. The transcriptional regulation brought about by TFs is crucial to the health of the cell and of the organism, with transcriptional regulation central to cell cycle control [2], cell homeostasis [3], and cell differentiation [4]. The consequences of TF failure can be severe, with one-third of human developmental disorders attributed to TF errors [5]. As such, it is critical to understand the complex regulatory network that TFs create.
While chromatin immunoprecipitation and sequencing (ChIP-seq) assays [6, 7] and motif analysis [8, 9] can be used to determine where TFs bind DNA, neither provides information on how the TFs bind. TFs tend to cooperatively bind the genome as large complexes, or clusters, binding to the DNA, one another, or both [10, 11]. In these situations, one or more "anchor" TFs bind the DNA directly, and then other TFs bind the anchors rather than the DNA. This creates a combinatorial problem, wherein a given anchor TF may be bound by several different other TFs depending on time, cellular conditions, etc., and a given association (non-anchor) TF may bind several different anchor TFs. This "second dimension" of TF binding is largely unexplored, and it may even explain part of the discrepancy between motif sequence quality among TFs. Given that anchor TFs bind the DNA directly, they are expected to have high-quality motif sequences. The associating TFs, however, would be expected to have poorer, degenerate motif sequences due to the fact that they may not directly bind the DNA and may be associated with different anchor TFs under different conditions.
Understanding the makeup of TF complexes, then, would allow for better utilization of motif sequences in TFBS prediction as well as promote further understanding of the TF regulatory framework of the genome in general. Neither ChIP-seq nor motif sequences provide TF complex information on their own, however, so various algorithmic and data integration approaches have been taken to discover TF clusters. These methods can each be roughly assigned to one of three categories: experimental, similarity, and proximity.
Experimental TF complex investigations focus on discovering and characterizing one complex at a time (see [12–14] as representative examples). While these methods use accurate in vitro or in vivo assays, they are low-throughput and narrow, unable to identify interactions beyond those their assays search for.
Similarity-based methods, such as those in [15] and [16], exploit the inherent basis of PWMs as simple matrices. They assume that TFs which bind similar sequences are likely to bind at the same locations and interact with one another, and they calculate similarity scores between individual TFs' PWMs and cluster based on these scores. These methods have the advantage of not needing PWMs to be aligned to the genome first, but they inherently miss TF-TF interactions not based on affinity for the same sequence, such as the anchor-association paradigm described above.
Finally, proximity-based methods, including [17, 18], and [11], use TFBS data (either putative, from motifs, or experimental, from ChIP-seq) to cluster TFs based on their co-occurrence in close proximity. They make the assumption that TFs which interact will inherently appear with one another more often than the genomic background. Because they use proximity data rather than PWMs, they are able to cluster TFs which possibly interact but have differing PWMs. However, the methods in [17] and [18] are not applied directly to cluster exploration, instead focusing on TFBS density and association with other regulatory elements, respectively. Additionally, while the method in [11] does focus directly on TF clustering, it requires supplementary input from a mass-spectroscopy dataset.
From the above, we can see that the TF regulatory framework is highly complex, including not only a large number of TFs but a myriad of interactions between them. Neither ChIP-seq nor motif searching can identify TF interactions on their own, and existing cluster-finding methods are either limited in scope, unable to detect non-similarity relationships, or not applied to TF-TF interactions. As a result, there is a need for a proximity-based clustering method which focuses on discerning and exploring TF-TF clusters and interactions.
Here, we demonstrate the usefulness of such a proximity-based graph clustering method for the identification, exploration, and application of TF-TF clusters. By transforming TF co-occurrence data into a graph which is then clustered using the Markov Clustering Algorithm, our method putatively identifies all of the TF clusters within a given cell type in one pass and requires only two parameters to function. Clusters can be produced using either ChIP-seq or motif TFBS data as inputs, and we test our method using 111 ChIP-seq experiments and 585 TF PWMs. We show that the returned clusters agree with known, experimentally confirmed TF-TF interactions. We use an empirical method to set the false positive rate (FPR) and show that clustering performance remains stable even at very low FPRs. We also show that our method's clusters incorporate more information than similarity alone, demonstrating that connection in our method's graph is not highly correlated with PWM similarity. Finally, we provide an example of utilizing the graph information to significantly improve the accuracy of TFBS searching using motif sequences.
Discussion
The TF regulatory framework is essential to cellular regulation and human health but is difficult to understand, with interactions between TFs and the genome as well as between TFs themselves. While established methods exist to locate where TFs bind the genome, the clustering and interaction of TFs themselves is largely unexplored. Many clustering methods use motif PWM similarity, which leaves out interactions not based on sequence affinity, and methods which use proximity data from ChIP-seq or motif analysis have not been applied to true TF clustering. In this study, we presented a proximity-based graph clustering solution for the identification of TF clusters.
We used TF co-occurrence data from two TFBS datasets to develop graphs, which were then filtered using an empirical FPR thresholding method. MCL was applied to the filtered graphs, producing many distinct, manageable clusters, with the motif-based dataset performing best. Good clustering performance was achieved even at very low FPRs where as much as 94% of graph edges were filtered out. FPR represented a trade-off parameter; a decreased FPR would decrease the maximum nodes per cluster and increased the total number of clusters, but this increased the number of orphaned, unclustered TFs.
Furthermore, we believe that our results provide evidence that clusters produced by our method are accurate and correspond to biological realities. First, many experimentally known TF-TF interactions were identified within our graphs' clusters, and our graphs correspond well to the protein-protein interactions found in the STRING database, indicating on an empirical basis that our high-throughput, one-pass method is capable of accurate cluster assignment. Our use of the MCL algorithm leaves inter-cluster edges intact, which more closely mirrors the biological reality of a highly-connected, complex regulatory system and allows for further exploration of TF-TF and cluster-cluster interactions.
Second, the information contained within the graph structure was able to significantly improve the accuracy of motif-based TFBS searching for the TF ATF3 when compared to ground truth ChIP-seq data, which indicates that the co-occurrence of TFs with one another has direct biological relevance. Our filtering was based on the simple assumption that if a given TF tends to co-occur with a set of other TFs, a putative binding site without the frequently co-occurring TFs is likely to be a false positive. The unfiltered, unclustered graph was used to generate scores for each putative TFBS, and TFBSs with scores below a certain threshold were filtered out. The precision-recall curves for the graph-based scores significantly outperformed those based on number (rather than identity) of co-occurring TFs as well as a random control. The TF-TF relationships identified by our method must therefore have a biological basis, as they bring the accuracy of motif-based TFBS searching closer to that of the ChIP-seq biological reality.
Finally, by regressing motif PWM similarity with the edges of our graph, we demonstrated that our method captures information beyond PWM similarity in the ENCODE-motif dataset. PWM similarity only accounted for 25% of the variance within our TF-TF associations, allowing for TF-TF interactions to be found where they otherwise would be missed (Fig.
8
).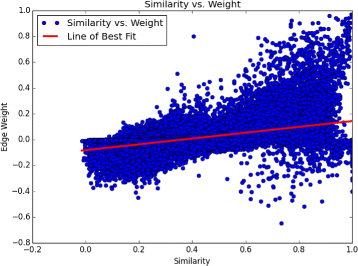 A primary limitation of our method is that while it identifies many TF interactions in one pass, including many which have been already experimentally confirmed, it does so on a putative basis, and it does not offer a quantitative level of likelihood for the clusters it produces. Our method, however, is not meant to replace experimental investigation or confirmation of TF clusters. Instead, it is meant as a tool to quickly and easily explore TF-TF interactions on a putative basis. Additionally, when used with ChIP-seq datasets taken from different cell types or under different cellular conditions, it allows for direct visualization of how TF clusters, and therefore the regulatory environment, change from cell to cell and condition to condition.
Conclusions
Transcription factors form a complex regulatory network which is crucial to human health but is difficult to understand. Methods such as ChIP-seq and motif searching can identify where a TF is likely to bind, but TFs also interact among themselves in ways that are largely unexplored. To address this, we used TF co-occurrence data to develop filtered, normalized graphs, with edges representing the degree of association between TFs. We clustered these graphs using the MCL algorithm, which produced many distinct clusters with known TF-TF interactions while preserving inter-cluster edges. We also demonstrated that our proximity-based co-occurrence method captures information, and therefore TF interactions, that PWM similarity methods cannot. The biological correspondence of our graph output was also demonstrated when we compared it to protein-protein interactions in the STRING database, as well as when we used the graph structure to filter putative TFBSs for ATF3, significantly reducing the number of false positives and increasing accuracy. Going forward, this method can be applied to examine how TF clusters change between cellular conditions and cell types, opening doors into the "second dimension" of TF regulatory dynamics.
Declarations
Acknowledgements
MS wishes to thank Dr. Kerby Shedden of the University of Michigan Department of Statistics for his assistance and advice regarding the work.
Funding
Project supported by NSF CAREER Award DBI-1651614 (APB).
Authors' contributions
MS developed the method, analyzed the data, and wrote the manuscript. KN and AB provided substantial feedback on method conceptualization and implementation, as well as revisions for the manuscript. All authors read and approved the final manuscript.
Ethics approval and consent to participate
Not applicable.
Consent for publication
Not applicable.
Competing interests
The authors declare that they have no competing interests.
Publisher's Note
Springer Nature remains neutral with regard to jurisdictional claims in published maps and institutional affiliations.
Open Access This article is distributed under the terms of the Creative Commons Attribution 4.0 International License(http://creativecommons.org/licenses/by/4.0/), which permits unrestricted use, distribution, and reproduction in any medium, provided you give appropriate credit to the original author(s) and the source, provide a link to the Creative Commons license, and indicate if changes were made. The Creative Commons Public Domain Dedication waiver(http://creativecommons.org/publicdomain/zero/1.0/) applies to the data made available in this article, unless otherwise stated.
Authors' Affiliations
(1)
University of Michigan Medical School, Ann Arbor, USA
(2)
University of Michigan Department of Computational Medicine and Bioinformatics, Ann Arbor, USA
(3)
University of Michigan Medical School Department of Emergency Medicine, Ann Arbor, USA
(4)
University of Michigan Department of Genetics, Ann Arbor, USA