Discriminate the response of Acute Myeloid Leukemia patients to treatment by using proteomics data and Answer Set Programming
BMC Bioinformatics
BMC series – open, inclusive and trusted
2018
19(Suppl 2):59
Abstract
Background
During the last years, several approaches were applied on biomedical data to detect disease specific proteins and genes in order to better target drugs. It was shown that statistical and machine learning based methods use mainly clinical data and improve later their results by adding omics data. This work proposes a new method to discriminate the response of Acute Myeloid Leukemia (AML) patients to treatment. The proposed approach uses proteomics data and prior regulatory knowledge in the form of networks to predict cancer treatment outcomes by finding out the different Boolean networks specific to each type of response to drugs. To show its effectiveness we evaluate our method on a dataset from the DREAM 9 challenge.
Results
The results are encouraging and demonstrate the benefit of our approach to distinguish patient groups with different response to treatment. In particular each treatment response group is characterized by a predictive model in the form of a signaling Boolean network. This model describes regulatory mechanisms which are specific to each response group. The proteins in this model were selected from the complete dataset by imposing optimization constraints that maximize the difference in the logical response of the Boolean network associated to each group of patients given the omic dataset. This mechanistic and predictive model also allow us to classify new patients data into the two different patient response groups.
Conclusions
We propose a new method to detect the most relevant proteins for understanding different patient responses upon treatments in order to better target drugs using a Prior Knowledge Network and proteomics data. The results are interesting and show the effectiveness of our method.
Keywords
AMLAnswer Set ProgrammingBoolean networkProteomics data
Background
Only one quarter of Acute Myeloid Leukemia (AML) diagnosed patients survive beyond 5 years. It is therefore worth exploring how mathematical modeling may contribute on a shift towards a more personalized follow up treatment for AML diagnosed patients. On this context, a prediction of the treatment response of AML patients, solely based on proteomic data, may add valuable information and improve clinical decisions. In 2014 the DREAM 9 challenge was launched in order to predict the complete remission (CR) and primary resistant (PR) response to chemotherapy of 191 AML patients from their proteomics data (231 measured proteins) and from 40 clinical data [1]. In several studies analyzing AML data [1–4] it was found that proteomic data is less discriminant than clinical data to predict patients' response. In the Dream 9 challenge all methods used in a first attempt clinical data to discriminate patients' response, and in a second attempt the 2 best performing methods used proteomic data to improve their prediction accuracy. A small set of proteins was considered to have a significant impact: PIK3CA, GSKAB, PTEN and NPM1. In [5] the authors proposed a biomarker detection method for the Dream 9 challenge data, which combines a machine learning framework with prior knowledge concerning the evolutionary conservation of the selected biomarkers. In their work they agree with previous studies on the low discriminant power of proteomic data: only two discriminant features came from proteomic data (PIK3CA and GSK3) and the rest were taken from the bio-clinical data. In this work, we propose a method to answer to the DREAM 9 challenge by including as prior information signaling networks. Even if the task of compiling signaling networks may be considered time demanding, many publicly available resources containing regulatory information currently exist such as KEGG [6], Reactome [7, 8], Pathway Commons [9], OmniPath [10] and NDEX [11]. Some of these resources have available tools or Cytoscape [12] plug-ins to extract networks given a list of molecules, such as ReactomeFIViz [13] for Reactome, CyPath2 [14] for Pathway Commons and PyPath [15] for OmniPath. Therefore, in this work we aim to understand the impact of using a mathematical model built over a signaling network, automatically retrieved from the KEGG database, associating the measured proteins on the prediction of CR-PR classes of patients' response.
Patients' response classification is usually approached by methods that find statistically significant markers from the transcriptomic or proteomic data at hand. A classical method used for this is univariate and multivariate Cox proportional hazards analyses. Following such approach, several statistic [16, 17] and machine learning [18–20] methods conceived for significant features extraction have been applied to this problem. This was the case for most of the best performing methods in the Dream 9 challenge. More recent approaches include the notion of pathways in this drug detection problem [21]. Such methods allow identifying the regulatory mechanisms related to the best drug targets [22] and this mechanistical information is valuable to understand the disease and the complexity of drug targeting. We have introduced in [23] the caspo method, which learns BNs from phosphoproteomic multiple perturbation data by using Logic Programming. This framework allows us to retrieve families of logic models having the best fit to the experimental data from exhaustive searches over a large-scale prior signaling network. In this work we make use of caspo. Experimentally, however, multiple perturbation data needed for caspo is impossible to obtain for patients. For this reason we have introduced a logic programming based approach to select subsets of proteins in the form of multiple perturbation experiments from static proteomics measurements that can allow us to maximize the discrimination between the two response type patients.
Following a parallel path to other Dream 9 challenge approaches, in this work we focused mainly on the proteomics data ignoring clinical data. We make this choice to discover discriminating signaling mechanisms. Our results show that 34 proteins were significant to build discriminant logic models of both classes of patients. We obtained the mechanisms and Boolean gates that best explained both type of data. Interestingly, several proteins are key in these models. Despite having two common proteins (ERBB3 and IGF1R), the Boolean networks present different interconnections among different proteins in the case of models that explain a CR response (FN1, SMAD6, LEF1, ERBB3, IGF1R, MAPK9, STMN1, GAPDH) and those that explain a PR response (FN1, YAP1, STK11, ERBB3, IGF1R, CASP9, CASP3, BAK1, TSC2, PTGS2). The PIK3CA and PTEN proteins, also reported in the previously DREAM 9 challenge cited methods, were also discovered by our approach, as intermediate nodes within the Boolean models.
When compared to the Dream challenge 100 patients testing dataset, the accuracy of the learned BNs was of 42%; this accuracy improves to 55% when selecting only patients where the measurements had strong signals. The accuracy obtained for the CR class, 64.7% (72.2% for strong signals) was greater than the one obtained for the PR class, 18.3% (27.2% for strong signals). In [1] it was found the same difference in the accuracy reported for different patient response groups (median accuracy of 73% for CR and 42% for PR); however, in that study the authors used the 40 bioclinical variables and only 4 protein measurements without considering the signaling mechanisms that explain this difference.
Method
Our method consists of four main steps. First, we start with the creation of a Prior Knowledge Network (PKN) from public databases that connects the 231 measured proteins. In this PKN we distinguished 3 types of nodes: stimuli, inhibitors and readouts. By stimuli we refer to the entry-layer of the network (nodes without predecessors); readouts, to the output-layer of the network (nodes without successors); and inhibitors, to proteins in between the entry and output-layers. The second step is the implementation of a logic program based on Answer Set Programming for proteins and patients selection. This logic program selects a group of
k
stimuli and inhibitor proteins that maximize the number of pairs of patients for which the binarized values of their experimental measures matched in both classes (CR, PR). In the third step we used the reduced dataset (composed of previously selected proteins and patients) to learn the Boolean networks (BNs) with the
caspo
software [
24
]. This step produces two families of BNs for the two response classes (CR and PR). Our objective here was to learn different families of BNs by using the identical stimuli-inhibitor cases and the maximal difference of readouts measures for each class and finally compare the structure and mechanisms between these BNs families. The final step is the classification step in which we compute the Mean Square Error (MSE) between measured readouts and predicted readouts for each patient in the testing data based on the two families of previously learned BNs. The given patient will be classified in the class with the lower MSE. The overall flowchart of our method is presented in Fig.
1
. The different steps will be detailed in the following sections.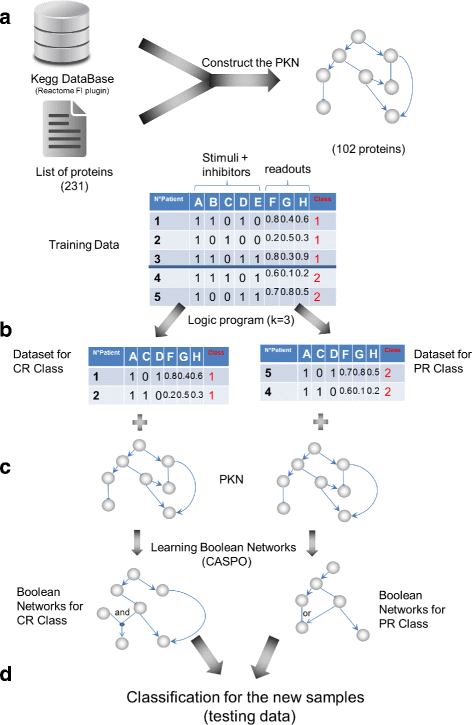 Discussion and conclusion
The DREAM challenge dataset is a large proteomics dataset that may contain noise in some of its measurements. Including all dataset proteins in a predictive model may lead to over-fitting and pre-selecting a subset of proteins add bias as well. We validated for this case-study the last assumption (see Additional file 5 for details). On a first attempt we tried to build Boolean networks from a subset of 20 significant (top ranked p-value after applying Student test between PR and CR patients) proteins. However the accuracy of such learned models was poor (22%) and both of the BNs families (CR and PR) learned had the same logic behaviors. These preliminary results inspired us to develop a mathematical framework to select (k) proteins that distinguish these two families by imposing several constraints, such as maximize the number of patient samples that have the same values of some proteins (so-called stimuli and inhibitors) where these samples belong to different classes (CR or PR). Such dataset proposed the same measurements over the same input-nodes and different measurements over outputs-nodes across the different (CR/PR) classes and allowed us to build response-specific logic models. The different connections among CR vs. PR logic models could stand for mutations in the cell population systems that usually appear after exposure to chemotherapies. The logic models obtained in this study validate this hypothesis because we found that the logic mechanisms of resistant patients were more varied that those of complete remission ones.
Given a large dataset, our method detects the most relevant proteins to build predictive models in order to distinguish two classes of patients. These models could be trained with larger datasets and used to represent the mechanisms within disease models to better target drugs. In this work, we discovered a family of logic models that discriminate the response of Acute Myeloid Leukemia (AML) patients to treatment. The protein selection logic program was implemented using Answer Set Programming. This method allowed us to build a reduced dataset. Later, caspo allowed us to train BNs from a Prior Knowledge Network to this reduced dataset. From this analysis, we obtained two BNs (CR vs. PR) families. These models allow us to classify new patient datasets in patient response groups. Our results, evaluated on the AML testing data from DREAM challenge 9, show that we obtain different topologies with similar and divergent logic mechanisms for each type of patient response group. The accuracy of such models is low compared to the DREAM 9 challenge methods, mainly because we did not include the clinical data. Nevertheless, for CR patients our models had an accuracy of 64.7% using only proteomics data; and this accuracy improved to 72.2% when restricting the classification to patients with significant readout measurements. We believe that the low trend in PR accuracy, also observed in [1], is due in part to the small number of PR cases compared to the CR cases in the testing data (28 PR vs. 72 CR). Interestingly, this low accuracy trend in PR cases, applies as well to the learning dataset, which evidences the fact that the learned BNs predict better CR than PR cases, specially in cases of patients with significant measured readouts where the accuracy difference was 80% vs. 37.5% in CR compared to PR cases. Differently from other methods participating in the DREAM 9 challenge, our method is able to propose precise mechanistic explanations of the difference among the two patient response groups in the form of Boolean models.
In a continuation of this work, we aim to provide a better understanding of the patient classification accuracy rate, which was not the main scope of our paper. We believe this question deserves further attention because the learned BNs models show that in this dataset some proteins seem more relevant than others, and that observing a normalized protein value close to 1 or 0 is more significant for the learning step. Also, using other cancer diseases patient datasets can be a challenging test for our method.
Declarations
Acknowledgements
The authors would like to thank PROFAS B+ program, University of Tizi Ouzou, USTHB and LS2N laboratory for hosting the authors during this work. Special thank to Jérémie Bourdon and Abdelhalim Larhlimi for theirs support and fruitful discussions. We are most grateful to the bioinformatics core facility of Nantes (BiRD - Biogenouest) for its technical support.
Funding
Publication of this article was sponsored by CG's CNRS chair of excellence funding.
Availability of data and materials
The data we deal with it comes from DREAM CHALLENGE 9 (https://www.synapse.org/#!Synapse:syn2455683), which is a challenge where the biologists provide data and ask questions, and physician, mathematician and computer scientist communities try to response to their questions. The data consists of measurements of 191 patients diagnosed with AML who were treated at MD Anderson Cancer Center (USA), from their proteomics (231 measured proteins) and bio-clinical data (40 clinical covariates). These patients are classified into two classes CR and PR. These data were provided by Dr. Steven Kornblau from The University of Texas MD Anderson Cancer Center and were obtained through Synapse syn2455683 as part of the AML DREAM Challenge.
Authors' contributions
LC implemented the protein selection logic program, run the BN learning, analysis, conceived and implemented the classification and draft the manuscript. BM perform the learning step considering a statistically selected protein set. DB is broadly interested in feature selection and optimization techniques. She participated in drafting the manuscript. CG conceived and supervised the study and drafted the manuscript. All authors read and approved the final manuscript.
Ethics approval and consent to participate
Not applicable.
Consent for publication
Not applicable.
Competing interests
The authors declare that they have no competing interests.
Open Access This article is distributed under the terms of the Creative Commons Attribution 4.0 International License (http://creativecommons.org/licenses/by/4.0/), which permits unrestricted use, distribution, and reproduction in any medium, provided you give appropriate credit to the original author(s) and the source, provide a link to the Creative Commons license, and indicate if changes were made. The Creative Commons Public Domain Dedication waiver(http://creativecommons.org/publicdomain/zero/1.0/) applies to the data made available in this article, unless otherwise stated.
Authors' Affiliations
(1)
Department of Computer Science, LRIA Laboratory, Electrical Engineering and Computer Science Faculty, University of Science and Technology Houari Boumediene (USTHB), Algiers, Algeria
(2)
LS2N, UMR 6004, École Centrale de Nantes, Nantes, France