TIde: a software for the systematic scanning of drug targets in kinetic network models
BMC Bioinformatics
2009
10:344
Received: 18 June 2009
Accepted: 19 October 2009
Published: 19 October 2009
Abstract
Background
During the stages of the development of a potent drug candidate compounds can fail for several reasons. One of them, the efficacy of a candidate, can be estimated in silico if an appropriate ordinary differential equation model of the affected pathway is available. With such a model at hand it is also possible to detect reactions having a large effect on a certain variable such as a substance concentration.
Results
We show an algorithm that systematically tests the influence of activators and inhibitors of different type and strength acting at different positions in the network. The effect on a quantity to be selected (e.g. a steady state flux or concentration) is calculated. Moreover, combinations of two inhibitors or one inhibitor and one activator targeting different network positions are analysed. Furthermore, we present TIde (Target Identification), an open source, platform independent tool to investigate ordinary differential equation models in the common systems biology markup language format. It automatically assigns the respectively altered kinetics to the inhibited or activated reactions, performs the necessary calculations, and provides a graphical output of the analysis results. For illustration, TIde is used to detect optimal inhibitor positions in simple branched networks, a signalling pathway, and a well studied model of glycolysis in Trypanosoma brucei.
Conclusion
Using TIde, we show in the branched models under which conditions inhibitions in a certain pathway can affect a molecule concentrations in a different. In the signalling pathway we illuminate which inhibitions have an effect on the signalling characteristics of the last active kinase. Finally, we compare our set of best targets in the glycolysis model with a similar analysis showing the applicability of our tool.
Keywords
Phosphoglycerate KinaseTriosephosphate IsomeraseTrypanosoma BruceiSystem Biology Markup LanguageSteady State Flux
Background
In the current pharmaceutic development new drugs are often found by screening a library of small molecular entities (SME) against so-called 'blockbuster targets' which are supposed to play a relevant role in the onset of a certain disease. The development of drugs for new targets is in most cases less interesting for a pharmaceutical company due to the fact that the research is more expensive, they fail pre-clinical trials more often and are in most cases financially less successful [1, 2]. In order to increase the productivity of 'Research and Development' (R&D) when focussing on novel targets a possible way is to identify candidates which are likely to fail trials earlier in the drug development process [3].
One problem that drugs against novel targets can cause is their possible lack of efficacy. During the development, possible targets are validated via knock-out experiments which work in a totally different way than medication with competitive inhibitors against the corresponding enzymes. While in the first case the flux through a certain pathway can be completely shut down, in the second case it will only be partially decreased which the system can overcome, e.g. by substrate accumulation or feedback regulation. Therefore quantitative modelling should be incorporated into drug research.
A systematic approach to the identification of possible drug targets in a reaction network renders possible with the established tools and methods used in systems biology. Over the last years more and more mathematical models for chemical reaction networks have proven to be successful in predicting an microorganism's response to changes in its environment and to perturbations in its gene expression [4–6]. These models are being collected in steadily growing databases like BioModels [7] or JWS online [8]. A promising approach to a systematic drug design is to simulate possible inhibitors to any reaction in a given network and to quantify their effects on a given observable. This observable can be defined as any inner variable of the system, e.g. the concentration of a substance or the flux through a certain reaction which is altered in the pathological state. For a more complex analysis this observable can also be defined as any function of these variables. From the time course of the observable, several characteristics can be extracted for later comparison. These include the steady state values, which are interesting for models of metabolic pathways, and several characteristics, which are relevant to signalling cascade models, namely the integrated concentration, the characteristic time, the signal duration, and the signal amplitude as described in [9, 10]. Given this information from several simulations using different inhibition targets, types, and inhibitor concentrations, one can select favourable modification scenarios. "Favourable" means here that in a certain scenario a given observable reaches a desired value while the system is perturbed by few inhibitors in small concentrations.
Such a kind of analysis has already been applied manually to different kinds of small example models [11–14] and larger, biologically relevant models [15, 16].
Other approaches to determine modified enzyme activities in order to achieve a certain change in a systems behaviour already exist (e.g. [17] and [18]), but none of them exhaustively searches the space of possible drug combinations, tries to minimise the amount of used inhibitor, or explicitly models different types of modification kinetics. A broad overview on similar methods can be found in [19].
Implementation
In order to simplify the error prone process of inhibiting or activating (from now on referred to as modifying) single reactions and investigating the results in a given ODE model, we have developed a platform independent tool written in Python [
20
] which performs this analysis automatically. The tool called TIde (Target Identification,
http://sysbio.molgen.mpg.de/tide
) works in three steps (as shown in Figure
1
). First, it imports an ODE model given in the Systems Biology Markup Language (SBML) format [
21
] making use of libSBML [
22
]. The reaction kinetics in the imported model are identified by comparing their formulas to kinetic formulas from an internal database. This database is based on kinetics from the Systems Biology Ontology (SBO) [
23
] and was later extended manually. Second, it replaces individual reaction kinetics or combinations thereof by corresponding modifier kinetics and simulates the altered models for different modifier concentrations. Finally, it systematically compares the results of these simulations in order to determine single or multiple optimal drug targets.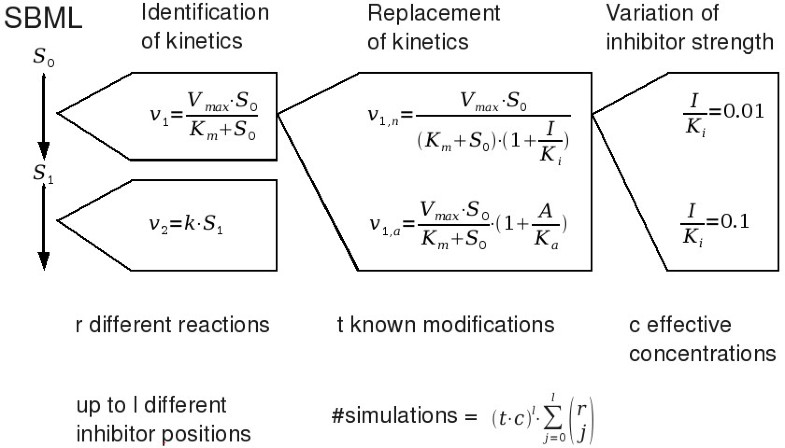 In the following, these three steps of the tool's functionality will be explained.
Identification of reaction kinetics
Starting from an SBML model, TIde is supposed to simulate the effects of different modifications of single reactions and combinations thereof. Therefore, the first step of the tool is the identification of the present kinetic formulas for each reaction by numerically comparing them to known kinetic types collected in an internal database. The identity of two formulas is judged by testing all possible parameter matchings of those formulas, repeatedly replacing the parameters by random values, and checking whether the results are similar except for numerical inaccuracy. Using the information about the present kinetics, the database can be searched for known modifier formulas. The identification of the kinetic parameters makes it possible to automatically replace a kinetic by a formula representing a certain kind of modification mechanism acting on the corresponding enzyme.
Replacing reaction kinetics by corresponding modifications
Then, a set of new models is created in which systematically every reaction is replaced by a modification. During this step up to five new models per reaction can be created since four types of modifications are known to the database. These types are competitive, uncompetitive, and noncompetitive inhibition and nonessential activation. Additionally, a competitive inhibition for cofactors is available.
Unknown formulas (v i (S,p) with reaction velocity v i which is dependent on substance concentrations S and parameters p) will automatically be added to the internal database. Also a standard noncompetitive inhibition (

, with inhibitor concentration I and its dissociation constant K i ) and a standard nonessential activation (

) with activator concentration A and its dissociation constant K a ) will be created. Because of that the number of new models created during this step will be at least twice as large as the number of reactions included in the original model.
In a step including user interaction, also different competitive and uncompetitive inhibitions can be included into the internal database. The user interaction involves the identification of K m values for substrates of reactions which are supposed to be inhibited. For the selected K m values new competitive inhibitions are created by multiplying the original K m by a factor

. Uncompetitive inhibitions are created similarly by dividing the K m and V max values by the same factor. For SBML models including complex kinetics this step should be taken as the database can not cover all possible types of kinetic formulas.
TIde can also be used to check combinations of modifiers. These modifications do not need to be of the same type, but they have to affect different reactions.
Comparing results of different modifications
In order to examine the effects of different modifications the user has to define the objective function which is to be maximized or minimized. This function can be an arbitrary formula containing substance concentrations or fluxes or a combination of them if the steady values are of interest (e.g.

). In case that signalling characteristics should be evaluated the objective function can in the current implementation only be a single compound concentration.
The effects of different inhibitor concentrations can be evaluated by either testing several distinct effective concentrations (

or

) in separate simulations or one simulation of a continuous titration of the inhibitor. Optionally these titrations can also be performed until the objective function has reached a certain value.
After the simulations of the new models have been performed making use of either the SciPy [24] library, the SBML Ode Solver library [25], or Copasi [26], the absolute differences between the original value of the objective function and its new values in the modification scenarios are calculated and displayed.
Results and Discussion
We analysed four different models with the TIde tool (using Copasi for simulation) as discussed in the following. The first two models were simple metabolic pathways including a branch, the third was a simple signalling cascade, and the fourth one was a biologically relevant example of aerobic metabolism in Trypanosoma brucei [6].
Conclusion
We have introduced an algorithm to systematically test the effect of modifications or modifier combinations depending their target and type as well as TIde, an implementation working on ODE models in the SBML format. This process can be understood as an extension of metabolic control analysis to multiple and strong perturbations in an ODE model. Although TIde seems a bit difficult to use in the first place needing a reliable ODE model, being a command line tool, and having a limited kinetic database the tool still has many advantages. Since TIde is not platform dependend it can be run on any kind of server making it possible to analyse even large models, due to the extendible kinetic database it can be applied to any ODE model, and because of the flexible objective function it can be used for many different purposes. Furthermore, we have tested our tool with a new version of the glycolysis in Trypanosoma brucei. Our results are except for some explainable changes in good agreement with older findings proving the applicability of TIde.
Given a reliable ODE model and the information our tool provides, the process of determining possible drugs is more directed into efficacy of the candidates in pre-clinical studies. Inclusion of this analysis will increase the probability of a candidate to become a potent drug, and decrease the cost of the development of 'new target' drugs. This fact will hopefully draw the attention of the pharmaceutical industry towards the results produced by systems biology. Since this research area is still growing more and more ODE models, which are a necessary input to our method, will become available.
In the future we plan to extend our tool to handle constraints which have to be fulfilled during simulation. The idea behind this is that certain modifications and effective modifier concentrations could lead to the death of the simulated organism (e.g. if the ATP concentration drops below a certain level). Such lethal modifications should be considered in order to identify possible side effects of the potential drug.
Availability and requirements
Project name: TIde

Project home page: http://sysbio.molgen.mpg.de/tide/

Operating systems: Cross platform

Programming language: Python, C

Other requirements: Python 2.5 or higher, SciPy 0.5 or higher, NumPy 1.1 or higher, PyX 0.9 or higher, semanticSBML 1.0 or higher, libSBML 3.3

License: GNU GPL

Any restrictions to use by non-academics: None
Furthermore, we have attached a walkthrough for our tool (see Additional file 1), its source code (see Additional file 2), and a Windows installer for the required tools and libraries (see Additional file 3) to the article.
Declarations
Acknowledgements
MS gratefully acknowledges funding and support from the International Max Planck Research School for Computational Biology and Scientific Computing, the German Research Foundation (CRC 618), and the Marie Curie EST project "Systems Biology" (MEST-CT-2004-514169). The work of BMB was funded by NWO Vernieuwingsimpuls and EK is supported by the EU and UNICELLSYS (HEALTH-2007-201142). The funders had no role in study design, data collection, analysis, and interpretation, and decision to submit the manuscript for publication.
Authors' Affiliations
(1)
Theoretical Biophysics, Institute for Biology, umboldt Universität zu Berlin, Berlin, Germany
(2)
Department of Pediatrics, Center for Liver, Digestive and Metabolic Diseases, University Medical Center Groningen, University of Groningen, Groningen, the Netherlands
(3)
Department of Molecular Cell Physiology, Faculty of Earth and Life Sciences, Vrije Universiteit Amsterdam, Amsterdam, the Netherlands
Copyright
© Schulz et al; licensee BioMed Central Ltd. 2009
This article is published under license to BioMed Central Ltd. This is an Open Access article distributed under the terms of the Creative Commons Attribution License (http://creativecommons.org/licenses/by/2.0), which permits unrestricted use, distribution, and reproduction in any medium, provided the original work is properly cited.