Research article
Open Access
Construction of an annotated corpus to support biomedical information extraction
BMC Bioinformatics
2009
10:349
Received: 18 June 2009
Accepted: 23 October 2009
Published: 23 October 2009
Abstract
Background
Information Extraction (IE) is a component of text mining that facilitates knowledge discovery by automatically locating instances of interesting biomedical events from huge document collections. As events are usually centred on verbs and nominalised verbs, understanding the syntactic and semantic behaviour of these words is highly important. Corpora annotated with information concerning this behaviour can constitute a valuable resource in the training of IE components and resources.
Results
We have defined a new scheme for annotating sentence-bound gene regulation events, centred on both verbs and nominalised verbs. For each event instance, all participants (arguments) in the same sentence are identified and assigned a semantic role from a rich set of 13 roles tailored to biomedical research articles, together with a biological concept type linked to the Gene Regulation Ontology. To our knowledge, our scheme is unique within the biomedical field in terms of the range of event arguments identified. Using the scheme, we have created the Gene Regulation Event Corpus (GREC), consisting of 240 MEDLINE abstracts, in which events relating to gene regulation and expression have been annotated by biologists. A novel method of evaluating various different facets of the annotation task showed that average inter-annotator agreement rates fall within the range of 66% - 90%.
Conclusion
The GREC is a unique resource within the biomedical field, in that it annotates not only core relationships between entities, but also a range of other important details about these relationships, e.g., location, temporal, manner and environmental conditions. As such, it is specifically designed to support bio-specific tool and resource development. It has already been used to acquire semantic frames for inclusion within the BioLexicon (a lexical, terminological resource to aid biomedical text mining). Initial experiments have also shown that the corpus may viably be used to train IE components, such as semantic role labellers. The corpus and annotation guidelines are freely available for academic purposes.
Keywords
Agreement RateSemantic RoleBiological ConceptEvent ArgumentAnnotate Corpus
Background
Due to the rapid advances in biomedical research, scientific literature is being published at an ever-increasing rate [1]. Without automated means, it is difficult for researchers to keep abreast of developments within biomedicine [2–6]. Text mining, which is receiving increasing interest within the biomedical field [7, 8], enriches text via the addition of semantic metadata, and thus permits tasks such as analysing molecular pathways [9] and semantic searching.
Semantic searching above the level of concepts depends on prior processing to recognise relations or events in texts, which is carried out by information extraction (IE) systems. Due to domain-specific features of texts and the types of events to be recognised, IE systems must be adapted to deal with specific domains. A well-established method of carrying out this adaptation is through training using annotated corpora (e.g., [10–12]).
Our work has been concerned with the development of such a corpus for the biomedical field, the Gene Regulation Event Corpus (GREC), consisting of MEDLINE abstracts semantically annotated with event information. Our approach is based on the fact that many events are focussed on either verbs (e.g., transcribe, regulate) or nominalised verbs (e.g., transcription, regulation). Both types of word behave in similar ways, in that they specify arguments that can convey a range of different types of information related to the event. For each relevant event, our annotation aims to identify, as exhaustively as possible, all structurally-related arguments within the same sentence. Each argument is assigned a semantic role from a fixed set of 13 roles. Where appropriate, arguments are also assigned a biological concept type. The GREC may be downloaded from http://www.nactem.ac.uk/GREC/. A copy of the corpus is also available in Additional file 1.
To our knowledge, the GREC provides the richest annotation to date within the biomedical field, in terms of the number of arguments types and their characterisation. As such, the corpus is specifically designed to contribute to the development of bio-specific semantic frame resources and semantic role labellers (SRLs) which, although active areas of research within the general language domain, have received less attention within the bio-IE domain.
Related work
Within the field of bio-IE, evaluations such as the LLL05 challenge [13] and BioCreative II [14] have focussed attention on the recognition of protein-protein interaction (PPI) events from the literature. There now exists a number of corpora (e.g., [13, 15, 16]) and systems (e.g., [17–19]) tailored to this task. However, many other types of events and information are relevant within biomedicine, such as gene regulation and expression events, location of protein in the cell, protein-DNA interaction, etc. [20]. Extraction of such events often requires the recognition of more complex information than just interacting proteins.
Several corpora and systems concerned with the annotation of more complex events have recently been developed, e.g., [21–24]. These differ in a number of ways, including:
Range of events - whether a single type of event or multiple event types are annotated.

Event arguments - the number and types of arguments (i.e., participants) in each event may be fixed or flexible. More detailed information types, e.g., location, time or experimental setup may or may not be identified as event arguments.

Scope of events - whether event arguments must occur within a single sentence or whether they may occur across multiple sentences.

Semantic information assigned to arguments - this may correspond to named entity types and/or semantic roles. In the case of semantic roles being assigned, they may be tailored to a particular type of event, or they may apply to a large range of different events.
Whilst events are often identified by verbs, nominalised verbs play a particularly important role within biomedical texts, and often outnumber other domain-specific verbal forms [25]. However, it is acknowledged that they are more difficult to process than verbs [26] and are currently only dealt with by a small number of systems, often in a limited way (e.g., [17, 27, 28]).
Due to the central nature of verbs and nominalised verbs in the description of events, accurate event extraction requires information about the way they behave in text, in terms of:
Their syntactically-related arguments, e.g. causality, location, manner, etc.

Semantic information relating to each argument (e.g., semantic roles or restrictions on the types of phrase that can constitute each argument).
The production of corpora annotated with such information allows real usage within text to be taken into account. Large-scale annotation of corpora within the general language domain at this level of detail has resulted in the production of resources containing syntactic and semantic frame information, which deal with both verbs and nominalised verbs [29–32]. Such annotated corpora also facilitate the training of components of IE systems, with a large amount of research having been devoted to semantic role labelling (SRL) [33].
Some studies (e.g., [34, 35]) have shown that, to a certain extent, general language resources can also be useful in the training of SRLs for biomedical texts, due to the fact that many verbs appear in texts from both the general language and biomedical domains, and often behave in similar ways. However, the cited works concede that, whilst such SRLs may produce adequate results for certain predicates, training using biomedical corpora is also needed. This is because domains such as biomedicine employ sublanguages [36], in which the "informational content and structure form a specialized language that can be delineated in the form of a sublanguage grammar". NLP systems must take such grammars into account to allow accurate processing of text within specialist domains [37]. Sublanguage grammar features that are relevant to our work include the following:
The types of events found in biological sciences are often described using verbs/nominalised verbs that do not feature prominently in general language [26], e.g., methylate.

Verbs/nominalised verbs that occur in both the general and specialised language domains may have different syntactic and semantic properties in each domain, e.g., differing numbers of arguments [38], as well as different meanings. For example, translation generally means rendering one language into other, while in Molecular Biology it specifies the process of protein synthesis from an mRNA template.
Whilst there have been some attempts to produce bio-specific extensions to the general language resources described above, e.g., [38, 39], together with semantic role labellers [20, 40], they currently have limited coverage. The UMLS SPECIALIST lexicon [41], which includes many biomedical terms, is larger scale, but includes only syntactic, and not semantic, information about verbs.
Motivation
Existing event corpora within the domain (e.g., [21] and [23]) are not specifically geared to support the acquisition of semantic frame information for verbs. The bio-NLP community has, until now, lacked a domain-specific linguistically-oriented corpus in which detailed semantic information for a wide range of both verbs and nominalised verbs has been annotated. This has limited the amount of research undertaken on the production of domain-specific semantic frame resources and SRLs.
In response to this, we have designed a new event annotation scheme which is specifically tailored to this purpose. The scheme has subsequently been applied to the annotation of event instances relating to gene regulation and expression in MEDLINE abstracts. Our scheme differs from those of previous event corpora in the field in a number of important ways:
It captures the semantic annotation of as many structurally-related arguments as possible of a large number of verbs and nominalised verbs describing gene regulation and expression events. This is important since, according to [20], and as confirmed by us through consultation with biologists, types of information such as location, manner, timing and condition, which can appear in various syntactic positions, are all essential for describing biomedical relations. A sentence-based approach facilitates the linking between semantic information and syntactic structure.

It bridges linguistic and biological knowledge:
◦ From the linguistic perspective, all arguments are characterised using semantic roles. We have defined a new, closed set of event-independent roles which are designed for application to arguments of a range of types of biomedical events. Closed sets of semantic roles are advantageous in that they facilitate generalization over different types of events [25, 42]. Although their application to general language may be problematic [30], the use of a closed set is viable in a restricted domain, as domain-specific definitions can be provided for each semantic role type.
◦ From the biological perspective, appropriate arguments are additionally assigned a biological concept type from a hierarchically-structured set that is tailored to the gene regulation domain. The concepts are mapped to classes in the Gene Regulation Ontology (GRO) [43].
The combination of semantic role and biological concept labels provides a rich annotation, aimed at allowing users to have a large amount of flexibility over the type of query they specify and to have control over the specificity or generality of certain parts of the query, e.g.:
In LOCATION:E. coli, AGENT:NifA activates which THEME:GENE.
This query would search for instances of events in which a LOCATION, AGENT and THEME are specified. The values of the semantic roles may be specified either as specific words or phrases (e.g., E. coli or NifA) or more general named entity categories (e.g., GENE).
The GREC consists of 240 MEDLINE abstracts, which have been annotated with a total of 3067 events. Whilst of modest size compared to some other domain-specific event-annotated corpora (e.g., [21]), this is balanced by the richness of the annotations.
The corpus has already been used in the development of the BioLexicon [44]. This unique text mining resource for biology provides and links syntactic and semantic frame information for a large number of biomedical sublanguage verbs. In addition, the lexicon contains (1) derived forms of these verbs (including nominalisations), (2) general English words frequently used within the biology domain and (3) domain terms, gathered (and interlinked) both from existing databases and through the application of text mining techniques.
Initial machine learning experiments using the GREC [45] suggest that it can be used to train IE components with reasonably good performance, with both named entity extraction and semantic role labelling having achieved F-scores of around 60%, based on 10-fold cross validation.
A further direction of research which could help to improve the performance of IE systems trained on the GREC is introduced in [46], in which it is demonstrated that, due to the differing perspectives of different annotation schemes, it is not always the case that larger corpora contain the most useful information. The reported study found that, whilst small corpora may not be large enough to train IE systems in their own right, augmenting such corpora with training instances derived from other corpora can help to improve the performance of the trained system. This provides convincing evidence that combining smaller, richly annotated corpora, such as our own, with larger corpora which are slightly poorer in information content, could provide a future direction of research for training more accurate biomedical IE systems. This idea is especially attractive, given that the production of large, richly annotated corpora can be very time consuming.
In the remainder of this paper, we firstly cover the key aspects of our annotation scheme, followed by a description of the recruitment and training of annotators. We follow this by providing detailed statistics, results and evaluation of the GREC, and finally present some conclusions and directions for further research.
Methods
This section is concerned with the preparatory work required prior to the annotation of the GREC. Beginning with a clarification of our notion of an event, we then provide a description of the key features of our annotation scheme. A brief overview of the annotation software used and of its customisation is followed by details regarding the annotators and their training. As performance during training was measured quantitively through the calculation of inter-annotator agreement (IAA) scores following each cycle of training, we provide details and motivation for our chosen evaluation metric, the F-measure. Finally, we provide an analysis of the IAA results attained during training.
Results and discussion
Following the training period, the final annotated GREC was produced. In this section, we provide details, statistics and analysis of this corpus. Following some initial general statistics regarding the corpus, we move on to examine the most commonly annotated verbs and nominalised verbs on which events are centred. Subsequently, we examine in more detail the arguments of events, including an analysis of the numbers of arguments that occur in different events, the distribution of different semantic argument types, and the most commonly occurring patterns of arguments. Biological concept assignment is then covered, including the distribution of the assigned concepts amongst the five different supercategories, together with an analysis of the most commonly assigned concepts. Finally, we consider quality control of the GREC, including both IAA scores and annotator discrepancies that were found through manual examination of the corpus.
Corpus characteristics and statistics
Candidate abstracts for annotation for the final GREC were selected from species-specific corpora of MEDLINE abstracts collected by EMBL-EBI, who chose abstracts relevant to the
E. coli
and human species using their own rule-based species-filtering methods. The candidate abstracts were further screened for relevance to gene regulation by one of the authors with biological expertise. General statistics regarding the GREC are shown in Table
4
. The effort expended by the 6 annotators amounted to a total of 876 person hours (equivalent to 6.4 person months).
Table 4
General corpus statistics
Complete Corpus

E. coli abstracts

Human abstracts

No of abstracts

240

167

73

No of events

3067

2394

673

Average Events per abstract

12.78

14.34

9.22

Distinct nom. verbs annotated

91

81

36

Events centred on nominalised verbs

1274

(42%)

1066

(45%)

208

(31%)

Distinct verbs annotated

184

152

107

Events centred on verbs

1793

(58%)

1328

(55%)

465

(69%)
The statistics in Table 4 reinforce the importance of considering events that are described by nominalised verbs as well as those that are described by verbs. In the E. coli corpus, events that are centred on nominalised verbs are almost as common as those centred on verbs, although the range of different words that are used to describe events is much greater for verbs than for nominalised verbs.
Verbs and nominalised verbs expressing events
Table
5
shows the top 10 most common words (verbs and nominalised verbs) which express events, both in the corpus as a whole, and separately for the
E. coli
and human parts of the corpus. In each case, events centred on these 10 words constitute 45 - 50% of the total events annotated, suggesting that the majority of relevant events are centred on a relatively small set of words. Indeed, in the corpus as a whole, only 55 words (either verbs or nominalised verbs) have been used to annotate 10 or more events.
Table 5
Most common words describing events
Combined

E. coli

Human

Event word

Count

(%)

Event word

Count

(%)

Event word

Count

(%)

Expression

N

362

(11.83)

Expression

N

309

(12.91)

Expression

N

53

(7.88)

Encode

V

175

(5.71)

Transcription

N

139

(5.81)

Encode

V

50

(7.43)

Transcription

N

171

(5.58)

Encode

V

125

(5.22)

Express

V

36

(5.35)

Bind

V

143

(4.66)

Bind

V

110

(4.59)

Bind

V

33

(4.90)

Regulation

N

119

(3.88)

Regulation

N

102

(4.26)

Transcription

N

32

(4.75)

Activate

V

106

(3.46)

Regulate

V

87

(3.63)

Activate

V

29

(4.31)

Regulate

V

106

(3.46)

Activate

V

77

(3.22)

Interact

V

21

(3.12)

Repress

V

82

(2.67)

Repress

V

72

(3.01)

Regulate

V

19

(2.82)

Require

V

73

(2.38)

Binding

N

61

(2.55)

Require

V

19

(2.82)

Activation

N

67

(2.18)

Repression

N

60

(2.51)

Involve

V

18

(2.67)
Most of the words in Table 5 correspond to important biological processes. For some of these processes, occurrences of both the verbal and nominalised forms are quite common, e.g., regulate/regulation, bind/binding, repress/repression, activate/activation. In other cases, there appears to be a stronger preference for either the verb or the nominalised verb. In the E. coli portion of the corpus, for example, twice as many events are centred on the nominalised verb expression than any other word. Transcription is also rarely used in its verbal form, i.e. transcribe (16 times in the complete corpus), whilst encode is only ever used in its verbal form.
Event arguments
In this section, we provide some statistics regarding annotated event arguments. Firstly, Figure
1
provides an analysis of the numbers of arguments that were identified for different events.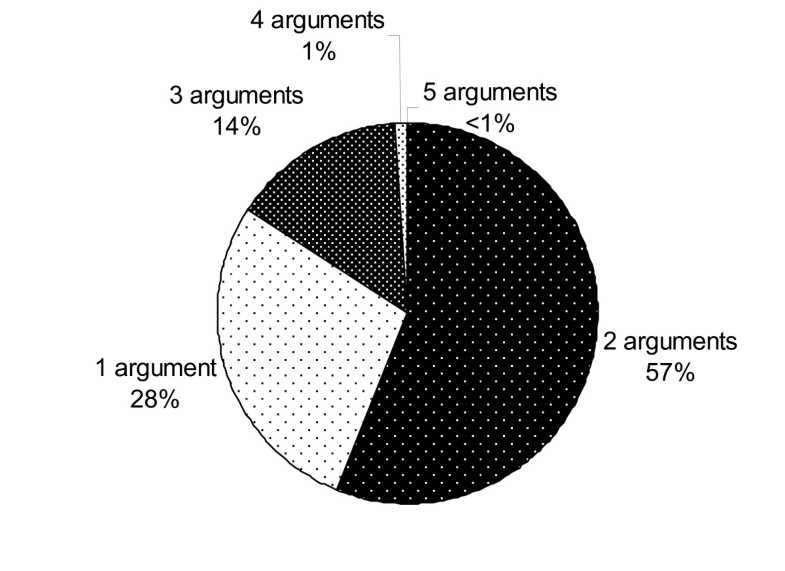 Whilst it is most common for 1 or 2 arguments to be specified, 15% of events specify 3 or more arguments. However, as Figure
1
shows, it is extremely rare in our corpus for 4 or more arguments to be specified. Table
6
provides statistics regarding the semantic roles that were assigned to arguments.
Table 6
Semantic role occurrences
| Role | Count | % events where present |
| --- | --- | --- |
| THEME | 2593 | 84.55 |
| AGENT | 1648 | 53.73 |
| MANNER | 416 | 13.56 |
| LOCATION | 300 | 9.78 |
| DESTINATION | 193 | 6.29 |
| CONDITION | 152 | 4.96 |
| DESCRIPTIVE-THEME | 137 | 4.47 |
| SOURCE | 83 | 2.71 |
| DESCRIPTIVE-AGENT | 68 | 2.22 |
| PURPOSE | 65 | 2.12 |
| TEMPORAL | 53 | 1.73 |
| RATE | 50 | 1.63 |
| INSTRUMENT | 32 | 1.04 |
In addition to the 13 roles already introduced, there is a further role named Underspecified, which was to be assigned by annotators to arguments that could not be characterised by one of the 13 defined roles. However, the fact that the Underspecified role was only assigned 11 times in the whole corpus suggests that our originally-defined role set is sufficient to characterise the vast majority of semantic arguments.
The AGENT and THEME roles, which provide the most fundamental information about events, are by far the most commonly assigned. Whilst it may seem surprising that only about half of the events specify an AGENT, this can partly be explained by the relatively high occurrence of events that are centred on nominalised verbs (42% of all events) and passive constructions (14% of events). According to our corpus, only around 20% of events centred on nominalised verbs and 50% of events using passive verb constructions specify an AGENT. Several other roles feature fairly prominently in the events, particularly MANNER, LOCATION, DESTINATION and CONDITION, which is in line with observations made by [20].
In Table
7
, the most common patterns semantic roles assigned to event arguments are shown. The most common pattern is for only an AGENT and a THEME to be a specified, constituting almost a third of all events. When events do specify a third argument, it is most common for the AGENT and THEME, plus one additional type of argument, to be present.
Table 7
Most common semantic role patterns
| AGENT | THEME | Other | Count (%) |
| --- | --- | --- | --- |
| AGENT | THEME | | 947 (30.88) |
| | THEME | | 693 (22.60) |
| | THEME | DESCRIPTIVE-THEME | 119 (3.88) |
| | THEME | LOCATION | 117 (3.81) |
| AGENT | THEME | MANNER | 113 (3.68) |
| AGENT | | DESTINATION | 113 (3.68) |
| | THEME | MANNER | 112 (3.65) |
| AGENT | THEME | LOCATION | 64 (2.09) |
| AGENT | | | 59 (1.92) |
| AGENT | | DESCRIPTIVE-AGENT | 51 (1.66) |
| | THEME | CONDITION | 47 (1.53) |
| | | MANNER | 42 (1.37) |
| AGENT | THEME | CONDITION | 38 (1.24) |
| | | SOURCE | 36 (1.17) |
| | THEME | PURPOSE | 31 (1.01) |
Biological concepts
In the corpus as a whole, 5026 biological concepts were identified. The distribution of the categories assigned to these concepts amongst the five supercategories is shown in Figure
2
.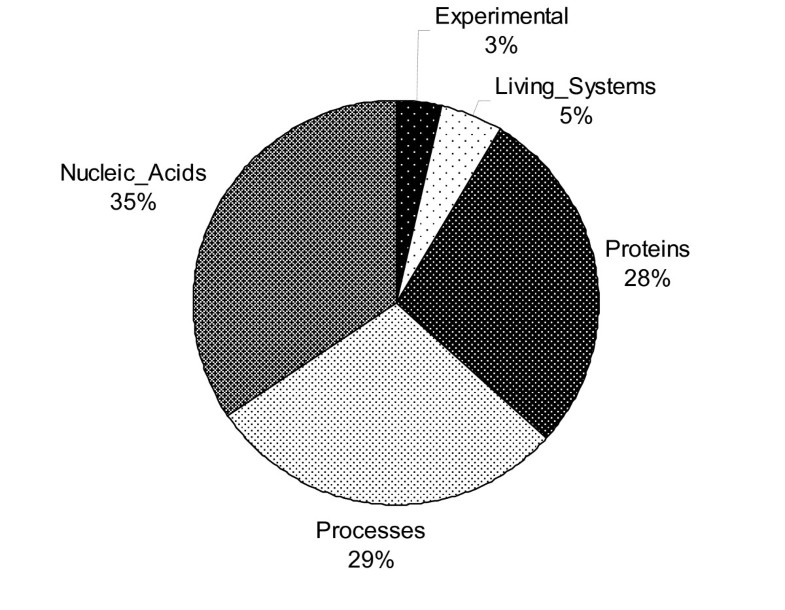 The supercategories Nucleic_Acids and Proteins are so dominant because most gene regulation and expression events describe some kind of relationship between entities of these two types. The Processes supercategory is also very common, as concepts assigned to this correspond to "embedded" events that describe a mechanistic link between Nucleic_Acid and Proteins, e.g.:
Expression of the ompF and ompC genes is affected in a reciprocal manner by the osmolarity of the growth medium.
Annotators were instructed to assign the most specific concept possible in the hierarchy; the results show that 66.91% of assignments indeed constitute the most specific concepts. Table
8
compares the most commonly assigned concepts in the
E. coli
and human parts of the corpus.
Table 8
Comparison of concept assignments in E. coli and human abstracts
E. coli

Human

Category

Count

(%)

Type

Category

Count

(%)

Type

Gene

645

(16.41)

G

Gene

129

(11.77)

G

Gene_Expression

350

(8.91)

G

Protein

112

(10.22)

S

Regulator

287

(7.30)

S

Transcription_Factor

107

(9.76)

G

Promoter

255

(6.49)

S

Gene_Expression

83

(7.57)

G

Transcription

200

(5.09)

S

Cells

61

(5.57)

S

Regulation

199

(5.06)

S

Transcription

60

(5.47)

S

Gene_Activation

189

(4.81)

S

Gene_Activation

60

(5.47)

S

Protein

170

(4.33)

S

Activator

47

(4.29)

S

Repressor

158

(4.02)

S

Regulation

43

(3.92)

S

Activator

150

(3.81)

S

DNA

33

(3.01)

S

Operon

148

(3.77)

S

Promoter

31

(2.83)

S

Gene_Repression

136

(3.46)

S

Transcription_Binding_Site

31

(2.83)

G

Locus

99

(2.52)

S

Protein_Complex

26

(2.37)

S

Enzyme

82

(2.09)

G

Sub_Unit

23

(2.10)

S

DNA

79

(2.01)

S

mRNA

22

(2.01)

S
Gene constitutes the most commonly assigned concept in both parts of the corpus. It is a general, rather than a specific concept in the Nucleic_Acids hierarchy. However, the frequency of assignments of its specific subtypes, i.e., Mutant_Gene, ORF and Allele is very low, with 19, 10 and 1 assignment, respectively. This suggests that more specific concept type assignment for genes can be problematic.
The category Transcription_Factor also has far more assignments than its sub-categories, Repressor and Activator in the human part of the corpus. However, Transcription_Factor is not nearly as frequent in E. coli abstracts as in human corpus (see Table 7). These differences represent important biological information: due to the relative complexity of eukaryotic systems, transcription factors play a very important role in gene regulation compared to prokaryotes, like E. coli.
Quality control
Previously, we showed that good rates of agreement were achieved by the end of the training period. To ensure annotation quality was maintained in the final GREC, approximately one quarter of the abstracts was annotated by all annotators. In this section, we firstly present some general agreement statistics relating to the whole corpus, followed by more detailed statistics regarding semantic role and biological concept assignment. Finally, we examine some types of annotator discrepancies that were found through manual examination of the corpus.
General agreement statistics
Average agreement rates for the final corpus were calculated in the same way and for the same annotation subtasks as during the training period. These are reported in Table
9
, categorised according to abstract subject. In most cases, agreement rates are maintain the same level, or in some cases exceed those attained by the end of the training period.
Table 9
General agreement statistics in the GREC
Agreement Type

F-Score

E. coli

Human

Event identification

72.27%

76.37%

Argument identification(relaxed span match)

90.23%

91.27%

Argument identification (exact span match)

75.10%

77.48%

Semantic role assignment

88.96%

88.30%

Biological concept identification

82.55%

82.03%

Bio-concept category assignment(exact)

71.02%

66.03%

Bio-concept assignment(including parent)

75.38%

68.97%

Bio-concept supercategory assignment

95.52%

94.75%
Particularly high levels of agreement (88% or above) are achieved for both the identification of semantic arguments and the assignment of semantic roles to these arguments. As these are the subtasks that we originally identified as being more linguistically-oriented than others, our results suggest that a detailed set of guidelines, together with an intensive training programme, allow these tasks to be carried out by biologists to a high degree of accuracy.
Semantic role assignment
Table
10
provides more detailed agreement rates for semantic role assignment. High levels of agreement (over 84%) are achieved amongst many of the most commonly occurring roles, including AGENT, THEME, MANNER, LOCATION, DESTINATION and SOURCE. However, CONDITION and DESCRIPTIVE-THEME are also fairly common, but have lower rates of agreement. Discrepancies have been examined and are further discussed in the
Annotator Discrepancies
section below. Most of the other role types occur much less frequently in the corpus (varying between 1-5% of events), meaning that the agreement rates shown may be less reliable.
Table 10
Individual role agreement statistics
E. coli

Human

Role

N

F-score

Role

N

F-score

THEME

5560

92.41%

SOURCE

10

100%

AGENT

3702

92.31%

LOCATION

302

96.36%

MANNER

697

86.68%

AGENT

2009

92.95%

DESTINATION

486

85.42%

DESTINATION

403

92.12%

SOURCE

250

84.71%

MANNER

344

90.84%

LOCATION

425

84.25%

THEME

2485

89.67%

RATE

176

76.44%

PURPOSE

53

89.47%

CONDITION

227

67.26%

TEMPORAL

41

72.00%

PURPOSE

85

41.95%

CONDITION

21

58.82%

DESCRIPTIVE-THEME

259

39.72%

DESCRIPTIVE-THEME

234

57.46%

DESCRIPTIVE-AGENT

100

34.32%

DESCRIPTIVE-AGENT

90

36.36%

TEMPORAL

33

25.00%

INSTRUMENT

9

0.00%

INSTRUMENT

9

16.5%

RATE

5

0.00%
Biological concept assignment
Whilst Table
9
showed that coarse-grained biological category assignment achieved around 95% agreement, the assignment of finer-grained categories achieved the lowest agreement rates amongst all annotation subtasks. Table
11
shows the most commonly assigned categories in each portion of the corpus, together with their agreement rates.
Table 11
Individual biological concept category agreement statistics
E. coli

Human

Category

N

F-score

Category

N

F-score

Gene

2010

90.55%

Gene

432

89.35%

Protein

771

51.88%

Protein

419

61.58%

Promoter

644

95.34%

Transcription_Factor

301

51.83%

Repressor

436

68.35%

DNA

298

63.08%

Operon

434

85.25%

Promoter

154

92.21%

Gene_Expression

407

78.62%

Transcription_Binding_Site

140

50.00%

Regulator

349

25.21%

Transcription

118

100.00%

Activator

345

42.32%

Cells

111

95.49%

Locus

192

72.91%

Regulation

66

96.97%

Enzyme

176

89.77%

Activator

65

9.23%
Table 11 illustrates that there are several differences in the most commonly assigned concepts according to the species referred to in the abstract (i.e., E. coli or human). There are also large differences in the rates of agreement for different categories, which are not correlated with their frequency of occurrence. High levels of agreement (over 75%) are achieved for a number of these categories, most notably Transcription, Cells, Regulation, Promoter, Gene and Enzyme. In general, the classes with the highest agreement seem to be those that do not have very specific interpretations, i.e., those concepts with broader interpretations which are understandable by biologists with different backgrounds. This means that the highest levels of agreement have been reached when the context dictates that a very specific concept cannot be assigned. Less agreement is achieved for categories that are more specific to the context of gene regulation and expression, such as Activator, Repressor, Transcription_Factor, etc.
Annotator discrepancies
Certain discrepancies between annotators exist in the final corpus, of which a number are highlighted in this section. Whilst the identification of these discrepancies will help to refine the guidelines for future phases of annotation, it was also found that certain errors were being made which were already covered in the guidelines. Thus, there may be a need to more carefully balance conciseness with comprehensiveness in the guidelines.
Event identification
The majority of discrepancies in event identification concern nominalised verbs. A particular example is the word
mutation
, which can be used either as a nominalised verb (i.e., the action of mutating), or as an entity (e.g., a mutated gene). However, the distinction can sometimes be problematic. Consider the following examples:
1)

In addition, the pleiotropic phenotypes conferred by a particular envZ mutation (envZ473) required the presence of functional OmpR protein.

2)

Therefore, OmpF reduction resulted in a mutation in the marA region.
In sentence 1), a particular envZ mutation seems to describe a mutated entity rather than the action of mutation. In contrast, the mutation in sentence 2) describes the action of marA being mutated due to reduction of OmpF.
Argument identification
Argument identification discrepancies often occurred in more complex sentences, in which a "double layer" of annotation was sometimes required. In the following sentence, Alpha interferon should be seen as the AGENT of converting as well as the AGENT of stimulates:
Alpha interferon stimulates transcription by converting the positive transcriptional regulator ISGF3 from a latent to an active form.
LOCATION arguments can also be problematic in sentences containing multiple events. In the following sentence, for example, different annotators associated the LOCATION in Escherichia coli K-12 with either the event described by the verb control or the nominalised verb expression.
EnvZ functions through OmpR to control porin gene expression in Escherichia coli K-12.
Semantic role assignment
Amongst the most important semantic roles, both in terms of frequency of occurrence and according to [
20
], CONDITION is the one with the lowest rates of agreement. We thus examined more closely the types of disagreements that occur. According to our study, the most common confusions are with the MANNER and TEMPORAL roles. Typical examples include the following:
1)

In contrast, the anaerobic repression of ethanol dehydrogenase by nitrate does not require the narL product.

2)

Nitrate repression, however, was significantly enhanced (sevenfold) when the cells were cultured in minimal medium.
For the repression event in sentence 1), anaerobic was confused between MANNER and CONDITION. The confusion may occur because anaerobic can be used in the description of environmental conditions in a phrase such as under anaerobic conditions. Here, however, it is being used to describe the method of repression, and hence the MANNER role is most appropriate. In sentence 2), the phrase the cells were cultured in minimal medium was annotated either as a CONDITION or as a TEMPORAL argument of the enhanced event. Whilst this would normally be interpreted as a CONDITION, the confusion may have arisen due to the use of when at the beginning of the phrase.
Regarding the DESCRIPTIVE-THEME role, the most common type of confusion is with THEME. According to the guidelines, one of the situations in which DESCRIPTIVE-THEME should be assigned is to objects of verbs that describe states rather than actions e.g.,
The fru operon contains the genes for IIFru.
Here, there is no action and hence no AGENT. Thus, the fru operon is the THEME and the genes for IIFru is the DESCRIPTIVE-THEME.
However, problems sometimes arose for certain verbs such as exhibit, where there may be some confusion as to whether a "state" or "active" interpretation should be taken, e.g.,
The wild-type and mutant ompR genes exhibit different phenotypes of osmoregulation...
The interpretation taken by the annotator determines whether different phenotypes is assigned the role THEME or DESCRIPTIVE-THEME (and also whether The wild-type and mutant ompR genes is assigned AGENT or THEME).
In general, DESCRIPTIVE-THEME and DESCRIPTIVE-AGENT have less strict definitions than other roles, in that the only restriction imposed is that they should be assigned to arguments that describe characteristics or behaviour of the AGENT or THEME. This, together with the fact that they are not particularly commonly occurring, could have made them more difficult to assign accurately. As future work, we will consider tightening the definitions and possibly splitting them into different roles. Although it is desirable to keep the set of roles used as small and as general as possible in order to ease the burden on the annotator, a slightly larger range of more tightly-defined roles may help to improve agreement rates.
Biological concept assignment
As observed in Table
11
, there is much more discrepancy between certain biological concept categories than others, especially those that constitute context-specific concepts. An exception to this is
Protein
, which is a more general concept category within the
Proteins
supercategory. We therefore examined the most common concept categories with which
Protein
was confused. These are shown in Table
12
.
Table 12
Most common concept categories confused with Protein
E. coli

Human

Category

N

Category

N

Regulator

108

Transcription_Factor

74

Activator

87

Activator

27

Repressor

59

Regulator

16

Transcription_Factor

29

Gene

9

Gene

27

Sub_Unit

8
With the exception of Gene (which belongs to the Nucleic_Acids superclass), all other categories confused with Protein are also categories within the Proteins supercategory. This suggests that some annotators were using the Protein category to encompass all things related to proteins, rather than assigning more specific category labels. This may be related to their differing levels of knowledge regarding gene regulation and expression.
Conclusion
We have designed an event annotation scheme for biomedical texts and produced an associated corpus, the GREC, consisting of 240 MEDLINE abstracts annotated with 3067 gene regulation event instances. The corpus is unique within the biomedical field in that it combines both linguistically-oriented features (i.e., event-independent semantic roles tuned to the domain) and biologically-oriented features (i.e., biological concepts linked to the Gene Regulation Ontology [43]).
The corpus can act as a basis for creating domain-specific semantic frame resources, and has already been used in the production of semantic frames for inclusion within the BioLexicon [44], in which the semantic frames are linked with syntactic information. It is also hoped that the corpus will boost research into other areas of bio-IE, such as the production of domain-specific SRLs, which have previously suffered due to the lack of a suitably annotated corpus. Initial experiments have demonstrated the feasibility of training an SRL using the corpus and as such, we hope to exploit the corpus in future shared tasks with such an aim There is also evidence to suggest that combining the GREC with other larger biomedical corpora may help to train more accurate IE systems.
Evaluation of the corpus quality was carried out using a newly-devised methodology, taking into account multiple aspects of the annotation task. Average agreement rates for the various tasks fell within the range of 66% - 90% F-score. Through error analysis of the corpus, we identified the most problematic issues, which included difficulties in assigning particular semantic roles, particularly CONDITION and DESCRIPTIVE-THEME. A full examination of the problematic cases will allow us to further improve the guidelines and possibly impose further restrictions in the annotation software, to prevent common types of errors being made.
As regards biological concepts, our results show that, although high levels of agreement can be achieved when considering a coarse-grained set of categories, the use of a fine-grained classification caused some difficulties. This is possibly due to the differing levels of expertise of annotators within the gene regulation and expression domain, which may have resulted in varying levels of confidence in assigning more specific concepts. A solution for further phases of annotation would be to analyze the domain knowledge of annotators in greater detail and, where appropriate, provide extra training in the assignment of more specific categories. This may be combined with a re-evaluation and possible simplification of the concept hierarchies.
A further major direction of future work will be to apply our scheme to a greater range of biomedical texts that describe a wider range of event types. Whilst other event types may require the use of alternative biological concepts or ontologies, we would like to verify that our set of semantic roles is applicable to events in other areas of biomedicine. The texts we will consider will also include full texts, in which events may be expressed in different ways from abstracts, and may involve different (higher) numbers of arguments.
Finally, we wish to ensure that others can use and evaluate the GREC as simply as possible. Our future plan includes facilitating this in two different ways:
Firstly, in response to the current diversity of corpus annotation formats and the problems this causes in their comparative evaluation [63], a shared format has been created for resources for biomedical relation extraction [15], together with a standard for the evaluation of relation extraction methods using this data [64]. We plan to convert our own corpus to this format, which has already been carried out for several biomedical corpora, e.g., [13, 16, 21, 23].
Secondly, we plan to develop a corpus reader which will allow the GREC to be made available within the U-Compare system [65](http://u-compare.org). This is an integrated text mining/natural language processing system based on the UIMA Framework [66], which provides access to a large collection of ready-to-use interoperable natural language processing components.
Declarations
Acknowledgements
The work described in this paper was funded by the EC BOOTStrep project (FP6 - 028099). The research team at the University of Manchester is hosted by the JISC funded National Centre for Text Mining (NaCTeM). We thank EMBL-EBI for their work on the selection of the corpus, CNR-ILC for their assistance in the customisation of the WordFreak software, and the Doctoral Training Centre in Integrative Systems Biology at the Manchester Interdisciplinary Biocentre for their assistance in the recruitment of annotators. We also thank Dr. Yutaka Sasaki for his assistance in the design of the annotation scheme, and Professor Jun'ichi Tsujii, Dr. C.J. Rupp and Dr. Gina-Anne Levow for their valuable comments on the manuscript.
Authors' Affiliations
(1)
National Centre for Text Mining, Manchester Interdisciplinary Biocentre, University of Manchester, Manchester, UK
Copyright
© Thompson et al; licensee BioMed Central Ltd. 2009
This article is published under license to BioMed Central Ltd. This is an Open Access article distributed under the terms of the Creative Commons Attribution License (http://creativecommons.org/licenses/by/2.0), which permits unrestricted use, distribution, and reproduction in any medium, provided the original work is properly cited.