Research article

Open Access
Linguistic feature analysis for protein interaction extraction
BMC Bioinformatics
2009
10:374
Received: 29 April 2009
Accepted: 12 November 2009
Published: 12 November 2009
Abstract
Background
The rapid growth of the amount of publicly available reports on biomedical experimental results has recently caused a boost of text mining approaches for protein interaction extraction. Most approaches rely implicitly or explicitly on linguistic, i.e., lexical and syntactic, data extracted from text. However, only few attempts have been made to evaluate the contribution of the different feature types. In this work, we contribute to this evaluation by studying the relative importance of deep syntactic features, i.e., grammatical relations, shallow syntactic features (part-of-speech information) and lexical features. For this purpose, we use a recently proposed approach that uses support vector machines with structured kernels.
Results
Our results reveal that the contribution of the different feature types varies for the different data sets on which the experiments were conducted. The smaller the training corpus compared to the test data, the more important the role of grammatical relations becomes. Moreover, deep syntactic information based classifiers prove to be more robust on heterogeneous texts where no or only limited common vocabulary is shared.
Conclusion
Our findings suggest that grammatical relations play an important role in the interaction extraction task. Moreover, the net advantage of adding lexical and shallow syntactic features is small related to the number of added features. This implies that efficient classifiers can be built by using only a small fraction of the features that are typically being used in recent approaches.
Keywords
Protein PairPositive InstanceNegative InstanceDependency TreeRelation Extraction
Background
Nowadays, an overwhelming amount of experimental studies on gene and protein interactions are being conducted. The results of these experiments are most often described as scientific reports or articles and published in public knowledge repositories, such as Medline http://www.ncbi.nlm.nih.gov/. This literature database grows at a rate of 2000 publications per week, which makes it impossible for a human to track every new experiment performed in the field.
Therefore, the need for automated information extraction methods in biomedicine becomes critical, and a lot of efforts are invested in creating such methods. Recently proposed approaches for interaction extraction are based not only on explicit textual information that is contained in publications, but also on a comprehensive language analysis that includes part-of-speech (POS tags) and deep syntactic structure detection. To achieve state-of-the-art performance, researchers employ lexical information (words) along with shallow syntactic information (POS) and/or deep syntactic features (grammatical structures) (see for example [1–10]).
As a consequence, extraction methods tend to become more complex, use more features and require more and more memory and computational efforts. However, little attention has been devoted to studying the individual impact of different feature types. We believe that this question is of great importance, because (1) when two types of features have a substitute rather than a complementary effect, one of them can be dropped to obtain a computationally more efficient method, and (2) dropping one type of features might make the mining algorithm more robust. The latter reason is especially relevant for lexical features since lexicons tend to be subdomain-specific. This problem can be alleviated by combining different biological phenomena in one corpus; however in practice corpora are often built for a particular organism or a particular set of proteins. Despite this fact, it is common practice in the field to train and evaluate systems on the same data set with an n-fold cross-validation technique, thus partially avoiding this lexicon-dissimilarity problem which is inherent to real-life problems.
In this work, we study the impact of different feature types on the performance of a relation extraction system that uses a support vector machine (SVM) classifier with kernels as its core, since at present this is the most popular choice in the relation extraction field. In particular, we use the approach suggested by Kim et al. [6], which relies on lexical, shallow and deep syntactic features represented as parts of a dependency tree, and consequently apply Occam's razor principle by cutting off the former two to get rid of all lexical and shallow syntactic information. In other words, we would like to exploit different aspects of the dependency tree and compare the net advantage that is obtained by these feature types.
To the best of our knowledge, besides us, only [7–9] have looked into the impact of syntactic in addition to lexical features for the protein interaction extraction task (all in the context of SVMs). Shallow syntactic features such as POS added to a lexical feature set are reported not to increase the performance of the classifier in [9], while the deep+shallow syntactic- and lexical-feature based classifier in [7] showed a poor performance when the set of lexical features is limited. Neither of these has however studied how much performance can be obtained by using only deep syntactic features. The closest to our work is [8] which compares the performance of an interaction extraction system using only lexical features versus using syntactic (both shallow and deep) features. We highlight the difference with our work at the end of Section 'Related Work'.
The contribution of this article is twofold. First, we perform an extensive evaluation of a recently published SVM-based approach [6], which was evaluated only on the LLL data set before, on 5 data sets (AIMed [11], BioInfer [12], HPRD50 [3], LLL [13] and IEPA [14]) using cross-validation as well as 10 cross-data set experiments. Secondly, we compare this approach with stripped down versions which take into account different feature subsets, and we demonstrate that omitting lexical and part of the syntactic features does not significantly change the performance of the relation extraction task.
In the remainder of this paper, we first formalize the protein interaction extraction problem as a classification task (Section 'Problem Statement') in which sentences containing protein pairs are represented by dependency trees (Section 'Interaction Representation'). In Section 'Building a classifier', we present the various classifiers that we use in this paper, all of them modifications of [6], and in Section 'Related Work' we clarify the relationship with related methodologies. We continue with a description of our experimental setup and present the results on the different data sets in Section 'Results and Discussion'. Our final conclusions are presented in Section 'Conclusion'.
Results
Data sets
To the best of our knowledge the only publicly available data sets that contain protein interaction annotations are: AIMed [
11
], BioInfer [
12
], HPRD50 [
3
], LLL [
13
] and IEPA [
14
]. These data sets have been frequently used in recent work of for example [
1
,
8
,
24
]; therefore we use them in our current work. Table
3
gives an overview of the number of positive and negative instances in the different data sets.
Table 3
Corpora statistics
Data set

# of interaction instances

positive

negative

AIMed

1057

4790

BioInfer

1381

8964

HPRD50

163

270

LLL

164

166

IEPA

411

482
The AImed data set consists of 225 abstracts extracted from the Database of Interaction Proteins (DIP), 200 of which contain annotated human gene and protein interactions. Another 25 abstracts contain protein names but do not describe any interactions. We have used only the former set of abstracts for our evaluation purposes.
The BioInfer data set is the largest data set among these 5; it contains 1100 sentences describing protein-protein interactions. Beside the interaction annotations, BioInfer contains additional information about biological interaction type, protein roles in interaction, syntactic dependencies between words, etc. Moreover, there is a knowledge base behind the corpus, which allows to analyse it in more detail (see [12]). HPRD50 contains sentences that were extracted from a subset of 50 abstracts, referenced by the Human Protein Reference Database (HPRD) and annotated with protein names and interactions between them. The LLL data set consists of 76 sentences describing interactions concerning Bacillus subtilis transcription. Protein roles for interactions are annotated along with the interactions themselves. Additionally, the data set contains annotations for lemmas and syntactic dependencies between the words in the sentences. Finally, The IEPA data set was built by querying Medline with 10 diverse queries, reflecting 10 different biological topics. 303 abstracts were retrieved, and a data set was constructed with sentences extracted from these abstracts. The data set annotation includes an interacting verb along with the protein names and interactions.
The BioInfer and LLL data sets provide syntactic dependencies for every sentence in their own formats, while the other data sets do not provide this information. We discarded this information to unify the setup and to make the experiment more realistic. Besides being non-standard, some of the syntactic information in BioInfer and LLL was obtained manually which violates the requirements of automatic processing. To obtain POS and dependency trees for all data sets we used the Stanford parser [25] trained on general purpose corpora. We choose this parser because of its peculiar annotation scheme that stresses the semantic connections between words rather than operating on the purely syntactic level. For example, prepositions are collapsed as can be seen in Figure 2a, where the noun processing is being connected directly to a protein name. As we use a dependency tree representation to obtain all three types of features, we do not use an external POS tagger to obtain POS tags separately; instead they are assigned as part of the dependency tree building process inside the Stanford parser. As the Stanford parser does not provide lemmatized versions of words, we used the Porter Stemmer algorithm [26] to compute K LEX and K FULL . All data sets use different annotation schemes that emphasize different interaction properties. For example, in AIMed homodimeric proteins are being annotated, i.e. proteins that interact with themselves, while the current mining approach is not able to detect such cases. Moreover, in BioInfer some proteins have gaps in annotations, i.e. there is a gap between two parts of one protein name. We handle these cases separately, but they can potentially decrease the performance of the classifier as well. The quality of the annotation itself (measured as e.g. inter-annotator agreement) may affect the quality of classifier. If an annotator misses an interaction between two proteins, the data point related to this protein pair would be treated as a negative instance, although containing an interaction pattern, which is harmful to the overall performance. To unify an experimental setup, we need to cast all corpora to a common ground format. Pyysalo et al. [27] designed custom software that converts all 5 data sets to a single XML format that contains only minimal protein and interaction annotations, which is sufficient for our evaluation purposes. However, not all annotation differences can be eliminated in this way. Table 3 shows that different data sets have very different positive/negative ratios. This can be partially explained by different annotation strategies, e.g. for LLL only proteins that are involved in interactions are annotated, while for other data sets all protein names are annotated. Since we consider every possible protein pair within a sentence to be an instance, this leads to an exponential growth of the total number of instances, while in fact the number of positive instances remains the same. Taking into account this information, we should choose our evaluation metrics carefully in order to provide a fair comparison of the performance on all data sets.
Performance metrics
In this work, we use two evaluation metrics, namely recall-precision and ROC (reciever operating characteristic) curves, to provide a more comprehensive analysis of the achieved results. Let us first recall their definitions. Let TP denote the number of true positives, i.e., the number of positive instances that are classified as such, let FP denote the number of false positives, i.e., the number of negative instances that are incorrectly classified as positive, and analogously, let TN and FN stand for the number of true negatives and false negatives respectively. The following metrics can then be defined:
Recall stands for the fraction of correctly classified instances (TP) among all positive instances (TP+FN) in a data set, while precision denotes the fraction of correctly classified instances (TP) among all instances that are classified as positive (TP+FP). Recall is sometimes called true positive rate, while false positive rate counts how many of the negative instances were wrongly classified as positive. A combined measure, that takes into account both recall and precision is called F-score and defined as:
Often, a classifier's output can be ordered, i.e. the classifier also provides a degree of confidence for each prediction it makes. In this case, we can trade precision for a higher recall by lowering the confidence threshold to capture more positive instances. In this way we can build a recall-precision curve that shows the relationship between the quality of extracted relations (precision) and the amount of extracted relations (recall). The closer to the top-right corner a curve is, the less precision is lost with recall growth and the better the performance of the classifier is.
Precision, recall and F-score are de-facto standards for the interaction extraction evaluation. However, these metrics are very sensitive to data set skewedness, i.e., the large difference between the number of positive and negative instances. As was shown in Table 3, this difference varies greatly for different corpora. On the other hand, ROC curves are being used in the machine learning community to evaluate classifier performance and they do not depend on data set skewedness.
The false positive rate together with the true positive rate correspond to a point in ROC space. By varying the trade-off between these two metrics we obtain a curve in ROC space. The AUC-score is the area under this ROC-curve. It can be interpreted as the probability that the classifier will rank a randomly chosen positive instance higher than a randomly chosen negative instance.
However, this metric should be used carefully for the same reason, i.e. it is suitable to evaluate the relative quality of a classifier (percentage of extracted positive instances), but it gives no information about precision, and thus makes the evaluation of a classifier difficult.
For example, if we increase the number of negatives 10 times, then the number of FP on average increases 10 times as well. This will lead to a significant drop in precision and consequently in F-score, but it does not influence the false positive rate.
Based on this observation, we can outline an application area for both evaluation metrics. The ROC curve and the corresponding AUC value should be used to compare the performance of a classifier on different corpora, since they show the relative number of extracted positive instances. Recall-precision and F-score can be used to compare the quality of several classifiers on the same data set, since they indicate how 'clean' the classification is without regarding the proportion of negative instances.
Experimental setup
For the experiments, we used the LIBSVM library [28] to build the 4 SVM classifiers that use the K FULL kernel, K POS kernel, K S kernel and K LEX kernel. Furthermore, we organized 3 experimental setups. The first setup uses 10-fold cross-validation (CV), where each data set is split into 10 parts, of which 9 are used for training and one for testing. Despite the fact that this is the most common way of evaluation, it should be used carefully. Since we work on instance level, it can be the case that two nearly identical instances from the same sentence fall into a train and a test fold at the same time. This 'leak' can cause a performance boost as it was shown in [7, 8].
In the second setup (4-1) we join 4 data sets to form a training set, and use the remaining one as a test set. Compared to CV, this alternative experimental setup is closer to a real world situation where information for processing is obtained from different sources and the lexicon is not as uniform as in one precompiled data set.
In the last setup (1-4) we use 1 data set as training set and the remaining 4 as test sets, thus making another step to the real world. Typically, biologists have a very limited amount of annotated data compared to the size of available unlabeled information. We try to model this situation here by making the training set much smaller than the test set.
For each experimental setup we run all classifiers with all data set combinations. An analysis of the results obtained is provided in the following section.
Discussion
Table
4
and Figures
4
,
5
,
6
,
7
give an overview of the evaluation results for all experimental setups. In line with our evaluation metric review, we use recall-precision and ROC curves to analyze the obtained experimental results. On the basis of these results, we can make the interesting observation that the different kernels are roughly comparable, while the amount of information they use is very different. In the analysis below we will omit the +syntactic postfix when talking about the lexical+syntactic (
K
LEX
), shallow+syntactic (
K
POS
) and lexical+shallow+syntactic (
K
FULL
) kernels.
Data set

Exp.

Synt. kernel

Shallow+Synt. kernel

Lex.+Synt. kernel

Shallow+Lex.+Synt. kernel

F-score

AUC

F-score

AUC

F-score

AUC

F-score

AUC

AIMed

CV

0.33

0.69

0.37

0.66

0.37

0.67

0.39

0.7

4-1

0.33

0.67

0.35

0.66

0.35

0.68

0.4

0.72

1-4

0.23

0.64

0.24

0.63

0.22

0.61

0.24

0.67

BioInfer

CV

0.3

0.69

0.29

0.68

0.29

0.75

0.34

0.75

4-1

0.3

0.69

0.32

0.68

0.25

0.65

0.31

0.7

1-4

0.31

0.68

0.34

0.67

0.26

0.64

0.35

0.7

HPRD50

CV

0.58

0.69

0.59

0.73

0.44

0.72

0.56

0.73

4-1

0.48

0.73

0.48

0.72

0.47

0.75

0.56

0.75

1-4

0.33

0.67

0.31

0.64

0.26

0.63

0.3

0.65

LLL

CV

0.74

0.81

0.74

0.76

0.67

0.67

0.76

0.73

4-1

0.43

0.68

0.44

0.71

0.31

0.6

0.39

0.74

1-4

0.37

0.67

0.34

0.63

0.3

0.55

0.33

0.62

IEPA

CV

0.76

0.81

0.71

0.8

0.66

0.7

0.72

0.8

4-1

0.35

0.69

0.32

0.64

0.19

0.56

0.29

0.68

1-4

0.36

0.66

0.33

0.63

0.3

0.55

0.33

0.62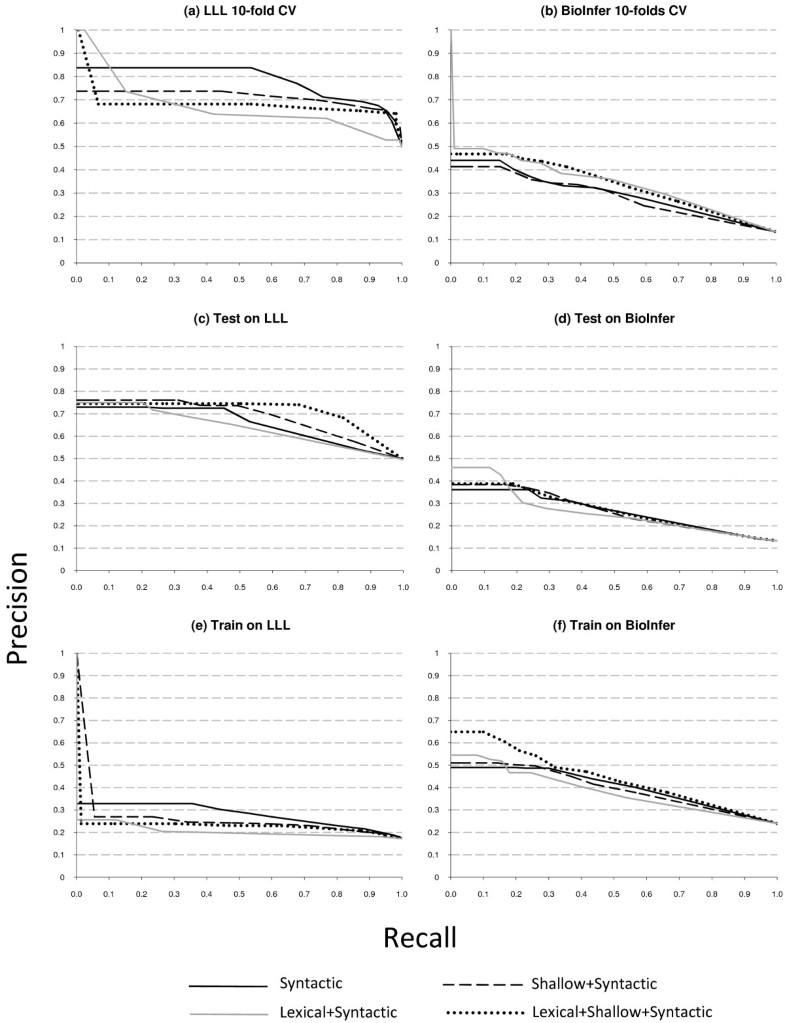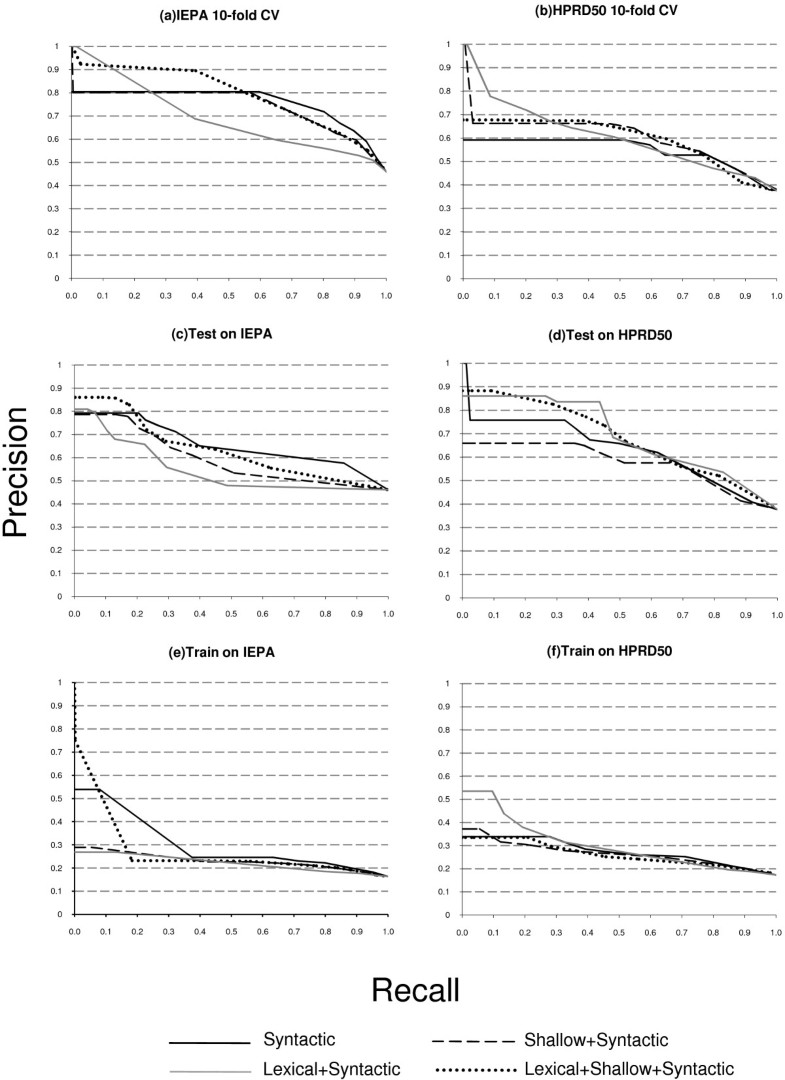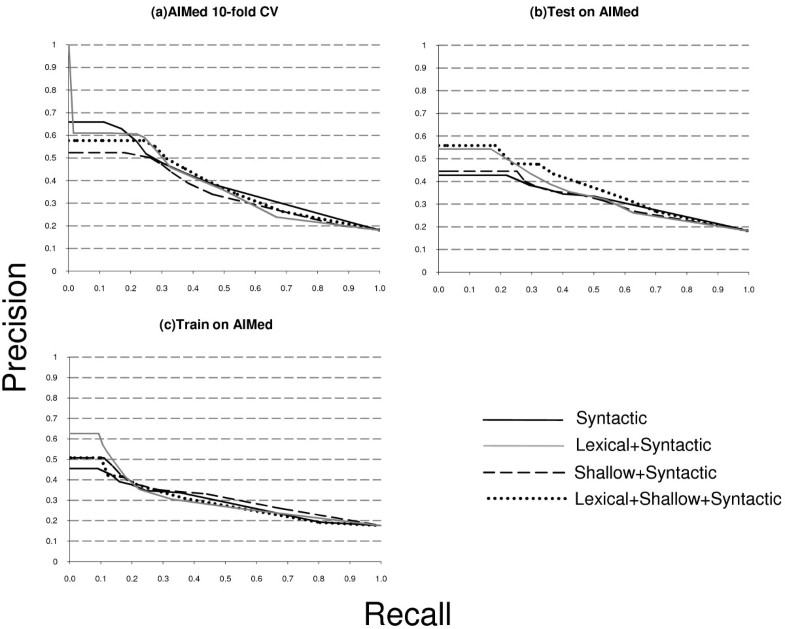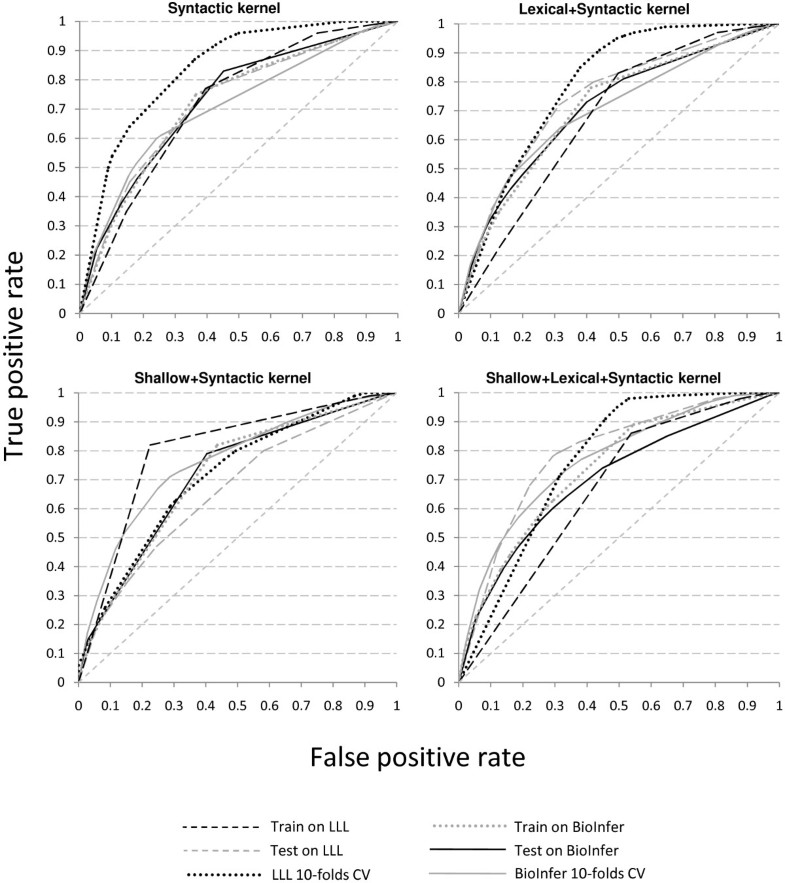 Precision plays a particularly important role in the interaction extraction task, because if the extracted information is processed by a biologist, she would not like the system if it produces too much rubbish. Therefore, we are particularly interested in the left side of the recall-precision chart, where precision is typically high, although recall may be quite low.
Table
4
shows the F-measure results calculated for classifier confidence threshold 0.5, as well as the AUC values which are not dependent on any threshold. Let us note that the F-measure values could be tuned up, because on most recall-precision charts precision does not drop significantly after a certain point, while recall keeps growing. However, this is not the aim of the current research, thus we leave the task of looking for the optimal operation point aside. Table
5
sums up our empirical observations over recall-precision curves provided in Figures
4
,
5
,
6
, particularly on the area before 0.2-0.3 recall values. For example, Figure
4d
clearly shows that lexical kernel performs best for the recall up to approximately 0.18 in this experimental setting. Using these empirical observations we fill Table
5
. The table gives some insight on how different types of information affect the performance of the relation extraction system. Note that these observations are different from Table
4
, because typically a 0.5 threshold covers more than 30% of recall. Below we provide a more detailed analysis of the results shown in Table
4
and in Figures
4
,
5
,
6
.
Table 5
Information types
| Data set | CV | 4-1 | 1-4 | Most used information |
| --- | --- | --- | --- | --- |
| BioInfer | Lexical | Lexical | Lexical+Shallow | Lexical |
| LLL | Syntactic | Lexical+Shallow | Syntactic | Syntactic |
| HPRD50 | Lexical | Lexical | Lexical | Lexical |
| | | Lexical+Shallow | | |
| IEPA | Lexical+Shallow | Syntactic | Syntactic | Biased to syntactic |
| | | Lexical+Shallow | | |
| AIMed | Syntactic | Lexical | Lexical | Lexical |
| | | Lexical+Shallow | | |
| Result | Not clear | Lexical+Shallow | Not clear | |
The cross-validation setup reveals no clear leader for all data sets. For the LLL data set, the syntactic kernel shows the best performance (Figure 4a). That can be explained by the fact that the LLL data set is very small and contains relatively short hand-picked sentences with a simple syntactic structure. However, experiments with other data sets show that the lexical kernel gives the best results for the HPRD50 and BioInfer data sets (Figures 5b and 4b). In the case of BioInfer, this can be explained by the fact that the training set size is large enough to discriminate useful lexical features. For IEPA, the full kernel, i.e. lexical+shallow, performs best, while the lexical kernel shows the worst result (Figure 5a), and for the AIMed data set the syntactic kernel shows better results for small recall values (Figure 6a). The predictive power of deep syntactic features by themselves is very interesting, given that the lexical and lexical+shallow methods in theory can take additional advantage of the lexicon similarity within the same data set that is caused by the nature of the cross-validation set up.
When we train on 4 data sets and test on 1, the lexical+shallow kernel is among the best for all but the BioInfer data set. Figure 4d shows that the lexical kernel outperforms the others on BioInfer for small recall values. A significantly better performance of the lexical kernel for small recall values can be interpreted as a sign of overfitting, i.e. a classifier with a lexical kernel produces too specific patterns, which causes a successful classification of several instances, but is followed by a significant precision drop due to the unability to generalize over less frequent cases. On the other hand, other classifiers avoid overfitting and a steep precision drop, but at the cost of missing some very reliable patterns. Moreover, the lexical kernel shows a performance similar to the lexical+shallow kernel for HPRD50 and AIMed (Figures 5d and 6b), but fails on IEPA (Figure 5c). On the other hand, the syntactic kernel performs good on the IEPA and LLL data sets (Figures 5c and 4c), but is not that good on others.
Although with the 1-4 experimental setup there is no best kernel either, we can still observe some interesting patterns. The lexical kernel shows a significantly better performance on the AIMed and HPRD50 data set for small recall values (Figures 6c and 5f), while the syntactic kernel performs best for the LLL and IEPA data sets on the whole curve (Figures 4c and 5e). As it is shown on Figure 4e, training the classifier on LLL causes extreme curve shapes caused by the significant difference in size between the training set and the test data set. The first instances for the lexical+shallow and the shallow kernels were classified correctly, but further precision drops dramatically. After 0.25 recall value, the lexical kernel basically neglects all positive instances, and the curve shows simply the percentage of positive instances in the data set. Other kernels perform slightly better and the syntactic kernel is able to consistently outperform others. This can be explained by the fact that 80 sentences (the size of the LLL data set) is definitely not enough to train a classifier. Moreover, it shows that in the case of training information shortage the syntactic kernel can offer a better solution than others.
The last two experiments illustrate the case when the vocabulary of train and test data sets differ, which is often the case in the real world. In the former case the training set is large enough to successfully train the lexical+shallow kernel, making the difference in the vocabularies not so crucial. However, in the latter case, when the training set is much smaller than the test set (train on LLL case on Figure 4e) we can clearly see the influence of this fact on the performance difference between syntactic and lexical methods.
From the experiments above we can observe the following trends:
lexical and combined methods are able to build better generalizations (due to large amount of available lexical data) and thus perform better with large (relative to test) training sets

syntactic methods are able to achieve better results than lexical ones when the training set is small in comparison with the test set
Moreover, there seems to be a correlation between better performing kernels and data sets. For example, the syntactic kernel always obtains good results on the LLL and IEPA data sets, while the lexical+shallow kernel performs well for the BioInfer data set. Moreover, the lexical kernel is always on top for the HPRD50 data set. These observations show that the data set origin and properties (such as annotation strategy, average sentence complexity) have a strong influence on classifier performance.
Compiling ROC curves for one method on one chart allows us to analyze the robustness of this method on different data sets. In Figure 7 each chart displays ROC curves for one method for all experimental setups. The less spread the curves are in the ROC space, the more predictable the performance of the method is.
In most cases, the LLL cross-validation setup is out of the trend, because of its small size and density. Otherwise, the shallow (Figure 7c) and syntactic (Figure 7a) kernels exhibit more or less coherent behavior for all setups for the given data sets. The lexical+shallow kernel (Figure 7d) shows some spread, but again mostly due to the LLL data set's based setups, and the lexical kernel (Figure 7b) proves to be the most unpredictable.
Conclusion
In this paper we examined different structured kernels with SVM's to study the impact of different features on the relation extraction process. We took four kernels that reflect different degrees of using syntactic and lexical information and performed three types of experiments to study the behaviour of these methods under different conditions. We performed our experiments on five benchmark data sets, being AIMed, BioInfer, IEPA, HPRD50 and LLL.
The most important observation is that by using only grammatical relations (syntactic kernel) we can obtain a similar performance as with an extended feature set (lexical kernel). This indicates the relative importance of grammatical information for the interaction extraction task. Another finding is the correlation between training/test set sizes and the method choice. We observed that when the training set is much smaller than the test set, then the syntactic kernel performs better. This might be explained by the fact that there are too few instances to induce useful lexical features, whereas syntactic features require less instances to produce better results.
When the training set grows, the performance of the full kernel becomes better, and when the training data set is larger than the test set (which rarely happens in real life), the full kernel outperforms all other kernels. From the stability point of view (i.e., the expected performance on unseen data), we can conclude that the syntactic kernel provides the best results, whereas the lexical kernel provides the worst results. The question of how different features within one feature type affect the quality of classification still remains open and represents an interesting direction for future work.
We believe that these findings can be helpful in building faster and less complicated classifiers, as well as for choosing a proper kernel according to the data set at hand.
List of abbreviations
Abbreviations occured in figures:

nsubj: nominal subject
dobj:

direct object
nn:

noun phrase
prep_*:

preposition (with a corresponding name)
det:

determiner
amod:

adjectival modifier
VBZ:

verb, 3rd person singular present
NN:

noun, singular or mass
NE1:

1st protein name
NE2:

2nd protein name.
Declarations
Acknowledgements
The work reported on in this paper has been carried out in the context of a project financially supported by the Special Research Fund of Ghent University.
Authors' Affiliations
(1)
Department of Applied Mathematics and Computer Science, Ghent University, Gent, Belgium
(2)
School of Translation Studies, University College Ghent, Gent, Belgium
(3)
Institute of Technology, University of Washington, Tacoma, USA
Copyright
© Fayruzov et al; licensee BioMed Central Ltd. 2009
This article is published under license to BioMed Central Ltd. This is an Open Access article distributed under the terms of the Creative Commons Attribution License (http://creativecommons.org/licenses/by/2.0), which permits unrestricted use, distribution, and reproduction in any medium, provided the original work is properly cited.