svm
PRAT

: SVM-based Protein Residue Annotation Toolkit
BMC Bioinformatics
2009
10:439
Received: 15 June 2009
Accepted: 22 December 2009
Published: 22 December 2009
Abstract
Background
Over the last decade several prediction methods have been developed for determining the structural and functional properties of individual protein residues using sequence and sequence-derived information. Most of these methods are based on support vector machines as they provide accurate and generalizable prediction models.
Results
We present a general purpose protein residue annotation toolkit (svm PRAT) to allow biologists to formulate residue-wise prediction problems. svm PRAT formulates the annotation problem as a classification or regression problem using support vector machines. One of the key features of svm PRAT is its ease of use in incorporating any user-provided information in the form of feature matrices. For every residue svm PRAT captures local information around the reside to create fixed length feature vectors. svm PRAT implements accurate and fast kernel functions, and also introduces a flexible window-based encoding scheme that accurately captures signals and pattern for training effective predictive models.
Conclusions
In this work we evaluate svm PRAT on several classification and regression problems including disorder prediction, residue-wise contact order estimation, DNA-binding site prediction, and local structure alphabet prediction. svm PRAT has also been used for the development of state-of-the-art transmembrane helix prediction method called TOPTMH, and secondary structure prediction method called YASSPP. This toolkit developed provides practitioners an efficient and easy-to-use tool for a wide variety of annotation problems.
Availability: http://www.cs.gmu.edu/~mlbio/svmprat
Keywords
Support Vector MachineRoot Mean Square ErrorSupport Vector RegressionSecondary Structure PredictionFeature Matrice
Background
Experimental methods to determine the structure and function of proteins have been out-paced with the abundance of available sequence data. As such, over the past decade several computational methods have been developed to characterize the structural and functional aspects of proteins from sequence information [1–3].
Support vector machines (SVMs) [4, 5] along with other machine learning tools have been extensively used to successfully predict the residue-wise structural or functional properties of proteins [6–10]. The task of assigning every residue with a discrete class label or continuous value is defined as a residue annotation problem. Examples of structural annotation problems include secondary structure prediction [8, 9, 11], local structure prediction [12, 13], and contact order prediction [14–16]. Examples of functional annotation problems include prediction of interacting residues [6] (e.g., DNA-binding residues, and ligand-binding residues), solvent accessible surface area estimation [10, 17], and disorder prediction [7, 18].
We have developed a general purpose protein residue annotation toolkit called svm PRAT. This toolkit uses a support vector machine framework and is capable of predicting both a discrete label or a continuous value. To the best of our knowledge svm PRAT is the first tool that is designed to allow life science researchers to quickly and efficiently train SVM-based models for annotating protein residues with any desired property. The protocol for training the models, and predicting the residue-wise property is similar in nature to the methods developed for the different residue annotation problems [6–10].
svm PRAT can utilize any type of sequence information associated with residues. Features of the residue under consideration, as well as neighboring residues, are encoded as fixed length feature vectors. svm PRAT also employs a flexible sequence window encoding scheme that differentially weighs information extracted from neighboring residues based on their distance to the central residue. This flexibility is useful for some problems.
The svm PRAT implementation includes standard kernel functions (linear and radial basis functions) along with a second-order exponential kernel function shown to be effective for secondary structure prediction and pairwise local structure prediction [9, 19]. The kernel functions implemented are also optimized for speed by utilizing fast vector-based operation routines within the CBLAS library [20]. svm PRAT is capable of learning two-level cascaded models that use predictions from the first-level model to train a second-level model. Such two-level models are effective in accounting for the residue properties that are dependent on properties of near-by residues (i.e., the functional or structural property is sequentially autocorrelated). This form of cascaded learning performs well for secondary structure prediction [9, 17]. svm PRAT is made available as a pre-compiled binary on several different architectures and environments.
In this paper svm PRAT has been evaluated on a wide suite of prediction problems, which include solvent accessibility surface area estimation [10, 17], local structure alphabet prediction [12, 13], transmembrane helix segment prediction [21], DNA-protein interaction sites prediction [6], contact order [15] estimation, and disordered region prediction [7, 18]. svm PRAT has been used in development of a transmembrane helix orientation prediction method called TOPTMH [22], shown to be one of the best performers on a blind independent benchmark [23]. The svm PRAT framework was also used for prediction of ligand-binding sites [24] and was initially prototyped for the YASSPP secondary structure program [9].
Support vector machines are a powerful tool for classification and regression tasks. However, adapting them to the particular case of protein sequence data can be onerous. svm PRAT is a tool that allows SVMs to be applied readily to sequence data by automating the encoding process and incorporating a number of different features that are specifically designed for the problem of protein residue annotation.
Implementation
svm PRAT approaches the protein residue annotation problem by utilizing local sequence information (provided by the user) around each residue in a support vector machine (SVM) framework [25, 26]. svm PRAT uses the classification formulations to address the problem of annotating residues with discrete labels and the regression formulation for continuous values. The svm PRAT implementation utilizes the publicly available SVM light program [27].
svm PRAT provides two main programs, one for the learning annotation models (svm PRAT-L) and the other for the predicting labels from learned models (svm PRAT-P). The svm PRAT-L program trains either a classification or regression model for solving the residue annotation problem. For classification problems, svm PRAT-L trains one-versus-rest binary classification models. When the number of unique class labels are two (e.g., disorder prediction), svm PRAT-L trains only one binary classification model to differentiate between the two classes. When the number of unique class labels are greater than two (e.g., three-state secondary structure prediction), svm PRAT-L trains one-versus-rest models for each of the classes i.e., if there are K discrete class labels, svm PRAT-L trains K one-versus-rest classification models. For continuous value estimation problems (e.g., solvent accessible surface area estimation), svm PRAT-L trains a single support vector regression (ϵ-SVR) model.
The svm PRAT-P program assigns a discrete label or continuous value for each residue of the input sequences using the trained models produced by svm PRAT-L. In classification problems, svm PRAT-P uses the K one-versus-models to predict the likelihood of a residue to be a member of each of the K classes. svm PRAT-P assigns the residue the label or class which has the highest likelihood value. For regression problems, svm PRAT-P estimates a continuous value for each residue.
Input Information
The input to svm PRAT consists of two types of information. Firstly, to train the prediction models true annotations are provided to svm PRAT-L. For every input sequence used for training, a separate file is provided. Each line of the file contains an alphanumeric class label or a continuous value i.e., true annotation for every residue of the sequence.
Secondly, svm PRAT can accept any general user-supplied features for prediction. For a protein, svm PRAT accepts any information as feature matrices. Both, svm PRAT-L and svm PRAT-P accept these input feature matrices. svm PRAT-L uses these feature matrices in conjunction with the true annotation files to learn predictive models, whereas svm PRAT-P uses the input feature matrices with a model to make predictions for the residues.
A feature matrix
F
for a protein sequence
X
is of dimensions
n
×
d
, where
n
is the length of the protein sequence and
d
is the number of features or values associated with each position of the sequence. As an example, Figure
1(a)
shows the PSI-BLAST derived position specific scoring matrix (PSSM) of dimensions
n
× 20. For every residue, the PSSM captures evolutionary conservation information by providing a score for each of the twenty amino acids. Other examples of feature matrices include the predicted secondary structure matrices and position independent scoring matrices.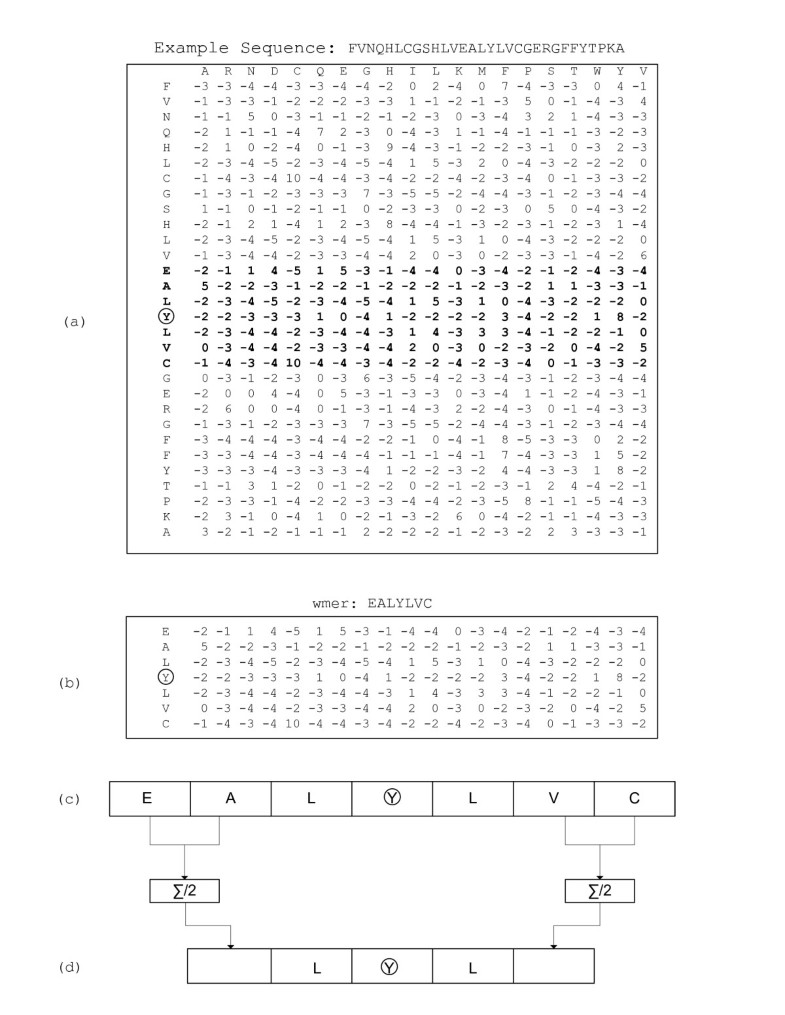 We use F i to indicate the i th row of matrix F, which corresponds to the features associated with the i th residue of X. svm PRAT can accept multiple types of feature matrices per sequence. When multiple types of features are considered, the l th feature matrix is specified by F l .
Information Encoding
When annotating a particular residue, svm PRAT uses features of that residue as well as information about neighboring residues. Window encoding, also called w mer encoding, is employed to accomplish this. For sequence X with length n, we use x i to denote the i th residue of the sequence. Given a user-supplied width w, the w mer at position i of X (w < i ≤ n - w) is defined to be the (2w + 1)-length subsequence of X centered at position i. That is, residues immediately before and after x i are part of w mer(x i ). The feature vectors of residues in this window, Fi-w... Fi+w, are concatenated to produce the final vector representation of residue x i . If each residue has d features associated with it, the w mer encoding vector has length (2w + 1) × d and is referred to as w mer(F i ).
Figure 1 shows an example of the encoding process. Part (a) shows the PSSM for a sequence of interest with the central residue, Y, circled. Part (b) illustrates the w mer associated with the central residue for w = 3. Part (c) gives the arrangement of the feature vectors in the final vector encoding of the residue. The transformation in part (d) is explained in the next section.
Kernel Functions
svm PRAT implements several kernel functions to capture similarity between pairs of w mers. Selection of an appropriate kernel function for a problem is key to the effectiveness of support vector machine learning.
Linear Kernels
Given a pair of w mers, w mer(x i ) and w mer(y j ) a linear kernel function can be defined between their feature matrices w mer(F i ) and w mer(G j ), respectively as
where ⟨·,·⟩ denotes the dot-product operation between two vectors.
Some problems may require only approximate information for residue neighbors that are far away from the central residue while nearby residue neighbors are more important. For example, the secondary structure state of a residue is in general more dependent on the nearby sequence positions than the positions that are further away [
28
].
svm
PRAT
allows a window encoding shown in Figure
1(d)
where the positions away from the central residue are averaged to provide a coarser representation while the positions closer to the central residue provide a finer representation. This two-parameter linear window kernel is denoted

and computes the similarity between features
w
mer
(
F
i
) and
w
mer
(
G
j
) as
The parameter w governs the size of the w mer considered in computing the kernel. Rows within i ± f contribute an individual dot product to the total similarity while rows outside this range provide only aggregate information. In all cases, f is less than or equal to w and as f approaches w, the window kernel becomes a sum of the dot products. This is the most fine-grained similarity measure considered and is equivalent to the one-parameter dot product kernel that equally weighs all positions of the w mer given by Equation 1. Thus, the two kernels

are

equivalent. Specifying f to be less than w merges neighbors distant from the central residue into only a coarse contribution to the overall similarity. For f < w, distant sequence neighbors are represented by only compositional information rather than specific positions where their features occur.
Exponential Kernels
svm PRAT implements the standard radial basis kernel function (rbf), defined for some parameter γ by
svm
PRAT
also implements the normalized second order exponential (
soe
) kernel function shown to better capture pairwise information and improve accuracy for the secondary structure and local structure prediction problems [
9
,
19
]. Given any base kernel function

, we define

as
which is a second-order kernel in that it computes pairwise interactions between the elements
x
and
y
. We then define

as
which normalizes

and embeds it into an exponential space.
By setting a specific γ parameter value and using normalized unit length vectors in Equation 3 it can be shown that the standard rbf kernel is equivalent (up to a scaling factor) to a first order exponential kernel which is obtained by replacing

(x, y) with only the first-order term as

(x, y) in Equation 4, and plugging this modified

(x, y) in the normalization framework of Equation 5.
Integrating Information
When multiple information in the form of different feature matrices is provided to svm PRAT, the kernel functions and information encoding per residue for each of the feature matrices remains the same. The final kernel fusion is accomplished using a weighted linear combination across the original base kernels. The weights for feature matrices can be set by the user.
For example, we can use the fusion of second-order exponential kernels on different features of a protein sequence. Considering two sequences with k sets of feature matrices F l and G l for l = 1,..., k, our fusion kernel is defined as
where the weights ω l are supplied by the user. In most cases, these weights can be set to be equal but should be altered according to domain-specific information.
Cascaded Models
Several prediction algorithms like PHD [17], PSIPRED [11] and YASSPP [9] developed for secondary structure prediction use a two-level cascaded prediction framework. This two-level framework trains two models, referred as the L1 and L2 models, which are connected together in a cascaded fashion. Both the L1 and L2 models train K one-versus-rest binary classification models for predicting a discrete label or a single ϵ-SVR regression model for estimating a continuous value. The predictions from the first-level L1 model are used as an input feature matrix along with the original features for training a L2 model [9]. Such cascaded predictions can be accomplished within svm PRAT's framework in the following way. First, the entire training set is used to train a L1 classification/regression model using the original input features. This is followed with a n-fold cross-validation step to generate predictions for the entire training set using the fold specific trained L1 model. In each iteration, 1/n-th of the dataset is set aside for prediction whereas the remainder of the dataset is used for training. The predictions from the L1 model are then used as a new input feature along with the original features to train a L2 model. The user may specify any desired weighting between original features and the L1 model predictions according to Equation 6. The final result is a cascaded prediction.
Efficient Implementation
The runtime performance of svm PRAT is tied to the speed of computing the kernel function values between pairs of w mers. All the implemented kernel functions have to compute a dot product between the vector representations.
svm PRAT optimizes the computation time for the dot product based kernel functions given by Equation 2 by using the optimized CBLAS (Basic Linear Algebra Subprograms) routines that are a part of the ATLAS library project [20]. The CBLAS routines provide the standard building blocks for performing vector-based and matrix-based computations. In particular, the efficient vector operations available through CBLAS are used within svm PRAT's kernel function implementations. This allows svm PRAT to train models and generate predictions for test cases quickly.
We ported the CBLAS routines to all the architectures on which svm PRAT was complied and provide binaries compiled with and without the CBLAS routines (see the Availability Section).
Predictions Output
For classification problems, svm PRAT's prediction program produces two outputs in text files. For every residue, raw prediction scores from the one-versus-rest SVMs are reported. In addition, each residue is assigned a class based on the maximum prediction score of the models. For regression problems, the output is a text file containing the estimated value produced by the ϵ-SVR model.
Model Selection
svm PRAT provides an evaluation program called svm PRAT-E that allows the practitioner to determine the best set of parameters for a particular prediction problem using cross validation. For ease of use, a simple PERL script is provided which invokes svm PRAT-E for a fixed set of parameters to determine the best kernel and window lengths.
Results
svm PRAT has been used in two previous experimental settings with success. TOPTMH is a transmembrane-helix segment identification and orientation system which utilizes svm PRAT [22]. It has achieved the best performance on a static independent benchmark [23]. The work by Kauffman et al. used svm PRAT to predict the ligand-binding residues of a protein [24]. This was shown to improve the quality of homology models of the protein's binding site.
In this work, we illustrate the capabilities of
svm
PRAT
on a wide range of prediction problems. These case studies illustrate the effectiveness and generality of the software for sequence annotation problems. Problems involving disordered regions, DNA-protein interaction sites, residue contact order, and general local structure class are covered in the subsequent sections. Table
1
shows some characteristics of the datasets used in each problem and the reference work from which the data was derived.
Conclusions
In this work we have presented a general purpose support vector machine toolkit that builds protein sequence annotation models. Dubbed svm PRAT, the toolkit's versatility was illustrated by testing it on several types of annotations problems. These included binary classification to identify transmembrane helices and DNA-interacting residues, K-way classification to identify local structural class, and continuous predictions to estimate the residue-wise contact order. During our evaluation, we showed the ability of svm PRAT to utilize arbitrary sequence features such as PSI-BLAST profiles, BLOSUM62 profiles, and predicted secondary structure which may be used with several kernel functions. Finally svm PRAT allows the incorporation of of local information at different levels of granularity through its windowing parameters. Our experiments showed that this allows it to achieve better performance on some problems. svm PRAT's key features include: (i) implementation of standard kernel functions along with powerful second-order exponential kernel, (ii) use of any type of sequence information associated with residues for annotation, (iii) flexible window-based encoding scheme, (iv) optimized for speed using fast solvers, (v) capability to learn two-level cascaded models, and (vi) available as pre-compiled binaries for various architectures and environments.
We believe that svm PRAT provides practitioners with an efficient and easy-to-use tool for a wide variety of annotation problems. The results of some of these predictions can be used to assist in solving the overarching 3D structure prediction problem. In the future, we intend to use this annotation framework to predict various 1D features of a protein and effectively integrate them to provide valuable supplementary information for determining the 3D structure of proteins.
Availability and Requirements
Project Name: svm PRAT

Website: http://www.cs.gmu.edu/~mlbio/svmprat

Mirror: http://bio.dtc.umn.edu/svmprat

Operating Systems and Architectures: 64-bit Linux, 32-bit Linux, 64-bit MS Windows, 32-bit Darwin (Mac OSX), SUN Solaris Sun-Blade-1500-Solaris

Programming Language: ANSI C

Additional Features: Compiled with/without optimized CBLAS

License: GNU GPL

Restrictions for use by non-academics: Yes
Web Interface
Even though svm PRAT is easy to use and is available across a wide variety of platforms and architectures, we also provide biologists the functionality to predict local structure and function predictions using our web server, MONSTER (Minnesota prOteiN Sequence annotaTion servER). svm PRAT serves as the backend for MONSTER and can be accessed easily via the web link http://bio.dtc.umn.edu/monster.
Declarations
Acknowledgements
This work was supported by NSF EIA-9986042, ACI-0133464, IIS-0431135, NIH RLM008713A, NIH T32GM008347, the Digital Technology Center, University of Minnesota, the Minnesota Supercomputing Institute, and George Mason University. HR is currently supported by a generous start-up grant from the Computer Science Department, George Mason University and NSF IIS 0905117.
Authors' Affiliations
(1)
Computer Science Department, George Mason University, Fairfax, USA
(2)
Bioinformatics Department, George Mason University, Fairfax, USA
(3)
Computer Science Department, University of Minnesota, Minneapolis, USA
Copyright
© Rangwala et al; licensee BioMed Central Ltd. 2009
This article is published under license to BioMed Central Ltd. This is an Open Access article distributed under the terms of the Creative Commons Attribution License (http://creativecommons.org/licenses/by/2.0), which permits unrestricted use, distribution, and reproduction in any medium, provided the original work is properly cited.