Research article
Open Access
New statistical potential for quality assessment of protein models and a survey of energy functions
BMC Bioinformatics
2010
11:128
Received: 6 October 2009
Accepted: 12 March 2010
Published: 12 March 2010
Abstract
Background
Scoring functions, such as molecular mechanic forcefields and statistical potentials are fundamentally important tools in protein structure modeling and quality assessment.
Results
The performances of a number of publicly available scoring functions are compared with a statistical rigor, with an emphasis on knowledge-based potentials. We explored the effect on accuracy of alternative choices for representing interaction center types and other features of scoring functions, such as using information on solvent accessibility, on torsion angles, accounting for secondary structure preferences and side chain orientation. Partially based on the observations made, we present a novel residue based statistical potential, which employs a shuffled reference state definition and takes into account the mutual orientation of residue side chains. Atom- and residue-level statistical potentials and Linux executables to calculate the energy of a given protein proposed in this work can be downloaded from http://www.fiserlab.org/potentials.
Conclusions
Among the most influential terms we observed a critical role of a proper reference state definition and the benefits of including information about the microenvironment of interaction centers. Molecular mechanical potentials were also tested and found to be over-sensitive to small local imperfections in a structure, requiring unfeasible long energy relaxation before energy scores started to correlate with model quality.
Keywords
Reference StateNative StructureStatistical PotentialSolvent AccessibilityOrientation Dependence
Background
Statistical potentials are widely used tools for protein structure analysis, modeling and quality assessment. Many different aspects and properties of these potentials have been explored during the last few decades including the different theoretical foundations to derive them, the representation of interaction centers and types of interactions, and the various models for defining the reference state. Combinations of various types and flavors of potentials are often used together in order to boost their performance. Initially, statistical potentials were based on statistical mechanics [1–3], however knowledge-based potentials now employ many other ideas, including the use of conditional probabilities to observe particular atom or residue distributions in specific conditions [4], linear programming techniques [5, 6], linear and quadratic programming on various decoy sets [7], or information theory [8].
Despite the seemingly similar formalism to derive statistical potentials in general, the alternative definitions may result in very different performances. The majority of statistical potentials are pairwise potentials. In addition, single body potentials, like the ones accounting for solvent accessibility [9], were reported, as well as multibody potentials [10–12]. Although pairwise potentials are frequently used in combination with other types of potentials to improve their performance, multibody potentials are much less used, apparently due to the high computational cost to apply them. In the present work we focus on pairwise potentials.
The majority of statistical potentials employ the Boltzmann law to convert the observed frequencies of interactions into potentials. These potentials are obtained as the ratio of observed and expected frequencies, where the expected frequencies are derived from a hypothetical reference state when no interactions occur. While the observed interactions can be counted in experimentally solved structures, hypothetical protein models without interactions, which serve as reference states, are solely imaginary. Therefore depending on their actual design they are potential sources of great variability in the performance of statistical potentials.
Quasi-chemical approximation, a popular model for defining the reference state [2, 13–16], uses molar fractions of the corresponding interacting centers to calculate the expected frequency of their pairs in the system without interactions and otherwise does not provide any other assumptions regarding their spatial distribution. This approach implies a homogeneous, infinite system, which of course is not true for proteins. An interesting attempt to account for the finite size of proteins was to substitute the corresponding dissipation of the atom density with a reduced effective dimensionality of the space [17, 18]. "Isotropic" reference state, which is based on the occurrence of interacting pairs of any type at the given condition (distance, angle, etc.), appears natural and was also widely used [4, 19, 20]. However, it also approximates the system as infinite and homogeneous. A reference state that is free of these limitations was recently developed on a basis of shuffled systems [21] and a similar approach was suggested in the DOPE [22] potential. The reference state in the DOPE potential was defined as a homogeneous ensemble of non-interacting atoms in a sphere with the radius equal to the radius of gyration of a sample native structure, whereas our Shuffled Reference State model preserved spatial positions of the interacting centers in proteins, while their identities were shuffled. Further improvements to DOPE potential have been reported later [23]. Some other definitions of reference state, such as the use of decoys [5], were also suggested.
Different representations of interaction centers were explored in statistical potentials. Two major classes of explored representations are residue level or atomic. The residue level representations use Cα, Cβ atoms or side chain centroids and are usually based on the 20 naturally occurring amino acids [2, 15, 24, 25], although both reduced [7, 26, 27] and extended [28, 29] amino acid alphabets were explored, where the extended alphabet further classifies each residue according to the possible secondary structure types. Another representation of interaction centers utilizes profile-based representation of amino acids residues [30]. For each protein a PSI-BLAST [31] generated alignment is used to create a position specific scoring matrix, which is converted into a set of evolutionary allowed amino acid residues for each position in the protein. Then these sets are used to derive potentials in a similar way to methods published by Melo [20] and Sippl [19]. Side-chain-to-backbone and side-chain to side-chain residue level potentials were also described [32]. All-heavy-atom representations based on reduced [20] and detailed all-atom protein representations were suggested [4]. More elaborate modifications of atomic alphabets consist of reduced set of atom types grouped by their chemical types and substitution states [33]. Micro-environments of atoms were distinguished by their chemical nature and by the counts of surrounding atoms. A potential function based on two interaction centers per residue [34] was also reported (all above examples employ one interaction center per residue). These two centers were Cα atoms and the side chain center of masses (Cα atom in the case of Glycine).
Various models of interactions were explored during the developments of statistical potentials. The most widely used ones are the distant-dependent potentials, which either treat all contacts uniformly within a cutoff distance [2, 15, 24, 25], or account for their radial distribution [9, 19–21, 35–37]. Similar to the distance-dependent potentials are the contact area [38] and packing density potentials proposed by Li and Liang, (unpublished but available for download from http://gila.bioengr.uic.edu/resources/geometric.html). Another frequently used interaction model is based on angular dependence. Distributions of backbone ϕ, ψ torsion angles [3, 32] as well as virtual κ, α angles [34, 36] were explored. Promising combination of these degrees of freedom depends on both distance and orientation, which became more widely used recently [39–42].
Comparative analysis of contact potentials demonstrated that majority of them can be approximated by simple sum of amino acid hydrophobicities, while the rest depends on the hydrophobicities as well as on electrostatic properties [43].
In addition to the variety of ways to derive potentials, some additional techniques to improve their accuracy have been proposed. A trivial source of errors in statistical potentials is sparse statistics. Two major workarounds were developed: the use of pseudo-counts [4] and a weighting scheme suggested by Sippl [19]. Pseudo-counts simply add a unity to every count to avoid a division by zero when calculating fractions and do not try to normalize potential values in the case of empty counts, which could result in arbitrarily high positive values in certain cases. The weighting scheme assigns the average of all interaction types to the potential in the case of an empty count.
Composite potentials combine various terms, which may include solvation, residue-level pairwise, atomic level pairwise, hydrogen bonding, steric, torsion or secondary structure packing. One such example is the Rosetta scoring function [44, 45]. Another, more recent example for a composite scoring function is QMEAN [28, 46], which consists of six different terms: a torsion angle potential, secondary structure-specific, distance-dependent residue and all-atom pairwise potentials, a solvation potential as well as terms accounting for agreement of predicted and calculated secondary structure and solvent accessibility. A combination of mean force potentials, which account for distributions of pseudo-bonds, pseudo-angles, pseudo-dihedrals and distances between centers of interactions was studied [34]. Another composite potential, utilizing both residue-level (Cα-based) [41] and its all-atom version [47] combines energy terms for distance-dependent pairwise interactions with orientation preference, hydrogen bonding, short-range interactions, packing, tri-peptide packing, three-body interactions, and solvation terms. Zhang and colleagues proposed a composite residue-level potential that consists of contact and local energy terms and employs a reduced alphabet of amino acids and a mapping of protein structures into a discrete state model [48]. The potential was generated by optimizing its components in order to guarantee a minimum energy gap between the native and decoy structures in a training set.
In the present work we perform a systematic comparison of many of the above listed scoring functions using a large and diverse decoy set that is based on models collected during various CASP experiments [49]. We analyze the differences in their performances of ranking protein models as a function of various flavors of scoring functions. Partially based on these results, we developed a novel residue level statistical potential that takes advantage of our earlier developed shuffled reference state definition [21] but utilizes orientation-dependent accounting for residue interactions. We demonstrate that this novel potential is highly competitive with other scoring functions.
Conclusions
In summary, the correct definition of the reference state used in statistical potentials is critical. In addition, there seems to be a benefit of including information on various protein microenvironments. An effective reference state definition should be free of systematic errors, as it is in our SRS model, and actual interactions should be a function of amino acid frequency variations caused by local microenvironments such as different secondary structure preferences, and other deviations of local characteristics from the average.
Methods
Set of proteins and parameters used to derive residue-level potentials
A novel distance dependent residue-level potential (RF_CB_SRS_OD), utilizing shuffled reference state [21] and featuring orientation dependence, was derived from a representative set of 375 globular proteins selected from the Protein Data Bank[62]. General procedure and details for the protein set selection are described previously for all-heavy-atom potential [21]. Briefly, the set was composed of X-ray solved structures of proteins of at least 50 residues long, which crystallographic resolution and R-value were better than 2.1 Å and 0.2, respectively; all PDB structures with incomplete, missing, modified, or nonstandard residues were excluded except structures that had missing residues in the terminal positions only; structures co-crystallized with ions were also discarded; additionally, the pairwise sequence identity between any two proteins in the set was required to be less than 40%.
Three additional potentials were generated in order to evaluate its improvement over the "isotropic" reference state and over unidirectional accounting for interacting pairs. Two of these additional potentials employed averaging over all residue types [19], where one was built as orientation-dependent (RF_CB and RF_CB_OD, respectively). A third potential (RF_SRS) was based on shuffled reference state, but lacked the orientation dependence. For all of the potentials the first bin for spatial separation spanned the distance between 0-4 Å and every next bin spanned a 1 Å increment thereafter. Cβ atoms were used for system representation. A virtual Cβ atom was built for Glycine residue. No minimal sequence separation between interacting residues was required. For sparse data treatment the scheme introduced by Sippl [19] was used.
In order to generate a shuffled reference state, randomized model sets were obtained by shuffling residue identities within each protein. Shuffling procedure was repeated 1000 times using different seed values for the random number generator. Potentials were derived as described previously [21]
For orientation-dependent potentials residue pairs were classified into three groups (Fig.
3
): pairs with "parallel" C
α
-C
β
vectors, pairs with "antiparallel" C
α
-C
β
vectors facing each other, and ones with "antiparallel" C
α
-C
β
vectors pointing away from each other. This definition of the orientation dependence is substantially simplified in comparison to ones suggested earlier [
39
,
42
]. However, this simplification results in more representative statistics of contacts.

Potentials developed in the present study are labeled as "RF_CB", with "_SRS" suffix for shuffled reference state and "_OD" suffix for the orientation dependence.
Set of decoys
Predicted models for 143 targets collected from the CASP5-CASP8 experiments [
49
] were used as decoys, including a total of 2628 models produced by a large variety of groups and methods. These models were selected using the following procedure: (i) only all-atom models were used; (ii) the set for a given target was required to include at least one model with GDT_TS score upon superposition to the experimental solution structure 65.0 or better; (iii) all models for each target were clustered by their lengths, and models from the most populated cluster were used; (iv) models were binned by their GDT_TS scores with increments of 2.5 and one random representative was kept from each bin. Only targets for which the experimental solution is publicly available were kept. As a result, a ranked list of representative models was selected for each of the 143 targets. Fig.
4
gives an example of superimposition of models of different quality to the experimental structure. Lists of selected targets and their models along with corresponding GDT_TS values can be downloaded from our website
http://www.fiserlab.org/potentials/casp_decoys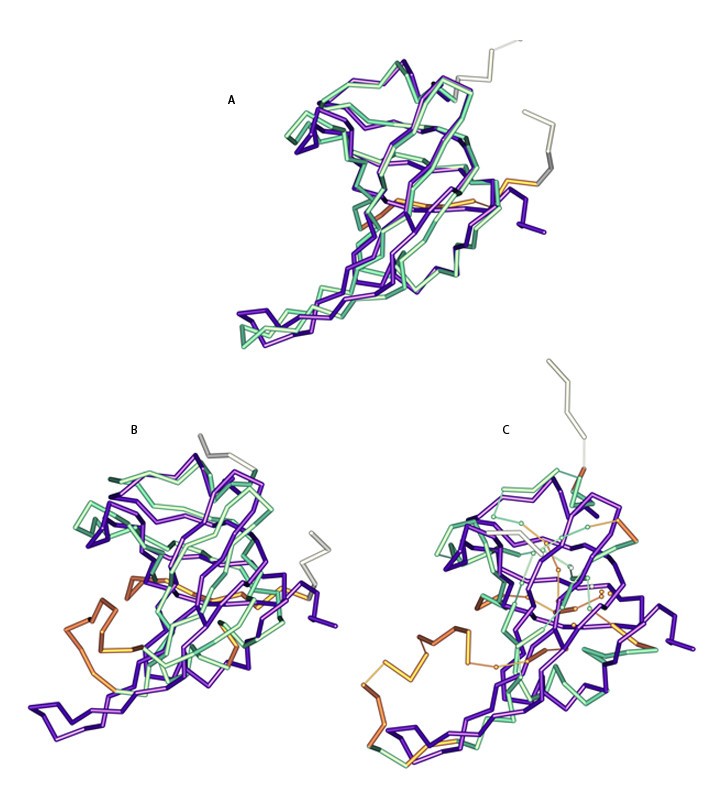 Declarations
Acknowledgements
The Authors thank all colleagues who provided their software for evaluation. The authors also thank Joseph Dybas for reading and commenting on the manuscript.
This work was supported by NIH grant GM62519-04.
Authors' Affiliations
(1)
Department of Systems and Computational Biology, Albert Einstein College of Medicine, Bronx, USA
(2)
Department of Biochemistry, Albert Einstein College of Medicine, Bronx, USA
Copyright
© Rykunov and Fiser; licensee BioMed Central Ltd. 2010
This article is published under license to BioMed Central Ltd. This is an Open Access article distributed under the terms of the Creative Commons Attribution License (http://creativecommons.org/licenses/by/2.0), which permits unrestricted use, distribution, and reproduction in any medium, provided the original work is properly cited.