Methodology article

Open Access
Metamotifs - a generative model for building families of nucleotide position weight matrices
BMC Bioinformatics
2010
11:348
Received: 4 March 2010
Accepted: 25 June 2010
Published: 25 June 2010
Abstract
Background
Development of high-throughput methods for measuring DNA interactions of transcription factors together with computational advances in short motif inference algorithms is expanding our understanding of transcription factor binding site motifs. The consequential growth of sequence motif data sets makes it important to systematically group and categorise regulatory motifs. It has been shown that there are familial tendencies in DNA sequence motifs that are predictive of the family of factors that binds them. Further development of methods that detect and describe familial motif trends has the potential to help in measuring the similarity of novel computational motif predictions to previously known data and sensitively detecting regulatory motifs similar to previously known ones from novel sequence.
Results
We propose a probabilistic model for position weight matrix (PWM) sequence motif families. The model, which we call the 'metamotif' describes recurring familial patterns in a set of motifs. The metamotif framework models variation within a family of sequence motifs. It allows for simultaneous estimation of a series of independent metamotifs from input position weight matrix (PWM) motif data and does not assume that all input motif columns contribute to a familial pattern. We describe an algorithm for inferring metamotifs from weight matrix data. We then demonstrate the use of the model in two practical tasks: in the Bayesian NestedMICA model inference algorithm as a PWM prior to enhance motif inference sensitivity, and in a motif classification task where motifs are labelled according to their interacting DNA binding domain.
Conclusions
We show that metamotifs can be used as PWM priors in the NestedMICA motif inference algorithm to dramatically increase the sensitivity to infer motifs. Metamotifs were also successfully applied to a motif classification problem where sequence motif features were used to predict the family of protein DNA binding domains that would interact with it. The metamotif based classifier is shown to compare favourably to previous related methods. The metamotif has great potential for further use in machine learning tasks related to especially de novo computational sequence motif inference. The metamotif methods presented have been incorporated into the NestedMICA suite.
Keywords
Inference Algorithm
Dirichlet Distribution
Position Weight Matrix
Prior Function
Motif Family
Background
A central goal in modelling genome regulation is the identification of transcription factors (TFs) and their target DNA binding sites, expressed as short nucleotide sequence motif models. This goal is becoming tractable even for higher eukaryotic genomes due to the availability of annotated reference genomes for numerous organisms, large scale protein-DNA interaction and gene expression studies, and advances in regulatory binding site motif inference algorithms.
Computational work to infer short DNA motifs has resulted in publication of literally hundreds of algorithms for approaching the problem (reviewed in [1, 2]). Perhaps most important computational advances in the field of DNA-motif inference are the introduction of scalable motif inference methods that can be used for de novo regulatory motif inference on a genome scale, with annotated reference genome sequences as input [3–5], and the effective use of supporting evidence such as gene expression microarrays [6, 7] or chromatin immunoprecipitation microarray (ChIP-chip) [8, 9] or ChIP-seq data [10, 11]. Several high throughput DNA-protein interaction assays have also been introduced during recent years. These include bacterial one-hybrid assays [12] and protein binding microarrays [13].
The most widely applicable model for short regulatory motifs is the position weight matrix (PWM), originally introduced by Stormo et al [14]. The PWM is a model for gapless position-specific probability distributions of nucleotides which assumes independence of nucleotide positions [15]. Departures of the position independence assumption have been reported in the form of variable length linkers, interdependencies between nucleotides at different binding site positions [16–18], and compensatory mutations that maintain the binding energy and function of binding sites [19]. More complex probabilistic motif models based on for instance Bayesian [20, 21] and Markov networks [22] have been developed to fit these observations. With the exception of the newest DNA-protein interaction assays which provide deep coverage of DNA interactions of proteins [23], parameter estimation of motif models more complex than the PWMis however hard with often scarce biological data. The PWM therefore remains the model of choice for most large scale motif inference tools: it is intuitive to interpret as a sequence logo [24] and retains more of the information contained in binding site patterns than sequence word based models [25].
Methods have also been developed for comparing and clustering motifs. One application of clustering is to infer information about possible function, such as likely binding partners. This is especially valuable for motifs from de novo inference methods which generally do not offer a predicted function for the signals they report. One specific application of clustering methods is the labelling of motifs with the protein DNA binding domain most likely to bind them. This is based on the observation that the sequence specificity of structurally related binding proteins is similar. Familial binding profiles (FBP) offer one early solution [26]. FBPs are essentially average motifs derived from multiple alignments of motifs optimised to minimise the sum of squared deviations (SSD) between aligned motif columns amongst a familial multiple alignment of PWMs. FBPs for common transcription factor families are available through the JASPAR motif database [27].
Motif clustering methods however suffer from the absence of a natural distance metric between motifs; different metrics are thought to provide complementary information of motif relatedness. A χ2- based distance metric was found an effective measure by [28]. A metric based on Pearson correlations of motif columns was also described in the same publication. Clustering based on various other distance metrics was suggested and systematically evaluated by [29]. A sum of squared deviations based metric was found to be the best single metric in this systematic comparison of a number of distance methods. The asymptotic covariance between hits of two motifs in a sequence has also been applied as a distance measure [30]. The most recent motif distance metric and clustering methods are probabilistic and draw special attention to the uncertainty in motif comparison and the importance of high-information columns in measuring distances of sequence motifs: a Bayesian probability distance metric between motif columns [31] and a fuzzy integral based metric [32]. In this work we also explore a probabilistic solution for the problem of comparing motifs.
Supervised learning strategies have also been applied to classify motifs and infer motifs similar to previously known motifs from novel sequences. Neural networks have been applied for classification of binding sites for the purposes of motif inference by [33]. Other notable methods include a Sparse Multinomial Regression (SMLR) based binding site sequence classification described in [34], and an application of this method for motif inference; The motif inference program PRIORITY assigns an SMLR- derived prior probability for each sequence position for its potential to fit a motif of a given transcription factor family [35].
We present here a probabilistic model for describing motif families and measuring relatedness of sequence motifs. We show sequence motif related machine learning uses for the model. At its simplest, a metamotif can be used to summarise gapless alignments of motifs of a given length, similarly as the FBP described above. As opposed to the FBP, we however do not model the recurring patterns found amongst a related set of motifs as a single motif alignment model but allow multiple components to describe a motif family.
We model a motif family as a series of motif components ("metamotifs") where different positions of a PWM motif can potentially map to different metamotifs. Not all positions are generated from a metamotif but some are treated as noise emitted by a background model. The metamotif includes a vector of column wise mean nucleotide weights, as well as variance for each column which is not modelled for example by the FBP. In this respect a metamotif is similar to the model used by MotifPrototyper [36]: both describe familiar prototypes of PWMs that are estimated probabilistically with a sequence of position specific probability distributions and can yield a Bayesian prior on the weight matrix columns (a 'structural prior' for the weight matrices in the terminology used by Xing et al.). In contrast to MotifPrototyper, the metamotif inference algorithm we developed can account for intra-motif structure such as repeating or palindromic segments by treating motifs as a series of several metamotifs and background positions.
Results and Discussion
A metamotif is a generative model for PWM motif columns that can be used to represent a gapless alignment of position weight matrices. For each PWM position
i
(multinomial column) there exists a Dirichlet distribution in the metamotif column at position
i
. A metamotif is therefore a parameter configuration for a product Dirichlet distribution where position
i
of the motif alignment model corresponds to parameters
α
i
. More intuitively, a metamotif of length
k
is a probability distribution over PWM motifs of length
k
(Figure
1A, C
). Sampling motifs from the metamotif is also possible (samples drawn from a forkhead metamotif are shown in Additional File
1
Figure S1). This is analogous to computing a probability score for a sequence
k
-mer to measure the probability of the
k
-mer having been generated by a PWM, and drawing
k
-mer samples from a PWM.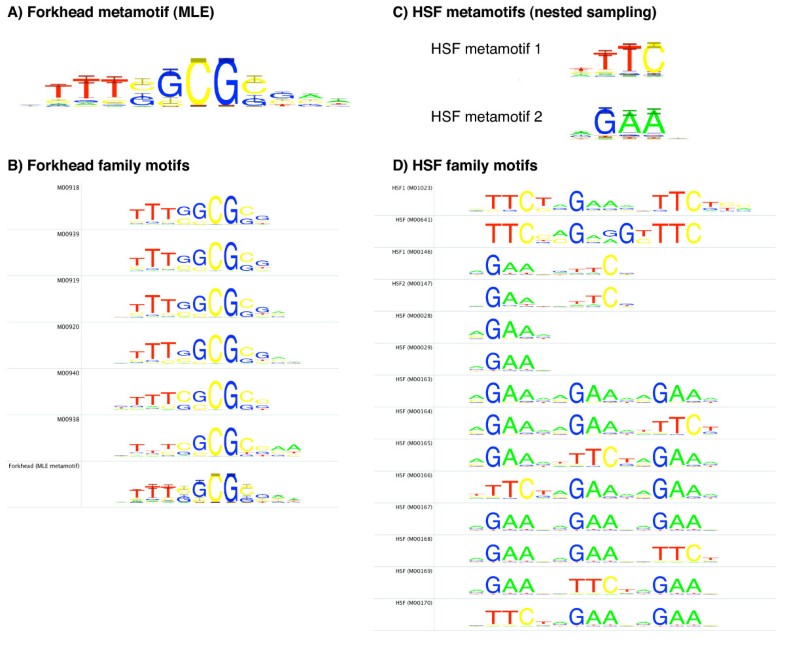 Below we first describe the metamotif in detail. We then expand the use of the model beyond simply constructing metamotifs as global gapless alignment models of motif sets. This expansion is made possible by a Markov Chain Monte Carlo (MCMC) metamotif inference algorithm that simultaneously estimates multiple weakly represented metamotifs from a potentially large set of motifs. Illustrative examples of metamotifs are shown in Figure 1 alongside the input motifs for which the metamotifs were estimated.
Conclusions
We present a novel motif family model, the metamotif. We show its use as an informative prior in a motif discovery algorithm, and describe a motif classification method based on metamotif density features. We find that the method compares favourably to previously published related methods. Its performance with two novel experimental TFBS motif datasets is also found consistent with expected error estimates. The metamotif inference and visualisation tools are made openly available as part of the NestedMICA motif inference suite, and the interactive motif inference analysis environment iMotifs [53]. We also introduce a visual representation for the metamotif akin the sequence logo, which presents the metamotif as an average motif with confidence intervals for symbol weights.
We envisage that the metamotif will have further machine learning related uses in addition to the Bayesian prior and motif family classification method we present. Large scale computational motif inference frameworks especially could benefit from metamotif driven semi-supervised methods to either effectively estimate complete motif sets from novel sequence sets, or on the contrary to discriminatively infer motifs that do not not closely match known sequence motifs. Further large-scale profiling of eukaryotic transcription factor DNA specificity could also dramatically extend the data available for training metamatti-like motif classifiers that infer motif type labels, to allow more fine grained classification than the binding domain family or superfamily classification described in this work.
Availability and requirements
The metamotif inference and metamotif PWM prior enabled version of the cross-platform Java based NestedMICA suite is available on the Nested- MICA project website at http://www.sanger.ac.uk/Software/analysis/nmica. The algorithms used in the metamotif inference validation experiment are also made available in the NestedMICA suite. These include the motif alignment tool nmalign (outputs the motif alignment as a FBP, set of aligned motifs, or MLE metamotifs), as well as the motif simulation tool nmmetasim.
Metamotif visualisation is made available as part of the Mac OS X based motif viewer iMotifs [53] http://www.github.com/mz2/imotifs, and the cross-platform Java based motif viewer MotifXplorer http://github.com/mz2/mxplor
All the above software is distributed under the Lesser General Public Licence (GPL) version 2.0 or later.
Declarations
Acknowledgements
We would like to thank Leopold Parts for assistance with formulating the metamotif model and critical reading of the manuscript, and Ville Mustonen, Marija Buljan and Steve Pettitt for critical reading and helpful feedback on the manuscript.
This work was supported by the Wellcome Trust grant number 077198/Z/05/Z.
Authors' Affiliations
(1)
Wellcome Trust Sanger Institute, Hinxton, Cambridgeshire, UK
(2)
Wellcome Trust/Cancer Research UK Gurdon Institute, University of Cambridge, Cambridge, UK
Copyright
© Piipari et al; licensee BioMed Central Ltd. 2010
This article is published under license to BioMed Central Ltd. This is an Open Access article distributed under the terms of the Creative Commons Attribution License (http://creativecommons.org/licenses/by/2.0), which permits unrestricted use, distribution, and reproduction in any medium, provided the original work is properly cited.