Research article
Open Access
Prediction of the binding affinities of peptides to class II MHC using a regularized thermodynamic model
BMC Bioinformatics
2010
11:41
Received: 22 October 2009
Accepted: 20 January 2010
Published: 20 January 2010
Abstract
Background
The binding of peptide fragments of extracellular peptides to class II MHC is a crucial event in the adaptive immune response. Each MHC allotype generally binds a distinct subset of peptides and the enormous number of possible peptide epitopes prevents their complete experimental characterization. Computational methods can utilize the limited experimental data to predict the binding affinities of peptides to class II MHC.
Results
We have developed the Regularized Thermodynamic Average, or RTA, method for predicting the affinities of peptides binding to class II MHC. RTA accounts for all possible peptide binding conformations using a thermodynamic average and includes a parameter constraint for regularization to improve accuracy on novel data. RTA was shown to achieve higher accuracy, as measured by AUC, than SMM-align on the same data for all 17 MHC allotypes examined. RTA also gave the highest accuracy on all but three allotypes when compared with results from 9 different prediction methods applied to the same data. In addition, the method correctly predicted the peptide binding register of 17 out of 18 peptide-MHC complexes. Finally, we found that suboptimal peptide binding registers, which are often ignored in other prediction methods, made significant contributions of at least 50% of the total binding energy for approximately 20% of the peptides.
Conclusions
The RTA method accurately predicts peptide binding affinities to class II MHC and accounts for multiple peptide binding registers while reducing overfitting through regularization. The method has potential applications in vaccine design and in understanding autoimmune disorders. A web server implementing the RTA prediction method is available at http://bordnerlab.org/RTA/.
Keywords
Prediction MethodPeptide BindingPeptide Binding RegisterExperimental Binding AffinityPeptide Binding Affinity
Background
Class II MHC is an essential protein complex in the adaptive immune system that is involved in activating helper T cells. It is found on the surfaces of specialized immune system cells, such as dendritic cells and macrophages, where it binds fragments of extracellular peptides and presents them to CD4+ helper T cells. Class II MHC is highly polymorphic and each allotype generally has different peptide binding preferences. The computational prediction of such binding affinities can be applied to the important problem of finding promiscuous epitopes that bind to multiple allotypes for use in rational vaccine design. Also these predictions may aid in understanding autoimmune diseases, many of which have been linked to particular class II MHC alleles [1].
Characteristic properties of peptide binding to class II MHC molecules can be inferred from available high-resolution X-ray structures of peptide-MHC complexes. The binding cleft in class II MHC is open at both ends so that it generally binds longer peptides, 15-25 residues in length, with the peptide N- and C-terminii extending out of the cleft. This is in contrast to class I MHC, which has a peptide binding cleft that is closed at both ends so that it only accommodates shorter peptides of 8-11 residues. An examination of X-ray crystal structures of peptide bound class II MHC molecules reveals that the peptides bind in an extended polyproline II helix with the conserved backbone structure maintained by conserved hydrogen bonds with the MHC [2]. Peptide side chains within a contacting nine residue core segment of the peptide bind into pockets on the MHC surface [1]. Many of the polymorphic residues occur in these pockets and so determine the distinctive peptide binding preferences of each MHC allotype. Although the core residues of the bound peptide assume similar backbone conformations, each peptide can generally bind in multiple registers. This makes the prediction of peptide binding affinities for class II MHC particularly challenging since, unlike class I MHC, all possible binding registers must be considered.
Prediction methods for class II epitopes remains an active area of research, motivated both by their biomedical importance and the difficulty of achieving high accuracy. Early prediction methods fit the total peptide binding energy [3–6], binding motif [7], geometric average binding affinity [8], or sequence alignment profile [9] in a particular register to a linear combination of contributions from individual residues, and represented them as binding profile matrices. The scores for all possible peptide binding registers were calculated and either the maximum value or sum were used as a total peptide binding score. Later methods employed various machine learning and data fitting approaches to prediction including partial least squares (PLS) [10, 11], Gibbs sampling [12], linear programming [13], Support Vector Machines (SVMs) [14–16], and kernel methods [17]. One prediction method, called SMM-align, successfully combined two methods, binding profile matrices and Gibbs sampling [18].
We introduce a new model for predicting binding affinities of peptides to class II MHC called the Regularized Thermodynamic Average, or RTA, model. Three features are incorporated into the model: (1) independent binding of individual peptide residues so that the total binding energy is a sum of the binding energies of each core peptide residue, (2) a thermodynamic average over all possible peptide binding registers, and (3) regularization of the model to prevent overfitting. Feature #1, the approximate independence of peptide binding on peptide residue interactions, is supported experimentally [3] and is a basic assumption in most prediction models to date. Indeed, it is the primary basis for binding profile methods. The importance of contributions of suboptimal peptide binding registers to the total binding affinity motivates Feature #2. Experimental studies have found such cases in which a peptide binds with significant affinity to class II MHC in multiple registers [19–21]. In fact, such peptide binding in multiple registers may be involved in the origin of autoimmune diseases [22]. The thermodynamic average in the RTA model insures that contributions from suboptimal binding registers, which may be significant, also contribute to the total binding affinity. Regularization (feature #3) is especially important in prediction models that contain a relatively large number of parameters, such as ours. Regularization is implemented in RTA using an L1 penalty function, like in lasso regression [23]. This has the advantage over alternative penalty functions, such as the L2 penalty employed in SMM-align, that many coefficients vanish at lower cutoff values so that the number of model parameters is reduced. In addition, unlike in many previous prediction methods, the P1 residue for peptides binding to HLA-DR is not restricted to be hydrophobic in the RTA model. Finally, we use deterministic local optimization methods to fit the model parameters, which we found to converge to better solutions than commonly employed stochastic optimization methods.
The RTA prediction method was tested using cross-validation sets from an SMM-align study [18], for comparison with results from 9 different prediction methods examined in that study, and also using larger cross-validation sets created from binding data from the IEDB database [24]. The RTA method was also evaluated using additional peptide binding data sets from Lin et al. 2008 [25] and El-Manzalawy et al. 2008 [26]. A novel method to efficiently create data sets with minimal sequence overlap was developed to create the new cross-validation sets. The performance of RTA in predicting peptide binding affinities and in predicting the correct peptide core binding residues were tested. Finally, we examined the relative contribution of suboptimal peptide binding registers to the overall binding affinity.
Results and Discussion
Binding affinity prediction
The RTA prediction method was evaluated both with the 5-fold cross-validation sets in the SMM-align reference [18], so that its performance could be compared with the results for the 9 different prediction methods examined in that paper, and also with the generally larger 5-fold cross-validation sets created using the method described above, which minimizes the overlap between training and test set peptide sequences. The prediction performance was evaluated using the area under the Receiver Operating Characteristic (ROC) curve [32], or AUC, the root mean squared error (RMSE), and the Pearson correlation coefficient. The latter two statistics were not calculated for the SMM-align data sets because the data for low affinity binders in those data sets were assigned a fixed cutoff value, which renders those statistics less meaningful. The prediction results for the new data sets are given in Table 1 and the results for the SMM-align data sets are in Table 2.
It may be seen from Table 2 that RTA had better performance than SMM-align on the same data sets for all MHC allotypes examined. The improvement is especially large for HLA-DRB3*0101, with an AUC for RTA of 0.960 compared with only 0.620 for SMM-align. However this SMM-align data set is exceptional since it contains only 3 strong binders, with IC50 < 500 nM, and has the highest percentage (85%) of thresholded low-affinity values (IC50 > 50 μM).
Ref. [18] also provides AUC values obtained by 8 other prediction methods applied to the same SMM-align data sets. The methods examined were a Gibbs sampler [12], TEPITOPE [5, 6], SVRMHC [33], MHCpred [10], ARB [8], NetMHCII [34], PREDBALB/c[35], and a variant of SMM-align that includes information on the peptide length and flanking residues called SMM-PRF [18]. A total of 4 of the methods could make predictions for all 14 HLA-DR allotypes, while 3 other methods could only be used for a subset of these allotypes. Only NetMHCII could be used for all 3 murine allotypes while two other methods, ARB and PREDBALB/c, could be applied to some of these allotypes. Overall, RTA was more accurate than the other 8 prediction methods. RTA yielded the same AUC value as TEPITOPE for HLA-DRB1*0404 and the same value as ARB for HLA-DRB1*1501. It gave a lower AUC value than one of other the other methods only for HLA-DRB1*0901, HLA-DRB1*1302, and H2-IAs. Significantly, RTA yielded the highest AUC values for all 9 methods examined in that study for 14 out of the 17 allotypes, even though 6 of the methods were evaluated without cross-validation so that some of the training data may have been included in the test sets.
In general, the AUC values for the IEDB data sets are slightly lower than for the corresponding SMM-align data sets for the same MHC allotypes. One factor that likely contributes to this difference is that the composition of the IEDB and SMM-align data sets are quite different. Whereas the median percentage of low affinity peptides, with IC50 > 50 μM, in the IEDB data set is only 1.5%, it is 52% for the SMM-align sets. One common trend between the results for the IEDB and SMM-align data sets is that the AUC for the murine MHC allotypes is generally higher than for the human ones.
The RTA prediction results for the IEDB data sets were not compared with results using other prediction methods because these other methods were fit to peptide-MHC binding data that likely significantly overlap the IEDB data, especially considering that IEDB is one of the most comprehensive databases. The occurrence of similar test set data in the training data can significantly increase the apparent prediction accuracy, leading to overly optimistic accuracy estimates. In the extreme case in which the RTA model was trained on both the training and test set data, close to perfect AUC values of > 0.995 were obtained (data not shown). This also emphasizes the importance of using minimally similar training and test data sets in order to reliably estimate the prediction accuracy for novel peptide sequences. The IEDB cross-validation sets, created using the algorithm described above, had no overlap at all, defined by identical 9-residue segments, for all but one MHC allotype. Likewise, the SMM-align cross-validation data sets used for comparison with that method had low overlap of about 0.5-2%. Finally, we point out that using more cross-validation sets, will allow a larger fraction of the limited data to be used for training but it will also generally increase the overlap between corresponding training and test sets. In the extreme case of leave-one-out cross-validation this overlap will be large, leading to overly optimistic performance estimates, unless all similar peptide sequences are removed.
The RTA method was also evaluated by making predictions for the peptide binding data in Lin
et al
. 2008 [
25
]. That study evaluated 21 class II MHC binding prediction servers using binding affinity data for 103 peptides binding to seven different allotypes. The peptides comprise overlapping segments of four allergens and were chosen as an unbiased test set for comparing different binding prediction methods. RTA predictions were made for all allotypes except for HLA-DRB1*0301, for which insufficient binding data was available for training. The prediction performance, as evaluated by AUC values, is shown in Table
4
. A comparison with the results for the prediction servers in Ref. [
25
] shows that RTA yields among the most accurate results for HLA-DRB1*0101, DRB1*0301, DRB1*0701, and DRB1*1501 and about average results for HLA-DRB1*0401 and HLA-DRB1*1101. One potential uncertainty in this evaluation is how many of the peptides in this test set were used to train the individual prediction methods. As mentioned above, significant overlap between the test and training sets is expected to give an overly optimistic assessment of accuracy. This problem can be reduced through cross-validation, however this procedure is infeasible for evaluating prediction servers on the Internet.
Table 4
RTA prediction results for the test set of 103 overlapping antigen peptides from Lin et al. 2008(Ref. [25])
| MHC allele | AUC |
| --- | --- |
| DRB1*0101 | 0.810 |
| DRB1*0301 | 0.778 |
| DRB1*0401 | 0.641 |
| DRB1*0701 | 0.778 |
| DRB1*1101 | 0.728 |
| DRB1*1501 | 0.795 |
Finally, the RTA method was evaluated using the IEDB similarity reduced data sets from El-Manzalawy et al. 2008 [26]. These data sets were compiled from binding data downloaded from the IEDB database by removing similar peptides at different similarity thresholds: unique sequences (UPDS), no common 9-mer subsequences (SRDS1), and pairwise sequence identity < 80% (SRDS2). The prediction results for RTA as well as the three prediction methods evaluated in Ref. [26] are given in Tables S1-S3 in Additional File 3. These results show that the RTA method performed significantly better than the other three prediction methods. RTA had the highest AUC out of all four methods for 9/12 MHC allotypes for the UPDS data set and the highest AUC for all 12 MHC allotypes for both the SRDS1 and SRDS2 sets.
Peptide binding register prediction
The peptide-MHC binding prediction model is based on the observation in X-ray structures of complexes that only a portion of the peptide binds to the MHC. The model predicts peptide binding at ambient temperature by summing the contributions of all possible 9-mer segments binding to the MHC. The difference between the binding affinity of the strongest binding 9-mer segment and that of other possible binding segments will be larger at the low temperatures used to determine X-ray structures and presumably is represented in the structure of the complex. The available X-ray structures of peptide-MHC complexes can be used to check this assumption by comparing the prediction of the binding register, defined by the largest term in the Boltzmann-weighted average in Eq.
7
, with the actual binding register observed in the X-ray crystal structure. The peptide binding registers inferred from the X-ray structures provide additional experimental data that is unrelated to the binding affinity data and so allow an independent estimate of the model's accuracy. Finally, we note that there has been some confusion in the literature since the sequence of the peptide appearing in the X-ray crystal structure may in fact be different from the sequence of the actual co-crystallized peptide. This is because the peptide N- and C-termini may be disordered and so missing from the structure. In addition, some peptide residues with disordered side chains are modeled as alanines in the structure. Because of this potential discrepancy the peptide sequences in Table
5
were obtained from papers reporting the PDB structures rather than the structure itself.
Table 5
Available X-ray structures of peptide - class II MHC complexes in the Protein Data Bank.
MHC Allele

PDB Entry

Peptide Sequence

DRB1*0101

1AQD

VGSDWRFLRGYHQ YA

DRB1*0101

1DLH,

2G9H

PKYVKQNTLKL AT

DRB1*0101

1KLG

GELIGILNAAKV PAD

DRB1*0101

1KLU

GELIGTLNAAKV PAD

DRB1*0101

1SJE

PEVIPMFSALS EGATP

DRB1*0101

1T5W

AAYSDQATPLL LSPR

DRB1*0101

2FSE

AGFKGEQGPKG EPG

DRB1*0301

1A6A

LPKPPKPVSKMRMATPLLM QALPM

DRB1*0401

1J8H

PKYVKQNTLKL AT

DRB1*0401

2SEB

QYMRADQAAGG LR

DRB1*1501

1BX2

ENPVVHFFKNIVT PR

DRB3*0101

2Q6W

AWRSDEALPL GS

DRB5*0101

1FV1

NPVVHFFKNIVTPRT PPPSQ

DRB5*0101

1H15

GGVYHFVKKHVH ES

H2-IAb

1LNU

FEAQKAKANKA VD

H2-IAb

1MUJ

LPKPPKPVSKMRMATPLLM QALPM

H2-IAd

1IAO

RGISQAVHAAHA EINEAGR

H2-IAd

2IAD

RGHNTNGVTAASS HE
Peptide binding register predictions were made for all unique peptide-MHC complexes with available X-ray structures. These are shown in Table 5. The 9-mer segment in the structure begins with the residue binding in the P1 pocket and the predicted 9-mer segment extends from residue Mmax +1 to Mmax + 9 in which Mmax is the M index of the largest term in the Boltzmann sum appearing in Eq. 7. All peptides similar to those for which the predictions were made were removed from the training set. The results showed that the RTA method predicted the peptide binding registers accurately. The predictions for all peptides in Table 5 were correct except for one, the peptide RGISQAVHAAHAEINEAGR binding to H2-IAd from PDB entry 1IAO. Interestingly, the core segment for the CLIP peptide is the same for binding to both HLA-DRB1*0301 (PDB entry 1A6A) and H2-IAb (PDB entry 1MUJ), as has been observed for most other human and murine MHC allotypes [36, 37]. CLIP binds to all class II MHC molecules as an intermediate step in MHC processing and peptide loading.
For comparison, peptide binding register predictions were made for the peptide-MHC complexes listed in Table 5 using seven other prediction methods implemented as web servers: ARB [8], MHC2Pred [38], NN-align [39], ProPred [6], RANKPEP [9], SMM-align [18], and SVRMHC [33]. Each of these methods uses different computational approaches to predicting peptide-MHC binding affinities. ARB, ProPred, and RANKPEP use position specific scoring matrices (PSSMs), SVRMHC and MHC2Pred use Support Vector Machines (SVMs), NN-align uses artificial neural networks (ANNs), and SMM-align uses a combination of scoring matrices and a novel Gibbs sampler method [12]. The overall prediction results for RTA and these other methods are given in Table 3. The performance of the different prediction methods could not be directly compared since most methods could not be applied to all peptide-MHC complexes. However, RTA is clearly among the most accurate methods for this data set, with 17 out of the 18 peptide binding cores correctly predicted. A recent study by Wang et al. [40] performed a similar analysis using an overlapping but slightly different set of peptide-MHC complexes and obtained qualitatively similar results for the same prediction methods examined in that study. That study concluded that the TEPITOPE method [5], as implemented by the ProPred web server [6], achieved the best overall performance. We found similar results, with only RTA and ProPred correctly predicting all 14 HLA-DR peptide binding registers. NN-align achieved similar performance with 13 correctly predicted HLA-DR peptide binding cores. Significantly, some prediction methods, which generally attain accuracies that are comparable to or better than the earlier TEPITOPE method in predicting peptide binding affinities, had significantly worse accuracy than TEPITOPE in predicting the peptide binding cores. This demonstrates that a prediction model that achieves high accuracy for peptide binding affinity does not necessarily achieve corresponding high accuracy for predicting the peptide binding core. The fact that our RTA method does perform well for both prediction tasks suggests that the underlying approximate physical model for the contribution of each binding register to the total binding affinity is correct and accurate.
Importance of suboptimal terms in the Boltzmann sum
A common approximation in other prediction models, such as TEPITOPE, is to use only the peptide binding register with the highest affinity and so neglect the contributions of suboptimal binding registers. Under this approximation Eq.
7
would become
This approximation is accurate if only one term dominates the Boltzmann average in Eq.
7
. In order to estimate the importance of the suboptimal terms included in our model, we calculated the ratios

and |
T
2
/
T
1
|, in which
T
i
are the terms in the Boltzmann sum in Eq.
7
ordered so that |
T
1
| ≥ |
T
2
| ≥ L ≥ |
T
L-8
|.
T
1
(
T
2
) are then the terms with the largest (2
nd
largest) absolute values. Both ratios vary from 0.0 to 1.0. These ratios were calculated for the largest IEDB data set, containing 5648 peptides binding to HLA-DRB1*0101. A low value of

indicates that suboptimal terms make a significant contribution to the sum so that the approximation using only the optimal term is inaccurate. The cumulative distribution of this quantity is shown in Figure
1(a)
. For example, suboptimal terms contribute at least 50% to the Boltzmann sum for about 20% of the peptide sequences. Likewise Figure
1(b)
shows the cumulative distribution for the relative contribution of the leading suboptimal term relative to the optimal term, |
T
2
/
T
1
|. For example, it can be seen that this ratio is greater than 0.4 for about 40% of the sequences. The ratios for other data sets are expected to have a similar distribution. To the extent that these predicted values are accurate, the distributions of these ratios indicate that suboptimal terms make significant contributions to the total binding affinity for many peptides so that the assumption that only one binding register dominates is incorrect for these peptides. The error in the predicted binding affinity for these peptides in a prediction model including only the optimal term may not be as large as expected since the model parameters are fit directly to experimental binding affinities and so the model may compensate to some degree for the contribution of missing suboptimal terms. In any case, to the extent that these estimates of the contributions of suboptimal terms are correct, prediction models, such as RTA, that incorporate these terms are expected to be more accurate.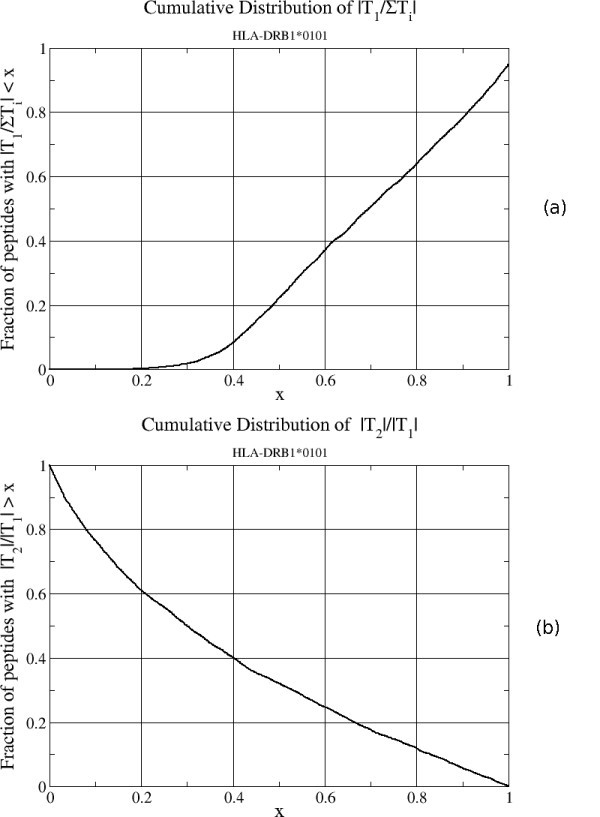 Conclusions
The prediction results for the RTA method show (1) that suboptimal peptide binding registers make a significant contribution to the total peptide binding affinity for many peptides, (2) regularization with the L1 parameter constraint improves prediction accuracy for novel data, (3) the method achieves good accuracy in predicting peptide-MHC binding affinities with generally higher AUC values than other prediction methods evaluated on the same data sets, and (4) the method accurately predicts the 9-residue binding core for all but one out of 18 peptide-MHC complexes examined. While peptide-MHC binding affinities can be quickly calculated using Eq. 7, the efficient solution of the difficult global optimization problem for fitting parameters using local optimization methods contributed to the success of the method. The accuracy of the method is expected to continually improve as more experimental binding data become available, particularly for certain MHC allotypes with limited current data.
One direction for future work is to extend the RTA model to a multi-allotype model by including another parameter dimension reflecting the MHC peptide binding determinants, either through unique binding pockets, as in TEPITOPE, or through polymorphic pocket residues, as in NetMHCIIpan [41]. Another possible extension is to include interaction terms for nearby peptide residues. The approximation that contributions of individual peptide residues to the total binding free energy are largely independent is supported by side chain scanning experiments [3] and by the accuracy of prediction models, such as RTA, that are based on this approximation. However, recent experimental studies [42, 43] have found evidence for cooperative effects between peptide residues so that additional pairwise interaction terms may improve prediction accuracy. Both of these modifications will significantly increase the number of model parameters, making regularization even more crucial for prediction accuracy.
Declarations
Acknowledgements
The work of AJB was supported by the Mayo Clinic.
Authors' Affiliations
(1)
Mayo Clinic, 13400 East Shea Boulevard, Scottsdale, USA
(2)
School of Mathematical and Statistical Sciences, Arizona State University, Tempe, USA
Copyright
© Bordner and Mittelmann; licensee BioMed Central Ltd. 2010
This article is published under license to BioMed Central Ltd. This is an Open Access article distributed under the terms of the Creative Commons Attribution License (http://creativecommons.org/licenses/by/2.0), which permits unrestricted use, distribution, and reproduction in any medium, provided the original work is properly cited.