Methodology article

Open Access
FACT: Functional annotation transfer between proteins with similar feature architectures
BMC Bioinformatics
2010
11:417
Received: 15 March 2010
Accepted: 9 August 2010
Published: 9 August 2010
Abstract
Background
The increasing number of sequenced genomes provides the basis for exploring the genetic and functional diversity within the tree of life. Only a tiny fraction of the encoded proteins undergoes a thorough experimental characterization. For the remainder, bioinformatics annotation tools are the only means to infer their function. Exploiting significant sequence similarities to already characterized proteins, commonly taken as evidence for homology, is the prevalent method to deduce functional equivalence. Such methods fail when homologs are too diverged, or when they have assumed a different function. Finally, due to convergent evolution, functional equivalence is not necessarily linked to common ancestry. Therefore complementary approaches are required to identify functional equivalents.
Results
We present the F eature A rchitecture C omparison T ool http://www.cibiv.at/FACT to search for functionally equivalent proteins. FACT uses the similarity between feature architectures of two proteins, i.e., the arrangements of functional domains, secondary structure elements and compositional properties, as a proxy for their functional equivalence. A scoring function measures feature architecture similarities, which enables searching for functional equivalents in entire proteomes. Our evaluation of 9,570 EC classified enzymes revealed that FACT, using the full feature, set outperformed the existing architecture-based approaches by identifying significantly more functional equivalents as highest scoring proteins. We show that FACT can identify functional equivalents that share no significant sequence similarity. However, when the highest scoring protein of FACT is also the protein with the highest local sequence similarity, it is in 99% of the cases functionally equivalent to the query. We demonstrate the versatility of FACT by identifying a missing link in the yeast glutathione metabolism and also by searching for the human GolgA5 equivalent in Trypanosoma brucei.
Conclusions
FACT facilitates a quick and sensitive search for functionally equivalent proteins in entire proteomes. FACT is complementary to approaches using sequence similarity to identify proteins with the same function. Thus, FACT is particularly useful when functional equivalents need to be identified in evolutionarily distant species, or when functional equivalents are not homologous. The most reliable annotation transfers, however, are achieved when feature architecture similarity and sequence similarity are jointly taken into account.
Keywords
Secondary Structure ElementEnzyme CommissionShared FeatureCoiled CoilFeature Architecture
Background
The sequencing of entire genomes has become a routine task in molecular biology. To date, about 240 fully sequenced eukaryotic genomes comprising more than 3.7 Million protein coding sequences are available in the public domain [1]. Only a small fraction of these species are model organisms with considerably well characterized protein functions. Most of the remaining species are either of commercial or medical interest, qualify for new model organisms, or hold key positions required for the understanding of organismal evolution. The benefit of a newly sequenced organism essentially depends on the extent to which its data is integrated into existing knowledge about function and evolutionary relationships of genes in other species. A thorough experimental characterization of all proteins is not feasible. Therefore, comprehensive bioinformatics approaches are needed to reliably identify functionally equivalent proteins across species. Two roads are usually followed to accomplish this task.
The first and more common approach searches for proteins with a significant sequence similarity, which is commonly taken as evidence for their common ancestry. For example, a protein with unknown function can be used as query to search for similar sequences in annotated protein databases, e.g., with BLAST [2] or, for more sensitive searches, using machine learning algorithms, like PsiBLAST [2] or support vector machines [3–5]. The functional annotations of the best hits serve then as tentative annotations for the query, e.g., [6, 7].
Clearly, one limitation is inherent in this approach: Functional equivalence is not tied to a significant sequence similarity. This can have several reasons: First, a query may not obtain a significant hit in a similarity search since the homologous proteins with the same function are too diverged, or are of low complexity. Second, homologs may be identified via sequence similarity but they have assumed diffrent functions [8, 9]. For example, in the case of enzymes about 60% of sequence identity between homologous proteins is required to reliably infer functional equivalence [10, 11]. Thus, a functional annotation transfer between homologs can be wrong. If such an error remains undetected, it can spread through databases [12]. Third, it has been shown that proteins with the same function are not always homologous, but rather are a result of convergent evolution [13]. In such instances sequence similarity based searches for functional equivalents produce no results. In summary, functional equivalence is not synonymous with homology. The second approach to identify functional equivalents does not rely on homology inference by means of pair-wise sequence similarity but rather considers other measures of protein similarity. Amino acid sequences can be annotated with a plethora of features, capturing different properties of the protein. Among others, these are functional domains, secondary structure elements and compositional properties.
The aggregate of all features in a protein constitutes its feature architecture, and it is supposed that this feature architecture allows conclusions about the function of a protein. A number of studies have shown the applicability of such a feature based approach, e.g., [14, 15]. The possibility to deduce protein function from the feature architecture suggests that feature architecture similarity can be used to identify proteins sharing a similar function. For example, InParanoid displays the Pfam [16] domain annotation of homologous proteins [17]. Thus, we can quickly assess if homologs can be functional equivalents. In the same way, ProteinArchitect [18] finds similar proteins to a query sequence and displays the feature architecture of the hits. However, these tools provide the feature annotation only as an accessory information. The search for similar proteins in the first place is still performed on the amino acid sequence level. The necessity to include information about the feature architecture into the search for functional equivalents was emphasized by Forslund et al. 2008 [19]. They showed that roughly 12% of the feature architectures in 96 eukaryotic proteomes evolved more than once independently. Hence, the corresponding proteins are functionally similar although they are not homologous.
Despite its potential for identifying functionally equivalent proteins, only few strategies exploit the feature architecture for similarity searches [20–22]. Lin et al. [20] were the first to measure the similarity between feature architectures using a weighted sum of three indices. The first index measures the ratio of shared features to the total amount of features. The second index assesses the feature duplication similarity, and the third, the Goodman-Kruskal index, measures to what extent the same feature pairs occur in two proteins. A detailed description of the Lin score is given in the implementation section. Lee and Lee 2009 [22] additionally introduced a weighting scheme that reduces the influence of promiscuous Pfam domains [23]. Notably, all approaches share the same limitations. Most importantly, feature architectures are constructed only from Pfam domains. Thus, other features such as transmembrane regions or coiled coil domains indicative of protein function are ignored. Furthermore, the positional information of shared features in the compared proteins is not taken into account. Eventually, a systematic evaluation to what extent feature architecture similarity is helpful in detecting functional equivalents is also missing. Lin et al. 2006 [20] and Lee and Lee 2009 [22] evaluated their approaches only for their capability of detecting homologous proteins. Thus, the search for functional equivalents using feature architecture similarity is still in its infancy.
Here, we present FACT a comprehensive method for searching for functionally equivalent proteins using the criterion of feature architecture similarity. FACT considers a broad spectrum of features (functional domains, secondary structure elements, and compositional properties) to determine the feature architecture of a protein. Moreover, the positions of the features in a protein sequence are taken into account. FACT can be used to search for functional equivalents in entire proteomes and the credibility of the best hit is assessed by a p-value. This makes an automated large scale search for functional equivalents possible. A graphical interface, the feature dotplot, complements the automated similarity search and facilitates a visual comparison of two feature architectures. We evaluate the fidelity of FACT using a collection of EC classified enzymes and demonstrate FACT's applicability for identifying functional equivalents. A comparison to the performance of existing approaches to infer functional equivalence from feature architecture similarity, as e.g., described in [20, 22], on the same set of enzymes is used to assess the improvement of FACT. Finally, we compare for the first time the usability of two protein similarity measures, sequence similarity and feature architecture similarity, for identifying functional equivalents, and we explore their respective strengths and weaknesses.
Implementation
As a first step, FACT annotates the query and each protein in the search set with a broad variety of features (Figure
1A
), i.e., functional domains (Pfam domains, SMART domains [
24
], transmembrane regions, signal peptides), secondary structure elements (helix, strand, coiled coils), and compositional properties (low complexity regions, sequence composition). A pipeline of several feature prediction programs serves this purpose. The underlying feature set Φ is, therefore, determined by the collection of prediction programs. The feature architecture of a protein is then the arrangement of instances of features in Φ (Figure
1B
).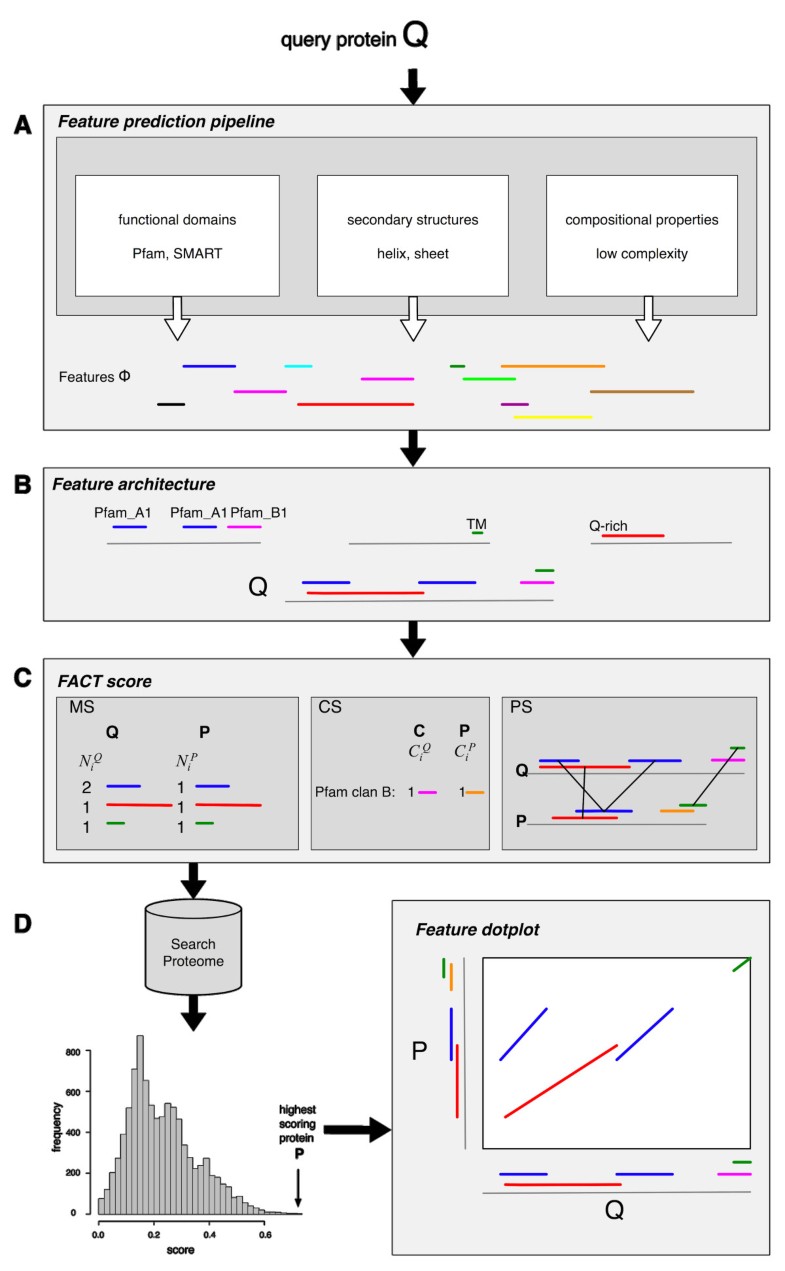 Results
FACT has been developed for identifying functionally equivalent proteins. To assess the applicability of our program we require that the tested proteins have the exact function assigned. To the best of our knowledge, only the proteins annotated by the Enzyme Commission (EC) satisfy this condition. The EC provides a hierarchical classification of the reaction catalyzed by an enzyme. The code consists of four numbers separated by dots. The first number determines the main catalyzed reaction (1 = Oxidoreductases, 2 = Transferase, 3 = Hydrolases, 4 = Lyases, 5 = Isomerases, 6 = Ligases), while the last number provides the most specific information about the catalyzed reaction. If two enzymes share the same EC number, they catalyze the same reaction and are therefore functional equivalents. Thus, the EC classifies enzymes according to their function and not according to their evolutionary relationships (c.f., [13]). We collected EC annotated proteins from human, fly, worm, yeast, and arabidopsis and filtered the dataset such that each EC number is represented at least twice. The final test set is comprised of 9,570 proteins. The average and median numbers of proteins with the same EC number are 10 and 4, respectively.
Discussion
Here we present FACT, a tool for searching for functionally equivalent proteins. FACT computes the pairwise similarity between feature architectures and identifies for a query protein the highest scoring hit in an entire proteome. Evaluating the performance of FACT on EC classified enzymes reveals a fidelity of 84%.
How to measure the similarity between feature architectures still remains an open question. So far, all suggestions are ad-hoc solutions to the scoring problem. For example, the Lin score [20] assesses the similarity between two proteins from their features in common and also considers the set difference. Thus, features that are not shared between two proteins reduce the score. This scoring appears reasonable when feature architectures consist only of functional domains, e.g., Pfam domains. In such cases, the presence of an extra feature in one protein is likely to also reflect a functional difference between the compared proteins. However, in our study we used a comprehensive feature set, where some features lack an obvious connection to function. Therefore, we introduce a new score that considers only shared features. Our evaluation on a set of EC classified enzymes reveals that the fidelity in identifying functional equivalents does not heavily depend on whether or not the feature set difference between two proteins is taken into account. Both scoring functions, the MLS and MS uni perform equally well. Their conceptual difference, however, becomes relevant in individual cases as shown by our GolgA5 example application. The best scoring protein according to the MLS shares 4 features with the query and has one extra feature (c.f. Additional file 1, Figure S3). In contrast, MS uni identifies a highest scoring protein that shares 5 features with the query but has 4 extra features (c.f. Additional file 1, Figure S4).
The idea of giving individual features different weights has been presented before. Lee and Lee 2009 [22] weight a Pfam domain depending on its frequency in the RefSeq database [31] and on the diversity of its flanking Pfam domains. Note that the latter criterion is not straightforward to implement when features can fully overlap, and hence, feature order cannot be determined. In the MS st , we weight a feature according to its inverse frequency in the search proteome. This weighting scheme can be applied to any feature, and takes into account that feature frequencies can vary between search proteomes. The comparison of MS uni and MS st reveals that the introduction of weighting increases the fidelity by 2%. Unfortunately, comparing the effect of our weighting to that of Lee and Lee 2009 [22] is impossible, since in their evaluation the scoring functions differed not only in the weighting but also in the way shared domains are scored.
Among all scoring functions, the FACT score performs best (Table 1 and 2). This is the consequence of including clan similarity and positional similarity. We compute the FACT score by combining the scoring functions MS st , CS, and PS in a ratio of 3:1:1. We consider the number of shared features and their number of instances to be the most important parameters in determining the similarity between feature architectures. The clan annotation as well as the position of features are supplementary information that only have a moderate influence on the final score. Note that we deliberately did not optimize the weight parameters α, β, and γ with respect to the fidelity on the EC based functional annotation. Enzymes cover only a fraction of the diversity of protein functions. We wanted to avoid a bias towards this particular class of proteins, which could interfere with the general applicability of FACT [32].
In contrast to existing tools that use Pfam domains for identifying functionally similar proteins [20, 22], FACT recruits a diverse set of features for building the feature architectures. Our evaluation highlights the significance of using a comprehensive feature set. When considering only Pfam domains, the median number of equally best scoring proteins is 9-13, depending on the scoring function. The most extreme case comprises the 589 enzymes lacking any Pfam domain. When these proteins are used as query, all proteins in the search proteome obtain the same score. However, the median number of enzymes with the same EC number as the query is only 3. Consequently, in the vast majority of searches more than one EC number is represented by the top ranked proteins. The search result is therefore ambiguous. To facilitate a meaningful assessment of the fidelity, we required a correctly identified functional equivalent to be uniquely top ranked. This reveals a maximal fidelity of 9% (Table 2). In contrast, when we use the FACT feature set, the median number of equally best scoring proteins reduces to one. This shows that the similarity score becomes more discriminative when more features are considered. As a consequence, the fidelity raises to 74% (FACT score). Notably, for the proteins without Pfam domains a correct functional equivalent was still identified in 158 cases.
There is still room for improvement regarding the search for functional equivalents. So far, all approaches are based on ad-hoc solutions for measuring the similarity between feature architectures since modeling their evolution is still an open problem. Moreover, the function of a protein essentially depends on its tertiary structure. However, tertiary structure elements are not yet part of the feature set. Both the integration of evolutionary models and of complex features is likely to result in more sensible similarity measures.
Feature architecture similarity based approaches identify functional equivalents. This supposedly complements sequence similarity based approaches represented, e.g., by BLAST or PsiBLAST. Here we have compared the fidelity of FACT to that of BLAST. A substantial fraction of functional equivalents were top ranked exclusively by FACT. This includes the cases where sequence similarity was too low to result in a significant BLAST hit, but FACT still detected functional equivalents. Finally, we observed no linear correlation between the E-value of the best BLAST hit and the p-value of the best FACT hit for a given query. In summary, these results confirm the complementarity of feature architecture similarity based approaches and sequence similarity based approaches in the search for functional equivalents. This finding is independent of whether we used BLAST or PsiBLAST. The complementarity is further corroborated by those searches where FACT and BLAST identify the same best hit. In such instances, the fidelity increases to 99%. Thus, a joint application of a feature architecture measure and a sequence similarity measure allows for highly reliable automated functional annotation transfers. However, this increase of the fidelity comes at the cost of detecting only 42% of the present functional equivalents in our test data. In cases where the two approaches disagree, we need to decide which of the hits is more likely to be a functional equivalent. To facilitate this decision, we have compared the fidelities of BLAST/PsiBLAST and FACT depending on the E-value and p-value of the highest scoring protein for a given query (c.f. Figure 4, Additional file 1, Figure S4). Notably, for searches where both methods obtained a good hit, i.e., small E-value and small p-value, respectively, FACT finds a functional equivalent more often than the other program. However, in most cases, a decision of whether a FACT hit that is not confirmed by BLAST, or vice versa, is a functional equivalent will require manual curation. We have presented two examples where we searched for functional equivalents to the human glutathion S-transferase in yeast, and to the human GolgA5 in T. brucei. These examples showed that the feature dotplot is a versatile tool to curate results from FACT searches. The feature dotplot facilitates an educated judgement of how similar two feature architectures are, and how likely it is that the corresponding proteins are functionally equivalent. Together with the implementation of four different scoring functions and the BLAST search, the feature dotplot complements the toolbox for a comprehensive search for functional equivalents.
Conclusions
FACT uses the similarity of feature architectures between two proteins to search for functional equivalents in entire proteomes. FACT has a high fidelity and outperforms existing approaches that identify functional equivalents based on the presence of PFAM domains. This increase in fidelity is mainly accomplished by using a diverse set of features that are recruited for building the feature architectures. The different weighting of individual features and the relative position of shared features in the compared proteins provide additional information. FACT complements sequence similarity based approaches, such as BLAST, in the search for proteins with an equivalent function. It is, thus, particularly useful when distantly related species with highly diverged sequences are analyzed, or in cases where functional equivalents are not homologous. Both aspects will become increasingly relevant the more genome data from 'exotic' species becomes available. However, there exists no globally optimal solution to the problem of identifying functionally equivalent proteins. It is therefore necessary to compare the results from different scoring functions measuring feature architecture similarity and from sequence similarity based searches to select the most promising functional equivalent candidates. The feature dotplot to visually inspect the feature architectures of two proteins facilitates this manual curation. We have demonstrated the joint use of FACT, BLAST and the feature dotplot in a comprehensive search for functional equivalents in two example applications. They serve as a guideline of how to use these tools to propagate existing knowledge about the function of proteins from one species to another.
Methods
FACT
FACT annotates functional domains, secondary structure elements and compositional properties in protein sequences using the tools in the Sfinx package [33]. Low complexity regions are identified with the program seq, helices and strands with the program PHDseq, coiled coils with the program COILS2, and signal peptides with the program SignalP. Transmembrane regions are predicted both with TMHMM and PHDhtm. Pfam (version 23; [34]) and SMART (smart_16_04_2008; [24]) domains are identified with HMMER2 http://hmmer.janelia.org/ and regions enriched for a particular amino acid with CAST [35]. Pfam clan information was downloaded from http://pfam.sanger.ac.uk/. All annotation results are transformed into the SFS format [33]. This data structure allows for an easy extension of the feature set with features currently not considered by FACT. For sequence similarity searches BLAST version 2.2.13 and PsiBLAST version 2.2.23 was used. PsiBLAST searches were run with default parameter settings using 5 iterations. The FDP is implemented as a Java applet requiring Java 1.5 or higher. It can be accessed with a web browser with Java and with Java script enabled.
Test set
We compiled the test set for the FACT evaluation using an initial collection of 9897 EC annotated enzymes from Homo sapiens (6,339), Arabidopsis thaliana (1,156), Saccharomyces cerevisiae (1,099), Drosophila melanogaster (896) and Caenorhabditis elegans (407). Protein sequences were downloaded from Ensembl 52 (D. melanogaster, C. elegans, S. cerevisiae), Ensembl 51 (H. sapiens) and UniProt 1.0 (A. thaliana). The associated EC annotations were retrieved from Ensembl and UniProt. From this set we removed all proteins that were annotated with more than one EC number or with partial EC numbers. Subsequently, we discarded all EC numbers and associated proteins which were present only once in the protein collection. The final test set consists of 9,570 proteins representing 1,016 different EC numbers.
Data
Proteome data for Trypanosoma brucei was obtained from the Sanger Center http://www.sanger.ac.uk. The human glutathione S-transferase was identified in the glutathion metabolic pathway in the KEGG database at http://www.genome.jp/kegg/pathway/map/map00480.html. The human protein ENSP00000196968 (Ensembl 51) was used as query for the FACT search in the yeast proteome. For the GolgA5 search, the human protein ENSP00000163416 (Ensembl 51) was used as query for the FACT search in the T. brucei proteome.
Availability and requirements
Project name: FACT
Project home page: http://www.cibiv.at/FACT
Operating system: Platform independent
Programming language: Java
Other requirements: Java 1.5 or higher, java script enabled
Declarations
Acknowledgements
The authors would like to thank Wolfgang Fischl for help with the Sfinx installation, Huy Q. Dinh for helpful discussion, and Sascha Strauss, Jayne Ewing and Gerard McGowan for critically reading the manuscript. This work was supported by the Wiener Wissenschafts-, Forschungs-und Technologiefonds (WWTF). TK is supported by the DFG priority program SPP 1174 Deep Metazoan Phylogeny [HA 1628/9 to A.v.H.].
Authors' Affiliations
(1)
Center for Integrative Bioinformatics Vienna (CIBIV), Max F. Perutz Laboratories, Vienna, Austria
(2)
University of Vienna, Vienna, Austria
(3)
Medical University of Vienna, Vienna, Austria
(4)
University of Veterinary Medicine, Vienna, Austria
Copyright
© Koestler et al; licensee BioMed Central Ltd. 2010
This article is published under license to BioMed Central Ltd. This is an Open Access article distributed under the terms of the Creative Commons Attribution License (http://creativecommons.org/licenses/by/2.0), which permits unrestricted use, distribution, and reproduction in any medium, provided the original work is properly cited.