Ultra-fast sequence clustering from similarity networks with
SiLiX
BMC Bioinformatics
2011
12:116
Received: 28 October 2010
Accepted: 22 April 2011
Published: 22 April 2011
Abstract
Background
The number of gene sequences that are available for comparative genomics approaches is increasing extremely quickly. A current challenge is to be able to handle this huge amount of sequences in order to build families of homologous sequences in a reasonable time.
Results
We present the software package SiLiX that implements a novel method which reconsiders single linkage clustering with a graph theoretical approach. A parallel version of the algorithms is also presented. As a demonstration of the ability of our software, we clustered more than 3 millions sequences from about 2 billion BLAST hits in 7 minutes, with a high clustering quality, both in terms of sensitivity and specificity.
Conclusions
Comparing state-of-the-art software, SiLiX presents the best up-to-date capabilities to face the problem of clustering large collections of sequences. SiLiX is freely available at http://lbbe.univ-lyon1.fr/SiLiX.
Keywords
Mitochondrial GenomeCluster QualitySingle Linkage ClusterOnline ProcedureStar Tree
Background
Proteins can be naturally classified into families of homologous sequences that derive from a common ancestor. The comparison of homologous sequences and the analysis of their phylogenetic relationships provide very useful information regarding the structure, function and evolution of genes. Thanks to the progress of sequencing projects, this comparative approach can now be applied at the whole genome scale in many different taxa, and several databases have been developed to provide a simple access to collections of multiple sequence alignments and phylogenetic trees [1–9]. The building of such phylogenomic databases involves three steps that require important computing resources: 1) compare all proteins to each other to detect sequence similarities, 2) cluster homologous sequences into families (that we will call the clustering step) and 3) compute multiple sequence alignments and phylogenetic trees for each family. With the recent progress of sequencing technologies, there is an urgent need to prepare for the deluge and hence to develop methods able to deal with a huge quantity of sequences. In this paper, we present a new approach for the clustering of homologous sequences, based on single transitive links (single linkage) with alignment coverage constraints and implemented in a software package (called SiLiX for SIngle LInkage Clustering of Sequences). We model the dataset as a similarity network where sequences are vertices and similarities are edges [10]. To overcome memory limitations we follow an online framework [11] in which we visit the edges one at a time to update the families dynamically. This approach enables also an incremental procedure where sequences and similarities are added into the dataset so that it would not be necessary to rebuild the families from scratch. Finally, we adopt a divide-and-conquer strategy to deal with the quantity of data [12] and design a parallel algorithm whose theoretical complexity is addressed in this paper.
We evaluated the computational performances and scalability of this method on a very large dataset of more than 3 millions sequences from the HOGENOM phylogenomic database [9]. Our approach presents several advantages over other clustering algorithms: it is extremely fast, it requires only limited memory and can be run on a parallel architecture - which is essential for ensuring its scalability to large datasets. SiLiX outperforms other existing software programs both in terms of speed and memory requirements. Moreover, it allows a satisfying quality of clustering. We discuss the interest of SiLiX for the clustering of homologous sequences in huge datasets, possibly in combination with other clustering methods.
Results and Discussion
SiLiX is faster and more memory efficient than other methods
To test SiLiX and compare it to state-of-the-art programs, we extracted protein sequences from the HOGENOM database (Release 5, [9]). The current release of HOGENOM contains 3,666,568 protein sequences (76% bacteria, 3% archae and 20% eukarya). We selected 3,159,593 non-redundant sequences including about 1% partial sequences. Sequences were compared against each others with BLASTP [15] with an E-value threshold set to 10-4. The BLAST output file contained 1,905,335,339 pairwise alignments. Then we selected three previously published programs, for which the source code is publicly available: hcluster_sg [24] and MC-UPGMA [25] that are based on hierarchical clustering, and MCL [26] that relies on graph-based heuristics.
The clustering of the protein dataset with
SiLiX
was very fast (about 2 hours) and required only limited memory capacity (0.4 GB).
SiLiX
outperformed the 3 other methods, both in terms of speed and RAM usage (see Table
1
). The program
hcluster_sg
took 40 times more time than
SiLiX
to perform the clustering (about 4 days), and required a very large amount of RAM memory (99 GB). With larger sequence datasets (which are already present in databases), the RAM requirements of
hcluster_sg
will certainly exceed computer memory resources presently available.
MCL
also required a large amount of memory (78 GB) and was very slow (we stopped it after 10 days of calculation, before it finished the clustering).
MC-UPGMA
is almost as efficient as
SiLiX
in terms of RAM usage, but requires ample disk space to hold intermediate files (49 GB of HDD). The main problem with
MC-UPGMA
is that it is too slow on such a large dataset.
MC-UPGMA
uses an iterative procedure to cluster sequences. On our dataset, the first 20 iterations took 2 days. The authors of
MC-UPGMA
tested their method on a smaller dataset and they indicate in their article that 200 iterations were necessary to reach convergence (see [
25
]). We therefore extrapolated that
MC-UPGMA
would take more than 20 days on our dataset, and hence we decided to stop it before it finished the clustering. Note also that to optimize the performance of
MC-UPGMA
, the authors recommend using very permissive similarity threshold (E-value = 100, see [
25
]), which is unaffordable given the number of sequences in our dataset. In conclusion,
SiLiX
presents the best efficacy to tackle the challenge of huge dataset analysis with CPU and memory requirements equivalent to those of a laptop computer. Note that
SiLiX
may also be used in combination with other methods. To test this strategy, we first ran
SiLiX
with permissive similarity thresholds (sequence identity 25% and alignment coverage 80%), and then we used
hcluster_sg
to subdivide families of more than 100 sequences. This combined procedure still runs in a reasonable total CPU time (about 9 hours, i.e. 10 times faster than
hcluster_sg
alone, see Table
1
) and also divides by 4 the RAM usage. Furthermore the second step of this combined procedure can easily be distributed on several computers.
Table 1
CPU time and memory requirements for SiLiX and three state-of-the-art programs on the dataset of similarity pairs extracted from the HOGENOM database [9].
SiLiX is scalable in practice
As the number of available sequences increases dramatically and the number of similarities is quadratic with this number of sequences, the CPU time required for the clustering is expected to increase very rapidly. To ensure the scalability of our method, we designed a parallel implementation of
SiLiX
with a low number of inter-processors communications to take advantage of multiple kinds of parallel hardware architectures. This algorithm delocalizes the processing of the sequence similarity dataset, including the filtering step, and merges the results in a last step (see Methods). We designed a divide-and-conquer approach that requires only
q
- 1 communications where
q
is the number of processors, with a procedure for merging partial results from two processors that is considerably faster than the independent computations on each processor. For these reasons, we observe practical performances consistent with the theoretical complexity such that the run time decrease is inversely-proportional to the number of processors (see Figure
3
).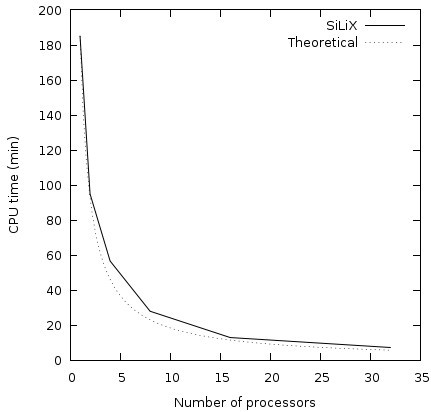 Clustering quality
Although the speed and memory requirements are important parameters for the choice of clustering method, the most important criterion is of course the quality of the results. Single linkage clustering is known to be problematic because spurious similarities can lead to the clustering of non-homologous sequences. Even with stringent sequence similarity criteria, single linkage clustering can lead to erroneous clustering, because of the so-called problem of "domain chaining" [27], as illustrated in Figure 1. To avoid this problem, SiLiX performs single linkage clustering with alignment coverage constraints, i.e. pairs of similar sequences are considered for the clustering only if they meet two criteria: i) the alignment should cover at least a given percentage of the longest sequence; ii) sequence similarity within the alignment should exceed a given threshold. To assess the quality of SiLiX clustering, we used 2 different strategies. First, we compared clustering results to the classification of protein families reported in the InterPro database [28]. Second we assessed the performance of SiLiX on a set of 13 families of orthologous genes encoded by mitochondrial genomes in 1821 metazoan species.
Evaluation of SiLiX performances with Interpro
We evaluated the performance of
SiLiX
on the HOGENOM dataset, using the procedure proposed by Loewenstein and colleagues [
25
]: we extracted the most frequent correspondence between
SiLiX
families and protein (not domain) families from InterPro (Release 22, [
28
]) containing more than 10 sequences, and then we calculated the specificity and sensitivity of
SiLiX
classification with respect to the InterPro family. We also computed the Jaccard score (see [
25
]), which is a standard metric of the trade-off between specificity and sensitivity. To evaluate the impact of sequence similarity criteria, we ran
SiLiX
with different thresholds for alignment coverage and percentage of identity. The performance of
SiLiX
were compared to those obtained with
hcluster_sg
, used alone or in combination with
SiLiX
. (NB: the 2 other methods,
MC-UPGMA
and
MCL
, could not be evaluated because of their excessive running time). As expected, increasing the alignment coverage and/or the sequence identity thresholds leads to increase specificity (Figure
4a
), but decreases sensitivity (Figure
4b
). The best trade-off between specificity and sensitivity was obtained for thresholds of 80% for alignment coverage and 35% for sequence identity (Figure
4c
). With these parameters, the Jaccard score of
SiLiX
is slightly better than that of
hcluster_sg
(Table
2
). Interestingly, the use of
hcluster_sg
in combination with
SiLiX
(with permissive threshold) leads to a better Jaccard score than
hcluster_sg
alone. Thus the use of
SiLiX
in combination with other methods can strongly decrease computing time without any loss in clustering quality.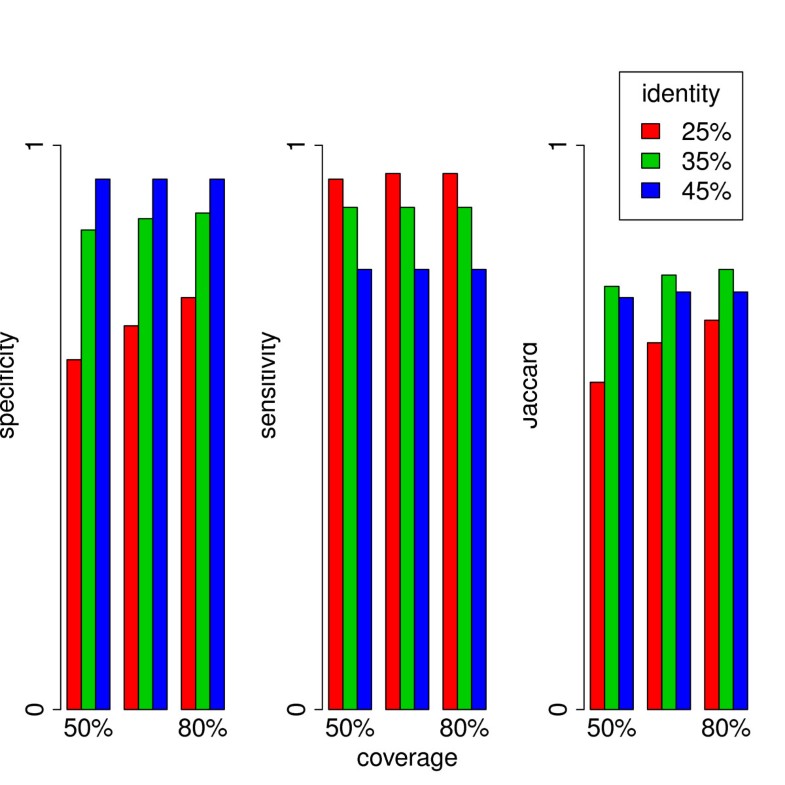 Table 2
Comparison of clustering performances of SiLiX and hcluster_sg (used alone or in combination with SiLiX).
| method (%identity) | Jac. | Spec. | Sens. |
| --- | --- | --- | --- |
| SiLiX (0.25) | 0.69 | 0.73 | 0.95 |
| SiLiX (0.35) | 0.78 | 0.88 | 0.89 |
| SiLiX (0.45) | 0.74 | 0.94 | 0.78 |
| SiLiX (0.25) + hcluster_sg(100) | 0.77 | 0.85 | 0.92 |
| hcluster_sg | 0.76 | 0.84 | 0.91 |
Evaluation of SiLiX performances with metazoan mitochondrial gene families
We used InterPro to evaluate clustering performances because this database is widely recognized for its quality and it has already been used for that purpose [
25
]. This strategy may however not be optimal because the building of the InterPro database also relies on arbitrary sequence similarity criteria. Hence, some cases that were considered as false positives in the above evaluations might in fact correspond to true homologues (i.e. specificity would be underestimated). Ideally, to evaluate clustering quality, one would need a set of homologous gene families known a priori,
i.e
. identified without using sequence similarity criteria. The mitochondrial genome of metazoan taxa can provide such an ideal test set. Indeed, in animals the mitochondrial genome contains 13 protein-coding genes. These proteins show different levels of sequence conservation across taxa, but the gene content is extremely conserved: except in very rare cases, all metazoan mitochondrial genomes contain these 13 genes [
29
,
30
]. This very strong conservation of synteny allows the identification of orthologous genes, even with very low levels of sequence similarity. We extracted from RefSeq (Release 41, [
31
]) a set of complete mitochondrial genomes from 1821 different species. The 13 mitochondrial proteins are present in all taxa, except ATP8 that is missing in the genome of 6 species. These mitochondrial proteins were then added to the HOGENOM dataset. Sequence comparisons were performed with BLASTP (using parameters indicated above), and the clustering was performed with
SiLiX
on the entire dataset, using thresholds of 80% for alignment coverage and 35% for sequence identity. For each of the 13 gene families, the majority of sequences were grouped in a single
SiLiX
family. The sensitivity, measured as the number of known proteins that are included in this first
SiLiX
family, is generally very high: it is higher than 94% for 11 out of the 13 gene families, and even higher than 99% for 9 of them (Table
3
). The ND6 family was split into 3 main
SiLiX
families corresponding respectively to deuterostomia, protostomia and other metazoa (porifera, placozoa and cnidaria), and containing overall 95% of all known ND6 proteins. The ATP8 protein is very short (about 50 amino-acids) and evolves rapidly. The largest
SiLiX
family contains only 53% of all known ATP8, and the three largest
SiLiX
families contain 77% of known sequences, whereas 14% of known ATP8 were not included in any
SiLiX
family - in most cases because they did not have any BLAST hit with a E-value below 10
-4
. Thus, on this test set the sensitivity is generally very good, except for rapidly evolving sequences. To evaluate the specificity, we manually investigated all
SiLiX
families containing at least one protein of our mitochondrial set. We did not identify a single case where one mitochondrial protein was clustered with non-related proteins. Thus, even though the clustering was performed with the entire HOGENOM dataset (which contained more than 3 million different proteins), we did not detect any false positive clustering. This indicates that single linkage clustering with alignment coverage constraints is robust to spurious similarity matches.
Table 3
Evaluation of SiLiX performances on mitochondrial genes of metazoan taxa.
| Gene | Nb. Seq. | Nb. SiLiX families | Nb. Seq. 1 st fam. (%) | Nb. Seq. 2 nd fam. (%) | Nb. Seq. 3 rd fam. (%) | Nb. Singletons (%) |
| --- | --- | --- | --- | --- | --- | --- |
| ATP8 | 1815 | 26 | 959 (52.8) | 294 (16.2) | 144 (7.9) | 258 (14.2) |
| ATP6 | 1821 | 2 | 1814 (99.6) | 2 (0.1) | - | 5 (0.3) |
| COX1 | 1821 | 1 | 1820 (99.9) | - | - | 1 (0.1) |
| COX2 | 1821 | 1 | 1818 (99.8) | - | - | 3 (0.2) |
| COX3 | 1821 | 1 | 1821 (100) | - | - | - |
| CYTB | 1821 | 1 | 1820 (99.9) | - | - | 1 (0.1) |
| ND1 | 1821 | 1 | 1821 (100) | - | - | - |
| ND2 | 1821 | 11 | 1714 (94.1) | 53 (2.9) | 3 (0.2) | 34 (1.9) |
| ND3 | 1821 | 2 | 1813 (99.6) | 2 (0.1) | - | 6 (0.3) |
| ND4 | 1821 | 2 | 1812 (99.5) | 2 (0.1) | - | 7 (0.4) |
| ND4L | 1821 | 7 | 1758 (96.5) | 4 (0.2) | 3 (0.2) | 47 (2.6) |
| ND5 | 1821 | 2 | 1815 (99.7) | 2 (0.1) | - | 4 (0.2) |
| ND6 | 1821 | 16 | 1366 (75.0) | 313 (17.2) | 55 (3.0) | 45 (2.5) |
Conclusion
Different methods have been proposed for the clustering of proteins into families of homologous sequences [1, 8, 9, 24–26, 32]. These methods differ both in terms of the quality of the clustering, and in terms of the computing resources required to perform the clustering. The single-linkage clustering approach is used in different phylogenomic databases such as EnsemblCompara [8] or HOGENOM [9]. Here we propose a new implementation of the single linkage clustering method with alignment coverage constraints, SiLiX, which is extremely efficient, both in terms of computing time and memory requirements. Moreover, this method can be cost-effectively run on parallel architectures, and hence is easily scalable. Thus, in terms of the computing resource requirements, this method is much more efficient than other available methods for the treatment of huge sequence datasets. In terms of clustering quality, SiLiX performs as well as hcluster_sg, the only other available clustering program that could be run in reasonable time on such a large sequence dataset. Given its speed, SiLiX may also efficiently be used as a first clustering step, before running other algorithms.
Availability and requirements
Project name: SiLiX

Project home page: http://lbbe.univ-lyon1.fr/SiLiX

Operating system(s): All Unix-like operating systems such as Linux and Mac OS X.

Programming language: C++

Other requirements: MPI, the Boost:program options class, and optionally CppUnit and the Boost:unordered_map class.

License: GNU GPL.
Declarations
Acknowledgements and Funding
The authors would like to thank Bastien Boussau, Daniel Kahn, Vincent Lacroix, Marie-France Sagot, Franck Picard and Eric Tannier for helpful discussions and comments, Bruno Spataro for the computing facilities and Yanniv Loewenstein, Jan Baumbach and Antje Krause for their answers about the availability and use of their programs. This work has been supported by the French Agence Nationale de la Recherche under grant NeMo ANR-08-BLAN-0304-01.
Authors' Affiliations
(1)
Laboratoire Biométrie et Biologie Evolutive, Université de Lyon, Villeurbanne, France
Copyright
© Miele et al; licensee BioMed Central Ltd. 2011
This article is published under license to BioMed Central Ltd. This is an Open Access article distributed under the terms of the Creative Commons Attribution License (http://creativecommons.org/licenses/by/2.0), which permits unrestricted use, distribution, and reproduction in any medium, provided the original work is properly cited.